This keto pumpkin pie recipe is the perfect addition to your low carb Thanksgiving or holiday feast. You CAN have pie on a low carb diet!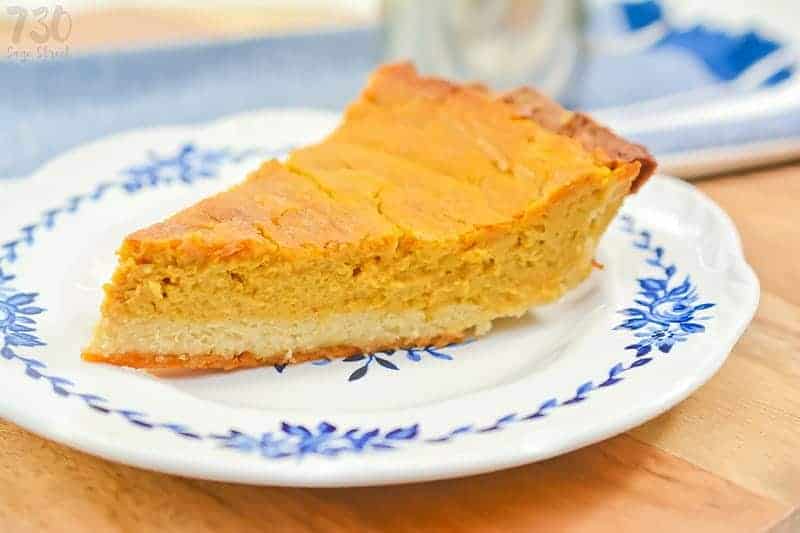 Jump to:
There is one thing about the holidays that is sort of a universal language. Food. It's pretty much the center of any gathering around the holidays, and we all seem to eat too much. Especially of the stuff that isn't on our diet. Stuff that contains pumpkin!
Is pumpkin low carb?
I have a can of pumpkin puree here (not pumpkin pie filling) and it claims to have 10 grams of carbs and 4 grams of fiber per half a cup. This equals 6 grams of net carbs. Depending on your daily carbs, you might not consider pumpkin low carb. But the carbs in pumpkin are not the same as the carbs in say bread or other grains, and the glycemic load is more moderate. Provided you aren't adding sugar or other sweeteners. Pumpkin also contains a ton of great nutrition like vitamin A, potassium and others. You will want to consult the nutritional information on the package if you are buying canned pumpkin.
Pumpkin on keto diet
I really think you can eat pumpkin and pumpkin pie on keto with the right recipe and the right planning and moderation. Traditional pumpkin pie will likely knock you out of ketosis immediately, but a keto pumpkin pie with the right balance of ingredients is something you can enjoy. In moderation and carefully tracking your carb counts and macros.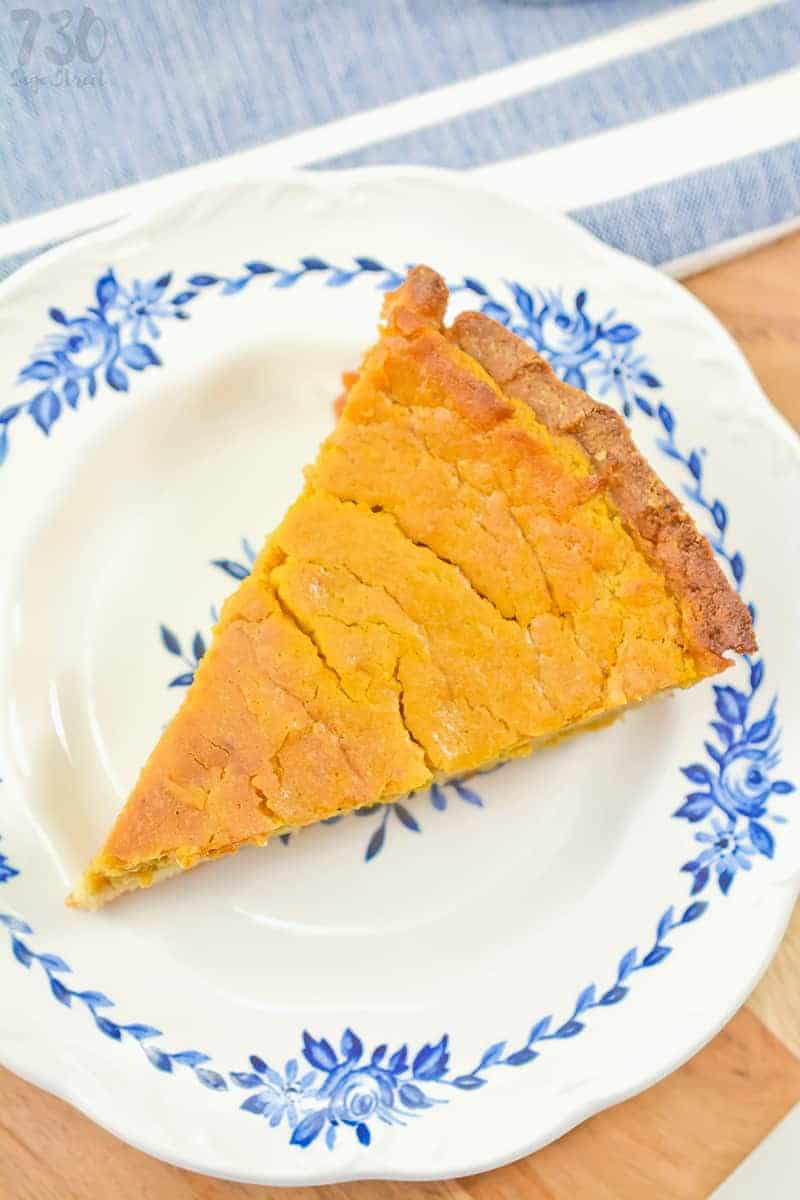 Keto Thanksgiving
Without too much effort, you can have a completely low carb Thanksgiving and your guests probably won't even realize they aren't eating carb-filled food. Turkey is naturally low carb, many of the vegetable dishes are as well. You can make mashed cauliflower instead of mashed potatoes and make stuffing using cauliflower instead of breadcrumbs.
Combine all that with this keto pumpkin pie and you have a delicious Thanksgiving meal that doesn't blow your healthy lifestyle. Sounds like a win to me!
🥘 Ingredients
For the Crust:
⅓ cup Coconut flour
¾ cup Almond flour
½ tsp Xanthan gum
Pinch of salt
½ tsp Cinnamon
7 tbsp Unsalted butter very cold
2 oz Cream cheese very cold
1 Egg
1 tsp Apple cider vinegar
For the Filling:
15 oz Pumpkin puree
8 oz Cream cheese softened
1 cup Erythritol
¼ tsp Salt
¼ cup Butter melted
1-½ tsp Vanilla extract
2 Eggs beaten
½ tsp Ground ginger
½ tsp Nutmeg
1 tsp Cinnamon
½ cup Heavy whipping cream
🔪 Instructions
There are two sets of ingredients for this pie, one set for the crust, and another for the filling.
The keto pumpkin pie crust has to be made into a dough and then chilled for at least an hour.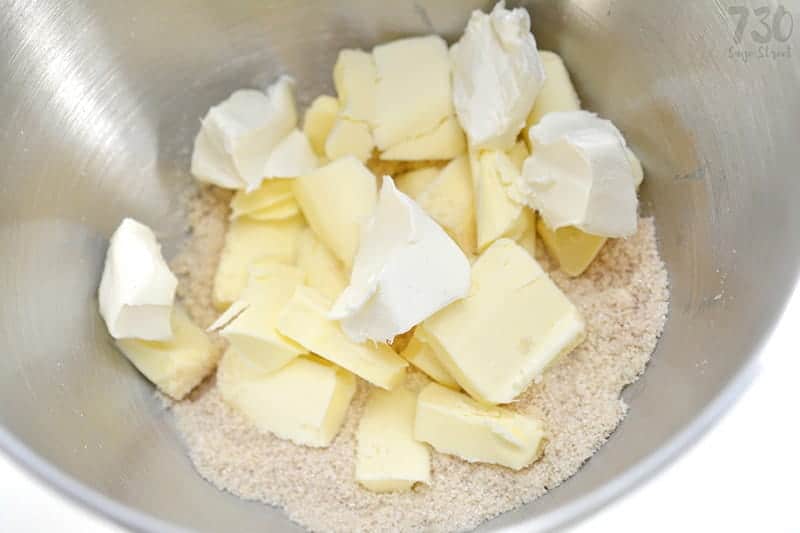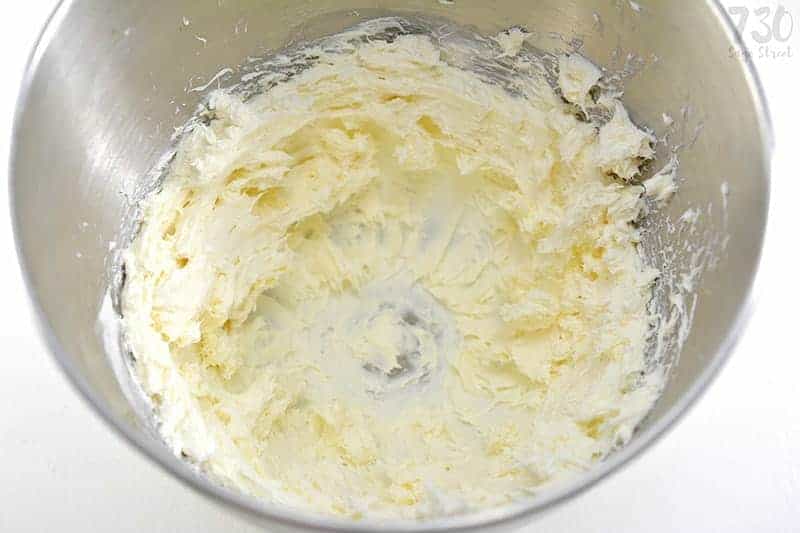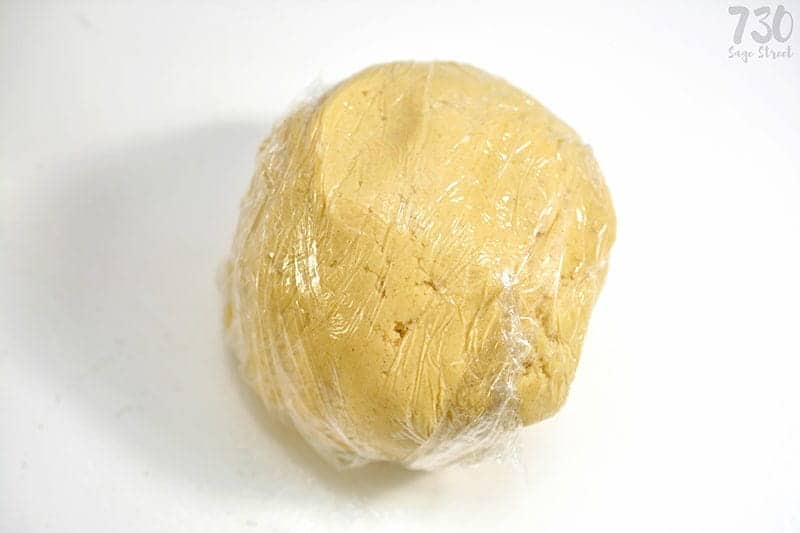 Once chilled, press the crust into a pie pan, poke with holes, and partially bake per instructions in the recipe card.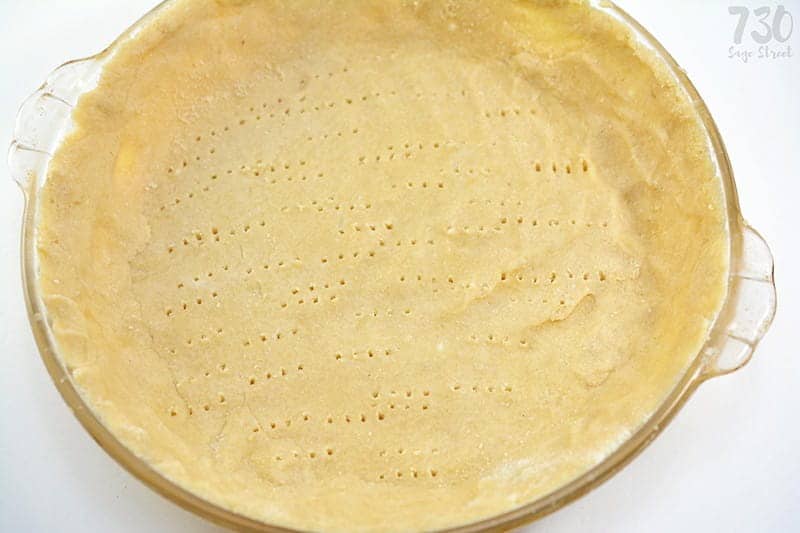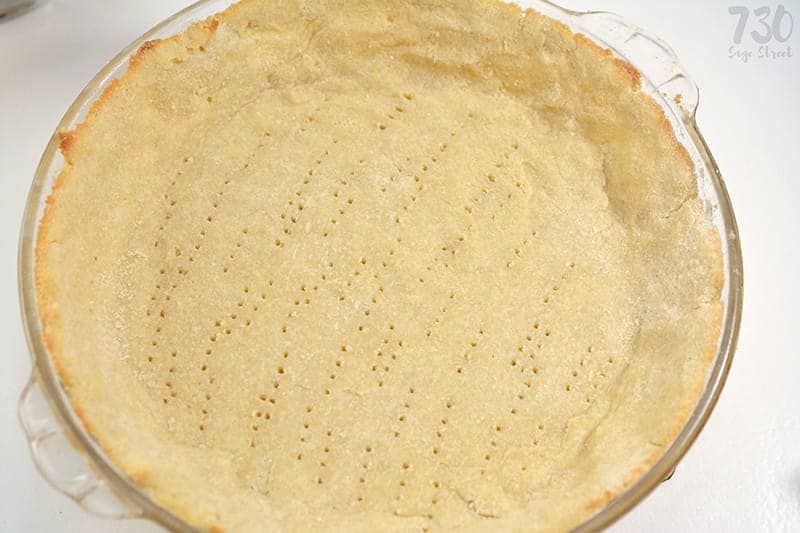 Mix the ingredients for the keto pumpkin pie filling together and pour into the already partially baked crust. Then bake fully.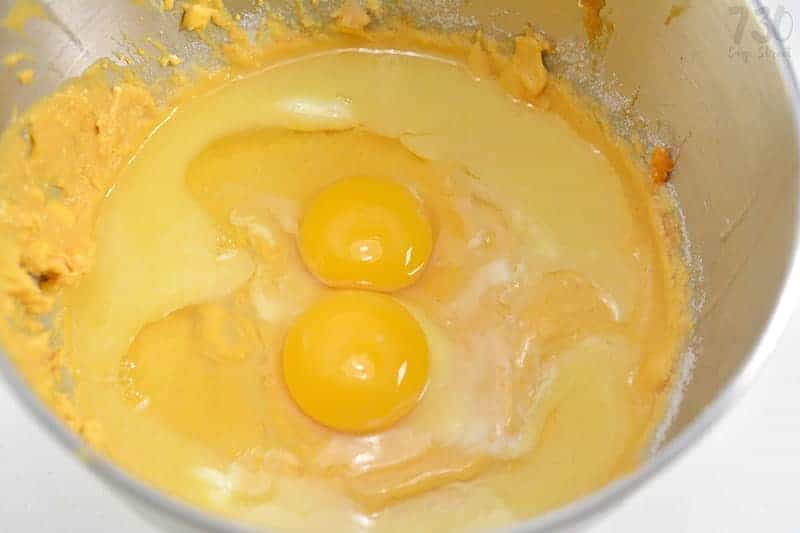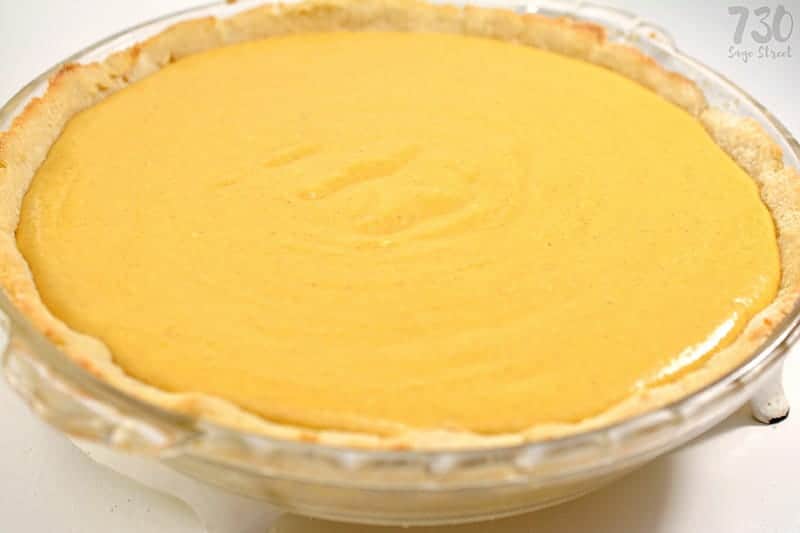 You want the center to be firm and the top of the pie to be slightly browned. This one may have gotten slightly overcooked. Still delicious, but maybe didn't need to stay in as long.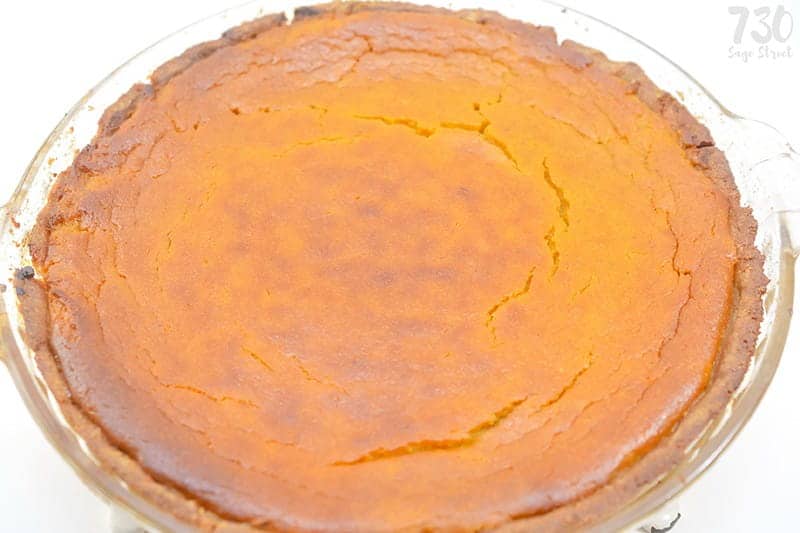 💭 Top tip
A keto low carb pumpkin pie will be sugar free and gluten free, will use whipped cream made from heavy cream without sweetener and will utilize coconut flour or almond flour for the crust. Your sugar free pumpkin pie will have to contain some natural sugar alternative like stevia, however, because you do want it to have some sweetness to it.
For a more keto friendly low carb pumpkin pie you may want to consider eliminating the crust altogether. It's still delicious and lowers the carb and the calories. You can think a bit outside the box when making low carb pies, but still get a satisfying alternative to a traditional favorite.
This keto pumpkin pie recipe uses cream cheese to help cut down on the carb content. I also have a grain-free no bake pie crust recipe that would work well for holiday gatherings too. Make both!
📖 Variations
As I mentioned above, you can make a keto pumpkin pie without a crust. You may want to cut back a little on the heavy cream in the recipe to make sure it is firm enough to cut and serve without the crust. And grease the pie pan with butter before pouring the keto pumpkin pie filling into it before baking.
I really like a crustless pie, it's almost like breakfast instead of dessert this way. I'd love to know if you try it without the crust, definitely report back!
How amazing would this keto pumpkin pie look in a cast iron pie pan?
That would look so pretty on the table after Thanksgiving dinner!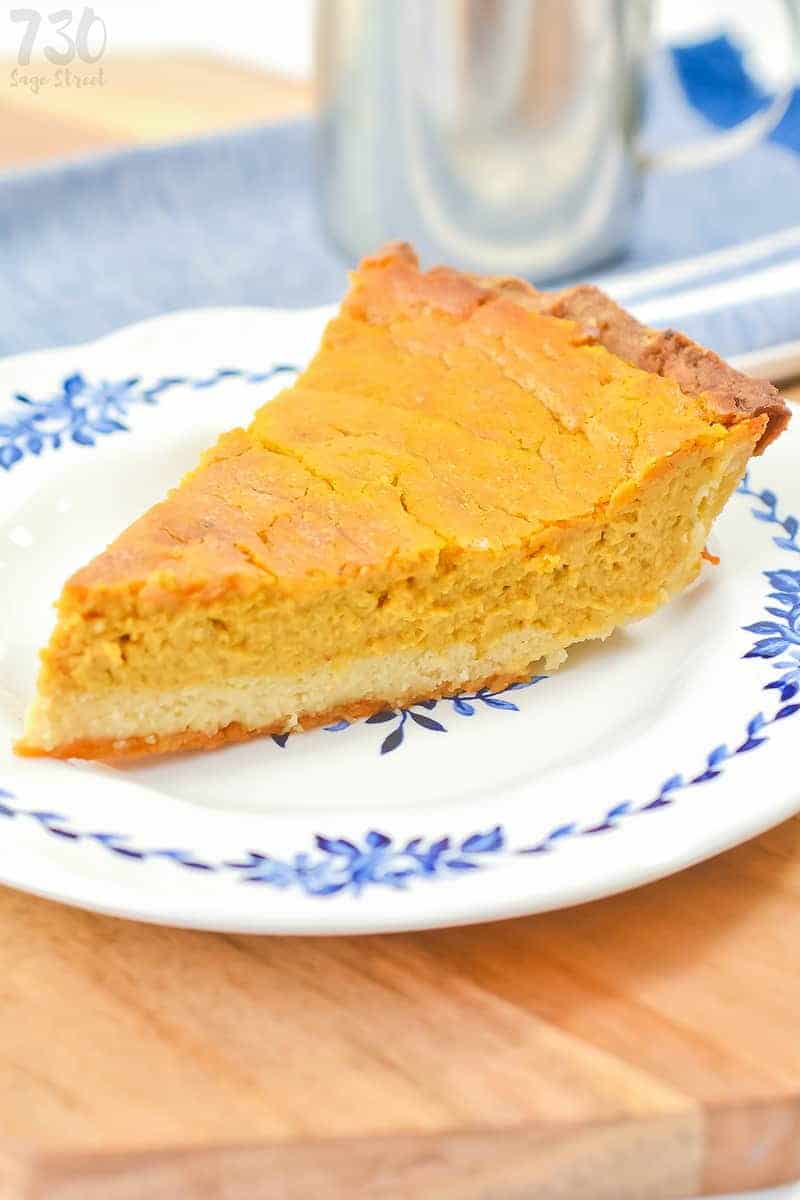 📖 Recipe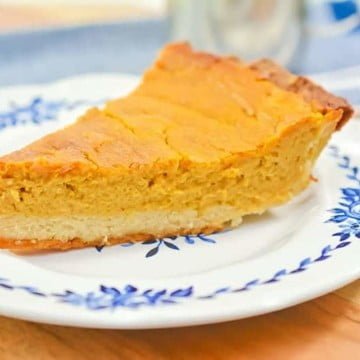 This keto pumpkin pie recipe is the perfect addition to your low carb Thanksgiving or holiday feast. You CAN have pie on a low carb diet!
Instructions
For the crust (make sure you use the list of CRUST ingredients)
Combine the almond flour, coconut flour, xanthan gum, pinch of salt and cinnamon in a mixing bowl. Stir to combine well.

Add in cold butter, and cold cream cheese, cut into pieces.

Add in the apple cider vinegar and the egg. Beat until completely mixed.

Place the dough onto a sheet of plastic wrap, wrap it up tightly, and place it in the fridge for at least an hour.

Once ready to use, remove the crust dough from the fridge, place on a piece of parchment paper dusted with almond flour, and dust the top of the dough with almond flour as well. Place another sheet of parchment paper on top, and slowly roll out the dough until it is just a bit larger than the pie dish. Place the pie dish face down over the dough, put your hand under the parchment paper, and flip the dough into the pie pan. If it breaks, simply pinch the tears closed with your fingers. Form the dough to the pie pan.

Prebake the dough in a 350 degree oven for 5-10 minutes. Poke holes in the bottom of the crust with a fork before placing it in the oven. Remove the crust, and let cool.
For the filling (make sure you use the list of FILLING ingredients)
Cream together the canned pumpkin and cream cheese.

Once smooth, add all of the remaining ingredients for the filling, and beat until creamy.

Pour the pumpkin mixture into the cooled pie crust, and bake for 50 minutes to an hour. If the crust begins to get too dark, you can cover it with some aluminum foil. Bake until the center of the pie is set and no longer jiggles when moved.

Cool the pie completely, and place in the fridge to chill. Serve cold with some fresh whipped cream on top.
Notes
I prefer to cut back on the Erythritol. because I don't like thing overly sweet. I would cut it in half next time, but that's a personal preference.
I have calculated this recipe at 5 grams of net carbs. Please very the nutrition information yourself based upon the ingredients you use, especially if you are carefully tracking to stay in ketosis.


Calories:
250
kcal
|
Carbohydrates:
7
g
|
Protein:
4
g
|
Fat:
23
g
|
Saturated Fat:
12
g
|
Cholesterol:
92
mg
|
Sodium:
163
mg
|
Potassium:
109
mg
|
Fiber:
2
g
|
Sugar:
2
g
|
Vitamin A:
5455
IU
|
Vitamin C:
1.2
mg
|
Calcium:
57
mg
|
Iron:
1
mg
Information shown is an estimate and is for information only. 730 Sage Street is not responsible for the factual accuracy of any nutrition information, calculations or claims.
Tried this Recipe?
Save it to your board today!