Looking for some new and delicious ways to cook pork loin? Look no further than these 21 sliced pork loin recipes! Pork loin is a versatile cut of meat that can be seasoned and prepared in a variety of ways, making it a great choice for any occasion.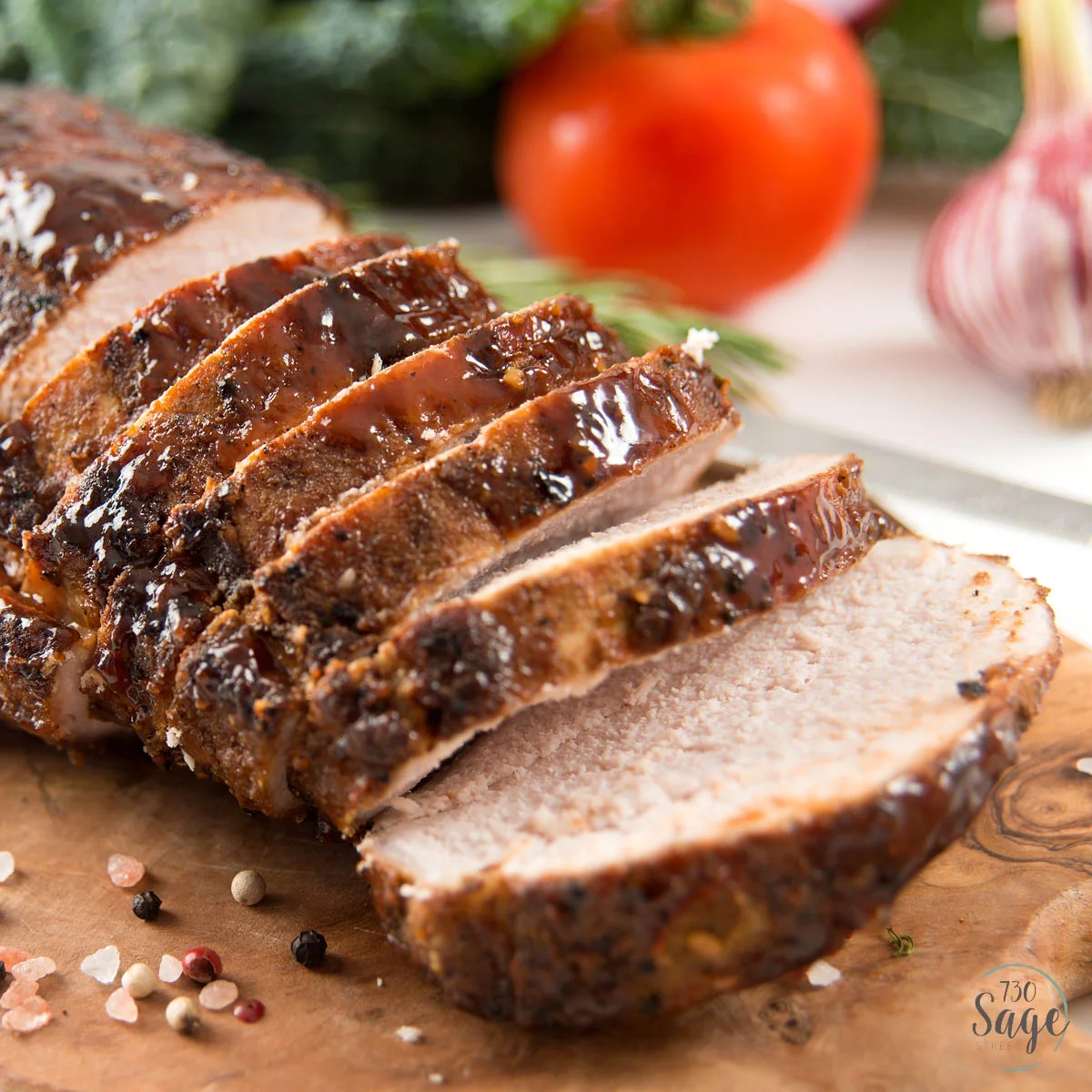 Whether you're looking for a quick and easy weeknight dinner or a special meal for a holiday or celebration, these recipes have got you covered. From savory marinades and rubs to sweet and spicy glazes, there's something for every taste and preference. So grab a pork loin and get ready to slice and savor your way through these mouth-watering recipes!
Can You Slice A Pork Loin And Cook It?
Yes, you can slice a pork loin and cook it. Pork loin can be sliced into medallions, chops, or even thinner pieces to make dishes like stir-fry. The key is to make sure that the pork is cooked to the appropriate temperature to ensure that it is safe to eat. It's also important to keep in mind that thinner slices will cook faster than thicker cuts of meat.
How To Slice Pork Lion The Right Way
To slice pork loin correctly, let it rest for at least 5 minutes after cooking. Then, use a sharp knife to cut across the grain, rather than with it. This will create shorter fibers and make the meat more tender. Also, be sure to cut the meat into even, thin slices to ensure that it cooks evenly and doesn't dry out.
Best Way To Cook Sliced Pork Lion
If you're looking for the best way to cook sliced pork loin, there are a few options to consider. One popular method is to pan-sear the slices in a hot skillet with a little oil until they're nicely browned on both sides. You can then finish cooking them in the oven or on the stovetop with a flavorful sauce or seasoning.
Another option is to grill the slices, which can add a nice smoky flavor to the meat. Make sure to preheat your grill and oil the grates to prevent sticking. You can also marinate the pork slices beforehand for extra flavor.
One thing to keep in mind when cooking sliced pork loin is that it can dry out easily. To prevent this, make sure not to overcook the meat and let it rest for a few minutes after cooking to allow the juices to redistribute.
21 Sliced Pork Loin Recipes
Here is a list of 21 sliced pork lion recipes that am sure to love them:
Savor the flavor of juicy sliced pork loin in this Tender and Juicy Pork Loin Roast recipe from Katerina at Diethood. The honey garlic glaze, made with garlic, honey, low-sodium gluten-free soy sauce, Dijon mustard, and olive oil, coats the slices of pork loin, creating a sweet and savory flavor that is irresistible.
The spice rub, made with sweet paprika, garlic powder, onion powder, thyme, and rosemary, adds depth of flavor to each slice of pork loin. Roasted brussels sprouts and butternut squash accompany the slices of pork, making this meal a well-balanced feast. You can enjoy the slices of pork loin with the roasted vegetables, or as a protein-packed addition to your favorite salad.
This Oven Roasted Pork Loin recipe by Kristy Richardson is the perfect centerpiece for a Sunday family meal or a special holiday table. The blend of flavorful herbs and spices, including paprika, garlic powder, rosemary, and ground mustard, creates a delicious crust on the outside of the pork loin while keeping it juicy and tender on the inside.
The preparation is easy, with just a few simple steps to follow, and the end result is a show-stopping dish that will have your family and guests coming back for more. Once the pork loin is cooked to perfection, let it rest for 15 minutes before slicing it into ¾ to 1-inch thick slices. These slices are ideal for serving with a drizzle of the pan juices or your favorite pork gravy, and they are sure to be a crowd-pleaser.
This Brown Sugar Dijon Glazed Pork Loin with Carrots, Apples and Sweet Potatoes recipe is the perfect blend of savory and sweet. The tender and juicy pork is surrounded by caramelized carrots and sweet potatoes that have been coated in brown sugar. The top of the roast is generously coated with Dijon mustard and dark brown sugar, which creates a flavorful and crispy glaze.
If you're looking for an impressive dish to serve at a holiday meal or a special occasion, this recipe is a great option. Plus, the leftovers are delicious too! Don't forget to slice the pork loin into thick slices to fully enjoy the flavor and texture of this dish.
This recipe is for a French Onion Stuffed Pork Loin. It requires browning sliced onions in a skillet with butter and beef broth, then butterflying a 3-pound pork loin and stuffing it with the onions and shredded Gruyere cheese. The pork is seared and then baked for 25-30 minutes, and then broiled with more cheese and onions until the cheese is melted and golden brown. It's garnished with parsley and served warm.
The tender pork loin, marinated in a zesty blend of garlic, lemon, and herbs, is roasted to perfection in the oven. The aroma of the roasting pork and the lemony-garlicky marinade fills your kitchen, making your mouth water in anticipation. Once it's out of the oven, the roasted pork loin is sliced into succulent, juicy pieces and served alongside baby potatoes, which have been tossed in the reserved marinade for added flavor.
The combination of the savory pork and the tangy potatoes is sure to please everyone at the table. Plus, any leftovers can be easily stored in the fridge or freezer, so you can enjoy this delicious dish again and again.
To prepare this delicious pork loin, start by carefully removing the pork loin from its packaging and patting it dry. Remove any silver skin, and slice the loin into three equal-sized strips. Season the pork loin with an all-purpose rub, then braid the strips together and secure with a wooden skewer or toothpick.
Preheat your grill to 300 degrees and cook the pork over indirect heat for about 1.5 hours until the internal temperature reaches 130 degrees. Then, glaze the pork with a vinegar-based BBQ sauce and continue cooking until the internal temperature reaches 140 degrees. Remove the pork from the grill and let it rest for 10 minutes before serving.
This Smoked Pork Tenderloin is a crowd-pleaser with a sweet and spicy rub. Rub the 3-pound pork loin with oil and season it with a mixture of brown sugar, chili powder, chipotle powder, paprika, mustard powder, garlic powder, onion powder, salt, and pepper. Smoke it in a preheated smoker at 180°F for about an hour, then at 225°F until the internal temperature reaches 145°F. Let it rest for 10-15 minutes before carving.
These Parmesan-Crusted Pork Loin Cutlets are a quick and easy dinner option that are ready in just 16 minutes. Pork chops are pounded thin and coated in a mixture of bread crumbs, Parmesan cheese, salt, and pepper, then pan-fried until golden brown and cooked through. Serve with lemon wedges for a bright and tangy finish.
This recipe calls for using sliced pork loin to make delicious and tender Pan Seared Pork Medallions. To create the medallions, slice the pork tenderloin into 1-inch thick rounds and then pound them with a meat mallet to even out the thickness. The medallions are then seasoned with a blend of spices, pan-seared to perfection, and finished with a savory pan sauce. It's a simple and flavorful dish that's perfect for any weeknight meal or special occasion.
The recipe for Southern Pork Tenderloin calls for the pork tenderloin to be cut crosswise into ½-inch thick slices before coating with a mixture of panko bread crumbs, parsley flakes, garlic powder, onion powder, and black pepper. The pork slices are then fried in olive oil until the crumb coating is browned and the pork is no longer pink inside, which should take about 2 to 3 minutes per side.
This recipe is easy to make and takes less than 20 minutes, making it perfect for a quick and tasty meal. Serve with garlic mashed potatoes and mixed veggies or sweet corn on the cob and top with the Mustard Pork Garnish recipe, if desired.
To prepare Traditional Style Barbecue Pork Tenderloin, start by making a homemade barbecue sauce with ketchup, white wine vinegar, Dijon mustard, brown sugar, Worcestershire sauce, garlic cloves, onion, dried chili, salt, and pepper. Simmer the sauce for 25-30 minutes and let it cool. Then, pour the sauce over a pork tenderloin in a dish and refrigerate for an hour or up to overnight. When ready to cook, remove the pork from the fridge and place it on a large sheet of tin foil with the marinade.
Fold over the foil to seal it and cook the pork on a preheated barbecue over medium heat for about 25 minutes. Remove the pork from the foil and cook it directly on the barbecue for 3-5 minutes each side. Slice the pork into thin slices and serve with the remaining marinade.
The Apple Butter Pork Loin recipe features a 2-pound boneless pork loin roast that is seasoned with seasoning salt and roasted in apple juice. The pork loin is then coated with a spiced apple butter mixture and roasted in the oven until it becomes fork-tender. The recipe doesn't mention slicing the pork loin, but it is typically served sliced.
The recipe for German Pork Loin in a slow cooker requires a 2-pound pork loin that is seasoned with a mixture of German mustard, salt, and pepper. After searing the pork in a skillet, sliced onions and garlic are cooked and then deglazed with white wine. The onions and wine are then added to the bottom of the slow cooker along with the pork, chicken broth, dried thyme, and bay leaves.
The pork is cooked on high for 3.5-4 hours, and then set aside to rest. A mixture of flour and water is added to the liquid in the slow cooker to make the gravy, which is simmered for 5 minutes before serving with the sliced pork.
Try this Coca-Cola Braised Pork Loin Slow Cooker recipe! This mouth-watering dish features tender slices of pork loin, braised in a flavorful blend of Coca-Cola, apple cider vinegar, and spices. With just a few minutes of prep time and a slow cooker, you can have a satisfying meal that's perfect for any occasion. Serve the juicy, sliced pork on a platter, drizzled with the flavorful cooking liquid for an extra boost of flavor.
This easy and flavorful pork tenderloin recipe is perfect for a quick and delicious dinner. The tenderloin is seasoned with salt, pepper, garlic powder, and dried thyme, seared in a cast iron skillet, and then roasted in the oven with hard apple cider.
The tenderloin is finished with a sweet and tangy pan sauce made with pure maple syrup, Dijon mustard, and cornstarch to thicken. Once rested, the tenderloin is sliced and served with the pan sauce. This dish is gluten-free, dairy-free, low-carb, and low-fat, making it a healthy option for any night of the week.
Cajun Pork Tenderloin is a flavorful and juicy weeknight dinner that is easy to prepare. In this recipe, the pork tenderloin is first seared in a preheated cast iron skillet, and then oven roasted to perfection. The dish is seasoned with kosher salt and a generous amount of cajun seasoning, resulting in a spicy and aromatic flavor. After cooking, the pork tenderloin is allowed to rest for 10 minutes before being sliced into medallions. This dish is perfect for those who love bold flavors and a tender texture in their pork.
These Steakhouse Mushroom Pork Loin Medallions are a quick and easy meal that can be prepared in under 30 minutes. The pork medallions are sliced from a package of Smithfield Marinated Steakhouse Mushroom Pork Loin Filet and seared until browned and cooked through.
They are then set aside and a flavorful sauce is made in the same skillet with onions, mushrooms, garlic, thyme, red wine, beef broth, Worcestershire sauce, and Dijon mustard. Heavy cream or half and half is added to thicken the sauce, and the pork medallions are returned to the skillet and served in the sauce.
Sheet Pan Italian Pork Loin is a deliciously easy weeknight meal, featuring Tuscan herb Italian pork loin cooked on a sheet pan with fresh sweet potatoes and zucchini. The pork is marinated in Tuscan herb marinade, or you can use a plain tenderloin and season it with Italian seasoning.
The sweet potatoes and zucchini are diced into large pieces, mixed with oil, seasoning, salt, and pepper, and cooked around the pork loin. The whole dish is cooked in the oven at 375 degrees F for about 30 minutes or until the internal temperature reaches 145 degrees F. Let it rest for 5 minutes before slicing and serving.
Island Style Pork Tenderloin is an easy-to-make and delicious baked pork tenderloin recipe that is topped with a flavorful pineapple sauce. The pork is seasoned with a mix of spices, then browned in a skillet before being baked in the oven. The sauce, made with brown sugar, pineapple juice, garlic, and apple cider vinegar, is poured over the pork before baking, and then drizzled over the top when served. Perfect for a quick and easy family dinner!
This Air Fryer Pork Loin is tender, juicy, seasoned just right, and ready in just 20 minutes. Once cooked, let the roast rest for 5 minutes before slicing, and enjoy delicious, perfectly cooked pork loin medallions.
This recipe is for Easy, Air Fryer Italian Herb Pork Loin, which is a quick marinated recipe for cooking a small, boneless pork roast in an air fryer. To prepare, drizzle the Italian marinade onto both sides of the pork loin and sprinkle the remaining seasoning onto both sides. Marinate the pork loin for 2 hours if desired, then air fry it for 25 minutes on 360 degrees.
Flip the pork loin and cook for an additional 12-15 minutes or until the pork loin reaches an internal temperature of at least 145 degrees. Allow the meat to rest for at least 10 minutes prior to slicing and serving. The recipe also includes tips for using pork tenderloin and freezing cooked pork loin.
FAQs
How Do You Keep Sliced Pork Loin From Drying Out?
To keep sliced pork loin from drying out, it's important to avoid overcooking it and to let it rest for a few minutes before slicing. You can also try marinating the pork loin or adding a sauce to help keep it moist.
What is the recommended thickness for sliced pork loin
The perfect thickness for sliced pork loin depends on personal preference and the cooking method being used. However, a thickness of about ¼ to ½ inch is generally recommended for most cooking methods
Can I Slice Pork Loin Ahead Of Time?
Yes, you can slice pork loin ahead of time, but it is best to store it in an airtight container in the fridge for 3-4 days to keep it from drying out.
What are some popular ways to serve sliced pork loin?
Sliced pork loin can be served in a variety of ways, such as on a sandwich or in a salad. It can also be served as a main course with a side of vegetables, rice, or potatoes. Additionally, sliced pork loin can be used in stir-fries, tacos, and casseroles.