Discover the bold flavors of Thai basil in our curated collection of 20 tantalizing recipes. From aromatic stir-fries to zesty salads and fragrant curries, explore a diverse range of dishes that harness the essence of this aromatic herb.
Unleash the vibrant taste of Thai cuisine in your kitchen as we guide you through these flavorful recipes, making it easier than ever to master the art of cooking with Thai basil.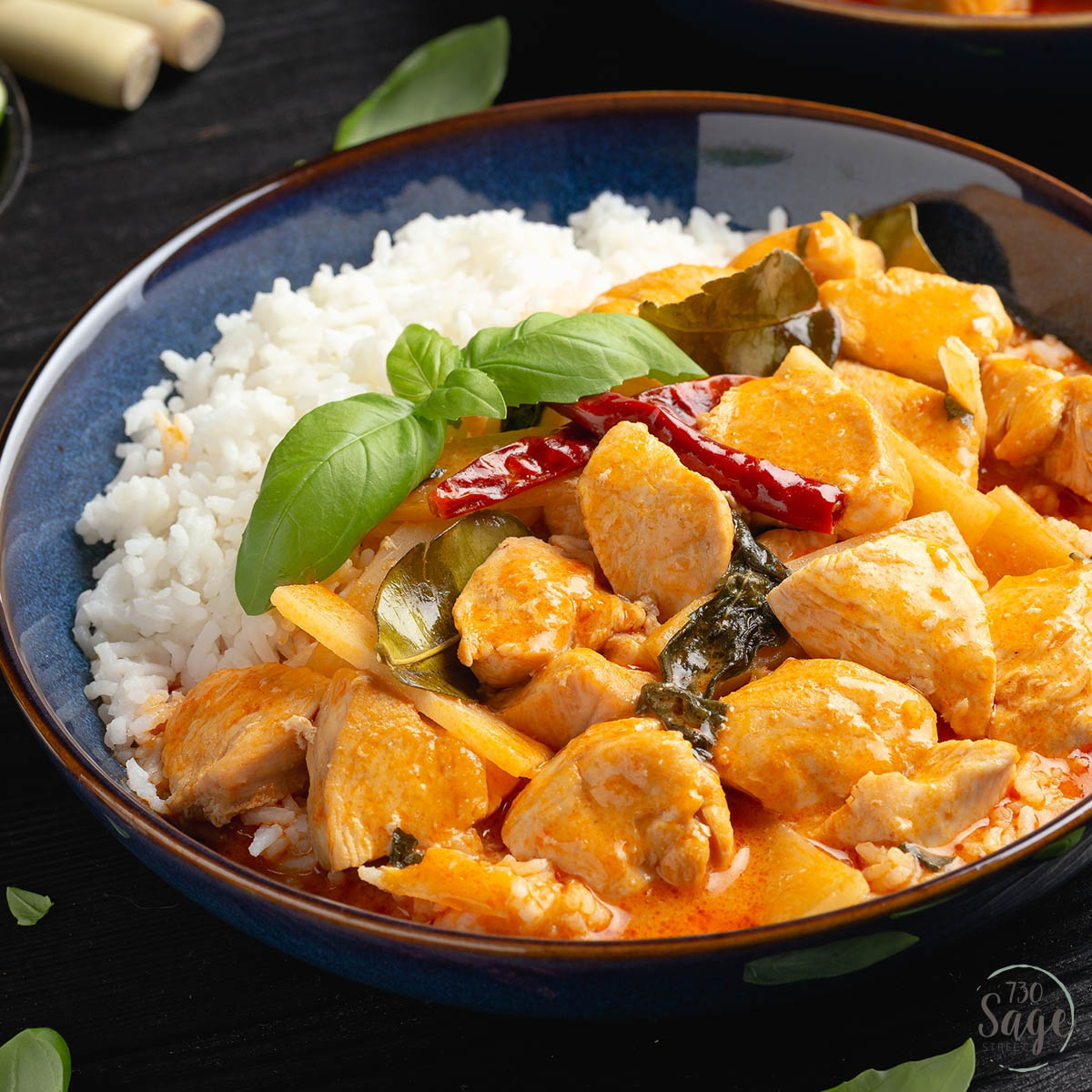 Experience the essence of Thailand with 20 Thai Basil Recipes. From aromatic curries to sizzling stir-fries, these dishes capture the vibrant flavors of Thai cuisine:
Brace yourself to be smitten by this shrimp delicacy with an exotic Thai touch! Tender shrimp meet Thai basil and a spicy, sweet and savory marinade, forming an explosion of flavors in your mouth.
The beauty of this recipe lies in the simple ingredients and quick cooking time. You'll love how the basil perfectly complements the shrimp, adding a wonderful aroma. Add this over steamed white or brown rice and savor the Thai-inspired magic at your dinner table!
Imagine sinking your teeth into tender cubes of tofu bathed in a tangy, spicy sauce with a touch of sweetness. This Thai Basil Tofu Stir Fry isn't just about the tofu; it's an orchestra of flavors that promises an exciting journey to Thailand.
The aromatic Thai basil and spicy sriracha blend beautifully to create a unique, delightful taste. It's ideal for a quick weeknight dinner, served over fragrant jasmine rice.
Picture yourself savoring a plate full of succulent ground pork, stirred up with aromatic Thai basil and a symphony of flavorful sauces. This Thai Basil & Pork Stir Fry, popularly known as Pad Gra Pao, is a classic Thai favorite that's simple to make, yet deliciously satisfying.
The kick of chili pepper adds a touch of excitement. Pair this stir-fry with a bowl of steaming rice and a fried egg on top, and you're in for a delightful meal.
Here's a fusion dish that beautifully marries the flavors of Japan with the charm of Thai basil. This recipe features juicy chicken and Japanese eggplant, stir-fried with aromatic garlic, scallions, and a bunch of Thai basil, resulting in a dish that's incredibly satisfying and brimming with flavor.
Each bite is a perfect harmony of taste and texture. Serving this delightful stir-fry with steamed jasmine rice will elevate your dining experience to new heights.
Get ready to enjoy a culinary masterpiece in your own kitchen with this Grilled Salmon recipe featuring a unique Thai Basil Sauce. Imagine savoring a succulent salmon fillet, fresh off the grill, topped with a fragrant Thai Basil Sauce that's bursting with a blend of sweet, tangy, and spicy flavors.
The hint of jalapeno and mint leaves in the sauce pairs perfectly with the grilled salmon, offering a refreshing twist to your usual fish dish. Don't forget the lime wedges for that extra zing!
The aroma of this delicious Easy Thai Basil Vegetable Stir Fry will make you feel like you've been transported to the busy streets of Bangkok. Packed with an array of vibrant, nutritious vegetables and a kick of fresh Thai basil, this dish brings the rich flavors of Thailand straight to your kitchen.
Basking in the aromatic goodness of coconut oil and fish sauce, this stir fry offers a mouthwatering medley of flavors. Whether you're after a quick midweek meal or looking to expand your culinary horizons, this recipe fits the bill.
Breathe life into your usual chicken dinner with this Thai Basil Sesame Cashew Chicken. This is where comfort meets exotic, where the humble chicken marries Thai flavors beautifully.
The fusion of honey-glazed cashews, aromatic garlic, and spicy chili paste creates an exciting gastronomic experience, topped with a handful of Thai basil. The final touch is a sprinkle of fresh basil and a side of cucumber for a refreshing crunch.
Experience a heartwarming fusion of flavors with this Thai Basil Chicken Noodle Bowl. It's a one-bowl wonder, with a generous amount of Thai basil, that promises a delightful explosion of taste in every bite.
The perfectly cooked rice noodles entangled with thinly sliced chicken, all simmering in a vibrant, aromatic sauce, will take you on a culinary journey to the heart of Thailand. Finish it off with a squeeze of lime for a zesty punch, and you're in for a delicious meal.
Thai Basil and Cilantro Salad is a celebration of fresh, tangy flavors that promise a burst of summer in every bite. This recipe brings together crunchy mini cucumbers, vibrant carrots, and thinly sliced shallots, beautifully tossed in a sweet and sour rice vinegar dressing.
A generous heap of Thai basil and cilantro leaves introduces a surprising twist, while a hint of red chili (optional) adds an adventurous kick. This salad can be a refreshing side or a light main dish for those warm, sunny days.
Let your culinary journey continue with this savory Thai Basil Beef. This delightful dish stars lean ground beef, harmoniously cooked with a rainbow of bell peppers, garlic, and shallots. It's then lovingly simmered in a blend of umami-rich sauces and a kick of Asian garlic chili paste.
The final flourish is a generous handful of aromatic Thai basil, transforming a simple beef dish into a Thai-inspired feast. A plate of steamed jasmine rice makes a perfect bed for this aromatic concoction. Enjoy this recipe for a taste of the exotic right in your own home.
Drizzle this Thai Basil Pesto over your favorite pasta or use it as a unique sandwich spread. Made with fragrant Thai basil leaves, tangy lime juice, and spicy jalapenos, this pesto packs a flavorful punch.
The dry roasted peanuts and olive oil blend together to create a silky, luxurious texture, while the ginger and garlic give a nod to the roots of Thai cuisine. You'll feel a delightful sense of accomplishment as you make this pesto from scratch, and the end product will have you transported to the bustling streets of Thailand.
Fire up the grill for a sizzling journey to Southeast Asia with this Chicken Satay, elegantly paired with Thai Basil Pesto. The satay, featuring succulent chicken marinated in an exotic blend of flavors, embodies the spirit of Indonesian street food.
Its companion, Thai Basil Pesto, teems with anise notes from Thai basil, transforming each bite into an East-meets-West affair. As a source of Vitamin K, basil offers health benefits, too. After grilling, enjoy the enticing aroma that fills your kitchen, and brace yourself for a mouth-watering meal that sings of summertime.
Reinvent your mid-week meals with this Thai Basil Cauliflower Rice. It's a fragrant medley of diced onions, fresh broccoli, and mushrooms, simmered to perfection and tossed with cauliflower rice.
Infused with the spicy kick of red pepper and aromatic Thai basil, this dish will make your weeknight dinners feel like a culinary adventure. The cauliflower rice makes this recipe a lighter alternative to traditional rice dishes, and the colorful vegetables not only add vibrant visual appeal but boost the nutritional value as well.
This Mango & Avocado Salad with Toasted Coconut & Thai Basil is a symphony of flavors and textures that will send you straight to a tropical paradise. Imagine crisp butter lettuce and refreshing cucumbers paired with succulent mangoes and creamy avocado slices, all delicately balanced by the spicy-sweet essence of Thai basil.
The toasted coconut and peanuts add an irresistible crunch, while the lime zest gives a burst of freshness. Dressed with a tangy, slightly sweet sesame oil and lime dressing, this salad promises to be a refreshing delight on your summer table.
Bring the dynamic flavors of Thai street food to your own kitchen with this Thai Basil Fried Rice. With a rich blend of sautéed chicken, peppers, and onion nestled in a bed of jasmine rice, each bite is an experience.
The powerful punch of Thai chilies and the fragrant Thai basil create an irresistible aroma that envelops your senses. The wok-fried eggs add a touch of comfort, while the honey-infused sauce leaves a lingering sweet aftertaste. All in all, this dish delivers an all-around sensation of warmth, satisfaction, and culinary thrill.
Just picture your mouth filling with a symphony of taste as you eat these Thai basil beef bowls. Revel in the melody of thinly sliced flank steak, enlivened by the aromatic allure of Thai basil and the sassy kick of Sambal Oelek.
Mellow jasmine rice and crispy veggies provide a balancing act, grounding this dish with its earthly nuances. The addition of sesame seeds offers a final crunch, like the closing note of your favorite song. Dive into this recipe and let the enchanting orchestra of flavors leave you craving for more.
A vibrant ode to summer, this Thai Watermelon Salad is a refreshing getaway. Juicy watermelon, crunchy cucumber, and toasty cashews form a trinity of texture, while Thai basil and fresh mint intertwine in an aromatic dance.
The dressing - a citrusy, slightly spicy, and sweet concoction - wraps everything together beautifully. Each spoonful is like a wave breaking on a Thai beach, carrying the spirit of a breezy tropical afternoon. So, whip up this salad and let it whisk you off to a sunny seaside holiday.
This vegetarian Thai Basil Soup is a love letter to fresh produce and heartwarming comfort. The meeting of lemongrass, ginger, and Thai chili pepper creates a powerful trio, setting the stage for the flavors to follow. Add in a medley of veggies, coconut milk, and the star of the show – Thai basil.
As the basil leaves wilt in the hot broth, they release their distinct aroma, turning this soup into a warm hug for your senses. With a touch of lime juice to elevate the experience, this soup promises a delightful journey of flavors and textures.
Unleash your culinary creativity with this tantalizing Vegan Thai Basil Coconut Curry. Marvel at how beautifully the spices - basil, turmeric, cumin, and more - blend into a melody of flavors. The creamy coconut milk provides a luscious canvas for the symphony of spices and veggies to shine.
Avocado slices add a luxurious touch, contrasting perfectly with the tofu and chickpeas. The hint of lime juice, in the end, will be like a spark of freshness, invigorating your senses. Get ready to dive into a dish that's as nourishing as it is delicious!
Transform your everyday chicken into an exciting culinary adventure with this 15-minute Thai Basil Chicken recipe. Dive into the myriad of flavors - dark soy sauce, oyster sauce, fish sauce - all working in unison to create a flavor profile that's tangy, savory, and undeniably Thai.
The hero, Thai basil, lends its unique aroma, tying together the whole dish. Serve it on a bed of fluffy rice, and let the enticing aroma transport you to a bustling Thai street-food scene, right in the comfort of your kitchen.
How do I store Thai basil to keep it fresh for longer?
To keep Thai basil fresh, start by trimming the stems and removing any damaged leaves. Place the basil in a jar or glass of water, similar to a bouquet, and loosely cover it with a plastic bag. Store it at room temperature, away from direct sunlight. Alternatively, you can wrap the basil in a damp paper towel and place it in a plastic bag in the refrigerator. Proper storage helps maintain the vibrant green color and flavor of Thai basil, allowing you to enjoy it for a longer time.
Can I substitute Thai basil with another herb in these recipes?
While Thai basil has a unique flavor, you can substitute it with other herbs that offer similar aromatic qualities. Some suitable alternatives include sweet basil, Italian basil, or even a combination of mint and cilantro.
While the taste may differ slightly, these substitutes can still add a fresh and herbaceous element to your dishes. Experimenting with different herbs allows you to customize the flavor profile while still achieving delicious results in your recipes featuring Thai basil.