From Date Syrup Cake with Caramel Glaze to Ginger Spiced Date Syrup Cookies, this article features 15 delicious and creative recipes that incorporate this versatile ingredient.
Indulge in Outrageously Healthy Brownies or satisfy your cravings with Zucchini Bread with Date Syrup Recipe, while enjoying the numerous health benefits that date syrup has to offer.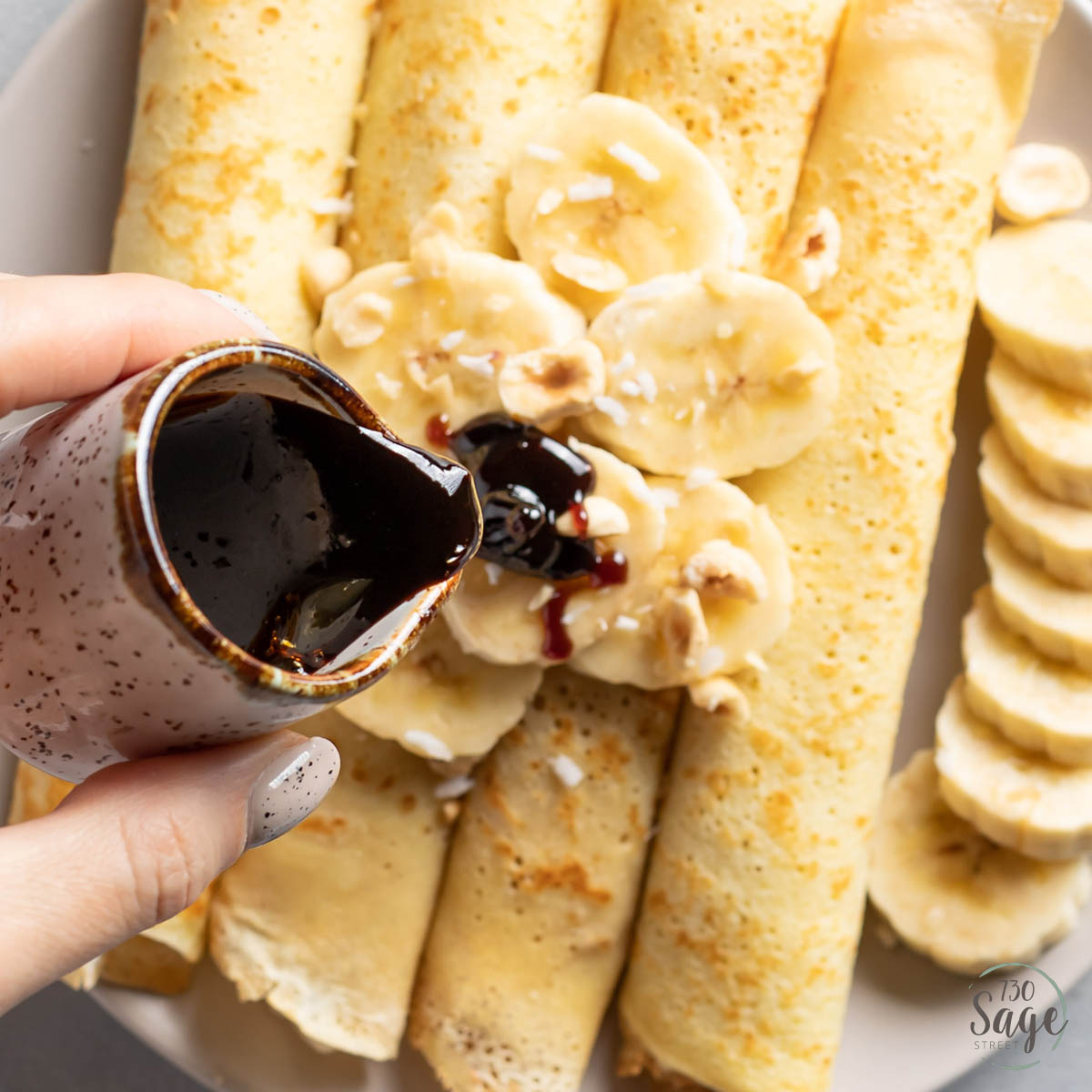 Can I Use Date Syrup As A Substitute For Honey Or Maple Syrup?
Yes, date syrup can be used as a substitute for honey or maple syrup in many recipes. It has a similar consistency and sweetness level, and it can be used in baking, cooking, and as a topping for pancakes, waffles, and yogurt.
Is Date Syrup Vegan And Gluten-free?
Yes, date syrup is both vegan and gluten-free. It is made only from dates and water and does not contain any animal products or gluten. This makes it a great option for people with dietary restrictions or those who follow a plant-based diet.
Can I Make My Own Date Syrup At Home?
Yes, you can make your own date syrup at home using only two ingredients: dates and water. Simply blend pitted dates and water in a blender until smooth, then strain the mixture through a fine-mesh sieve or cheesecloth. The resulting liquid is a delicious and healthy sweetener that can be used in a variety of recipes.
15 Recipes With Date Syrup
From cakes to brownies, this round-up of 15 delicious recipes will inspire your next culinary adventure:
This date syrup cake is the perfect dessert for anyone with a sweet tooth! The cake is moist, fluffy, and has a caramel-like flavor that makes it irresistible. The date syrup adds a unique flavor to the cake, while the sour cream gives it a rich, creamy texture.
The caramel glaze adds an extra layer of sweetness and a sticky texture that makes every bite even more heavenly. For an extra crunch, top it off with chopped pecans. This cake is a showstopper and sure to impress anyone who tries it!
These brownies have a moist, fudgy texture and a deeply chocolaty flavor that will leave you feeling satisfied. The date syrup, also known as date molasses, adds a subtle caramel-like sweetness.
Don't worry about the black beans' flavor, as it's completely masked by the chocolate. For an extra crunch, you can add some unsalted pistachio nuts or vegan chocolate pieces on top. These outrageously healthy brownies are vegan and gluten-free, making them the perfect guilt-free treat.
These ginger-spiced date syrup cookies are a must-try for any cookie lover! The combination of oat flour, spices, and date syrup creates a unique flavor that's simply irresistible. The vegan butter adds a rich, buttery texture, and the turbinado sugar coating gives it a light crunch.
The use of oat flour makes these cookies gluten-free and a healthier option. These cookies are perfect for the holiday season or any time of year when you want a sweet, spicy treat. Make sure to chill the dough before baking for the best results. Enjoy these cookies fresh out of the oven or store them at room temperature for up to 5 days.
The combination of grated zucchini and date syrup results in a moist and flavorful bread, while the spices add a warm, comforting aroma. This recipe uses coconut oil and yogurt, which makes it a healthier option compared to regular zucchini bread.
You can also add chocolate chips for a bit of indulgence. It's easy to make and perfect for breakfast, as a snack, or even as a dessert. Bake it until golden brown and enjoy the smell that will fill your kitchen. Serve it warm or at room temperature, and it will be a sure hit!
Enjoy the rich taste of these chocolate chip cookies with a twist, created with melted butter and sweet date syrup, which creates the ideal balance between the sweet date syrup and the nutty chocolate chips.
Each piece is loaded with chocolate chips, so you can indulge your sweet taste without the guilt. The dough should be chilled for at least one hour, preferably overnight, for the best flavor. These cookies are the ideal party snack since they are simple to prepare and come out perfectly every time. Have one by yourself or with a glass of milk!
Transform your morning routine with this irresistible granola recipe featuring date syrup! The combination of wholesome rolled oats, crunchy pepita seeds, flaked almonds, and chewy dried fruit makes for a satisfying and nourishing breakfast or snack.
The cinnamon adds a hint of warm spice, while the date syrup provides a subtle sweetness that will make your taste buds dance. Enjoy this homemade granola fresh from the grill, and savor its golden, crispy goodness with every bite. Store it in an airtight container and indulge in its deliciousness for up to two to three weeks!
These vegan Gingerbread Pancakes from Elephantastic Vegan are a festive and delicious breakfast option that will put you in the holiday spirit! With only 9 ingredients, including warming spices like cinnamon, ginger, and nutmeg, these pancakes are easy to whip up and perfect for a cozy morning at home.
Drizzled with date syrup, these fluffy pancakes are sure to satisfy your sweet tooth while still being a healthier option. Serve them up in stacks of 3 and enjoy a cozy and comforting breakfast with loved ones!
Roast chicken thighs are taken to the next level with the addition of natural sweetener, and date syrup. The dish is bursting with flavors of fresh ginger, garlic, thyme, lime zest and juice, and soy sauce, all perfectly complemented by the rich sweetness of date syrup.
Browned to perfection in a large frying pan, the chicken is then roasted in the oven to juicy and tender perfection. This simple yet flavorful dish is sure to impress at any dinner party or family meal, especially when served alongside some seasonal greens and rice.
Satisfy your sweet tooth with these mouth-watering and healthy date syrup crinkle cookies. From the first bite, you'll be hooked on their irresistible combination of natural date syrup, rich dark brown sugar, and warm cinnamon spice.
These cookies are the perfect accompaniment to a warm cup of tea or coffee, or to satisfy your sweet cravings any time of day.
Take a trip to Quebec and enjoy the classic dessert of gluten-free pudding chomeur made with homemade date syrup. The natural sweetness of the Medjool date syrup pairs perfectly with the fluffy texture of the gluten-free flour and almond flour mixture.
The recipe also includes eggs, milk, and vanilla extract for extra flavor and richness. To make the dessert, simply pour the date syrup mixture into a casserole dish, top it with the cake mixture, and bake for 40-45 minutes. Serve the pudding chomeur with chopped dates and a dollop of vanilla ice cream for a truly decadent experience.
This roast chicken recipe with tangerines, green onions, and date syrup creates a dish that is both savory and sweet, with a hint of spice. The chicken is rubbed with a mixture of date syrup, harissa spice, and olive oil, and then roasted alongside shallots, tangerines, and optional carrots.
Lightly brined green olives are added to the pan partway through the cooking process, and the dish is finished with a flavorful pan sauce made from deglazing the roasting pan with white wine. This recipe is perfect for a cozy family dinner or a special occasion.
Pecan Date Bars are a delicious treat that combines the best of Egyptian, French, and American cuisines. Toasted pecans, date molasses, and light brown sugar are layered atop a buttery, cinnamon-infused crust in these bars, making them a healthier and tastier alternative to traditional pecan pie.
These delicious bars are ready to take you on a delicious adventure with their flaky crust and rich, gooey center. They're great as a dessert, a snack, or even as finger food at a cocktail party.
This Sun-Dried Tomato, Chickpea, and Oyster Mushroom Bowl is the perfect lunch prep! Packed with flavor and nutrients, this bowl is both hearty and healthy. The dish combines nutty farro with crispy and salty chickpeas that are roasted to perfection.
The oyster mushrooms are drizzled with date syrup for a touch of sweetness and then cooked to a crispy brown. The bowl is then topped with a mixture of Calabrian chili paste, sun-dried tomatoes, and lemon zest, which adds a spicy and tangy kick. Finish off the bowl with a lemony parsley garnish to create a delicious and satisfying meal that's perfect for any time of the day.
This Medjool Date Syrup is a delicious and natural sugar substitute that's perfect for drizzling over pancakes, waffles, or toast. Made with just two simple ingredients - water and Natural Delights® Medjool Dates - this syrup is easy to make and contains no added sugars or artificial sweeteners.
The dates are boiled for an hour, then strained through cheesecloth to create a rich and flavorful liquid that is reduced to a thick and syrupy consistency. This syrup is a great way to add a touch of sweetness to your breakfast or snack without guilt. Make a large batch of this syrup and store it in an airtight container in the fridge for up to a week.
The overnight Oats with Cherries, Almond Butter & Date Syrup recipe is a perfect breakfast option that is easy to make and packed with delicious flavors. The oats are combined with chia seeds, vanilla almond milk, coconut cream, and a pinch of salt to create a creamy and nutritious base that's left to sit overnight in the fridge.
The next morning, top the oats with sweet and juicy pitted cherries, creamy almond butter, and a drizzle of date syrup for a natural and healthy sweetener. Add some chopped almonds and sliced bananas for an extra crunch and a boost of nutrients.