Canned pork is a versatile and convenient ingredient that can be used in a range of delicious dishes.
In this roundup, we've gathered 20 mouth-watering recipes that showcase the many ways you can use canned pork in your cooking.
From Pulled Pork Quesadillas and Easy Spicy Pork Noodles to Pork Stroganoff with Buttered Noodles and Sweet And Sour Pork – One Pan, these recipes are sure to satisfy your cravings.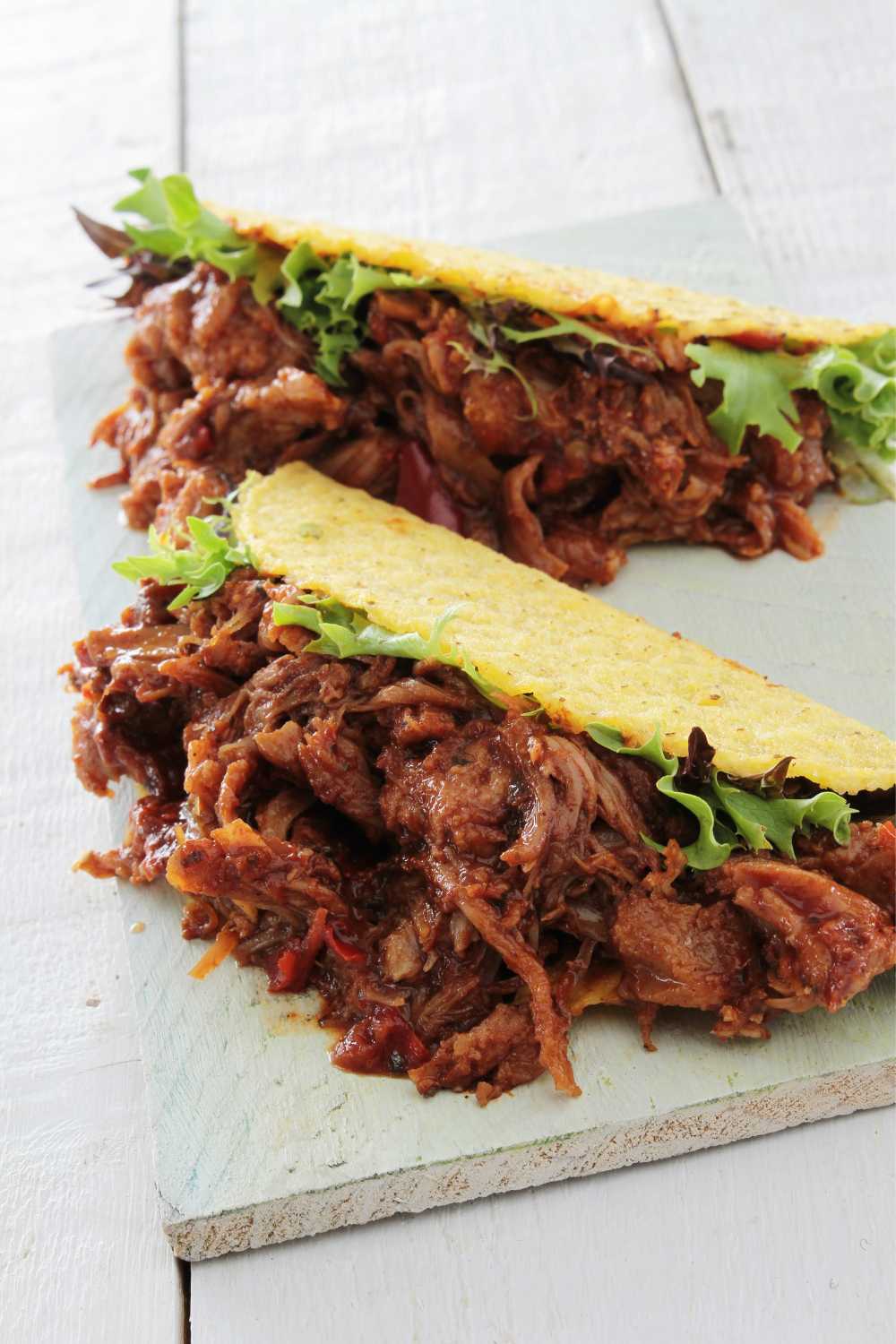 Is Canned Pork Precooked?
Yes, canned pork is typically precooked and can be consumed right out of the can, but you should always check the label of the specific brand and type of canned pork you are using to confirm that it is pre-cooked.
What Is The Best Cooking Method For Canned Pork For Flavor?
The best cooking method for canned pork for flavor depends on personal preference, but some popular options include heating it in a sauce or gravy to add depth of flavor and keep the pork moist, browning it in a pan or on the grill to add a crispy texture and smoky flavor, or slow cooking in a crockpot or oven to infuse flavor into the pork and keep it tender.
20 Recipes With Canned Pork
Revamp your mealtime with these 20 delectable canned pork recipes, from stews and sandwiches to tacos and casseroles:
Pulled Pork Quesadillas are a perfect quick and easy snack or meal that everyone loves. Inspired by America's Test Kitchen: The Best Mexican Recipes, this recipe uses pulled pork that can be easily warmed in a non-stick skillet with a few crispy edges.
Once warmed, add green onions, cilantro, diced green chiles, and Monterey Jack cheese to the pork, and then spread the mixture onto a flour tortilla, folding it over and pressing down to compact. Brush with oil and bake in the oven for 10 minutes until golden brown. Cut into wedges and serve with your favorite dipping sauce for a delicious treat.
This Easy Spicy Pork Noodles recipe is a delicious twist on classic ramen noodles. Instead of using traditional ramen flavor packets, this recipe calls for a sweet and spicy sauce made with brown sugar, soy sauce, and chili garlic sauce, combined with thin-sliced pork loin that can be easily substituted with canned pork.
Simply heat the canned pork in a skillet and follow the same steps as instructed. Once the pork is cooked, add the garlic and sauce mixture and simmer until the flavors are fully combined. Toss in the cooked ramen noodles and stir to coat them in the sauce. Garnish with sliced green onions and serve immediately for a flavorful and satisfying meal.
Pork Stroganoff with Buttered Noodles is the ultimate comfort food made with fresh ingredients and ready in under 15 minutes. This delicious recipe features tender pork cooked with mushrooms and onions in a creamy sauce that is perfect for any season.
If canned pork is to be used, simply substitute the fresh pork with canned pork and follow the same steps. While the pork is cooking, cook the pappardelle pasta and toss it in butter. Then, add the cooked pork to the pan with onions and mushrooms, stir in the sour cream, salt, pepper, and lemon juice, and cook until the sauce thickens. Serve over the buttered pappardelle and sprinkle with parsley for a delightful meal.
Pulled Pork King Ranch Casserole is a delicious twist on a classic Tex-Mex dish that is perfect for potlucks and tailgating. The pork is layered with crushed tortilla chips, a sauce made from cream of mushroom soup, cream of chicken soup, Rotel tomatoes, Cheez Whiz, onion, hot sauce, Worcestershire sauce, and shredded cheddar and mozzarella cheeses.
Bake in the oven for 35 to 45 minutes until the cheese is melted and bubbly, and the casserole is heated through. Serve this comforting and flavorful casserole to your family and friends for a tasty and satisfying meal.
For a delicious twist on the classic Chinese dish, try this sweet and sour-pork recipe. Using canned pork instead of beef broth is a budget-friendly way to make this restaurant-quality meal easily at home in one pan.
The pork is coated in cornstarch and fried until crispy before being tossed in a flavorful sauce made with pineapple juice, ketchup, soy sauce, garlic, and ginger. Garnish with sliced green onions and sesame seeds for a beautiful and tasty finish. Serve over rice for a complete and satisfying meal.
Crispy Pork Carnitas is a Mexican delicacy that will delight your taste buds! With tender pork shoulder cooked to perfection in a savory broth, these carnitas are then shredded and pan-fried until crispy.
The recipe calls for searing the pork in a dutch oven, but you can easily substitute canned pork for this step. Simply add the canned pork to the braising liquid and cook on low heat for 2-3 hours, or until the meat is tender and easy to shred. Serve the carnitas with warm tortillas, fresh lime wedges, and your favorite toppings, and enjoy the irresistible combination of flavors and textures.
Instant Pot Southwestern Pork Stew is a delicious and hearty recipe that comes together in a snap. It features tender pork, black beans, corn, and Rotel, all cooked in a savory broth of chicken broth and salsa verde.
While the recipe calls for sautéing a pork tenderloin, you can easily use canned pork instead, simply add the canned pork to the Instant Pot, along with the other ingredients, and cook on high pressure for 10 minutes. Once the stew is cooked, shred the pork with two forks and thicken the sauce with a cornstarch and water mixture. Serve hot with cornbread, and enjoy the robust flavors and textures of this Southwestern-inspired dish.
BBQ Pulled Pork Pizza is a fun and flavorful twist on traditional pizza, and it's perfect for busy nights when you want a quick and easy dinner. It calls for refrigerated pizza dough and pre-made BBQ pulled pork, but you can easily use canned pork as a substitute.
Simply heat the canned pork in a saucepan, and spread it evenly over the pizza dough, along with thinly sliced red onions, chopped pineapple, and freshly grated Monterey Jack and Mozzarella cheese. Bake the pizza according to the dough package instructions, and then top it with cooked bacon and fresh cilantro. Serve hot, and savor the delicious combination of sweet, savory, and smoky flavors.
BBQ Pulled Pork Nachos are a perfect appetizer or game-day snack that everyone will love. This recipe is super easy to prepare and requires only a few ingredients, including tortilla chips, pre-made BBQ pulled pork, sliced jalapeños, red onions, cheddar, and mozzarella cheese, and your favorite BBQ sauce and ranch dressing.
If you want to use canned pork instead, simply heat the pork and mix it with the BBQ sauce before layering it on top of the tortilla chips. Add sliced onions and jalapeños, sprinkle with shredded cheese, and bake in the oven until the cheese is melted and bubbly. Serve hot with extra BBQ sauce and ranch dressing, and enjoy the crunchy, savory, and slightly spicy flavor of these delicious nachos.
Pork Bolognese is a rich and delicious pasta dish that's easy to prepare at home. The creamy tomato sauce is made with ground pork and pancetta, along with diced onions, carrots, celery, and a touch of red wine. If you prefer, canned pork can be used instead.
The sauce is simmered for several hours until it's thick and flavorful and then served over tagliatelle or your favorite pasta. Top with grated Parmesan cheese and chopped basil for a finishing touch. This dish is perfect for a cozy dinner at home or for entertaining guests.
This recipe is a great way to use up any leftover pulled pork from your BBQ, but if you prefer to use canned pork, you can certainly do so. Simply substitute the cooked pulled pork with an equivalent amount of canned pork, drained and shredded. Mix it with the BBQ sauce before spreading it over the cornbread and top with the remaining cheese. Bake as directed and enjoy!
Using canned pork in place of pork tenderloin makes this Slow Cooker Pork and Noodles recipe even easier to prepare without sacrificing any of the delicious flavors.
The pork is combined with French onion soup, Worcestershire sauce, garlic, and onion powder, and slow-cooked until it's tender and juicy. Add in the Amish egg noodles and a cornstarch mixture to make a rich and savory gravy, and you've got the perfect cozy meal for any occasion. Top with fresh chopped parsley and serve!
You can easily substitute canned pork in this Pulled Pork Chili recipe for an equally delicious and satisfying meal. To do this, simply sauté the canned pork in a single layer until it's crispy and warm before adding the rest of the ingredients to the large dutch oven.
Then, continue with the recipe as normal, and enjoy your perfectly seasoned and easy Pulled Pork Chili topped with your favorite toppings like crushed chips, shredded cheese, sour cream, or avocados. This recipe is a great way to use up canned pork and enjoy a warm and comforting meal.
This Pulled Pork Hash recipe is the perfect way to start the day! With just a handful of ingredients and a skillet, you can create a hearty and flavorful breakfast that everyone will love. To make it with canned pork, simply substitute the pulled pork with canned pork, ensuring to break it up into small pieces.
The combination of the sautéed onions, peppers, and garlic with the paprika, salt, and pepper creates a savory base for the crispy diced potatoes and juicy canned pork. The cheese and eggs are then added to the mix and baked in the oven until golden brown. Serve this tasty breakfast with a side of fresh fruit or toast for a complete meal.
Get ready to indulge in a savory and satisfying bowl of pork fried rice, packed with Asian-inspired flavors and nutritious veggies! With this recipe, ground pork is cooked to perfection and mixed with sesame oil, onions, and spices.
In just 20 minutes, you'll have a delicious and nutritious meal made with cooked white rice, frozen peas and carrots, and pineapple chunks for a subtle sweetness. You can easily substitute the ground pork for canned pork and heat it up with the other veggies in the skillet. Lastly, don't forget to add whisked eggs for extra protein and flavor.
If you're looking for a comforting and flavorful meal, this Thai-style peanut pork recipe is a must-try! This melt-in-your-mouth dish features juicy diced pork shoulder, cooked to perfection with a combination of spices, coconut milk, and peanut butter.
The addition of fish sauce and lime juice gives the dish a hint of tanginess, while beansprouts add a healthy and crunchy touch. For a gluten-free option, make sure to use vegetable bouillon instead of chicken stock. You can easily substitute the diced pork shoulder with canned pork, just make sure to heat it up before adding it to the pan. Served over boiled rice and garnished with fresh coriander and chili flakes, this dish is perfect for any occasion!
Creamy and cheesy, this dish features tender elbow macaroni mixed with a delectable cheese sauce made with Velveeta, cottage cheese, and shredded cheddar cheese. The dish is then topped with juicy pulled pork that's been mixed with tangy barbecue sauce for an extra kick of flavor.
For a quicker version of this recipe, you can easily substitute the pulled pork with canned pork, just make sure to drain the excess liquid before mixing it with the barbecue sauce. Once all the ingredients are combined, the casserole is baked to perfection, making it the perfect dish for feeding a crowd or meal prepping for the week. Don't forget to sprinkle some fresh parsley on top for added freshness and color.
Crunchy, creamy, and full of flavor, these pulled pork taquitos are the perfect meal for any time of day! To save time, you may use canned pork in place of the Mexican pulled pork and combine it with the other ingredients to make these tortillas just as tasty. They are packed with a creamy blend of shredded cheddar cheese, Mexican pulled pork, cream cheese, green salsa, and fresh lime juice.
Once the tortillas are tightly rolled up, they are baked until golden and crispy. Don't forget to sprinkle some sea salt and top them with your favorite toppings such as guacamole, salsa, and sour cream for a perfect finishing touch. These taquitos are perfect for a quick and easy meal or as an appetizer for a party.
This fried cabbage with sausage dish is the perfect savory and satisfying meal for any time of day. Made with juicy sausage meat, onions, and garlic, the dish is packed with flavors that'll tantalize your taste buds. Canned pork may be used in place of the sausage meat, and the addition of green cabbage and scallions adds a nutritious and crisp element to the dish.
Spices such as chicken bouillon, paprika, oregano, and cayenne pepper are added to the dish for an extra kick of flavor. This recipe can be made in just 30 minutes, making it a perfect dish for a quick and easy weeknight meal. Serve it hot and garnished with sliced scallions for a perfect finishing touch.
These Pulled Pork Enchiladas are a perfect use for leftover pulled pork. They're easy to make and packed with flavor. This dish features red enchilada sauce and melted pepper jack cheese for added bold flavors.
To make these enchiladas with canned pork instead, simply substitute the leftover pulled pork for an equal amount of canned pork. Warm the canned pork in a skillet with a little bit of olive oil, and then follow the rest of the recipe as written. Top these enchiladas with diced tomatoes and avocado for a fresh finish.