Beef broth is a versatile and savory ingredient that can be used in a variety of meals, ranging from substantial casseroles and stir-fries to cozy soups and stews.
In this roundup of 20 delicious recipes with beef broth, you'll find everything from creamy pasta dishes like Creamy Beef and Shells to comforting classics like Homemade Shepherd's Pie and Crock Pot French Dip.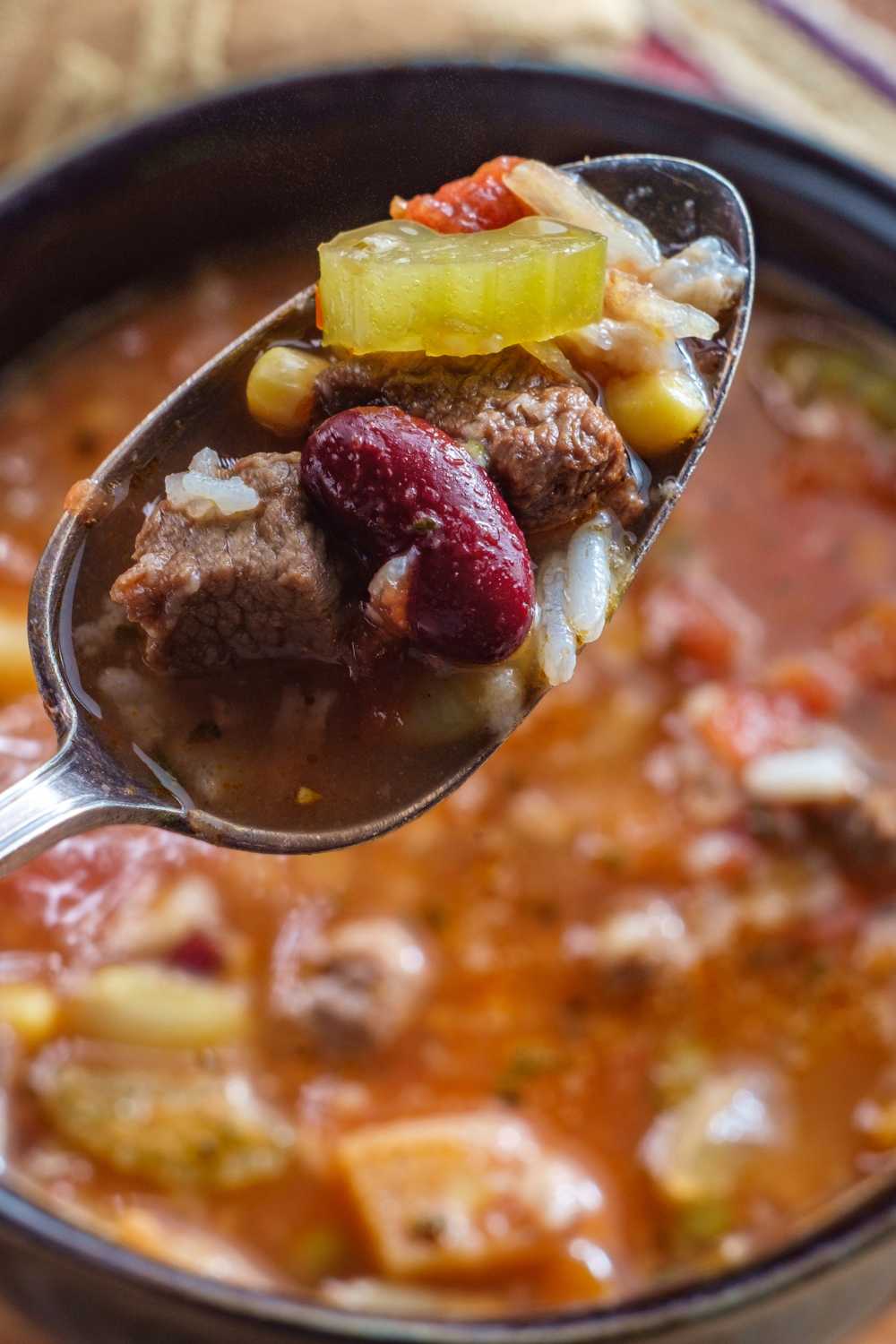 What Is The Difference Between Beef Broth And Beef Stock?
The main difference between beef broth and beef stock is the ingredients used and the cooking time. Beef broth is made by simmering meat and vegetables in water, while beef stock is made by simmering bones and connective tissue in water.
The result is a more flavorful and gelatinous stock that's often used in sauces and gravies, while the broth is typically used as a base for soups and stews.
What Are The Best Beef Broth Brands?
There are many high-quality beef broth brands on the market, including Swanson, Pacific Foods, and Imagine Foods. These brands use high-quality ingredients and minimal additives, resulting in a rich, savory broth that's perfect for a variety of recipes. Of course, you can always make your own beef broth by simmering beef bones, vegetables, and herbs in water for several hours.
Should I Use A 1:1 Ratio When Subbing Beef Broth For Another Liquid?
While you can often substitute beef broth for water or other liquids in recipes, you may not want to use a 1:1 ratio. The beef broth has a strong, savory flavor that can overpower other ingredients if used in excess. Instead, try using a smaller amount of beef broth and adjusting the seasoning to taste.
For example, if a recipe calls for 1 cup of water, you might use ½ cup of beef broth instead. If the flavor is still too strong, you can dilute it with additional water or other liquids.
20 Recipes With Beef Broth
Try these 20 delicious and easy recipes that showcase the versatility of beef broth:
Creamy Beef and Shells is a hearty and comforting pasta dish that's sure to be a hit at the dinner table. The recipe calls for medium pasta shells, ground beef, sweet onion, garlic, and a blend of Italian seasonings. The beef is simmered in beef broth and tomato sauce until thickened and then combined with the cooked pasta and heavy cream for a rich, creamy texture. Topped with extra-sharp cheddar cheese, this dish is perfect for those cold winter nights.
This Homemade Shepherd's Pie recipe is the ultimate comfort food for your family. Made with ground beef, onions, garlic, carrots, celery, and a blend of savory herbs and spices, this dish is the perfect warm and hearty meal. The beef is simmered in beef broth and red wine (or additional beef broth) until tender, then mixed with peas and topped with a layer of creamy mashed potatoes. Sprinkled with cheddar cheese, this dish is baked to golden perfection.
Enjoy a Chinese takeout classic at home with this Beef Lo Mein recipe. This easy-to-follow recipe involves cooking noodles in a mixture of hot boiled water, Better Than Bouillon Beef Base, soy sauce, and brown sugar. Thin strips of beef are cooked until golden brown in a hot skillet with sesame oil and set aside. Diced carrots, broccoli, onion, and garlic are sautéed until softened and then simmered with the cooked beef in the sauce.
The cooked noodles are added and tossed with the vegetables and beef mixture for a perfect texture. To incorporate beef broth, simply replace the hot boiled water with beef broth for added richness and flavor. Serve this dish hot and enjoy a delicious meal.
Ground Beef Queso Chili is a delicious twist on classic chili that you will surely love. Made with beef, onions, beans, seasonings, diced tomatoes, and pasta, this recipe also includes a homemade queso sauce that will make this dish even more indulgent.
To make the queso sauce, melt butter in a saucepan and add flour and salt, followed by milk and shredded cheddar cheese. Pour the queso sauce into the chili and let it simmer for 5-10 minutes. Serve this chili with your favorite toppings like Fritos corn chips, sour cream, shredded cheese, green onions, or cilantro.
This quick and easy recipe for Mongolian Ground Beef Noodles is a must-try! With a perfect blend of sweet and savory flavors, this dish is packed with minced ginger and garlic, low-sodium soy sauce, beef broth, brown sugar, hoisin sauce, and red pepper flakes.
The lean ground beef and linguine noodles are cooked together, absorbing all the amazing flavors. Top it off with green onions and toasted sesame seeds for a delicious and Instagram-worthy dish. It only takes 15 minutes to prepare, making it a perfect meal for a busy weeknight.
This crock pot French dip recipe is the ultimate comfort food that's perfect for a cozy night in. Tender beef roast, onion, garlic, and onion soup mix are slow-cooked in beef broth until fork-tender. Serve the beef on toasted hoagie rolls with a generous helping of melted provolone cheese.
Don't forget to dip your sandwich into the savory broth for extra flavor! For a thicker sauce, add a cornstarch and water mixture to the broth and stir until thickened. This recipe is an easy and delicious way to enjoy a classic French dip sandwich at home.
Loaded with juicy beef, potatoes, carrots, peas, onions, and garlic, this hearty Slow Cooker Beef Stew is simmered in a flavorful broth made with high-quality beef broth, red wine, and Worcestershire sauce. The stew is cooked low and slow in a slow cooker for four hours, allowing the vegetables to soften and the beef to become incredibly tender. The addition of cornstarch will help thicken the stew, and the dish is finished off with a velvety butter swirl for a perfect finish.
This hearty Stuffed Pepper Soup is a comforting and easy-to-make meal that features all the classic flavors of the popular dish. A blend of ground beef, diced onions, bell peppers, and tomato are cooked in a Dutch oven before being simmered with beef stock and seasoned with herbs and spices. Jasmine rice is added for a complete meal. This soup is perfect for chilly days and will leave you feeling satisfied and warm.
Homemade Salisbury Steak is a classic comfort food dish that's perfect for a cozy dinner with the family. Made with homemade ground beef patties, and smothered with rich mushroom gravy, it's sure to become a household favorite.
The patties are easy to make and flavored with ketchup, mustard, parsley, and onion powder. The gravy is made by creating a roux, then adding beef broth, Worcestershire sauce, ketchup, and onion powder. The brown button mushrooms add extra flavor and texture to the dish. This savory recipe is perfect served over a bed of mashed potatoes or alongside your favorite veggies.
This Hearty Pasta Fagioli Soup is packed with rich, savory flavors and tender pasta shells. Ground beef, vegetables, and beans are combined with canned spaghetti sauce and beef broth to create a delicious base.
The soup is seasoned with oregano, basil, salt, and pepper to enhance the taste. Tender pasta is added to the soup in the final 10 minutes of cooking to give it a nice texture. Serve with fresh parsley and parmesan cheese, and store the leftovers in the fridge or freezer for future meals. Enjoy this warm and comforting dish any time of the year!
This Mexican Beef and Rice Skillet is a perfect weeknight dinner option, the ground beef is cooked with onions and garlic, then mixed with diced peppers, taco seasoning, and tomato paste for bold flavor.
The rice, chunky salsa, black beans, and sweet corn are added along with beef broth, creating a hearty and satisfying one-pot meal. Top with shredded cheese and your favorite toppings for a colorful and delicious meal.
Vegetable Beef Noodle Soup is a classic, comforting soup that is perfect for cold winter days. Made with simple, inexpensive ingredients, this recipe is easy to make and ready in just 30 minutes.
The soup features tender ground beef, canned vegetables, and egg noodles simmered in a beef broth base seasoned with dried basil and parsley. The addition of blended stewed tomatoes adds a unique flavor to the soup. To make this soup even more delicious, serve it with crusty bread or crackers on the side.
Beef and Noodles is a classic dinner idea that doesn't require a lot of prep or fancy ingredients. This frugal recipe from Eating on a Dime uses beef roast, butter, onion, and a few seasonings to create a hearty, comforting dish.
The beef is cooked in beef broth until it's tender and juicy, and then a cornstarch and water mixture is added to create a thick, flavorful sauce. The dish is then served over a bed of egg noodles for a simple and satisfying meal that's sure to be a hit with the whole family.
Cheesesteak Style Sloppy Joes are the perfect comfort food with a twist! This easy-to-make recipe uses ground beef cooked with bell pepper, onion, garlic powder, Worcestershire sauce, and beef broth, creating a savory and flavorful filling for your sandwiches.
Cornstarch is added to thicken the mixture and make a delicious sauce, and a melty slice of white American or provolone cheese takes it over the top. Served on soft rolls, this hearty and cheesy dish will have your family asking for seconds!
This Hearty Beef Barley Soup is a comforting meal with a rich, savory flavor that will warm you up on cold nights. The recipe uses tender cubes of chuck roast, which are simmered in beef broth and seasoned with thyme, garlic, and tomato paste for extra depth.
Carrots, onions, and barley add a delicious sweetness to the broth, while also making the dish more filling. Best of all, it's an easy-to-make, one-pot meal that the whole family will love. Simply let it simmer for an hour and a half, and enjoy a bowl of this hearty soup!
This Crazy Good Beef and Broccoli recipe is a quick and easy way to make a delicious and healthy meal. The sliced flank steak is coated in cornstarch and then cooked until browned. Next, add small broccoli florets and minced garlic and cook in beef broth for around 10 minutes.
While the broccoli cooks, mix together the sauce ingredients in a bowl. Finally, add the beef back into the pan with the broccoli, pour the sauce over everything, and stir until coated. Let it simmer for a few minutes, and it's ready to serve!
Homemade Cheeseburger Macaroni recipe is the perfect comfort food that you can make right in your own kitchen. Ground beef is cooked with onions and garlic, and seasoned with a mixture of garlic and onion powder, Cajun seasoning, salt, and pepper, and topped with Cholula hot sauce for an added kick.
Macaroni noodles are then cooked in a creamy mixture of whole milk and beef broth and topped with shredded cheddar cheese and sour cream for a creamy and cheesy finish. This recipe is the perfect one-pot meal that the whole family will love.
Italian meatball soup is a hearty and satisfying meal that's perfect for busy weeknights. Tender beef meatballs, along with fresh veggies and pasta, are simmered to perfection in a rich tomato broth made with beef broth.
The meatballs are seasoned with garlic, Italian seasoning, and parmesan cheese, giving them a savory taste that complements the soup's flavors. A sprinkle of fresh parsley adds a touch of brightness to the soup, and you can also add parmesan cheese for added richness. Don't forget to broil the meatballs beforehand, and you can use beef broth instead of water for added depth of flavor.
Stick of Butter Rice is a buttery and savory side dish that's perfect for any holiday table. Made with uncooked white rice, condensed French onion soup, beef broth, and butter, this casserole-like dish bakes into a creamy and rich consistency.
This recipe is incredibly simple to make; just combine all the ingredients in a baking dish, bake covered for 30 minutes, then uncover and bake for another 30 minutes until it reaches a golden brown. To add depth of flavor, you can use beef broth instead of water. Serve this delicious side dish alongside your favorite main course for a decadent and comforting meal.
French Onion Pot Roast is a comforting and flavorful main course that's perfect for a family gathering or a hearty dinner. Made with tender and juicy chuck roast, this dish is slow-cooked to perfection with sliced red onions and a savory sauce made with beef broth, tomato sauce, and a blend of spices.
To thicken the sauce and turn it into a delicious gravy, simply mix in some cornstarch or all-purpose flour and heat it up over low heat. Serve this flavorful pot roast with some creamy mashed potatoes, and top it with fresh parsley for added freshness.