Baby corn, the miniature version of corn on the cob, adds a fun and unique texture to a variety of dishes. Whether you're looking for a tasty appetizer, a side dish, or a main course, these 20 recipes with baby corn are sure to satisfy you.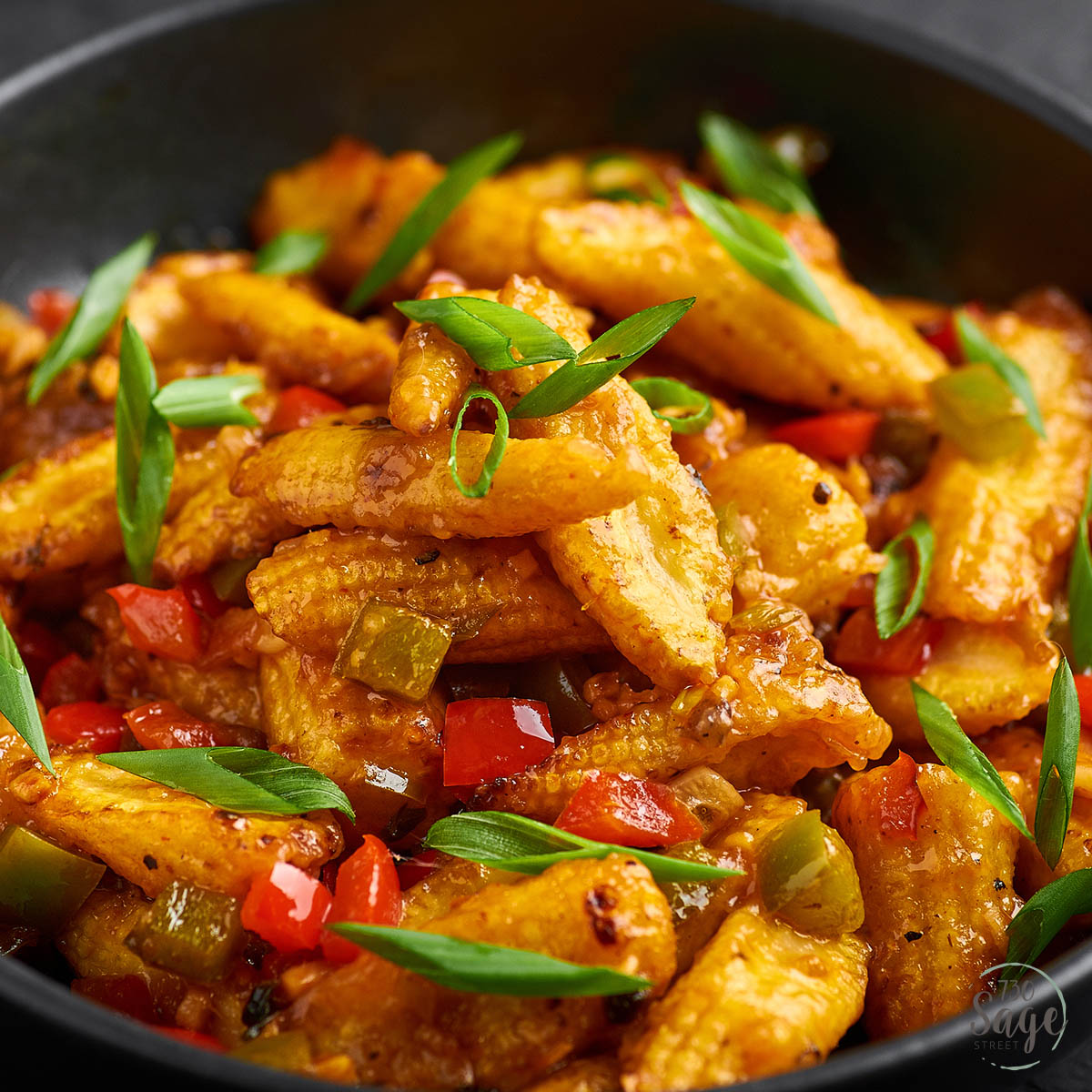 Is Baby Corn Safe To Eat Raw, Or Does It Need To Be Cooked?
Baby corn is safe to eat raw as it is tender and does not have a tough outer layer. However, it is most commonly used in stir-fries or salads and is lightly cooked for added flavor and texture. If eating raw, make sure to wash it thoroughly before consumption to remove any dirt or debris.
Which Cooking Method Is Best For Baby Corn?
Baby corn is a delicious and versatile vegetable that can be cooked in various ways to enhance its flavor and texture. Here are four cooking methods and their unique benefits:
Stir-frying: This cooking method creates a crisp and slightly charred texture on the outside while maintaining the tender crunchiness of the baby corn inside. It also allows the vegetable to absorb the flavors of other ingredients in the stir-fry.
Boiling: Boiling baby corn preserves its natural sweetness and tender texture, making it a great addition to soups or stews. It also allows the vegetable to retain its bright color and nutrients.
Grilling: Grilling baby corn creates a smoky and slightly sweet flavor, with a charred and slightly chewy texture. It's a great method for outdoor cooking or adding a bit of charred flavor to salads or side dishes.
Steaming: Steaming baby corn maintains its natural sweetness and tender texture, making it a healthy and flavorful addition to salads or stir-fries. It's a gentle cooking method that preserves the nutrients and color of the vegetable.
20 Recipes With Baby Corn
Let's take an adventure into the realm of scrumptious baby corn dishes that are guaranteed to fulfill your cravings:
This vegetable stir fry is a dish that satisfies all of your Asian takeout cravings right at home! The sauteed veggies, including sliced carrots, broccoli florets, baby corn spears, mushrooms, and peppers, are cooked to crispy perfection in a sweet and savory stir-fry sauce.
The sauce, made with chicken broth, soy sauce, honey, and a hint of hot sauce, coats each veggie with a delicious glaze that'll have you wanting more. Serve this easy, one-pan recipe as a side dish, or add some protein like chicken or tofu for a complete meal that's ready in under 30 minutes.
Get ready to add some zest to your dinner table with this tangy roasted baby corn recipe! Using canned baby corn, this dish is a quick and easy side that's full of flavor.
The corn is coated in a delicious marinade made with sesame oil, garlic, agave syrup, and a blend of spices like paprika, cumin, and za'atar seasoning, giving it a unique and tangy taste. Roast the corn for 15 minutes in the oven and garnish with sliced green onions and red pepper flakes for an extra kick of spice. This dish is perfect for anyone looking to add a little something different to their meal in under 30 minutes.
Bring a bit of Mexican street food flair to your next gathering with these mini elites! Made with baby corn, these appetizers or party foods are quick and easy to make.
Simply grill the corn until char lines form, and then coat them in a blend of mayonnaise, sour cream, cilantro, garlic, lime juice, and a dash of cayenne for a little spice. Roll each corn in vegetarian parmesan cheese and sprinkle with cilantro for added flavor, then serve with a squeeze of lime on top. These mini Mexican street corns are perfect for the Day of the Dead, Cinco de Mayo, cookouts, and picnics!
This vegan and gluten-free baby corn pepper fry is an easy and tasty side dish that pairs perfectly with fried rice, noodles, or as a snack with your drink of choice. The blanched baby corn is coated in a batter of rice flour, plain flour, salt, and pepper powder before being deep-fried until golden and crispy.
The sesame oil, cumin seeds, onions, bell peppers, and spices add a delicious Asian flair to this dish. Finish with a squeeze of lemon juice and serve hot. This recipe is sure to please everyone's palate!
This Thai Stir Fry with Baby Corn is an explosion of flavor in every bite! The fresh vegetables and baby corn, seasoned with chili powder and enhanced with Hoisin sauce, will tantalize your taste buds.
The combination of red and green bell peppers, mushrooms, and carrots provide a healthy and colorful dish that is both vegan and gluten-free. Cooked in extra virgin olive oil, this stir fry is a quick and easy recipe that is perfect for busy weeknights. Serve it over rice and enjoy the spicy and savory flavors in this delectable Thai stir fry.
If you're looking for a spicy and flavorful appetizer, then this Crispy Schezwan Baby Corn is a perfect choice! The baby corn is first boiled until tender yet crunchy, and then coated with a crispy batter made of cornflour and all-purpose flour.
They are then deep-fried until golden and crispy. The final touch is tossing them in a delicious Schezwan sauce made with spicy chili paste, soy sauce, and other seasonings. These baby corns are crunchy, spicy, and absolutely irresistible! Serve them with ketchup and garnish with some greens for a perfect starter.
These honey chilli baby corn skewers are the perfect balance of sweet and spicy. The crispy baby corn skewers are generously coated in a flavorful mixture of honey, soy sauce, chili sauce, and ketchup. Sauteed garlic and spring onions add an aromatic touch to the dish.
These skewers are sure to be a hit as an appetizer or snack at your next party or gathering. The recipe is easy to make, and you can fry the skewers to a golden crisp in no time. Serve them hot with some spring onion greens on top for a vibrant touch.
This hearty baby corn curry recipe is a vegetarian delight that will leave you craving more. The baby corns are first stir-fried to perfection and then cooked in a flavorful onion-tomato gravy with a blend of aromatic spices.
The addition of the yogurt mixture adds a creamy texture and subtle sweetness, making it a perfect accompaniment for your favorite rice dish or flatbread. The dish is garnished with fresh coriander leaves, adding a burst of freshness and color. Enjoy this delicious and healthy meal with your family and friends, and savor every bite!
These crispy air-fryer baby corns are a delightful snack that's quick and easy to prepare. Coated with a delicious mix of ketchup, sriracha, oil, and ginger-garlic paste, these baby corns are then rolled in panko breadcrumbs before being air-fried to crispy perfection.
With a spicy and tangy taste, these crunchy baby corns are perfect to enjoy with your favorite dipping sauce. Whether you're serving them as a starter, side dish, or snack, these air-fried baby corns are sure to be a hit with everyone.
Beef and baby corn stir-fry is a quick and easy dinner that the whole family will enjoy. Tender beef sirloin is thinly sliced and cut into 1-inch strips, then coated in a delicious soy sauce and cornstarch mixture before being cooked to perfection in a wok or wide pan.
The veggies are crisp and colorful, with red bell peppers, baby corn, water chestnuts, and snow peas adding both texture and flavor to the dish. The savory sauce is made from the oyster sauce, soy sauce, Shaoxing wine, sugar, and pepper, bringing everything together in a deliciously harmonious way. Serve it hot and enjoy this tasty stir-fry!
You won't even miss the traditional corn in this Keto Mexican Street Corn Salad! With tender cauliflower and sweet baby corn, it's a flavor-packed side dish that's sure to please.
The cilantro and jalapeno give it a fresh kick, while the cotija cheese adds a salty, creamy element. The sour cream and lime juice provide a tangy finish that will leave your taste buds wanting more. Whether you're on a low-carb diet or not, this salad is a must-try. Serve it up at your next Mexican fiesta and watch it disappear!
Get ready for some flavor that'll knock your boots off with this chicken with bok choy and baby corn dish! This simple Asian-inspired stir-fry is packed with nutritious low-carb veggies, making it a healthy option that doesn't skimp on taste.
The juicy chicken is perfectly seasoned with soy sauce, and the bok choy and baby corn add a satisfying crunch. It's a quick and easy meal that you can whip up any night of the week. Don't miss out on this savory, satisfying dish that'll keep you coming back for more!
To make the Baby Corn Cigar Recipe, which is great for breakfast or as a midday snack, you'll need to blanch the baby corn and then coat the kernels in mashed potatoes, spices, and bread crumbs before deep-frying them until they're golden brown and crispy.
Serve these crispy cigars with a spicy or tangy dip, like my Cottage Cheese Dip Recipe with Pepper and Olives, or some Tzatziki. You won't be able to get enough of the crunchy coating and tender baby corn filling. This tasty snack will be a hit at your next tea party or informal gathering because to its balanced combination of spices and tastes.
Saddle up and get ready to try out these delectable Baby Corn Coriander Bullets. This vegetarian starter is sure to impress with its crispy and crunchy texture and spicy kick that will tantalize your taste buds.
The baby corn is coated with a mixture of maida, corn flour, chopped coriander, and spices before being fried to golden perfection. Toss them in a sauce made with crushed coriander seeds, garlic, green chilies, tomato ketchup, and various masalas for an explosion of flavor. Finish with a squeeze of fresh lemon juice and a garnish of coriander leaves, and you've got a dish that's sure to be a hit at any gathering.
If you're a fan of baby corn, then this Crispy Chilli Baby Corn recipe is a must-try! The baby corn is halved and cut into 1-inch strips, coated with a flavorful batter made from all-purpose flour, corn flour, rice flour, chili powder, soy sauce, salt, pepper, and water, then deep-fried until crispy.
The stir-fry includes garlic, ginger, green chilies, onions, and capsicum tossed with a sauce mixture made from soy sauce, vinegar, ketchup, red chili sauce, corn flour, water, sugar, salt, and pepper. Finally, garnish the dish with chopped coriander leaves and serve it hot as a fantastic Indo-Chinese appetizer!
If you're looking for a spicy and flavorful vegetarian dish, look no further than Chilli Baby Corn! This dish features crispy fried baby corn tossed in a spicy, sweet, and umami sauce. The batter coating on the baby corn gives it a crispy texture that pairs perfectly with the sauce.
The dish is made with a variety of aromatic ingredients such as spring onions, garlic, ginger, and green chilies, which lend it a delicious depth of flavor. Serve it as a starter or with noodles or rice for a complete meal.
A savory Asian dish that is a perfect balance of flavors and textures! The tender baby corn pairs wonderfully with the earthy mushrooms and the sauce made with oyster sauce, fish sauce, and soy sauce adds a depth of umami flavor that will make your taste buds sing.
With only 15 minutes of prep time and 20 minutes of cooking time, this recipe is both quick and easy to make. Serve it hot with a side of plain rice or fried rice for a satisfying meal. Trust me, one bite of this dish, and you'll be transported to the streets of Asia!
This north Indian-style baby corn masala recipe is a flavorful curry that features sauteed baby corn tossed in a tasty onion tomato masala. The dish is bursting with aromatic flavors and spices like red chili powder, coriander powder, and garam masala powder.
The tomato puree adds a rich, tangy taste to the masala. Garnish with cilantro leaves and serve hot with roti or naan for a delicious meal. It's perfect for anyone looking for a vegetarian dish with plenty of flavor and protein.
Baby Corn 65 is a quick and easy appetizer or snack recipe that you can whip up in no time. The baby corn is pressure cooked and then coated in a flavorful blend of besan flour, corn flour, ginger-garlic paste, and spices.
The addition of red chili powder, turmeric powder, and pepper powder adds a mild kick to the dish, making it suitable for all age groups. Deep-fried until crispy and golden, the Baby Corn 65 is a perfect snack to munch on any time of the day. Serve it hot with your favorite dipping sauce for a lip-smacking treat.
This Baby Corn Elote recipe is perfect for your next summer BBQ party or taco night. Fresh baby corn is charred to perfection on a grill pan or grill and then tossed in a delicious cheesy sauce with a little Indian twist. The sauce is made with sour cream, lime juice, dry garlic chutney, cojita cheese, and cilantro, giving it a tangy and smoky flavor that will leave you wanting more. Top it off with extra cojita cheese, cilantro, and lime wedges for an extra zing.
Don't like corn? Swap it out for cauliflower or asparagus. Make it vegan by using plant-based yogurt and vegan parmesan. This dish is versatile and sure to impress your guests.