Pork Cube steak is a versatile and delicious cut of meat that can be cooked in a variety of ways to create delectable dishes. Whether grilled, roasted, braised, or pan-fried, pork cube steak can be transformed into a range of mouth-watering recipes.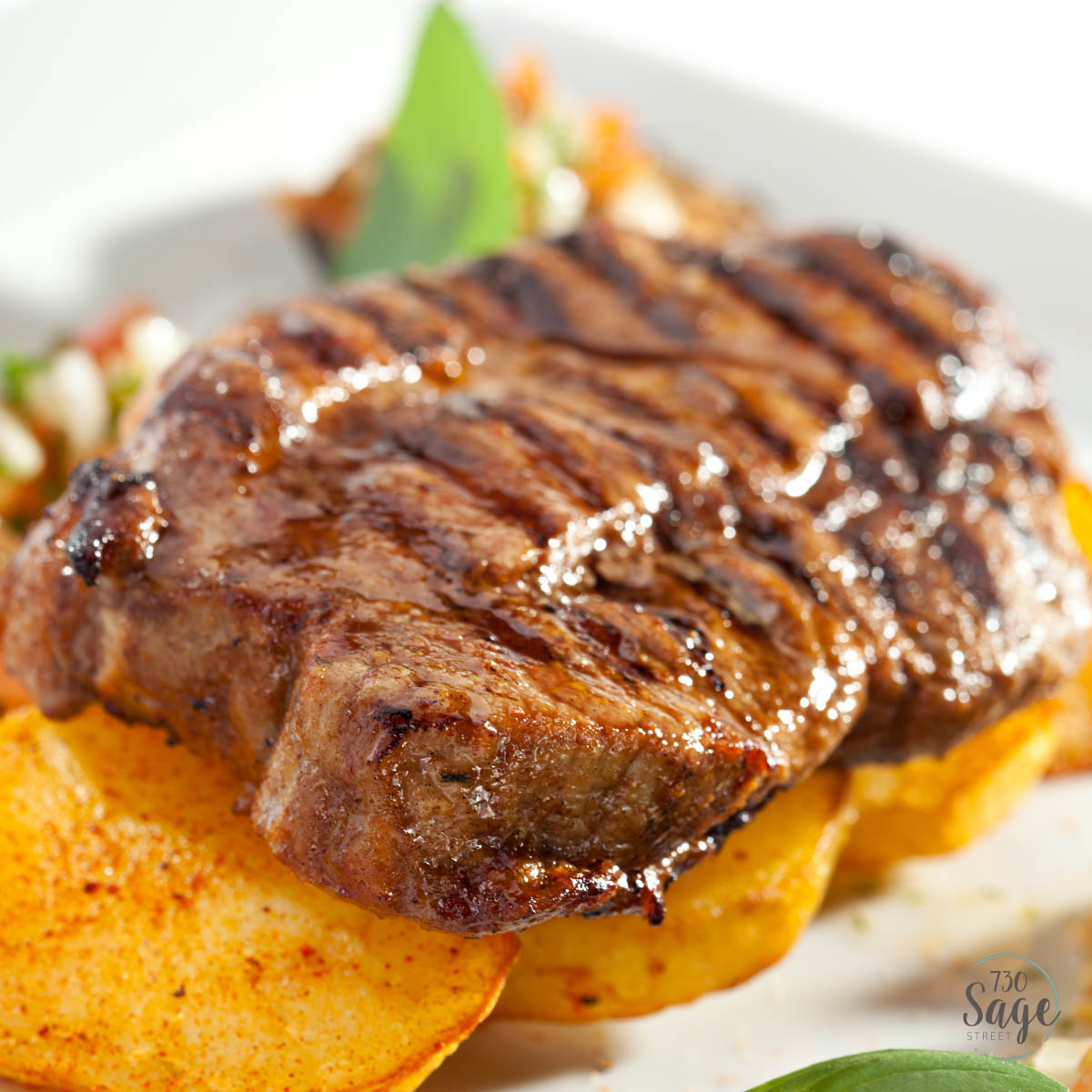 To help you make the most of this tasty ingredient, we have compiled a list of 20 of the best pork cube steak recipes for you to try.
From classic grilled pork cube steak to more unique and flavorful dishes, this list is sure to have something for everyone. So, whether you're a seasoned cook or just starting out, be sure to give these delicious recipes a try.
What Cut Is Pork Cube Steak?
Pork cube steak is a cut of pork that is obtained by cubing a pork shoulder or loin. It is usually a thin cut of meat, tenderized by pounding or running it through a tenderizing machine. The cube steak is then lightly dusted with flour, salt, and pepper before it is cooked.
The cube steak is popularly fried in a pan with a small amount of oil or butter, and is often served with gravy or other sauces. It can also be grilled, broiled, or baked depending on the desired outcome.
The Different Ways To Cook Pork Cube Steak?
Pan-frying: Heat a skillet over medium-high heat and add oil. Once the oil is hot, add the pork cube steaks and cook for 3-4 minutes per side, or until golden brown.
Grilling: Preheat grill and brush pork cube steaks with oil. Place on grill and cook for 3-5 minutes per side, or until golden brown.
Baking: Preheat oven to 375°F. Place pork cube steaks on a baking sheet and brush with oil. Bake for 15-20 minutes, or until internal temperature reaches 145°F.
Slow-Cooking: Place pork cube steaks in a slow cooker with ¼ cup of liquid such as broth, water, or wine. Cook on low for 4-6 hours, or until tender.
20 Best Pork Cube Steak Recipes
Here is a list of best pork cube steak recipes you should try:
Indulge in the succulent and delectable taste of this mouth-watering oven-baked pork steak! This easy-to-follow recipe will take your cooking game to the next level and leave you wondering why you ever settled for anything less.
Say goodbye to dry and tough pork steaks, and hello to the perfectly tender and juicy meat you've been dreaming of. With this recipe, you'll become the master of cooking boneless pork steaks in the oven, and your taste buds will thank you!
Savor the bold and rich flavors of Pork Blade Steaks, also known as Thin Sliced Pork Steaks, with this easy and delicious one-pan dinner recipe! These budget-friendly cuts are packed with marbling and big flavor, making them the perfect choice for a satisfying meal.
This simple recipe is all about elevating the natural taste of the steaks, cooking them to perfection in a skillet, and drowning them in a sea of savory Brown Onion Gravy.
Pork steaks that are tender and flavored with mushrooms and onions are served in a creamy sauce. This 25-minute, one-pan dinner is perfect for a busy weekday. You should select pork shoulder steaks since they are boneless and have a thin layer of fat that helps them stay soft. Meat eaters have the option of switching to pork loin steaks or chops.
A fantastic supper suggestion for any night of the week is chicken-fried pork, which is similar to chicken-fried steak but uses soft cubes of pork instead of steak. This mouthwatering meal of traditional country cooking is sure to please everyone in the family.
Chicken-fried pork steaks are excellent on their own, but they also taste great with gravy and other favorite fixings.
This delicious pork dish is incredibly quick and simple to make. The herbs add a unique layer of flavor and the smokiness and char of the grill make it even more amazing. If the weather isn't cooperating, you can always make this in a cast iron pan indoors. However, if the weather is nice, take advantage of it and fire up the grill
This recipe for Easy Crock Pot Honey Pork Steaks is a savory and delicious dish that is sure to become a family favorite. This recipe requires just a few simple ingredients and can be made in your slow cooker for a hassle-free meal.
The pork steaks are simmered in a sweet honey and cola sauce that is thickened with a cornstarch and water mixture. Serve this tasty dish with potatoes, rice, or your favorite side dish for a complete dinner.

This Braised Pork Steak and Onions recipe is a delicious and easy way to enjoy succulent pork steaks. With simple ingredients like pork steaks, onions, tomato paste, chipotles in Adobo sauce, stout ale, stock, dark brown sugar, cumin, and thyme, you can make a flavorful and hearty dish in less than two hours.
The pork steaks are seared to give them a nice crust and then simmered in the flavorful liquid until they're tender and juicy. Serve this dish with roasted potatoes, steamed veggies, or a side of crusty bread for a comforting and delicious meal.
Grill up some delicious pork tenderloin roll-ups with this easy recipe. Start by creating a creamy cheese mixture, then top with your favorite seasoned veggies. Gently roll up the tenderloin, wrap with a slice of bacon and secure with a toothpick.
Generously season with your favorite BBQ rub, garlic powder or another seasoning of your choice. Grill over medium-high heat for 12 minutes or until done, then let sit for 5 minutes before slicing. Enjoy these flavorful pork tenderloin roll-ups hot off the grill for a delicious summer meal!
The cubed steak is lightly seasoned with salt, black pepper, onion powder, and granulated garlic then coated in a self-rising flour before being cooked in a cast iron skillet. The steak is then simmered in a flavorful gravy made from the remaining seasoned flour and chicken broth.
Serve this hearty dish over mashed potatoes for a home-cooked meal that is sure to please. For best results, make sure to stir constantly while making the gravy to prevent clumping, and lower the heat to low when adding the steak back into the gravy.
Cooking pork shoulder blade steaks in a skillet yields tender, juicy, and flavorful results. We love to season our steaks with a rub before cooking to really enhance the flavor. However, if you prefer to use a marinade, consider making Marinated Baked Pork Steaks or Marinated Grilled Pork Shoulder Steaks. We prepare this cut several times a month and never get tired of it!

This Air Fryer Pork Steaks recipe is an easy and flavorful dinner idea. The pork steaks are marinated in a simple mix of garlic, herbs, and spices, then cooked in an air fryer for a juicy and tender dinner. Serve the pork steaks with your favorite sides, such as mashed potatoes, a vegetable side dish, and dinner rolls.
This Instant Pot Pork Chops with Gravy recipe is an easy and delicious one-pot dinner! Boneless pork chops are cooked in the pressure cooker with a creamy gravy made from a roux and chicken broth. Serve over mashed potatoes, egg noodles, or rice for a comforting and easy dinner that's ready in no time!
This Pork Bistek recipe is an easy and delicious Filipino dish that's made with thinly sliced pork loin, pan-fried and simmered in a savory mixture of soy sauce, calamansi and brown sugar. Perfect for a weeknight dinner, it's sure to be a hit with the whole family.
Serve this flavorful pork steak with garlic-fried rice and a side of steamed vegetables for a hearty and satisfying meal. With just a few simple ingredients and minimal preparation, this quick and easy Pork Bistek recipe will become a regular in your home.
This 3-Ingredient Crock Pot Pork Steaks recipe is an easy and delicious way to make a tasty dinner with minimal effort. All you need is 2.5 lbs of pork steaks, one packet of gravy mix (brown gravy or pork gravy), one packet of ranch mix, and one cup of water.
Simply place the pork steaks in a lightly greased 4-quart crock pot, mix together the gravy and ranch packets with the water and pour over the pork steaks. Cover and cook on low for 3-4 hours and you'll have a delicious, tender pork dinner.
This Country Fried Steak Recipe is a classic Southern dish that is sure to please! Start by seasoning the steaks with a flavorful blend of seasoning salt, onion and garlic powders, and Accent*. Dredge each steak, one by one, in flour and an egg and milk mixture to create a crispy coating.
Fry the steaks in a pan with canola oil until golden brown. To make the gravy, use the steak drippings and butter to create a flavorful base, and whisk in flour, chicken stock, and milk. Simmer until thickened, season with salt and pepper, and serve over the Country Fried Steaks
This Asian Pork Steaks Marinade is an easy and delicious way to dress up pork steaks for a quick dinner. The marinade is made with soy sauce, dry sherry, garlic, and ginger, giving it an Asian flavor that pairs perfectly with the pork. Just marinate the steaks for 2-6 hours and then cook them over medium-high heat until they are cooked through. Serve them with steamed rice and a vegetable of your choice.
If you're looking for an easy yet extremely flavorful dinner, you have to try Pork Chops in Sour Cream Gravy! All you need to do is take your favorite pork chops and give them a unique twist by adding a delicious sour cream gravy. Combine beef broth, sour cream, onions, and Worcestershire sauce for a truly extraordinary dish. Don't miss out on this amazing recipe - you won't regret it!
This delicious recipe for St. Louis Pork Steaks is sure to be a hit! Start by marinating the pork steaks in garlic powder, oregano, salt, and pepper. Once the grill is hot, arrange the steaks on the grate and cook for 4-6 minutes per side. Brush with St. Louis Barbecue Sauce, sizzle for 15 seconds, and serve with the remaining sauce on the side.
Enjoy a crunchy and flavorful pork cutlet with this easy recipe! Start by whisking together eggs in a shallow bowl and crushing saltine crackers in another. Rub salt and pepper onto both sides of the pork cutlet and dip in the eggs, then press into the crushed crackers. Heat up a skillet of oil and place the cutlet in the hot oil.
Flip when it becomes golden brown and crispy, about 5-6 minutes. Once the internal temperature has reached 145 degrees F, the pork cutlet is ready to serve hot.
Smoke your pork steaks to perfection with this delicious recipe! Start by brining your steaks for 6-12 hours in a mix of kosher salt, dark brown sugar and water. Then, season them with your favorite dry rub and smoke them in the smoker for 2 ½ hours, adding a flavorful liquid every 30 minutes and flipping them over. Brush them with barbecue sauce 10-15 minutes before removing them from the smoker and let them rest for 10 minutes.
FAQs
How Do You Cook Pork Cube Steak So It's Not Tough?
The best way to cook pork cube steak so it's not tough is to cook it over low to medium heat for a short amount of time, no more than 8 minutes. Make sure to use a meat thermometer to check the internal temperature of the steak to ensure it is cooked to the proper temperature. Additionally, marinating the steak in a mixture of vinegar, sugar, and spices can help tenderize the steak and make it more flavorful.
Can Pork Cube Steaks Be Substituted For Other Cuts Of Pork?
Yes, pork cube steaks can be substituted for other cuts of pork in many recipes. However, the cooking time and method may need to be adjusted based on the thickness of the cut.
How do you know when pork cube steaks are fully cooked?
Pork cube steaks are fully cooked when they reach an internal temperature of 145°F. A meat thermometer can be used to check the temperature.
How do you store leftovers of pork cube steak recipes?
Leftover pork cube steak should be stored in an airtight container in the refrigerator for up to 3 days. Reheat thoughly before serving.