Ground cherries may not be as well-known as their cherry cousins, but they're versatile fruit that can be used in a variety of dishes.
From sweet jams and pies to savory sauces and salsas, ground cherries add a unique flavor and texture to any recipe.
Get ready to impress your guests with these 15 recipes that showcase the healthy and delicious qualities of ground cherries.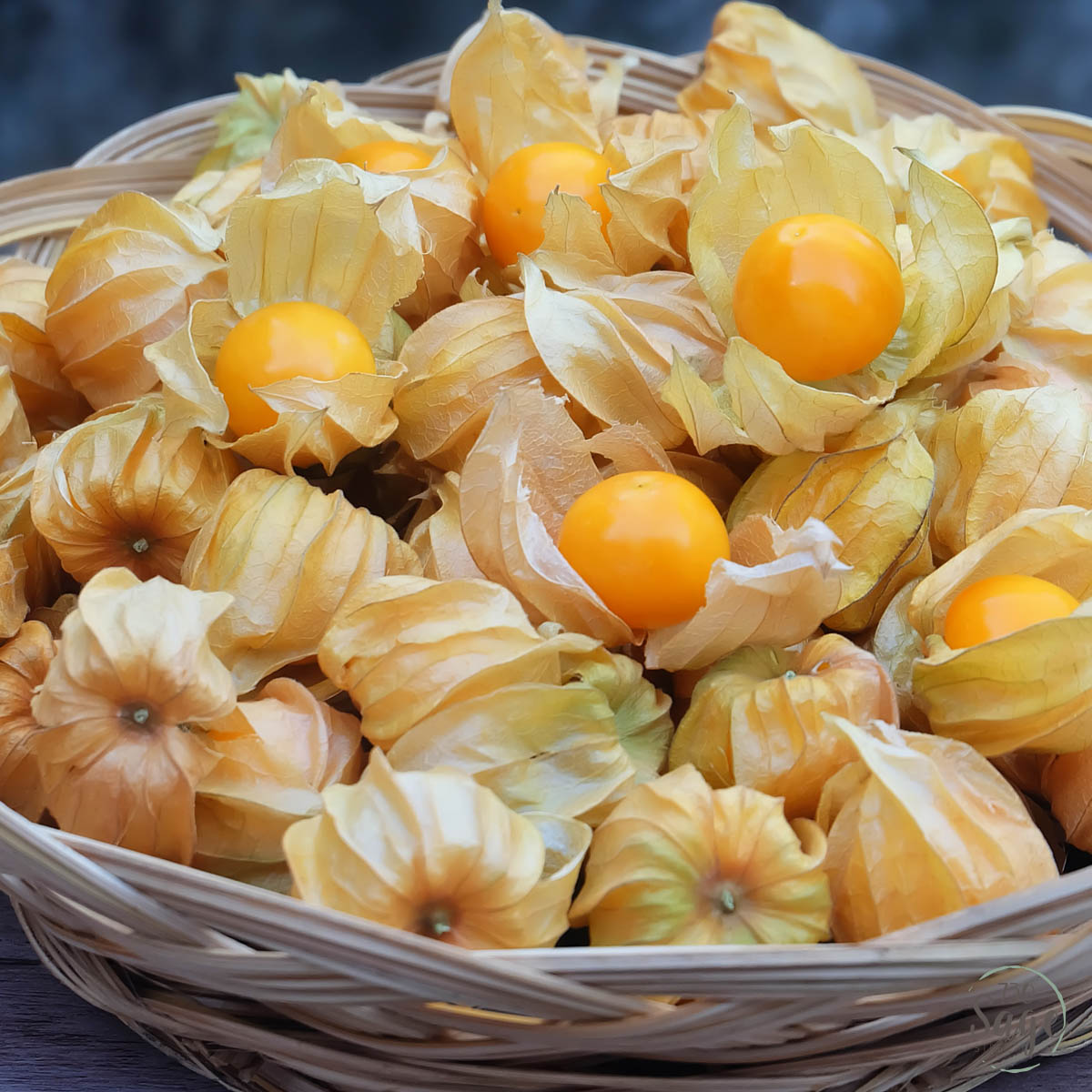 What Are Ground Cherries, And What Do They Taste Like?
Ground cherries are small, yellow-orange fruit that is native to the Americas. They are also known as husk cherries and have a sweet and tangy flavor similar to a mix of pineapple, mango, and tomato. They are a great source of vitamin C and antioxidants, making them a healthy addition to any recipe.
Where Can I Buy Ground Cherries?
Ground cherries can be found in specialty food stores, farmers' markets, and some grocery stores. They are usually in season from mid-summer to early fall. If you can't find them in stores, you can try growing them yourself at home. They are easy to grow and require little maintenance.
15 Recipes With Ground Cherries
From sweet to savory, these dishes will have you falling in love with ground cherries all over again:
This ground cherry coffee cake is a perfect treat for any time of day. Combining sweet ground cherries, crunchy pecans, and cinnamon creates a deliciously comforting flavor. Made with simple ingredients like flour, sugar, and butter, this cake is easy to whip up in no time. The trick to a perfect texture is to leave the butter in small, chunky pieces throughout the batter.
The end result is a light and fluffy cake that pairs perfectly with a hot cup of coffee or tea. Whether you enjoy it for breakfast or dessert, this cake is sure to satisfy your cravings.
Ground cherry salsa recipe will be the star of your next gathering. With the perfect balance of sweetness and heat, this salsa will have you coming back for more. The ground cherries, red onion, and roasted tomatoes create a delicious base, while the jalapeño, cilantro, lime juice, and sea salt add just the right amount of kick.
Simply pulse all the ingredients in a food processor and let the flavors meld together in the fridge before serving. This salsa will surely impress your guests and leave them asking for the recipe.
Get ready to add some zing to your dishes with this Ground Cherry Cayenne Hot Sauce! With just five simple ingredients, this homemade hot sauce packs a sweet and spicy punch that's perfect for drizzling on tacos, roasted veggies, pizza, and more.
The combination of ground cherries, cayenne peppers, and honey creates a unique flavor that's both tangy and sweet. Plus, with the option to double or triple the recipe, you can make enough to share with all your spice-loving friends. So go ahead and give this easy recipe a try and add some heat to your favorite dishes!
These Cherry Chocolate Chunk Muffins are the perfect solution to your sweet appetite since they only need one dish and a manual mixing technique, and they are packed with fresh chopped cherries and dark chocolate chunks. Instead of sugar, you might use ground cherries.
The ripe cherries and decadent chocolate chips go well with the light and airy vanilla muffin foundation. A delicious treat for every meal of the day, whether breakfast, afternoon snack, or dessert, whether served warm or at room temperature. These muffins are so tasty, you have to try them!
This Ground Cherry Torte recipe is perfect for a sweet treat that is easy to make. Cream butter and sugar, then add eggs, flour, baking powder, and salt until well combined. Pour the batter into a buttered 9-inch springform pan, and top with husked and washed ground cherries mixed with sugar, lemon juice, and cinnamon. Bake for 45 minutes, and let cool on a rack before serving.
This torte is perfect when served warm or cold. Use husk cherries or other seasonal fruits for variation. Enjoy!
This ground cherry pie recipe is sure to be a crowd-pleaser! Fresh ground cherries are mixed with brown sugar and flour, then poured into an unbaked pie crust.
The crumb-like topping, made with flour, sugar, and butter, adds a delicious crunch to each bite. Bake the pie for 15 minutes at 425 degrees, then reduce the temperature to 375 degrees and bake for an additional 25 minutes. Let the pie cool completely before serving for the perfect slice every time.
If you're looking to wow your visitors with something special, this Chocolate Ground Cherry Upside Down Cake is it! The rich, luscious dark chocolate is well complemented by the sweet and sour crushed cherries.
Once the cake is inverted, the caramelized layer of butter and sugar at the bottom of the pan is revealed, making for a stunning display. If you really want to impress your guests, serve this cake warm with a dab of whipped cream, custard, or ice cream.
These mini-ground cherry pies are like tiny bursts of sunshine in your mouth. The delicate pie crust provides the perfect base for the juicy and slightly tangy ground cherries, which are perfectly balanced with just the right amount of sugar and flour. The top crust adds an extra layer of flaky goodness, and a sprinkle of cinnamon takes it all to the next level.
They're the perfect size for a midday snack or a sweet ending to any meal. You'll want to eat them all, but try to save some for later!
You don't need a green thumb to preserve these little gems! With this Ground Cherry Preserves recipe, you'll have a year's worth of delicious homemade jam in no time. Bursting with the tangy sweetness of ground cherries and the zesty kick of lime and orange, this recipe is the perfect way to add a little fruity flair to your morning toast or English muffin.
With warm spices like ginger and cinnamon, this jam will give you all the feels of a cozy, homemade breakfast. So grab your jars and get ready to savor the taste of summer all year round!
This sweet and spicy Cherry Chutney is the perfect way to amp up the taste of any dish. This chutney strikes the ideal sweet-and-sour balance thanks to the combination of fresh cherries, brown sugar, and a blend of panch phoran spices. If you prefer, you may use ground cherries for the entire variety.
The cherry may be prepared by simply being chopped and then sautéed with ginger, chile, and panch phoran spices in mustard oil. Reduce heat and simmer for 20 minutes to thicken the chutney; then, for a tangy finish, stir in some lime juice. On bread, paranthas, or dosa, this chutney is a perfect match. Each mouthful is bursting with flavor because of the perfect balance of spices.
Grilled Corn, Basil, and Ground Cherry Salad are here to spice up your summertime fare! This dish is a visual and gustatory explosion, thanks to the combination of grilled corn, pulverized cherries without their husks, cucumber, and jalapeo. Basil and shallot contribute a refreshing scent and texture, while the tart vinaigrette (olive oil, lime juice, and lime zest) adds a zing.
This salad is great as a side dish or as a light meal, and it will be enjoyed by everybody. So, there's no need to hold off. Toss up this eclectic salad and let your taste buds go on an adventure.
The ginger zing and citrus zest in this ground cherry jam make for a delicious taste combination. This jam is made with fresh ground cherries, sugar, and a blend of spices; it's the ideal complement to the crisp autumn air. Easy as peeling and washing the ground cherries and grating some ginger, this dish just has to be thrown together in a saucepan.
The fruit should melt and the flavors should blend after around 40 minutes of cooking time. Use the spread as a condiment on crackers with sharp cheddar, a baguette with goat cheese, or as part of a charcuterie board. The jam may be canned for long-term storage. Enjoy the sweet and tart flavor of this pulverized cherry jam with every serving.
This chocolate and cherry bread pudding is the perfect dessert for when you're craving something indulgent and comforting. With cubes of bread, juicy cherries, and rich chocolate chips, this recipe is sure to satisfy your sweet tooth.
The addition of almond extract and melted butter adds a nutty and buttery flavor, while the half-and-half and brown sugar make it creamy and sweet. Once it's baked, top it with hot fudge sauce and whipped cream, and serve it warm. You can even swap the cherries with ground cherries for a twist on the classic recipe.
Transport yourself to a tropical paradise with this Ground Cherry Cocktail Recipe! The sweet and tangy flavor of ground cherries is perfectly complemented by light rum and fresh basil.
Simply muddle together rum, simple syrup, ground cherries, and torn basil leaves, then shake with ice and strain into a chilled coupe glass. Garnish with a few more basil leaves for a touch of elegance. This cocktail is sure to transport you to a lush, exotic destination in just one sip.
If you're looking for a quick and easy recipe to showcase the bright, tangy flavor of ground cherries, this simple ground cherry jam recipe is perfect. With just three ingredients and no added pectin, the natural texture and taste of the fruit shine through in every spoonful.
Try it on toast or as a glaze for meat dishes. And if you're feeling ambitious, consider growing your own ground cherries to ensure a steady supply all season long. Just watch out for pesky critters like chipmunks, who may have their eyes on your harvest!