From crispy lechon kawali to delicious adobo, these 15 pork belly recipes are sure to satiate your hunger and introduce you to the rich and tasty world of Filipino food.
So, get an apron and hone your knives, because we're about to delve into the delectable realm of Filipino cuisine.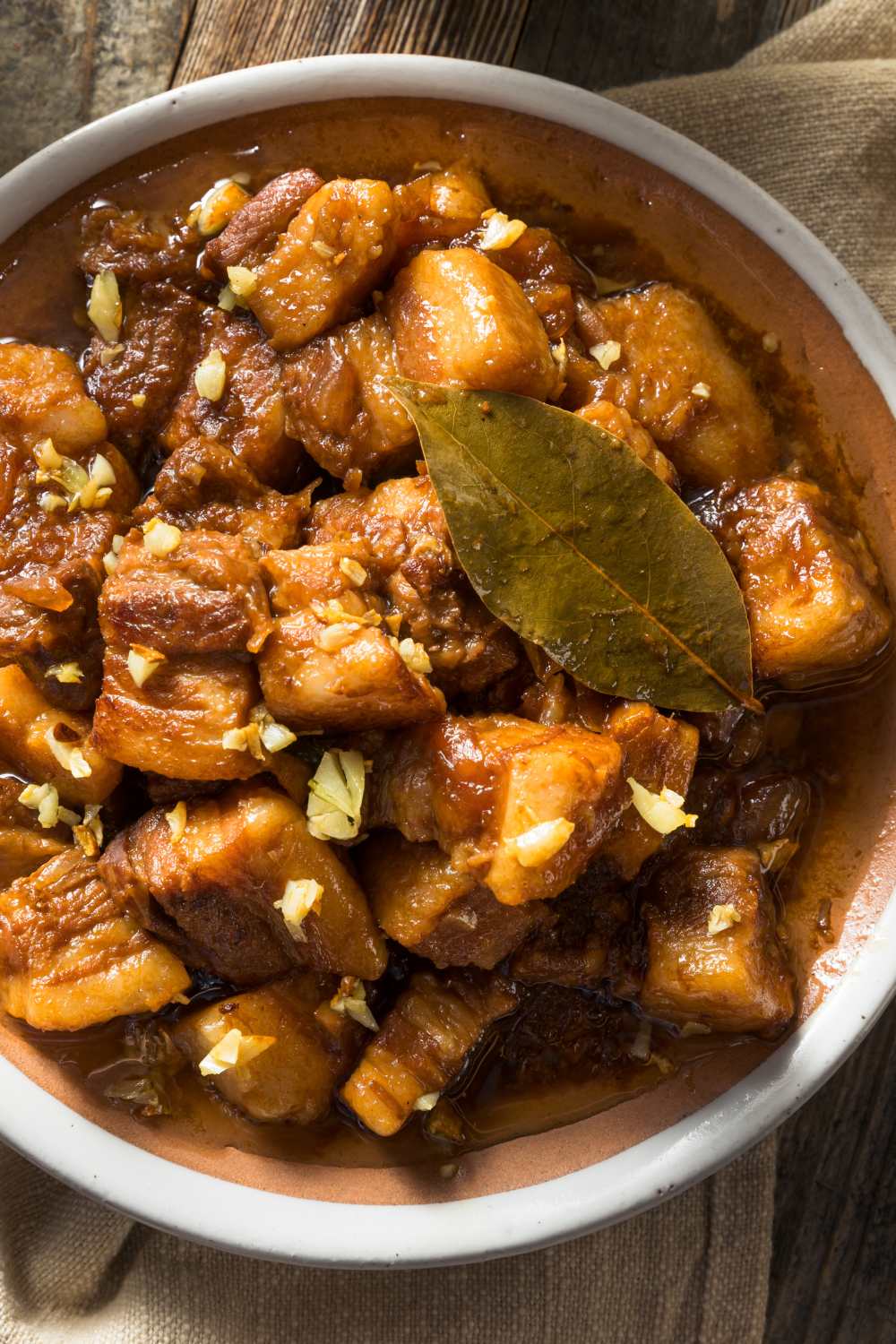 How Do I Choose The Best Pork Belly For These Recipes?
When choosing pork belly for these recipes, look for meat with good marbling and a thick layer of fat. This will ensure a tender and juicy texture. Also, make sure to choose high-quality, fresh meat that is free from any signs of spoilage. Buying from a reputable source is key to ensuring the best flavor and health benefits.
Can Pork Belly Be Substituted With Other Meats In These Recipes?
While the pork belly is the star of these Filipino recipes, you can substitute it with other meats if desired. Chicken, beef, or tofu can be used as a healthier alternative to pork belly. However, keep in mind that the flavor and texture will be different, so it's important to adjust seasoning and cooking time accordingly to ensure the best results.
15 Filipino Recipes With Pork Belly
These 15 Filipino pork belly recipes will have your mouth watering in no time, with flavors ranging from salty to sweet and everything in between:
This Sisig recipe using pork belly is a spicy and crunchy appetizer that will leave your taste buds wanting more! Marinated pork belly slices are grilled until the skin is crispy, then combined with finely chopped onions, chicken liver, lemon juice, chili peppers, soy sauce, and black pepper to create a flavorful mixture.
For an added touch, warm the Sisig in a pan with a bit of oil, or serve it sizzling hot on a plate with some butter or margarine. Perfect for any occasion, this easy-to-make recipe will surely become a crowd-pleaser!
After relishing the bold flavors of Pork Belly Sisig, it's time to treat yourself to another scrumptious dish - Easy Baked Pork Belly. Delight in the tender, juicy pork belly cubes marinated in a heavenly blend of soy sauce, rice vinegar, brown sugar, and sesame oil.
The garlic and red chili flakes add a pleasant kick, while the sesame seeds and green onions garnish this oven-baked masterpiece. This recipe is perfect for those who adore a harmonious balance of savory, sweet, and spicy flavors.
As you continue your journey through Filipino pork belly delights, it's time to explore the comforting taste of Filipino Pork Belly Adobo. This mouthwatering dish features succulent pork belly slices marinated in a flavorful blend of soy sauce, Worcestershire sauce, and aromatic spices.
Slow-cooked to tender perfection, the infusion of apple cider vinegar adds a tangy twist that complements the rich adobo sauce. Garnished with toasted garlic and fresh parsley, this classic Filipino dish will undoubtedly transport you to a cozy, homey atmosphere, connecting you with the warm essence of Filipino cuisine.
Lechon Kawali is a Filipino staple dish consisting of soft pork belly fried in a combination of salt, peppercorn, bay leaves, soy sauce, and garlic. For extra crispiness in the morning, the meat is salted and let dry for a whole day.
Fry the pieces until they are golden brown and crispy on the exterior but still soft on the inside, then serve. This meal may double as either a filling main course or an appetizing party snack when served with a dipping sauce of your choosing.
Sinigang na Baboy (Pork Sinigang) is a hearty and sour classic Filipino soup made with succulent pork ribs and an assortment of fresh vegetables including string beans, radish, okra, and eggplant, all floating in a pleasantly acidic tamarind broth.
The rich, sour taste of the soup, balanced with the savory pork and earthy vegetables, creates a heartwarming experience that will make you feel like you're wrapped in a cozy blanket of Filipino love. Pair it with steamed rice and a spicy fish sauce dip, and you've got a soul-soothing meal that ties together the pork belly journey you've embarked upon.
All aboard the flavor train to the spicy world of Bicol Express! This tantalizing Filipino dish features succulent cubes of pork belly or fatty pork, simmered in a creamy, spicy coconut milk sauce, bursting with the flavors of shrimp paste, ginger, and chilies.
Inspired by the Bicol region's love for spicy and coconut milk-based dishes, Bicol Express is the perfect combination of heat and creaminess, making it a fiery treat for your senses. As you enjoy this irresistible pork dish, make sure to have extra rice on hand, because this rich and spicy concoction will keep you craving more.
Inihaw na Liempo, a Filipino specialty of grilled pig belly, will transport you to a boisterous seaside BBQ as you go on a gastronomic journey. The pork belly in this dish gets its seductive smoke flavor from a marinade of sour soy sauce, calamansi, and a hint of banana catsup.
You can almost taste the juicy steak sizzling on the barbecue, and the scent is filling the room. This delicious dish is great for gathering loved ones around the table since it comes with a spicy toyomansi dipping sauce.
Let's continue our culinary adventure with a plate of Tokwa't Baboy, a Filipino comfort food consisting of pork belly, pig's ears, and fried tofu. This traditional Filipino dish is a perfect balance of textures, complemented by a tangy vinegar sauce that will make your lips pucker with joy.
Just when you think you've reached flavor heaven, the garnish of green onions and jalapeños adds a fresh, spicy kick. Tokwa't Baboy is an excellent follow-up to our previous grilled dish, showcasing the versatility of Filipino cuisine and its love for satisfying well-rounded flavors.
Next up on our flavorful Filipino food adventure is a unique and bold dish: Pork Dinuguan, also known as Pork Blood Stew. This hearty stew combines tender cubes of pork shoulder with a rich, velvety sauce made from beef blood. Don't let the ingredients deter you – this dish is a true culinary gem that showcases the diverse flavors of Filipino cuisine.
With fragrant bay leaves, zesty vinegar, and a kick of spice from Japanese peppers or jalapeños, Dinuguan is a warm and inviting dish that pairs perfectly with rice. After trying this daring yet comforting stew, you'll be eager to explore more of the delicious diversity that Filipino food has to offer.
Filipinos love Lechon Paksiw, a delicacy prepared from leftover lechon (pork grilled over an open fire). Simmering the lechon in a mixture of vinegar, garlic, onion, peppercorns, sugar, and bay leaves creates this delicious meal.
What you get is an appealing sweet-and-sour taste. Traditional accompaniments include steaming rice and either sliced green onions or chopped cilantro for garnish. Give Lechon Paksiw a try today and experience the wonderful flavor of this traditional Filipino meal, which is perfect for any occasion.
Our delightful Filipino culinary journey takes us to the sweet and savory world of Humba, a delectable braised pork belly dish that's sure to impress. In this recipe, succulent pork belly is lovingly combined with a mouthwatering mix of pineapple juice, soy sauce, vinegar, and brown sugar, creating a harmonious balance of flavors.
The addition of fermented black beans, star anise, and dried banana blossoms (optional) adds complexity and depth to the dish. Humba is a testament to the creative fusion of flavors found in Filipino cuisine, making it a wonderful companion to our previous dishes. Pair this luscious, melt-in-your-mouth pork belly with rice for a meal that'll leave everyone craving more!
In Binagoongan Baboy, we continue our savory tour of Filipino cuisine with a dish that combines the fatty pig belly with the umami sweetness of sautéed shrimp paste. Tender tomatoes, the bright tang of vinegar, and the hot blast of Thai chili peppers all contribute to this appealing taste profile.
Binagoongan Baboy is a delicious example of the intricacy and depth of Filipino cuisine. This meal served with fried eggplant and steaming rice, is a delicious addition to our growing collection of mouthwatering Filipino pig belly recipes.
The Oxtail Kare-kare is a deep and savory stew that features the soft, melt-in-your-mouth oxtail and is a delicious diversion on our Filipino culinary adventure (or pork shank as an alternative).
The powdered peanuts and peanut butter in this comfortable recipe create a rich, velvety sauce that pairs wonderfully with the delicate meat, and the earthy flavors of the annatto powder make it seem even more homey. The recipe is elevated by the use of eggplant, string beans, and bok choy, which together create a lovely textural and flavorful mix. Oxtail Kare-kare, which is traditionally prepared in the Philippines and served with a savory shrimp paste, is a delicious example of the depth and complexity of Filipino cuisine.
Bring the warmth and heartiness of Filipino cuisine to your table with this Easy Afritada recipe. It's a scrumptious, home-style dish featuring tender cubes of pork shoulder simmered in a rich, savory tomato sauce. The medley of potatoes, bell peppers, and green peas adds a delightful contrast in texture and flavor.
This dish is perfect for a cozy night in with family, as the aroma of garlic, onion, and tomato fills the air, setting the stage for a mouthwatering meal. Paired with warm rice, Easy Afritada is a satisfying, soulful dish that will leave you craving more of these wonderful Filipino flavors.
Embark on a culinary journey to the Philippines with this scrumptious Pork Kaldereta recipe, also referred to as Kalderetang Baboy. This delightful dish showcases tender chunks of pork simmered in a luxurious tomato sauce, elevated by a surprising splash of soda that adds a nuanced complexity.
The addition of liver spread or peanut butter creates a velvety richness, while the optional chili peppers and cheese contribute a spicy kick and indulgent touch to the dish.