If you're a fan of bold and spicy flavors, you need to try cooking with garlic chili sauce. This versatile condiment can be used to add a fiery kick to a variety of dishes, from noodles and chicken to seafood and steak. In this article, we've rounded up 20 mouthwatering recipes that feature garlic chili sauce in all its glory.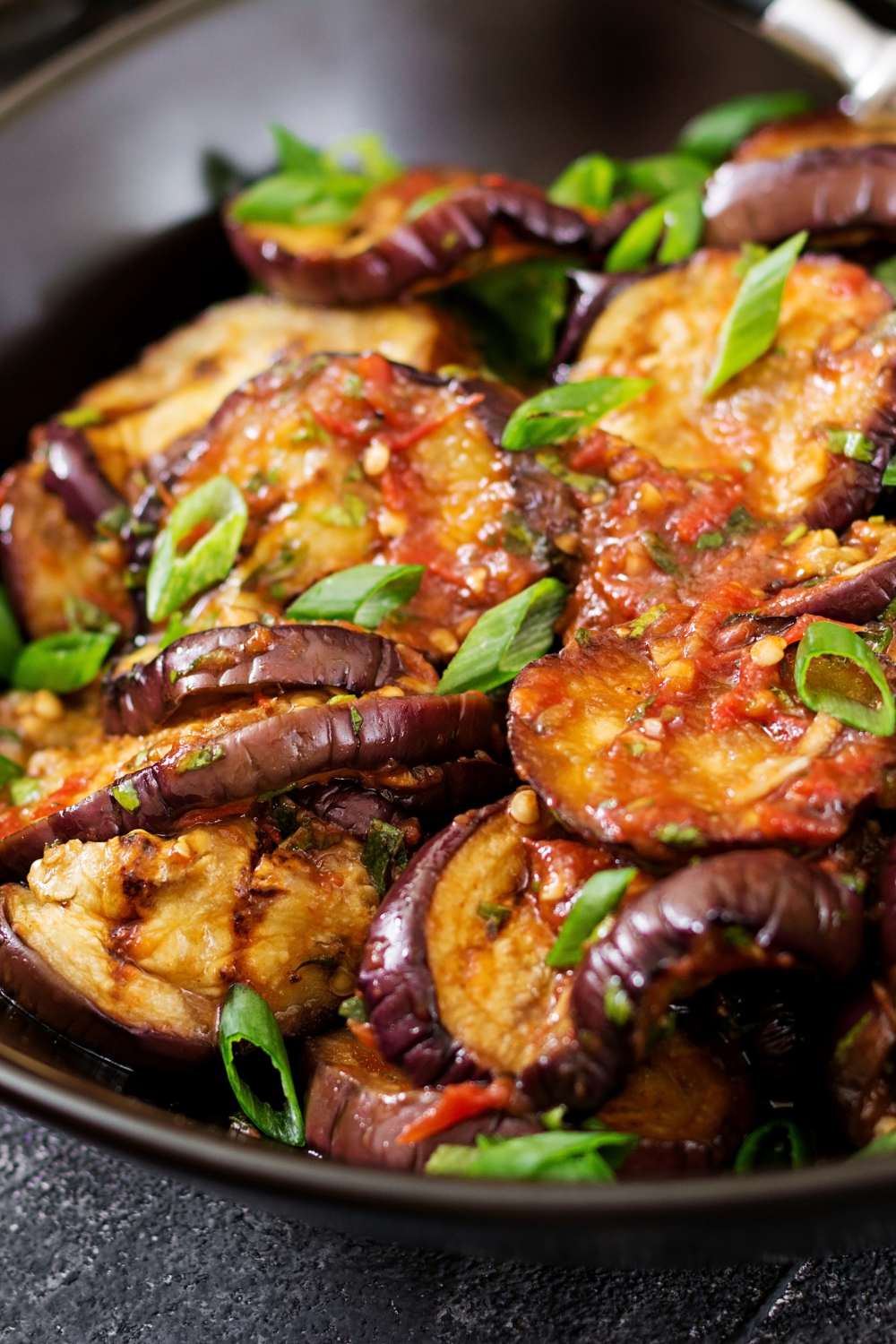 Spice up your meals with the zingy flavor of garlic chili sauce! From wings to stir fry, check out these 20 recipes to add some heat to your dinner table:
These 10-minute garlic chili oil noodles are perfect for when you're craving a quick and satisfying meal. The thick wheat noodles are tossed in a flavorful sauce made with Sichuan chili flakes, garlic, green onions, soy sauce, and vinegar. The hot oil is poured over the sauce and mixed with the noodles to create a savory and spicy dish.
You can add sugar to neutralize the heat if you prefer a milder taste. This dish can be served hot or cold, making it ideal for any season. Top with cilantro, green onions, and toasted sesame seeds for an extra burst of flavor.
The Chili Garlic Chicken recipe features tender chicken pieces marinated in a mixture of olive oil, chili garlic sauce, honey, rice wine vinegar, and minced garlic. The chicken is then grilled to perfection, with seared marks giving it a delicious and crispy texture.
Garnish with thinly sliced scallions and sesame seeds to add a pop of color and extra crunch. This recipe is perfect for any outdoor gathering or barbecue, as it's sure to satisfy everyone's taste buds. Enjoy!
Garlic Sesame Ramen for Two is the perfect meatless meal that's flavorful and easy to prepare. These ramen noodles are upgraded with a simple yet delicious sesame garlic sauce, made with a few pantry staples, including brown sugar, soy sauce, rice vinegar, and chili garlic sauce.
Toss out that seasoning packet and cook the noodles according to the package directions. While the noodles are cooking, make the garlic sesame sauce in a large skillet over medium-low heat with the oil, garlic, ginger, brown sugar, chili garlic sauce, soy sauce, and rice vinegar. Once done, add the sesame oil and the cooked ramen noodles, and toss to combine with the sauce. This quick and easy meal is perfect as it is, but you can add some protein, fried eggs, or other toppings of your choice.
These Grilled NY Strips with Garlic Chili Sauce will take your steak night to a whole new level! The steak is seasoned with kosher salt and cooked to a perfect 125°F internal temperature. The Garlic Chili Sauce made with soy sauce, fish sauce, minced garlic, Thai chili paste, local honey, chopped cilantro, scallion, and fresh lime juice is drizzled over the steak to add bold and zesty flavors.
The sauce perfectly complements the juicy and tender steak, making this dish irresistible. Serve with sliced limes and your favorite sides for a delicious and satisfying meal.
Shrimp with Hot Garlic Sauce is a quick and easy dish with a flavorful punch. Juicy shrimp are paired with a colorful blend of veggies, including sugar snap peas, water chestnuts, red pepper, and carrot, and are coated in a garlicky, slightly sweet, and spicy sauce.
This healthy meal is perfect for a busy weeknight and can be on the table in just 30 minutes. Top it off with some chopped green onions for a bit of freshness and serve over rice for a satisfying and delicious meal.
Satisfy your pizza cravings with this Skillet Pizza with Sausage and Chili Garlic Tomato Sauce. The crust is made with warm water, active dry yeast, all-purpose flour, and kosher salt, and is left to rise for an hour. While it's rising, prepare the pizza toppings - a mix of spicy sausage, Red Gold Petite Diced Tomatoes, tomato sauce, chili garlic sauce, and mozzarella cheese.
Once the crust is ready, spread the chili garlic tomato sauce over it, add the toppings, and bake in a preheated cast iron skillet for 17-20 minutes until the crust is golden and the cheese is perfectly melty. Finish with a sprinkle of Parmesan and cilantro before serving hot.
Enjoy the fantastic tastes of this Chili Lime Salmon dish, which has juicy, tender, and delectable salmon fillets marinated in a sweet and spicy combination of chile-garlic sauce, lime juice, and honey.
This recipe is perfect for a quick and easy weeknight dinner, taking just 30 minutes to prepare from start to finish. Simply wrap the salmon in foil and bake it in the oven for 15 minutes until cooked through. Top it off with a sprinkle of fresh cilantro and you have yourself a healthy and flavorful meal that is sure to be a hit!
Grilled Eggplant in Sweet Chili Garlic Sauce is a deliciously healthy and flavorful dish that can be made by either stir-frying, grilling, or roasting the eggplants. Once cooked, the eggplants are combined with garlic, sweet-spicy chili sauce, parsley, salt, and black pepper for a tangy and sweet taste.
Grilling the eggplants makes them extra succulent and the sweet chili garlic sauce adds an extra layer of irresistible flavor. This dish can be served as an appetizer or a side dish and is sure to please anyone who loves eggplants. The best part is that it's super easy to make and can be stored in the fridge for several days.
Polenta Cakes with Chili-Garlic Sauce is a mouth-watering and flavorful vegetarian appetizer that's sure to impress your guests. The polenta is infused with rosemary, basil, garlic powder, cayenne, and red pepper flakes to create a delicious base that's mixed with sautéed onions and green bell pepper.
The cakes are then grilled to perfection and served with a spicy chili-garlic sauce that complements the polenta's subtle flavors perfectly. The almond milk provides a creamy texture, making each bite heavenly. These cakes are easy to make and perfect for entertaining, impressing anyone who tries them!
These Chili Garlic Noodles are perfect for a quick and easy meal with a punch of flavor. The soba noodles are cooked to perfection and then tossed with a savory sauce made with olive oil, soy sauce, sriracha, hoisin sauce, lime juice, garlic, and red pepper flakes. Top with scallions and sesame seeds for an extra crunch.
The dish is vegan, ready in under 15 minutes, and sure to impress with its flavorful kick. It's perfect for a weeknight meal or when you need something quick and delicious!
Chili Garlic Crunch is a versatile and spicy condiment that adds depth of flavor and texture to any dish. The combination of garlic, shallots, and aromatic spices creates a fragrant and umami-rich oil that is perfect for drizzling on noodles, rice dishes, and even salads.
This recipe is straightforward and customizable to your taste, allowing you to adjust the heat and sweetness to your preference. The key to achieving crispy shallots and garlic is to cook them slowly and ensure they are fully cooled before mixing them back into the oil. Once you try this delicious sauce, it will become a staple in your pantry!
If you are looking for a quick and easy recipe with a ton of flavor, then this Asian mushroom ramen noodles is a must-try! Loaded with sliced baby bella mushrooms and golden oak shitake mushrooms, these noodles are paired with fresh ginger and garlic to make the perfect savory dish. Top it off with a homemade stir-fry sauce, and enjoy a tasty and satisfying meal in no time.
To add an extra kick of flavor, add some sweet chili sauce to taste. This recipe is perfect for a quick weeknight dinner or a cozy meal at home.
If you're looking for a flavorful side dish, these Sweet & Spicy Brussels Sprouts are the perfect solution. Roasted to perfection with a crispy exterior and tender interior, these Brussels sprouts are then tossed with a delectable sauce made of soy sauce, honey, and chili garlic sauce.
The combination of sweet and spicy flavors is sure to please your taste buds, and the easy recipe makes it a great side dish for any weeknight dinner. To ensure the Brussels sprouts come out perfectly caramelized, make sure to roast them in a single layer, coat them in olive oil, and avoid overlapping them on the baking sheet.
The recipe is vegan and can easily be made gluten-free with Tamari sauce. The eggplants are soaked in salt for 15 minutes, then dried and coated in cornstarch before being fried for 5-8 minutes.
The sauce, made with soy sauce or Tamari sauce, rice vinegar, water, cornstarch, and coconut sugar, is poured over the eggplants and mixed until the sauce thickens. Finally, the dish is garnished with spring onions and sesame and served as a side dish or main course over rice or pasta with lime wedges on the side. Double the sauce for a saucier dish!
If you're a fan of bold flavors, you'll love this Sauteed Okra with Garlic Chili Sauce! The okra is cooked to perfection, tender, and full of flavor, while the garlic chili sauce adds a spicy kick that will leave your taste buds tingling.
The combination of the sautéed onion, cumin, salt, and pepper really brings out the best in the okra. The chili sauce is a symphony of flavors, with the perfect blend of spices, including cumin and coriander seeds, diced red pepper, and jalapeno pepper, all balanced out by fresh cilantro and tangy lemon juice.
This stir-fried duck with green onions is a sophisticated and flavorful dish that combines the rich taste of duck with savory garlic, ginger, and a hint of chili sauce. The duck is first marinated in a delectable soy sauce and sesame oil blend before being stir-fried to perfection in a wok. Green onions and red onions are sautéed with garlic and ginger, and the dish is brought together with a mouth-watering cornstarch and oyster sauce.
Serve this dish with your favorite rice or noodles and garnish with sesame seeds and remaining green onions for a restaurant-quality meal in the comfort of your own home.
This chicken and green bean stir fry is the perfect balance of sweet and spicy. The chicken is coated in a crispy cornstarch and garlic powder mixture, while the green beans provide a refreshing crunch.
The sweet chili sauce brings a burst of flavor that is perfectly complemented by bell peppers and aromatic garlic and ginger. This dish is easy to make and great for a quick weeknight dinner. Serve it over a bed of rice or noodles for a complete and satisfying meal that everyone will love!
Chili Garlic Tofu is the perfect combination of spice and crunch. The extra-firm tofu cubes are mixed with chili oil, salt, and crushed peppers before being baked in the oven or air fried to crispy perfection. The caramelized garlic and scallion add a depth of flavor to the dish.
Mix the sauce with soy sauce, red pepper flakes, and brown sugar to coat the tofu. Serve as is or add a thin sauce made from water and cornstarch for an extra kick. Garnish with sesame seeds and scallions for an added touch of color and flavor. This vegan-friendly dish is perfect for a quick and healthy dinner.
Baked low and slow, these wings are finished with a crispy, caramelized glaze that will leave you craving more. The umami-packed glaze is made with honey, chili garlic sauce, soy sauce, rice vinegar, and coconut sugar, giving these wings a distinctive Thai flavor.
A touch of baking powder and salt is all it takes to achieve that perfectly crispy texture. These wings are an excellent game-day appetizer or perfect for any occasion!
These Spicy Chinese Stir Fry Green Beans are the perfect side dish that adds a zing of heat and flavor to any meal. The green beans are sautéed in coconut oil, giving them a deliciously crispy texture, then tossed with freshly grated ginger, minced garlic, and ground Sichuan peppercorns, which add a fragrant and slightly citrusy flavor. The chili garlic sauce and soy sauce add an umami-packed spicy flavor that will make you want to go back for seconds.
With a cooking time of only 15 minutes, these green beans are an easy and tasty way to enjoy Chinese takeout at home.
Can Garlic Chili Sauce Be Used As A Marinade For Meats Or Vegetables?
Yes, garlic chili sauce can be used as a marinade for meats and vegetables. It adds a spicy and flavorful kick to your dishes. Simply mix the sauce with some oil and your desired seasonings, then let your meat or veggies marinate for a few hours or overnight. Grill, bake, or stir-fry as desired.
Can Garlic Chili Sauce Be Used In Place Of Sriracha Or Other Hot Sauces In Recipes?
Yes, garlic chili sauce can be used in place of sriracha or other hot sauces in recipes. It's a versatile condiment that can be used to add flavor and heat to any dish. Use it as a dipping sauce for spring rolls or dumplings, mix it into marinades, stir it into soups or stews, or use it as a finishing sauce for grilled meats or vegetables.