Cassava is a versatile root vegetable that can be used in a variety of dishes, from savory to sweet. Whether you prefer it boiled, roasted, or fried there's a cassava recipe for everyone.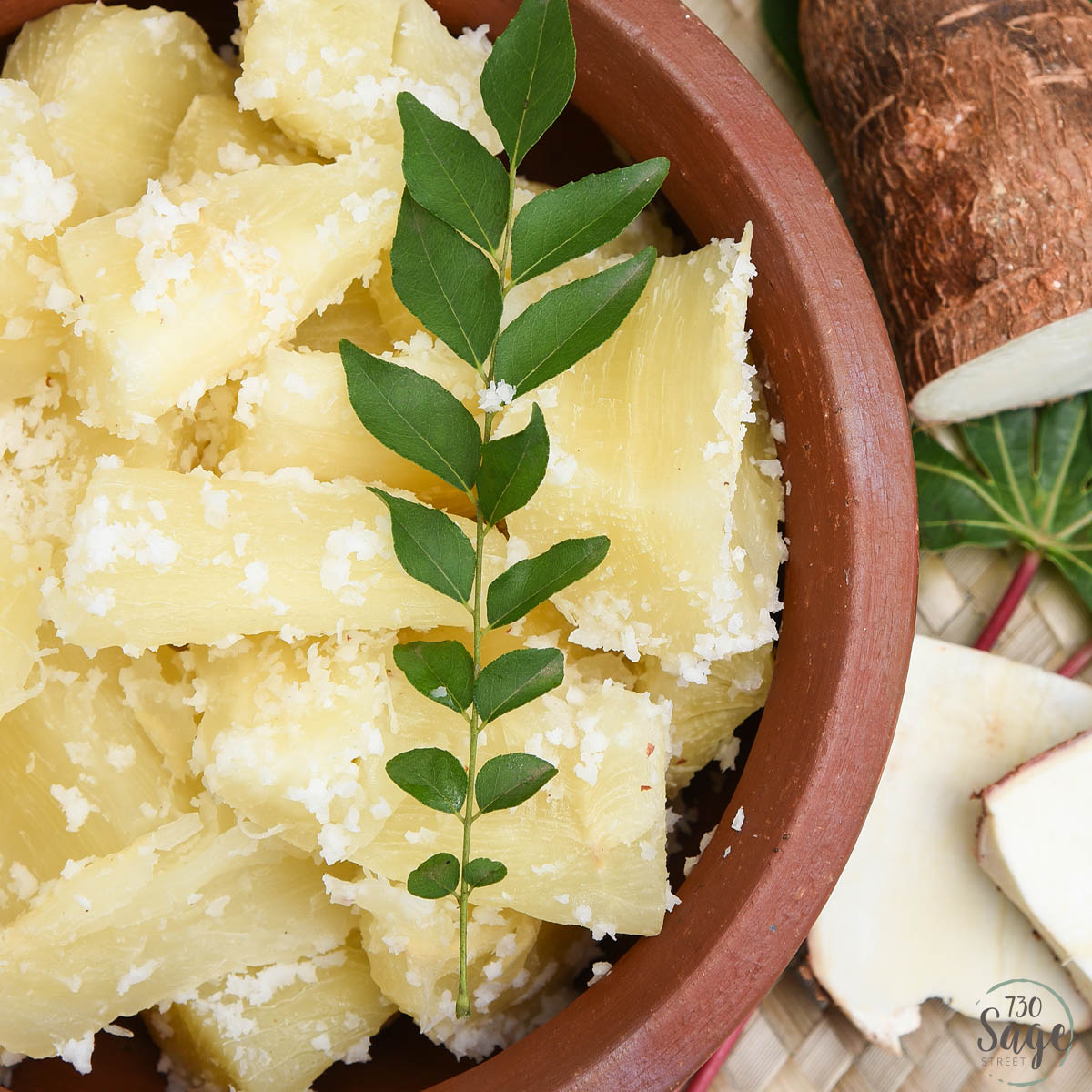 Try cassava fries, cassava cake, or even cassava-based pizza crust. With its unique flavor and texture, cassava is a great addition to any meal.
Explore these 21 cassava recipes to discover new ways to enjoy this nutritious and delicious ingredient.
How Do I Choose The Best Cassava At The Grocery Store Or Market?
When selecting cassava at the grocery store or market, look for roots that are firm, heavy, and free of bruises and blemishes. They should have a smooth, unblemished surface and be relatively uniform in size to ensure even cooking.
What Are The Ways Of Cooking Cassava?
Cassava is a starchy root vegetable that can be cooked in a variety of ways. Here are some popular methods:
Boiling: Cassava can be boiled until it's tender and cooked through. This is a simple and easy way to cook cassava and is great for making cassava mash, which can be used as a side dish or as a base for other recipes.
Frying: Cassava can be cut into thin slices or wedges and fried until golden brown. This results in crispy and delicious cassava chips or fries that can be seasoned to your liking.
Baking: Cassava can be roasted or baked in the oven, which brings out its natural sweetness and gives it a slightly crispy texture on the outside. This is a great way to make cassava wedges or cubes.
Grilling: Cassava can also be grilled, which gives it a smoky and slightly charred flavor. It can be grilled in large chunks or cut into smaller pieces and put on skewers with other vegetables or meats.
Steaming: Cassava can be steamed until it's soft and tender. This method is great for making cassava pudding or other cassava-based desserts.
What Are Some Delicious Cassava-based Dishes And Recipes To Try At Home
Here are some delicious cassava-based dishes and recipes to try at home:
This buttered cassava recipe is an easy-to-make and delicious side dish that is perfect for any meal. Cassava is boiled until tender and then sautéed with finely chopped onion, garlic, red bell pepper, and scallions. The dish is finished with chicken bouillon, butter, and a touch of hot pepper for a flavorful kick. The result is a slightly sweet and nutty flavor with a buttery texture that pairs well with any main dish. This cassava recipe can also be customized with your favorite spices and herbs to make it your own.
This crispy and flavorful cassava cake recipe is a must-try. Grated cassava is combined with salt and fried to create a delicious disk-shaped cake. Soaking the bammy (cassava cake) in coconut milk adds a wonderful flavor to this traditional Jamaican dish. The cakes are pan-fried until golden brown and crispy on the outside, yet soft and tender on the inside. This recipe is a great way to explore the unique flavor of cassava, and it makes a perfect side dish to accompany any meal.
Cassava Fries are a comfort food favorite that are perfect for those on gluten-free, paleo, and AIP diets. This savory dish features cassava roots that are deeply peeled and cut into six-inch lengths, then cooked in an Instant Pot with water. After cooling, the roots are sliced into long strips and cooked in duck fat, lard, or other healthy oils in a heavy-bottomed pot over high heat.
Cooked to a golden brown on all sides, each batch of Cassava Fries is then generously sprinkled with sea salt and served with any optional dippings you prefer.
These Cassava Gnocchi are a delicious gluten-free and paleo-friendly alternative to traditional potato gnocchi. The cassava, a starchy root vegetable, is mashed and mixed with cassava flour, salt, olive oil, and nutmeg, then formed into small gnocchi shapes. After boiling, the gnocchi are sautéed in oil until crispy and golden. These fluffy little pillows of goodness can be served with your favorite sauce and toppings, making for a hearty and satisfying meal.
This recipe yields tender and sweet boiled cassava that is enriched with the richness of coconut milk. It's easy to make, and all you need is a pot, cassava, coconut milk, water, salt, and brown sugar. Just put the cassava in the pot with water, let it boil for 15-20 minutes, then add the sugar, coconut milk, and salt. In just a few minutes, you'll have a sweet and satisfying snack that's perfect for sharing with family and friends.
This recipe for roasted cassava is simple yet flavorful. After boiling cassava in a pot with salt, chili peppers, and cloves, coat the cassava generously with olive oil and bake in the oven for 30 minutes, turning the pieces over halfway through. Sprinkle with a mix of spices and garnish with scallions and cilantro. Serve hot and enjoy this delicious dish!
This delicious and fragrant Yuca Sabzi recipe is perfect for an easy and healthy side dish. First, remove the ends of the yuca, chop it into cylinders and peel it with a knife. Boil it in lightly salted water for around 15 minutes until it is fluffy on the inside. Then, fry onion and add garlic, ginger, turmeric, garam masala, and ground seeds.
Add tomato paste and red chili, and then mix in the cooked yuca with some oil and baby spinach. Toss it together until the spinach wilts. Serve it topped with fresh coriander, chopped spring onions, and the remaining chili.
These delicious fried mashed cassava balls are perfect for any party or gathering. First, cook the cassava in salted water and mash it while it's still hot. Add butter, salt, pepper, and cilantro or parsley, and mix well. Mold the mashed cassava into little balls, fill them with diced mozzarella cheese, and coat them with flour or breadcrumbs. You can refrigerate them for 30 minutes before frying to prevent the cheese filling from leaking out.
Fry the balls in hot oil until crispy, and serve them with your favorite dipping sauce. Try them with salsa rosada, a chili sauce, or a tomato and onion curtido salsa for an extra burst of flavor.
Cassava Suman is a delightful Filipino delicacy that features a mixture of grated cassava, coconut milk, and sugar steamed in banana leaves. This dessert/snack recipe is easy to make and yields 8 pieces, perfect for sharing with friends and family. To make it, you'll need grated cassava, brown sugar, coconut milk, and desiccated coconut or fresh young coconut meat.
The ingredients are combined, then wrapped in banana leaves and steamed for 30-35 minutes. The result is a delicious, slightly sweet, and chewy treat that can be served slightly warm or cold.
Looking for a new dessert to try? Look no further than Steamed Cassava Cake! This Filipino delicacy is made by combining grated cassava with eggs, evaporated milk, condensed milk, and margarine. The mixture is then poured over caramelized sugar in llaneras and steamed until cooked through. When finished, the cake is cooled and unmolded before being topped with grated cheese. The result is a moist, sweet cake with a hint of caramel and a delightful cheese topping.
These Cassava Fritters are crispy, fluffy, and delicious! Made with grated cassava, flour, coconut, and a touch of vanilla, they are perfect for breakfast, dessert, or an anytime snack. Simply mix the ingredients, drop spoonfuls of the mixture into hot oil, fry until golden brown, and then coat them in sugar. The result is a heavenly treat that's both crunchy and sweet. These fritters are easy to make and guaranteed to satisfy your sweet tooth.
Grated cassava and optional grated coconut are mixed with a fragrant blend of spices, including cinnamon, nutmeg, and black pepper, then combined with brown sugar, softened butter (use non-dairy for vegan option), and a splash of vanilla and almond extract. To make it vegan, use coconut milk instead of evaporated milk. The mixture is poured into a greased pan and baked to perfection for about 60-70 minutes.
These Paleo Cassava Flour Biscuits are the perfect way to enjoy biscuits while sticking to a paleo diet. The biscuits come out fluffy and golden brown, thanks to the use of Otto's Cassava Flour, baking powder, and Redmond Real Salt. The recipe uses non-hydrogenated organic vegetable or palm shortening, but grass-fed butter can also be used for a flatter biscuit.
To make the buttermilk, simply mix fresh lemon juice with raw milk or coconut milk. After combining the dry and wet ingredients, the dough is rolled out and cut into biscuits before being baked for around 14-18 minutes.
These gluten-free cassava flour blueberry lemon muffins are perfect for breakfast, snack, or dessert. Bursting with lemon blueberry flavor, they are easy to make and nut-free. The recipe includes butter, granulated sugar, Otto's Naturals cassava flour, baking soda, eggs, dairy-free milk, vanilla extract, lemon zest, and lemon juice. The batter is thick, and blueberries are folded in before being added to muffin liners. After baking for 19-22 minutes at 350 degrees Fahrenheit, these delicious muffins are ready to serve.
These gluten-free cassava donuts are a delicious dessert, perfect for any occasion. The donuts are made with finely grated yuca, crumbled queso fresco, beaten egg, baking powder, and defrosted grated coconut. The batter is formed into balls and fried in hot oil until golden brown. They are then dipped into a sweet syrup made from piloncillo, water, cinnamon sticks, and lime juice. The result is a sweet, sticky, and utterly satisfying treat that will leave you wanting more. Serve them warm for the ultimate indulgence.
Experience the bold flavors of West Africa with this easy-to-make yabeh stew. This hearty and filling dish is vegan and gluten-free, making it a great option for a wide range of diets. To start, simmer cassava and sweet potato in salted water until fork-tender. Meanwhile, sauté onions, ginger, and spices in olive oil until fragrant before adding tomato paste and water. Bring the mixture to a boil and add creamy peanut butter for a nutty finish.
Finally, combine the boiled cassava and sweet potato with the tomato sauce, adding spinach for a pop of color and nutrition.
These cassava flour brownies are a great gluten-free and paleo dessert option. The recipe involves combining dry ingredients like cassava flour, cocoa powder, salt, and baking soda, and then melting together chocolate chips and butter in a saucepan or in the microwave. Sugar, vanilla extract, and eggs are whisked in, and the wet mixture is combined with the dry ingredients to create a thick, fudgy batter.
The batter is baked in an 8x8 metal baking pan for 17-20 minutes until the edges rise slightly and a toothpick inserted into the center comes out with crumbs. The brownies should be cooled for at least 45 minutes before being cut into 16 squares.
This quick gluten-free naan recipe uses cassava flour for a grain-free option, with a vegan option available. The recipe features a no-yeast version, but a yeast option is also available. The dough is mixed with yogurt or non-dairy milk, apple cider vinegar or lemon juice, and a little water until it reaches a pizza dough-like texture. The dough is then rolled into balls and flattened between wax paper to create an oval shape.
The bread is cooked in a nonstick or cast-iron pan with oil until the edges puff up. Serve this delicious naan with hummus or yogurt sauce, and store leftovers in the fridge for up to four days.
These waffles are made with nutrient-rich cassava flour, organic eggs, and natural vanilla extract for a healthy and delicious breakfast. The batter is easy to whip up in a blender in just a minute or two, making it a quick and easy option for busy mornings. The recipe calls for coconut or almond milk, but you can use any milk of your choice.
Cook the batter on a waffle iron until the steam has mostly stopped, then serve hot with your favorite toppings, such as fresh fruit or maple syrup. These waffles can also be made in advance and reheated for a quick breakfast on the go.
Enjoy a delicious and crunchy snack with these fried cassava discs, made from ground cassava and caramelized coconut cream. The cassava discs are pounded and dried in the sun before being fried in cooking oil until golden brown and crispy. These savory discs are perfect for snacking or as a side dish to your favorite meal. Garnish with caramelized coconut cream or chocolate syrup for added sweetness.
These fluffy cassava flour pancakes are the perfect breakfast. Made with plant milk, nut butter, and maple syrup, these pancakes are naturally sweet and easy to make. The recipe is simple and straightforward, and the pancakes cook quickly in a non-stick pan. These pancakes are not only delicious, but also healthy, as cassava flour is a good source of fiber and minerals. Top with fresh berries or maple syrup for a satisfying breakfast that everyone will enjoy.
Frequently Asked Questions About Cassava
Can Cassava Be Eaten Raw
While cassava can be eaten raw, it is not recommended due to the presence of cyanogenic glycosides, which can release toxic cyanide when ingested in large amounts. To avoid any health risks, cassava should be peeled and cooked thoroughly before consumption.
Can Cassava Be Used As A Gluten-free Substitute In Baking
Yes, cassava is a great gluten-free substitute in baking and cooking. Cassava flour and starch can be used to make a wide variety of gluten-free baked goods, including bread, cakes, and pastries, as well as savory dishes like cassava-based pizza crusts and gnocchi.
How Do I Store Cassava To Keep It Fresh For Longer?
To keep cassava fresh for longer, store it in a cool, dark place with good ventilation, such as a pantry or cellar. Avoid storing it in the refrigerator, as the cold temperatures can cause the roots to spoil more quickly. If properly stored, cassava can last up to two weeks.