If you have a can of pears sitting in your pantry, you're in luck! Canned pears are versatile and can be used in a variety of sweet and savory dishes, from desserts to main courses.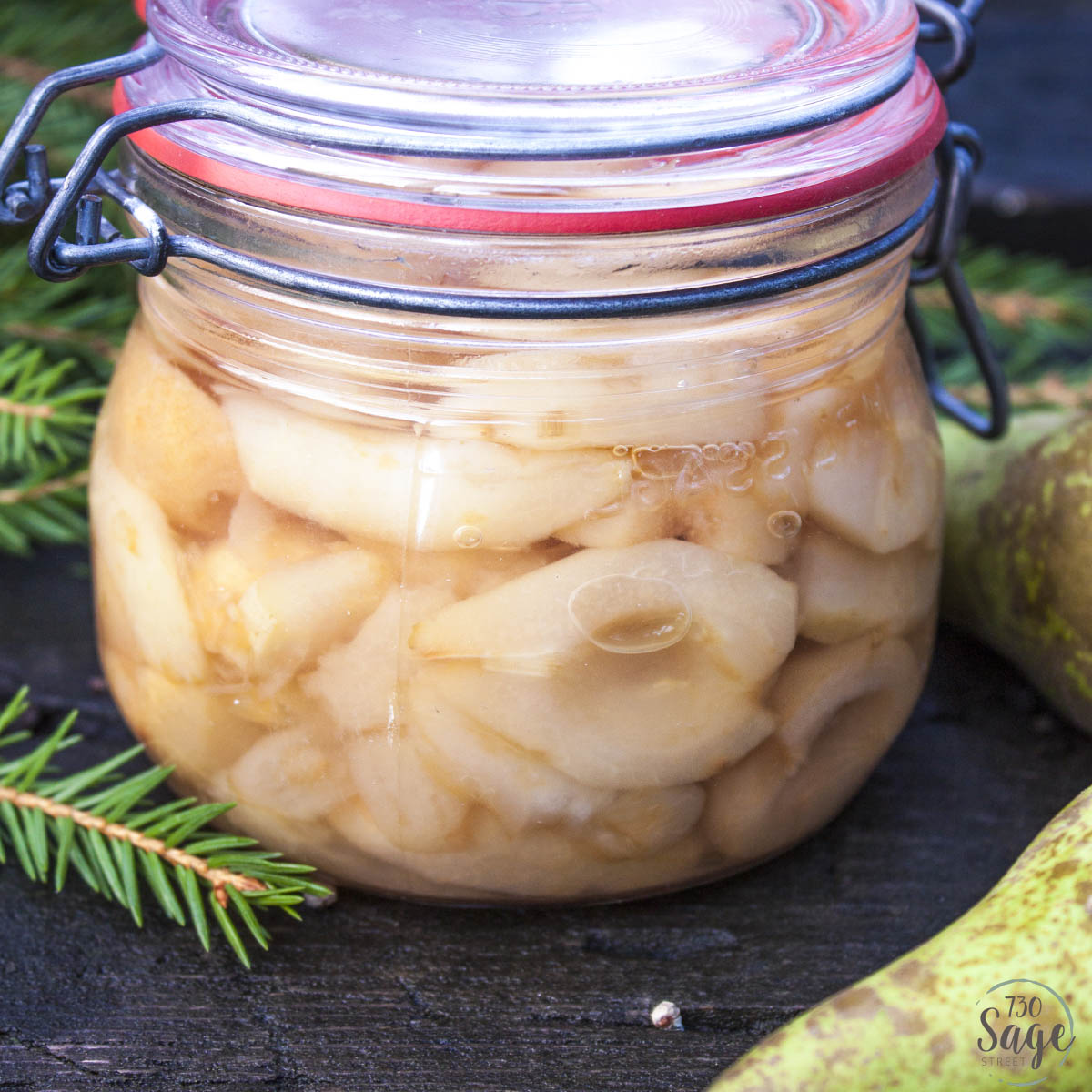 In this collection of 18 canned pear recipes, you'll find inspiration for breakfast, lunch, dinner, and everything in between. From savory salads to decadent desserts, there's something for everyone.
So grab that can opener and get ready to cook up a storm with these delicious canned pear recipes!
Are Canned Pears Cooked?
Yes, canned pears are cooked during the canning process to make them safe to consume and to extend their shelf life. The pears are typically peeled, cored, and cooked in a syrup made of water and sugar before being sealed in cans. Some canned pears may also contain added flavors or seasonings.
Can I Substitute Fresh Pears With Canned Ones?
Yes, in most recipes, you can substitute fresh pears with canned pears. However, keep in mind that the texture of canned pears is softer than fresh pears, and canned pears may be packed in syrup, which can affect the sweetness of your dish. So, you may need to adjust the amount of sugar in the recipe.
Also, canned pears can be sliced, halves or diced, so you will need to choose the right size and shape to fit the recipe.
Best Canned Pears To Use
If you're looking to use canned pears in the recipes above, we recommend some of our favorite brands:
Delmonte
Dole
Happy Belly Pear Halves
These brands offer good quality and taste that will work well in many of the pear recipes you want to try.
18 Canned Pear Recipes
Here is a recipes that uses canned pear:
This delicious pear cobbler is a classic Southern dessert that is easy to make and even easier to love. Made with canned pear halves in light syrup, this recipe features a sweet and gooey filling that's perfectly complemented by a fluffy, buttery topping. The filling is made by melting down a mixture of brown sugar, flour, cinnamon, salt, and lemon juice, which is then poured over the pear chunks in the baking pan.
The topping is made with a combination of flour, sugar, baking soda, baking powder, buttermilk, and melted butter, which is then spooned over the pears before being baked to golden perfection.
This four-ingredient pear Bundt cake is a quick and easy dessert that's perfect for any occasion. Made with canned pear slices in juice or light syrup, this recipe requires just a few simple steps to prepare. After draining the pears and mashing them with a fork or potato masher, they're combined with the reserved syrup, white cake mix, and lightly beaten eggs to create the batter.
The mixture is then beaten with a hand mixer for a few minutes and poured into a fluted tube pan that's been coated with cooking spray and dusted with flour. After baking for 50-55 minutes and cooling for 10 minutes, the cake is ready to be removed from the pan and dusted with powdered sugar.
This Pacific Northwest canned pear crisp is a delightful dessert that's easy to make and even easier to enjoy. Using canned sliced pears in extra light syrup, the recipe features a crunchy and sweet topping made with melted margarine, whole wheat flour, rolled oats, brown sugar, cinnamon, and ground ginger.
The topping is sprinkled over the pears and the pan is baked until golden brown. Serve this warm and comforting treat on its own or with a scoop of ice cream.
This Amaretto pear cake is a quick and easy dessert that doesn't require a mixer. Using canned sliced Bartlett pears in heavy syrup, the recipe yields a moist and flavorful cake that's egg-free. The batter is made by whisking together flour, sugar, baking powder, cinnamon, salt, sliced butter, almond extract, and milk. The batter is poured into a greased cake pan and topped with arranged slices of pears.
The pear syrup is then mixed with Amaretto liqueur and brushed on top of the cake before baking. After cooling and brushing with more syrup, the cake is ready to be served with extra amaretto-pear syrup and optional whipped cream or ice cream.
This easy and delicious pear clafouti recipe can be made gluten-free and features sliced Bartlett or green pears baked in a custard batter. The batter is made with eggs, granulated sugar, flour, heavy cream, vanilla extract, kosher salt, and pear juice. This recipe can be made with fresh or canned pears, making it versatile and easy to adapt.
The clafouti is baked until golden brown and the custard is firm, and can be served warm or at room temperature with powdered sugar or whipped cream. It's a perfect dessert for any time of the day and is sure to impress!
Pear Hand Pies are a delicious and easy dessert that can be made with store-bought or homemade pie crust. The sweet filling is made by combining diced pears, sugar, flour, salt, cinnamon, and lemon zest. The mixture is then placed on top of a round pie crust and sealed by folding it in half and crimping the edges with a fork. The hand pies are then brushed with egg and baked until golden brown. They can be served warm or cold, and make for a perfect take-along dessert.
Canning pears without sugar is a simple and healthy way to enjoy this delicious fruit all year long. To start, wash your firm, ripe pears and cut them into halves or quarters, removing any spoiled spots. You can choose to peel them or not. Soak the pears in a lemon juice bath for 2-3 minutes to prevent discoloration.
Then pack the pears into sterilized jars, covering them with boiling water and leaving ½-inch headspace. Process in a boiling water canner for 25-30 minutes and voila! Enjoy your canned pears in homemade yogurt, oatmeal, or straight from the jar.
This Rustic Pear Tart is a quick and easy dessert that's perfect for fall. Sliced Bartlett ,Bosc or canned pears are tossed with cornstarch, lemon juice, fresh ginger, cinnamon, nutmeg, and sugar, then poured onto a store-bought or homemade pie crust. The edges of the crust are folded over the fruit mixture, brushed with heavy cream, and sprinkled with sugar before baking for 25-30 minutes.
The result is a beautiful, golden brown crust with tender, juicy pears inside. Serve warm with a dollop of whipped cream or a scoop of vanilla ice cream for an extra special treat.
Indulge in the delightful flavors of this Pear Cream Cheese Danish. Made with a marzipan cream cheese filling, Libby's Sliced Pears, and a cinnamon honey drizzle, this recipe is perfect for a weekend brunch or special occasion. The puff pastry dough is folded and filled with the decadent cream cheese filling and topped with the juicy, sweet pear slices.
The cinnamon honey drizzle adds the perfect touch of sweetness to this delicious and easy-to-make dessert.
Enjoy the taste of summer or fall with these delicious and easy pear muffins! Moist and flavorful, these muffins are perfect for a quick breakfast or snack. Made with chopped pears, cinnamon, nutmeg, honey, and coconut oil, these muffins are bursting with flavor. Top them off with a crumb topping made with chopped pecans and a blend of flour, cinnamon, sugar, and butter for an extra crunch. These muffins can be made with fresh and canned pears. Serve them warm with a cup of coffee or tea for a comforting treat.
Warm up your kitchen and fill your home with the aroma of freshly baked Dutch Pear Pie. This recipe is perfect for fall and features sweet, juicy pears delicately spiced with nutmeg and cinnamon, nestled in a flaky, homemade crust. While fresh pears work best in this recipe, you can also use canned pears if that's what you have on hand. The pie is finished with a delicious streusel crumb topping and a drizzle of homemade caramel sauce.
This Old-Fashioned Pear Brown Betty recipe is perfect for a sweet, comforting dessert. With a buttery crust and juicy, cinnamon-spiced pear filling, it's a classic treat that's sure to impress. Plus, it can easily be modified to be gluten-free by using a gluten-free flour. You can even make this recipe with canned pears if fresh ones aren't available.
Serve it warm with a dollop of vanilla ice cream or whipped heavy cream for a truly decadent treat. This recipe yields nine servings, making it a great option for a family dessert or a gathering with friends.
This Custard Pear Pie recipe is perfect for those who want to enjoy the wonderful combination of fresh pears and a creamy, homemade custard filling. You can also use canned pears to make this pie. The pears are folded into a creamy filling made from flour, sugar, evaporated milk, and lemon juice, and sprinkled with cinnamon and sugar before baking. With a simple yet delightful flavor, this pie is perfect for any occasion. Bake it at 400 degrees F for 45-50 minutes and let it cool for 2 hours before serving.
This Caramelized Pear Pie Filling recipe by Julie Menghini is perfect for topping or as a dessert on its own. The filling is made of tender pears that are cooked in brown sugar and cinnamon, giving it a caramelized and flavorful taste. This recipe can be easily modified to be made with canned pears. Simply drain the pears and dice them into ¼-inch pieces before following the rest of the recipe. The filling is easy to make and takes only 30 minutes from start to finish.
You'll need 5 cups of peeled, cored, and chopped fresh pears, which can be substituted with canned pears, 2 containers of blackberries, granulated sugar, cornstarch, ground cinnamon, grated orange zest, and kosher salt. First, prepare your pie crust and then make the filling by stirring all the ingredients together in a large bowl. Preheat your oven, roll out your pie crust, and add the filling to the pie shell.
Arrange the dough shapes onto the filling and brush them with egg yolk and cream. Sprinkle with coarse sugar, and bake for about 60-70 minutes or until golden brown and bubbling. Let it cool on a wire rack before serving.
This recipe is for delicious and chewy pear cookies with chocolate chips. Mix egg, sugar, and vanilla sugar, then add melted butter and pears. In a separate bowl, combine flour, baking powder, and cinnamon, and fold into the wet mixture. Add chocolate chips and chill the dough for 30 minutes to an hour.
Use a tablespoon to spoon the dough onto a parchment-lined baking sheet and bake for 13 minutes at 365F. Once cooled, drizzle icing made of icing sugar and milk over the top of the cookies for added flavor. Can be made with canned pears.
Indulge in the rich, warming flavors of ginger and juicy pears with this delicious Gingersnap-Pear Cheesecake. The buttery gingersnap crust is perfectly complemented by slices of ripe, fresh pears tossed with ginger, while the creamy cheesecake filling is sweetened with natural granulated sugar and flavored with vanilla extract.
For added richness and depth of flavor, a dollop of sour cream sweetened with more natural sugar and vanilla is added to the top of the cake. Serve chilled for a refreshing and satisfying dessert that's perfect for any occasion. If fresh pears are unavailable, canned pears can be used as a substitute.
Pear Pockets are a tasty and healthy lunch recipe that can be prepared quickly and easily. The recipe involves using refrigerated crescent rolls, peanut butter, Asian pear, ground cinnamon, and shredded Cheddar cheese. To prepare the recipe, crescent roll triangles are combined to form squares, and each square is filled with peanut butter, pear, cinnamon, and Cheddar cheese. The squares are then folded into triangles and baked until the dough is lightly browned.
The result is a delicious and flavorful pocket with a delightful mixture of flavors and textures, perfect for a quick and satisfying lunch or snack.