Pulled pork is one amazing versatile ingredient that can be used in a variety of ways and if you have any leftover pulled pork from last night's dinner, make use of it with these 20 shaved pork recipes that are guaranteed to leave you licking your fingers!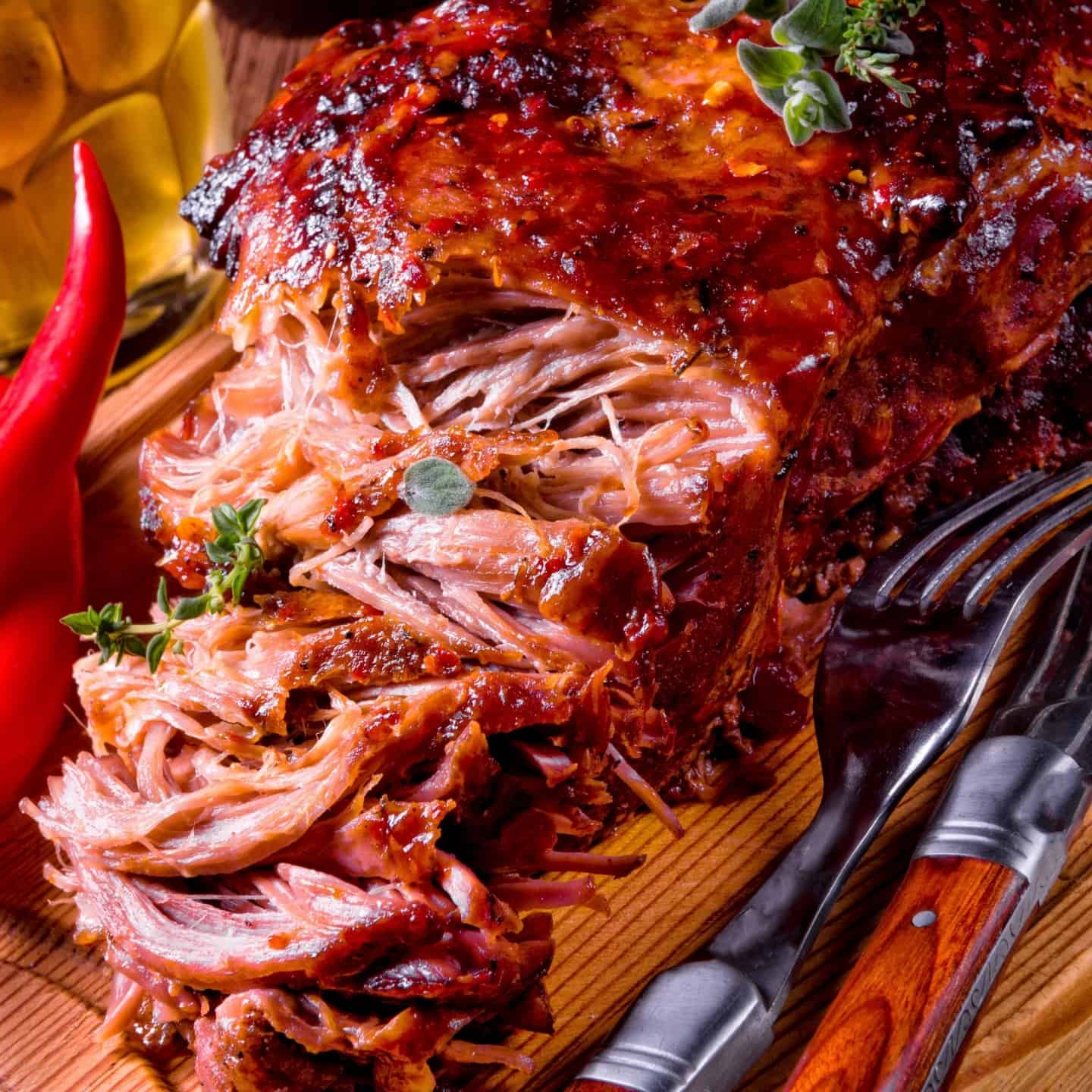 Shaved pork is so delicious and can be mixed with many sauces, from barbecue sauce to hot sauce and even Chinese sweet sauces. It is a common ingredient in Mexican food recipes like tacos, nachos, or quesadillas, and tastes amazing on pizza or curry.
So no matter what recipe you're looking for, you'll definitely find one using pulled pork that will tantalize your taste buds!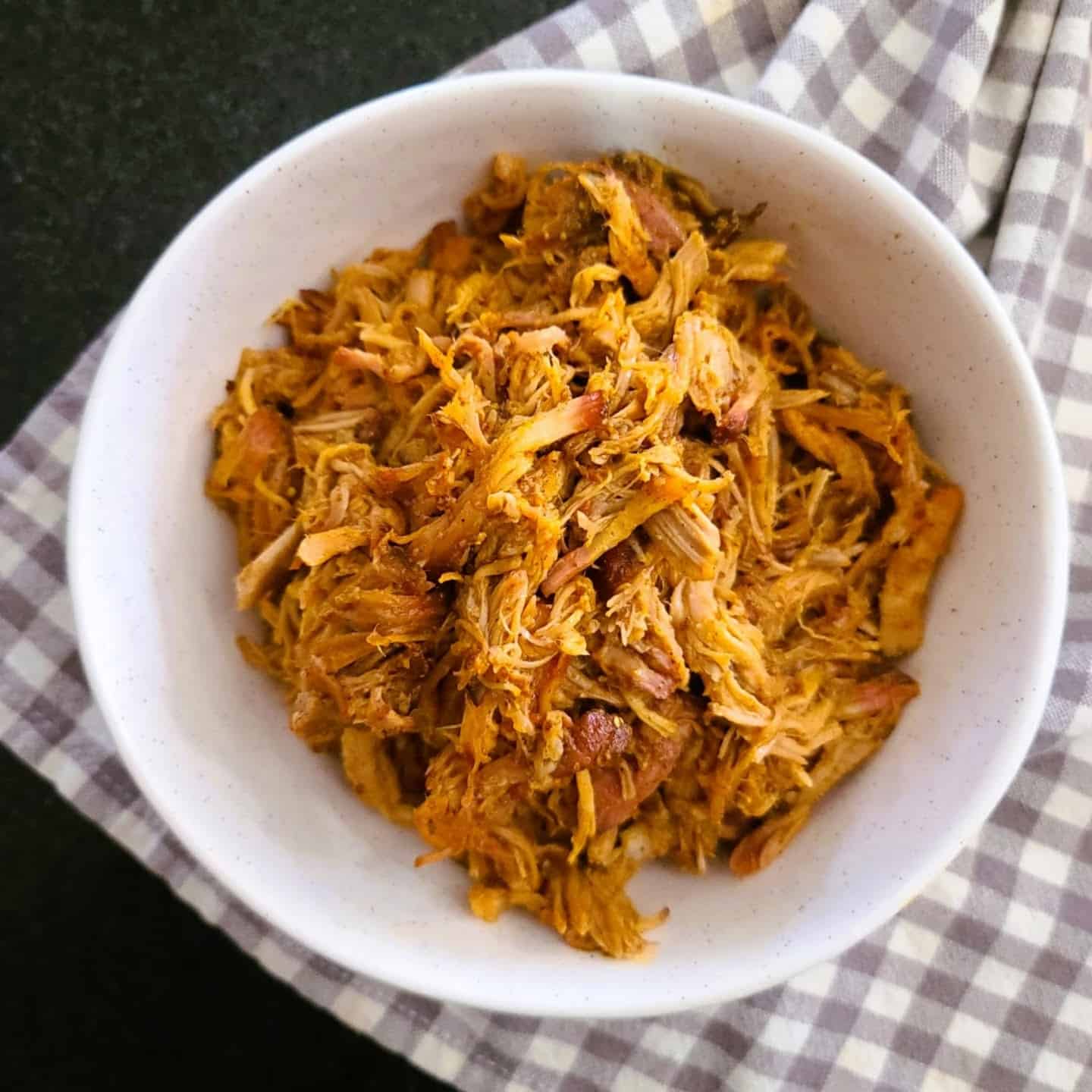 To start the curated list in style is this easy pulled pork recipe with a sweet and spicy rub that will make any sandwich or wrap taste amazing!
The pork butt is rubbed with brown sugar, cayenne pepper, and smoked paprika to give it a combination of sweet, spicy, and smokey flavors, and it is cooked low and slow in the oven until it falls apart.
It is best served in tacos and quesadillas but also tastes amazing piled high in sandwiches with slaw and BBQ sauce.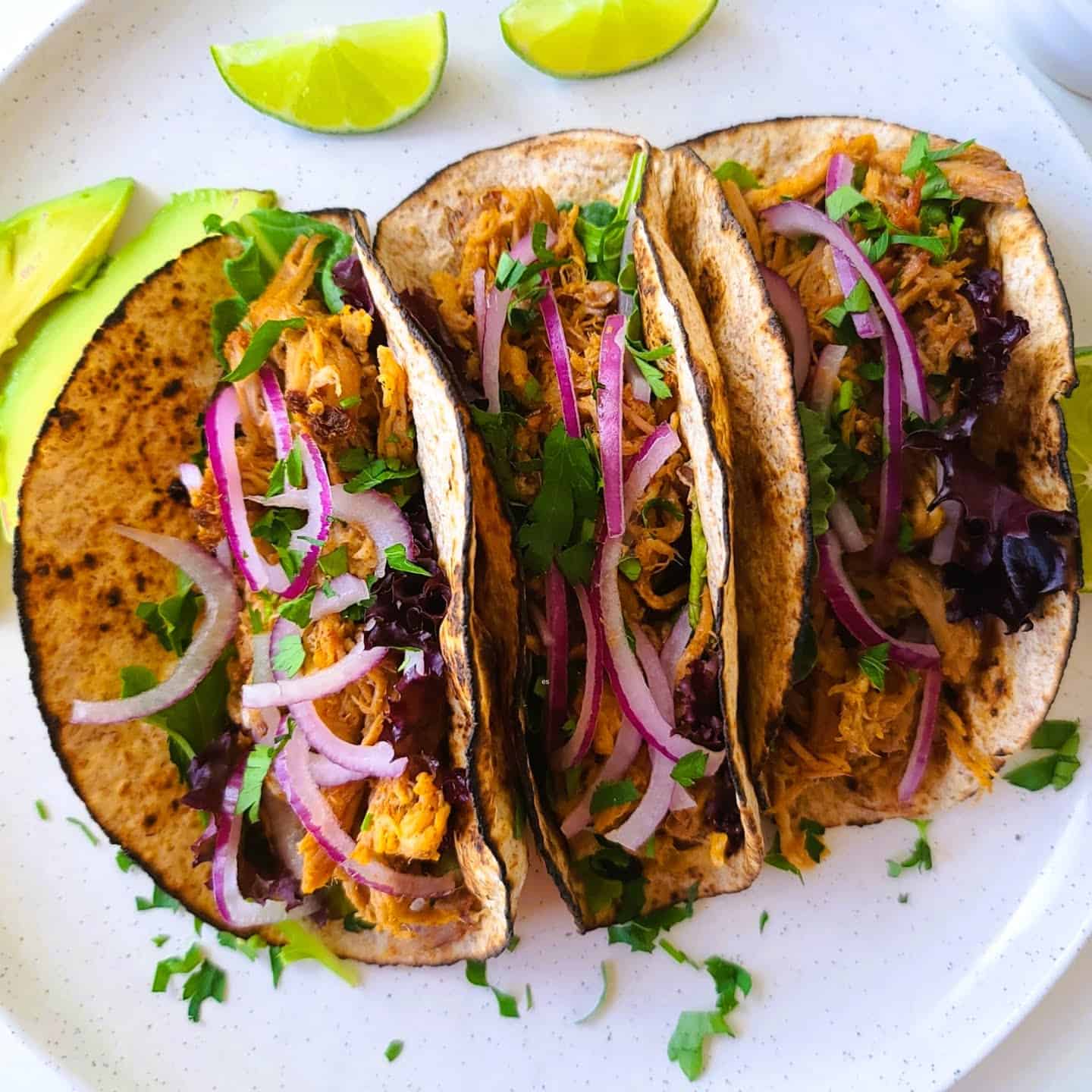 These pulled pork tacos are absolutely delicious and packed with flavor! The perfect mix of spices and sauces makes these tacos a hit with everyone.
Top them with sliced red onions, avocado, cilantro, salad, and a squeeze of lime juice to bring all the flavors together.
Pork tacos are perfect for sharing on gameday and only take 15 minutes to prepare!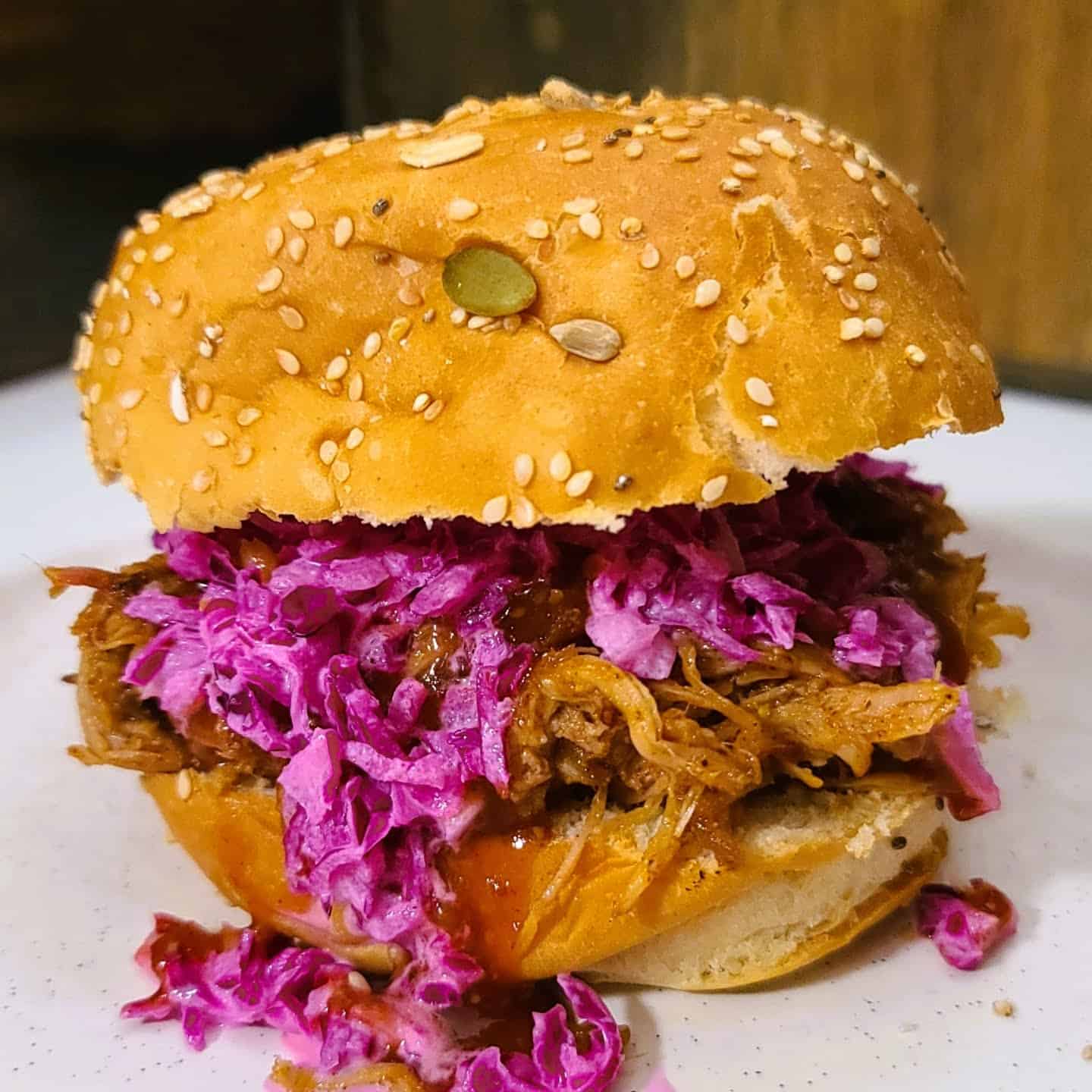 4 ingredients and 10 minutes of your time are all it takes to assemble this mouth-watering pulled pork sandwich.
Making delicious sandwiches is the best way to use up any leftover shaved pork you may have in the fridge. They're easy to prepare for lunch, dinner, and packed lunches.
This recipe combines juicy red cabbage slaw with the shaved pork mixed with barbecue sauce and piled high on a soft burger bun.
If you love everything chili, you'll love this smokey chili recipe packed with chili beans and crushed tomatoes along with tender pork tenderloin.
Pork tenderloin is such a great alternative to pork shoulder or butt that melts in your mouth after several hours of slow cooking in a smokey and spicy sauce with adobo, chipotle chiles, chili powder, cumin, espresso powder, and smoked paprika.
Comfort food doesn't get any better than this slow cooker pork tenderloin chili!
This low-carb recipe for sweet potato sliders is one delicious meal to use up any leftover pulled pork.
Simple to make and extremely moorish best describes these sweet potato sliders, and they're healthier than standard sliders with mini burger buns.
All you need to do is bake or fry the premade crinkle-cut sweet potato fries and place pork, slaw, and bell pepper rings between 2 crispy round fries. The crunch and juicy pork meat combinations are outrageously good!
The combination of homemade roasted garlic gnocchi served with slow-cooked pork is a recipe you have to try!
It's an Italian classic recipe that will have everyone at your table coming back for more. The pork leg is cooked for 3 hours in a sweet mixture of soy sauce, sugar, tomatoes, garlic, and smokey paprika and pulled apart with a fork.
The garlic roasted gnocchi is super easy to prepare also and tastes far better than any store-bought packaged gnocchi. Combine the two, and you have an irresistible meal!
Upgrade your mac and cheese recipe with some leftover pulled pork! When you combine shaved pork and mac and cheese, you get a winning dish that will satisfy anyone at your table.
The ginger beer in this slow-cooked pork shoulder recipe gives it a unique flavor that will make your taste buds dance.
This is the perfect cheese and meat recipe for a winter night when you want something hearty and filling.
This Cuban roast pork recipe is so flavorful and moist that it will melt in your mouth!
The combination of orange juice, garlic, and cumin gives this dish a unique, absolutely delicious flavor.
Serve it with some white or brown rice and black beans for a complete meal.
These BBQ-shaved sliders are the perfect party food! They're easy to make, and everyone will love the cheesy barbecue flavor.
The Hawaiian buns are filled with lots of crispy bacon, white cheddar cheese, and succulent pork meat. Then it's baked in the oven with a sweet brown sugar and garlic glaze over the top.
Your guests will be asking for seconds, so make sure you make enough!
Give these pulled pork quesadillas a go for your next lunch or dinner. You won't be disappointed!
They have just the right amount of spice and are packed with delicious shaved pork and cheese.
All you need to do is preheat oven to 400F, fill flour tortillas with the ingredients, and bake them for 10 minutes until they are golden crispy and the cheese has melted.
This casserole is packed with flavor and is sure to be a hit with the whole family!
The hash browns are crispy, and the spicy BBQ pulled pork is juicy and tender. When topped with cheese, this dish is irresistible!
So if you're looking for a new and exciting recipe to try with your leftover pulled pork, look no further than this pulled pork casserole! It's sure to become a new family favorite.
Take your pork shoulder to the next with this crock pot Dr. Pepper pulled pork recipe.
The only other ingredient you'll need for this recipe is barbecue sauce. Cook the pork in the crock pot with Dr. Pepper for 5 hours, shred the meat and toss it with BBQ sauce.
The sweet soda is what keeps the meat moist and tender, which can then be used in many pulled pork recipes.
Turn your leftover pork into this creamy pulled pork spaghetti recipe that is packed with cheese, noodles, and pork meat.
It comes together quickly in a pan, and the sauce combines cream cheese, diced tomatoes, cheddar cheese, and cream to create a thick and creamy sauce.
The BBQ pulled pork meat adds a nice smoky flavor to the dish, and the extra topping of shredded cheese gives it that golden crunch. Even the kids will devour this irresistible spaghetti casserole!
These Asian tacos are the perfect blend of sticky pork, crunchy salsa, and spicy cream dressing.
The tender pork is cooked in a slow cooker with a caramel Asian-style sauce, then shredded and served in soft tacos with fresh pineapple salsa.
The sriracha crema gives these tacos a bit of a spicy kick, but you can always adjust the amount to suit your taste. These tacos are so easy to make and are sure to be a hit with your friends and family!
Pork meat and pineapple definitely belong on pizza together after trying this delicious pineapple pulled pork pizza recipe.
The pineapple BBQ sauce and fresh pineapple chunks give this pizza a unique and flavor-packed twist. The bacon and jalapeño add a nice touch of spice, while the shredded mozzarella cheese ties it all together.
No matter what flavor pizza is your favorite, you'll be moving it to second place after tasting this one.
This pulled pork burrito bowl recipe is a fun and easy way to change up your weekly meal routine.
It's packed with flavor, and everyone will love the personalized toppings. Simply cook the rice, shredded lettuce, and pulled pork ahead of time.
Then, let everyone top their burrito bowl with toppings like avocado, sour cream, Pico de Gallo, tortilla chips, and jalapenos.
This pot pie recipe with pulled pork, potatoes, and apples is perfect for those winter evenings.
All you need to make this delicious pie is to heat a skillet over medium-high heat and sauté onions, potatoes, and apples in olive oil before mixing in the succulent leftover shaved pork and barbecue sauce.
Then simply pour the mixture into a homemade pie crust and bake. You can make individual pot pies or make a large family size. They're perfect for storing and reheating purposes too.
This easy and delicious shepherd's pie recipe is perfect for a winter night.
It's packed with nutrients and will leave you feeling satisfied. The best part is that it only takes a few minutes to prepare.
Simply cook the veggies, mix in the pulled pork, and top with mashed potatoes and cheddar cheese. Then, bake for 30 minutes and enjoy.
If you're in the mood for homemade Chinese food, this easy pork and gouda egg roll recipe is exactly what you need.
The pork is cooked in a slow cooker for 3 hours with a marinade of sweet and savory spices, honey, cider, and apple or rice vinegar, then shredded and mixed with gouda cheese.
Rolled up in egg roll wrappers and fried to a crisp, they are delicious, and although the process is lengthy with a slow cooker, you could use an instant pot to cut the time in half to about an hour.
Although everything in this recipe is homemade, these bourbon and coke shaved pork tortillas definitely pack a punch.
Everything from the pork shoulder slow cooked in bourbon and coke to the onion pickles and sweetcorn salsa is made with pantry staples.
The crispy tostadas are the perfect base for this sweet shaved pork recipe with tangy salsa and pickles. Serve them with sour cream and queso fresco for the ultimate Mexican diner.