There's nothing quite as comforting as a bowl of homemade soup, especially when it's made with rich, flavorful beef bone broth. From Asian-inspired broths to classic French onion soup and hearty ramen, this round-up features 15 delicious soup recipes that make the most of beef bones for a satisfying and nutritious meal.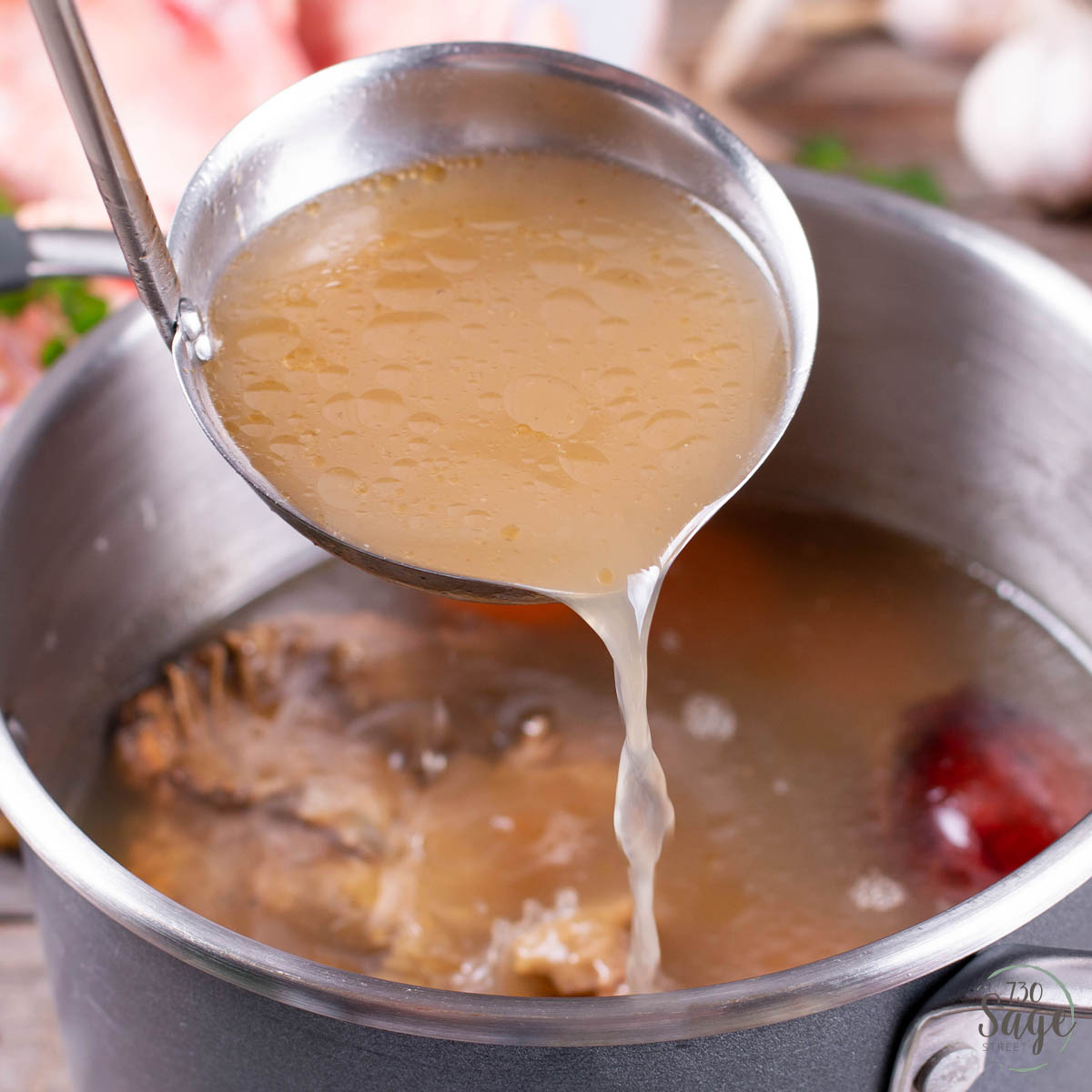 Stay warm this winter with these 15 hearty soup recipes made with beef bones:
This Asian beef bone broth soup recipe is not only delicious but also nutritious! The combination of Kettle & Fire Beef Bone Broth, ginger, turmeric, garlic granules, onion powder, sea salt, pepper, Italian seasoning mixture, and soy sauce creates a rich and flavorful broth. The small diced carrots, mushrooms, and microgreens add a colorful and nutritious touch to this recipe, while the rice noodles soak up all the savory goodness.
Top with some extra soy sauce for serving and crunchy chow mein noodles as a topping for added texture. This wholesome soup is perfect for warming up on a chilly evening or any time you need some comfort food.
Warm up with a comforting bowl of Easy Bone Broth French Onion Soup! This recipe features a rich and savory broth made with bone broth beef protein powder, caramelized onions, garlic, and herbs, and is topped with crunchy everything bagel seasoned croutons and melted gruyère cheese.
The croutons are made with stale multigrain bread coated in nutritional yeast and everything bagel spice for a flavor-packed crunch. The soup is easy to make, using hot water to dissolve the bone broth powder and adding thyme, bay leaves, parsley, and salt for an aromatic and delicious broth. Serve this soup as a hearty lunch or dinner on a chilly day!
Beef Bone Broth Ramen with Ribeye and Mushrooms recipe is a deeply satisfying and nourishing meal that is perfect for fall and the holidays. The seared steak and mushrooms are cooked in sesame oil and then combined with a flavorful broth made of beef bone broth, ramen broth, and white miso paste.
The dish is served over boiled ramen noodles and garnished with thinly sliced daikon radish, red or green chili, soft-boiled egg, and gomasio (seaweed and sesame shake). This recipe can be customized by adding tofu or using different vegetables, noodles, or broths.
This Chinese Beef Noodle Soup is the perfect comfort food, featuring melt-in-your-mouth beef pieces and rice noodles, all topped with crisp vegetables for a satisfying crunch.
The recipe calls for a slow-braised hearty beef bone broth made with flavorful herbs and spices like ginger, garlic, cinnamon, and star anise, that lend an authentic Asian flavor. This soup is perfect for those chilly nights when you crave something warm and nourishing, and it's easy to customize with your favorite toppings like fresh chili slices, bean sprouts, chopped coriander, and lime wedges.
Make your own slow Roasted Beef Broth at home with this easy recipe. It's perfect for stews, soups, and roasts. This liquid gold is made by roasting beef bones and vegetables to bring out their full flavor, then simmering them for hours with garlic, thyme, and bay leaves.
Grass-fed beef bones with meat and marrow work best to make an outstanding broth. You can refrigerate or freeze it for later use. And, when you're feeling under the weather, sipping on this flavorful broth is the perfect remedy.
This hearty beef shank and bone marrow stew is the perfect comfort food for a chilly evening. Slow-cooked in a rich broth with onions, garlic, peppercorns, and bay leaves, the beef shanks become incredibly tender and flavorful. The marrow bones add an extra layer of richness and a silky texture that is nothing short of amazing.
The addition of potatoes, carrots, bell peppers, olives, and capers brings vibrant colors and flavors to the dish, making it a feast for both the eyes and taste buds. Serve it hot with your favorite starch and savor every bite of this delicious and satisfying stew.
Transport yourself to the streets of Vietnam with this mouth-watering Beef Pho recipe! Featuring our Beef Bone Broth, this dish is bursting with flavor from the fragrant garlic, ginger, and fish sauce, all balanced with the tartness of lime juice.
A perfectly cooked piece of Wagyu is the centerpiece, accompanied by delicate rice noodles and crisp bean sprouts. The garnish of fresh coriander, mint, and chili adds an extra dimension of flavor and texture. Don't forget to sprinkle fried shallots on top for an added crunch. This dish is a surefire way to impress your dinner guests!
This hearty Caldo de Res is a Mexican soup packed with tender beef, seasonal vegetables, and a flavorful bone broth. The beef shank and chuck are cooked in garlic, bay leaves, and salt until fork-tender, while yellow potatoes, corn, carrots, jalapeno, zucchini, and chickpeas are added to the pot to create a medley of textures and flavors.
The dish is completed with a garnish of fresh cilantro and a squeeze of lime, adding a pop of freshness to the savory soup. Served with warm tortillas on the side, this comforting and nourishing soup is perfect for cold evenings or anytime you need a comforting bowl of soup.
Indulge in the rich, velvety taste of bone marrow soup with this slow cooker recipe from Connie Veneracion. Choose beef shank bones with one end closed to keep the marrow inside during cooking.
With just a few key ingredients like garlic, onion, and rosemary, this recipe is easy to follow and requires little preparation. Let the bones cook for 12 hours on low, allowing the flavors to meld and the marrow to soften. Serve the soup in bowls and sprinkle with scallions for a no-frills yet satisfying meal.
Gomtang, also known as Korean Beef Bone Soup, is a life-healing, good-for-you, bone broth soup that is sure to cure all your ailments in one delicious bowl. Made with frozen beef bones, kneecaps, and tendon, this soup is simmered for hours with onions to create a milky and savory broth.
The tendon is added in the last hour of cooking to ensure it is cooked to perfection. For best results, refrigerate overnight to allow the fat to harden, and discard the hardened fat the next day. Serve with chopped green onion, freshly cracked black pepper, and rice and kimchi for the perfect accompaniment.
Transform your soups with this rich and flavorful roasted beef bone broth. The meaty beef bones are roasted in the oven until dark brown and then simmered in a Dutch oven with water, bay leaves, peppercorns, garlic, onion, and celery for 2-2.5 hours. Once cooked, the broth is strained through a fine mesh strainer, leaving a super clear and delicious broth.
You can use any beef bones, but bones with some meat on them like shanks, short ribs, and oxtail work well. Freeze the broth for future use, or use it immediately to elevate any soup recipe.
Warm up with a bowl of comforting Seolleongtang (Korean Beef Bone Soup), a savory, milky broth made from beef bones, flank, brisket, or pot roast, and optional Korean radish. This soup is perfect for any time of year and is particularly soothing in cold weather.
Soak the bones and beef for a few hours, parboil, and then moderately boil for 4-5 hours to produce the milky broth. If you have extra time, repeat the boiling process to extract the maximum flavor from the bones. Remove any fat from the broth and serve with warm rice, noodles, or kimchi. Freeze the leftovers to use as a flavorful base for any Korean stew or soup.
Roast garlic soup with bone broth is the perfect remedy for cold winter days. The bone broth is made from roasted beef bones, garlic, onion, thyme, celery, carrot, bay leaves, and black peppercorns, creating a rich, flavorful base for the soup. The roasted garlic adds a sweet, caramelized flavor that pairs perfectly with caramelized onions.
The soup is finished off with a generous drizzle of olive oil, fresh herbs, grated parmesan, and black pepper. Don't forget the stale bread chunks for a hearty and satisfying meal.
Instant Pot Beef Nilaga is a comforting and flavourful beef bone broth soup that is sure to satisfy your cravings. This Filipino dish is made with beef bones, whole black peppercorns, and a variety of veggies like potatoes and bok choy.
The Instant Pot makes it super quick and easy to prepare this soup, and you can have it on your dinner table in under an hour. Saute the garlic, onion, and tomato together, then add the beef bones and water to cover. Pressure cook for 35 minutes, then add the fish sauce and veggies. Simmer for 5-10 minutes, and it's ready to serve over a bowl of white rice. Enjoy this classic Filipino dish in the comfort of your own home!
Ginger Garlic Noodle Soup with Bok Choy is a delicious and nutritious soup that will keep you feeling warm and satisfied. This recipe is packed with flavorful and healthy ingredients such as fresh ginger, garlic, mushrooms, and bok choy.
If you want to take this recipe up a notch, you can use beef bones to create a rich and savory broth. Simply add the beef bones to the pot at the beginning of the recipe and simmer for several hours until the bones release their flavor. Strain the broth and continue with the recipe as directed. With the addition of beef bones, this soup becomes a hearty and nourishing meal that's perfect for any day of the week.
What Types Of Beef Bones Are Best For Soup?
When it comes to making soup with beef bones, it's important to choose the right type of bones for the job. Marrow bones, knuckle bones, and oxtail are some of the most commonly used types of beef bones for making soup. These bones contain a lot of collagen, which breaks down during cooking and creates a rich, flavorful broth. You can often find these types of bones at your local butcher or meat counter.
Do I Need To Roast The Bones Before Making Soup?
While it's not strictly necessary to roast your beef bones before making soup, doing so can add a depth of flavor that you might not get otherwise. Roasting the bones in the oven at a high temperature for about 30 minutes will brown and caramelize them, which can enhance the flavor of your soup.
It's also a good idea to roast any vegetables that you plan to use in your soup, as this will also add flavor. However, if you're short on time or don't want to use the oven, you can still make a delicious soup without roasting the bones.