Tri-tip steak is a versatile and flavorful cut of beef that is perfect for a variety of dishes. From classic steak dinners to hearty stews and stir-fries, tri-tip can add depth and complexity to your meals.
In this round-up article, we'll be sharing 15 delicious and creative recipes with tri-tip steak as the star ingredient. So, let's dive into the recipes and discover new and exciting ways to enjoy this delicious cut of beef!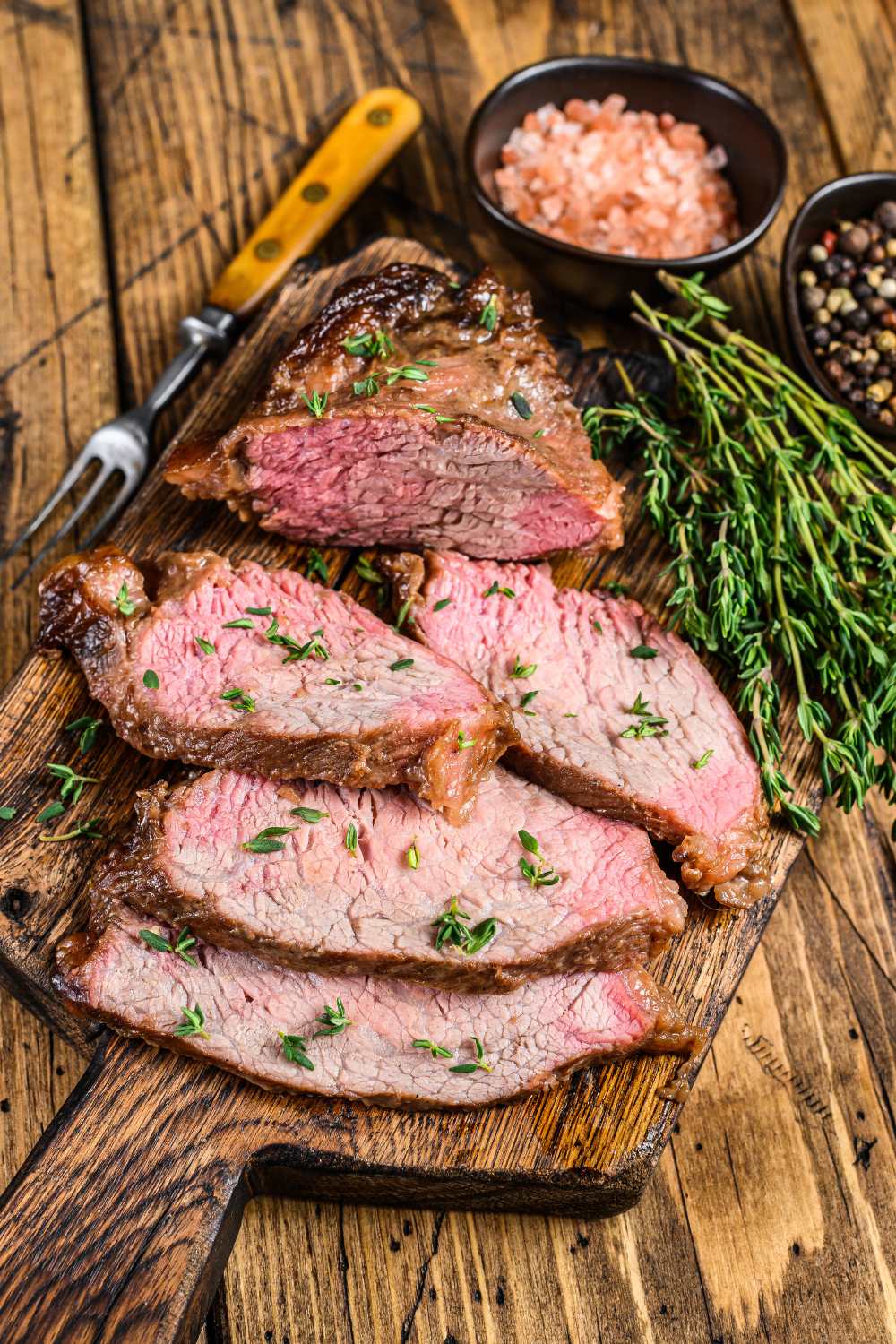 How Do I Select The Best Tri-tip Steak At The Store?
When selecting tri-tip steak at the store, look for a piece of meat that is bright red in color with marbling throughout the meat. This marbling, or streaks of fat, will help to keep the steak moist and tender during cooking. Additionally, look for a steak that is uniform in shape and thickness to ensure even cooking.
What Is The Best Way To Cook Tri-tip Steak?
Cooking tri-tip steak can be done in a variety of ways, depending on your preference and equipment. Here are six popular cooking methods to consider:
Grilling: Grilling tri-tip steak over high heat can create a smoky and charred exterior with a juicy and tender interior. One benefit of grilling is that it can be a quick cooking method, taking only a few minutes per side. However, grilling can also be unpredictable due to variations in heat and weather conditions.
Oven Roasting: Roasting tri-tip steak in the oven can create a crispy and caramelized exterior while keeping the inside tender and flavorful. This method can also be convenient because it allows you to cook the steak and other sides at the same time. One drawback of oven roasting is that it can take longer than other methods, typically around 25-30 minutes.
Broiling: Broiling tri-tip steak in the oven on high heat can create a crispy crust while keeping the inside juicy and tender. One benefit of broiling is that it can be a quick cooking method, taking only a few minutes per side. However, broiling can also be unpredictable due to variations in heat and distance from the broiler.
Smoking: Smoking tri-tip steak can infuse the meat with a rich and smoky flavor while keeping it moist and tender. One benefit of smoking is that it can be a low and slow cooking method, which can help to break down the connective tissue in the meat and create a melt-in-your-mouth texture. However, smoking can also be time-consuming, typically taking 2-3 hours.
Sous Vide: Cooking tri-tip steak using the sous vide method can create a perfectly cooked steak with a consistent temperature throughout. One benefit of sous vide is that it can be a precise cooking method, ensuring that the steak is cooked exactly to your desired temperature. However, sous vide can also be a more involved process, typically requiring a sous vide machine and vacuum-sealed bags.
Pan-searing: Pan-searing tri-tip steak can create a crispy and flavorful crust while keeping the inside juicy and tender. This method can also be convenient because it can be done on the stovetop with just a few simple ingredients. One drawback of pan-searing is that it can be difficult to get a consistent temperature throughout the steak, leading to uneven cooking.
15 Recipes With Tri Tip Steak
There's something for everyone in this collection of 15 tasty tri-tip steak recipes, which range from the tried-and-true to the outlandish:
This Grilled Tri-Tip with Chimichurri Sauce recipe is the perfect way to enjoy the fabulous flavors of tri-tip. The meat is coated in a flavorful rub of dried rosemary, garlic powder, salt, and pepper, then grilled to perfection. The fresh herb Chimichurri Sauce is the perfect complement to the tender, juicy beef.
This Argentine dish is easy to make and doesn't require a lot of effort to prepare. The sauce can be made in advance and stored in the fridge until ready to use. This dish is perfect for any backyard BBQ, family gathering, or weeknight dinner.
Garlic Herb Tri-Tip Roast with Mushrooms is a savory and aromatic meal perfect for a special dinner or holiday gathering. The tender tri-tip is marinated in a blend of olive oil, Worcestershire sauce, Dijon mustard, garlic, and fresh herbs, infusing it with flavor.
Roasted to a juicy medium-rare, the beef is then served with buttery, earthy mushrooms, creating a well-rounded dish. This recipe is easy to follow and ideal for those looking for a delicious and impressive entree that is sure to be a crowd-pleaser.
Now, let's turn our attention to Grilled Tri-Tip with Homemade BBQ Sauce. This recipe adds a homemade twist to traditional BBQ sauce. The shallots and bourbon make for a rich and complex sauce that pairs perfectly with the tri-tip.
The tri-tip is coated in mustard and bbq rub for an extra burst of flavor before being grilled to perfection. The finishing touch is brushing on the homemade sauce, allowing the meat to soak up all the delicious flavors. This dish is perfect for a summer cookout or a cozy night in.
Our next destination is Mexico with this Grilled Tri-Tip Steak Fajitas recipe. This dish is perfect for a crowd, and the homemade fajita seasoning takes it to the next level. Start by rubbing the tri-tip with the seasoning and grilling it to perfection.
While it rests, sear the peppers and onions in a cast iron pan on the grill, and slice the tri-tip against the grain. Then, assemble your fajitas with your desired toppings and enjoy the explosion of flavors in every bite. This recipe is sure to be a hit at your next outdoor gathering.
Continuing our culinary journey through Mexico, we have another mouth-watering recipe to share: Carne Adobada Tri-Tip Tacos. This dish features a flavorful marinade made with guajillo chilies, orange juice, and lime juice, which gives the tri-tip steak a deliciously smoky and tangy flavor.
Served on warm corn tortillas and topped with diced onion, cilantro, and sliced avocado, these tacos are perfect for a festive and flavorful meal. So, get ready to savor the flavors of Mexico with these delicious carne adobada tri-tip tacos!
Let's take a break from grilling and turn our attention to the slow cooker. This Slow Cooker Tri-Tip Roast is a great option for a hands-off dinner that's ready when you are. Seasoned with a blend of herbs and garlic, the tri-tip is cooked in beef broth and Worcestershire sauce until it's tender and falls apart.
After shredding the meat, use the flavorful broth as an au jus for dipping your sandwich or drizzling over the top. Toasted buns and melted provolone cheese take these sandwiches to the next level.
Our journey to explore different ways of cooking tri-tip steak has brought us to this recipe for spice-rubbed tri-tip with horseradish sauce. This recipe features a flavorful spice rub made with chili powder, sugar, paprika, garlic powder, onion powder, and other seasonings that are rubbed all over the meat before being smoked until desired doneness.
The horseradish sauce is made by whisking together mayonnaise, Dijon mustard, horseradish, and sour cream, and is served alongside the tender slices of tri-tip. This dish is perfect for a summer BBQ or any other occasion where you want to impress your guests with a flavorful and unique steak dish.
Without a crisp and delectable salad incorporating this juicy cut of beef, our tour of exquisite tri-tip dishes would be incomplete. In this recipe, New York Strip steaks are grilled to perfection and sliced thinly to top a bed of chopped romaine lettuce, creamy avocado, crunchy cucumbers, sweet cherry tomatoes, tangy red onions, and sweet corn.
The salad is then dressed with a zesty and bright dressing made with garlic, lemon juice, apple cider vinegar, and olive oil, and topped with sunflower seeds and crumbled goat cheese. This steak salad is perfect for a light yet satisfying lunch or dinner and is sure to impress your guests with its vibrant colors and bold flavors.
With this recipe for Braised Tri Tip with Red Wine Glaze, we'll continue our culinary exploration of tri-tip. This tender and juicy cut of beef is first browned on the stove top, then braised with a medley of vegetables, beef broth, and red wine in the oven.
The result is a succulent tri-tip roast that is perfect for a special occasion or holiday meal. The recipe also includes instructions for making a delicious red wine glaze that perfectly complements the flavor of the meat. Serve this dish with your favorite sides and enjoy a delicious meal with family and friends!
This Easy Tri Tip in the Oven recipe is perfect for when you want a delicious meal without a lot of fuss. The spice rub of onion salt, garlic powder, and Lawry's seasoning gives the tri tip a bold, savory flavor that is sure to impress.
After marinating the meat, it is seared in a cast-iron skillet and then baked in the oven until perfectly cooked to your liking. Let the meat rest for a few minutes before slicing against the grain to ensure tenderness. This recipe is a great option for a weeknight dinner or for entertaining guests.
Without further ado, let's move on to our next dish, the Korean BBQ Beef Bowl! This delicious meal starts with thinly sliced tri-tip marinated in a Korean BBQ Sauce marinade, grilled to perfection, and then piled onto a bed of rice.
To add some tang and sweetness, serve with a side of kimchi and mandarin oranges. And don't forget to garnish with some sesame seeds, minced cilantro, and green onions for an extra burst of flavor.
Indulge in the bold flavors of Sichuan peppercorns, coriander seeds, and cumin seeds with this Tri-Tip Steak with Tiger Bite Sauce recipe. Marinate the steak in a flavorful blend of oil, oyster sauce, fish sauce, and spices for up to 12 hours for maximum flavor.
Grill the steak to your desired level of doneness, then rest it before slicing it against the grain. Charred cherry tomatoes add a burst of sweetness to the dish. The Tiger Bite Sauce, made with shallots, garlic, Thai chilies, cilantro, and fish sauce, gives the dish a spicy kick. Serve with purple sticky rice and lettuce leaves for a complete meal.
Take your taste buds on a smoky journey with this Traeger smoked tri-tip steak. The preparation is simple - just trim off the excess fat and inject the meat with a brine made of salt and water. Then, coat the meat with a dry rub and let it dry in the fridge overnight.
Smoke the tri-tip on a resting rack for 1.5-2 hours, and then grill it until the fat cap is golden brown. Once it's done, let it rest in the butter tray for 20 minutes for a perfect medium-rare. Slice against the grain to serve with the juices and butter from the pan.
Get ready for a taste of Santa Maria-style flavor with this tri-tip steak recipe! The rub, made with a blend of smoky spices and herbs, infuses the meat with a rich, savory flavor that's sure to impress. After slow-roasting in the oven, it's finished off on a hot grill for a perfectly charred crust.
And the salsa on top? A zesty blend of fresh veggies and tangy vinegar adds a bright pop of flavor. Serve it up with some grilled veggies or a side of creamy mashed potatoes for a meal that's sure to satisfy.
Get your grill ready for a tantalizing tri-tip steak and vegetable dish, complete with a zesty chimichurri sauce! The tender tri-tip steak is marinated in a savory blend of garlic, paprika, and herbs, infusing it with bold flavors that are sure to please.
Grilled alongside a colorful array of zucchini, squash, onions, and tomatoes, it's the perfect summer meal that's both healthy and satisfying. And the tangy chimichurri sauce adds a burst of freshness to every bite, making it a meal you won't soon forget.