There are many ways to cook steak tips since this delectable piece of meat can be used in everything from stir-fries to stews. Whether you're in the mood for a big supper or a fast and simple meal, we've got you covered with 15 of the greatest recipes with steak tips to fulfill any meat lover's demands.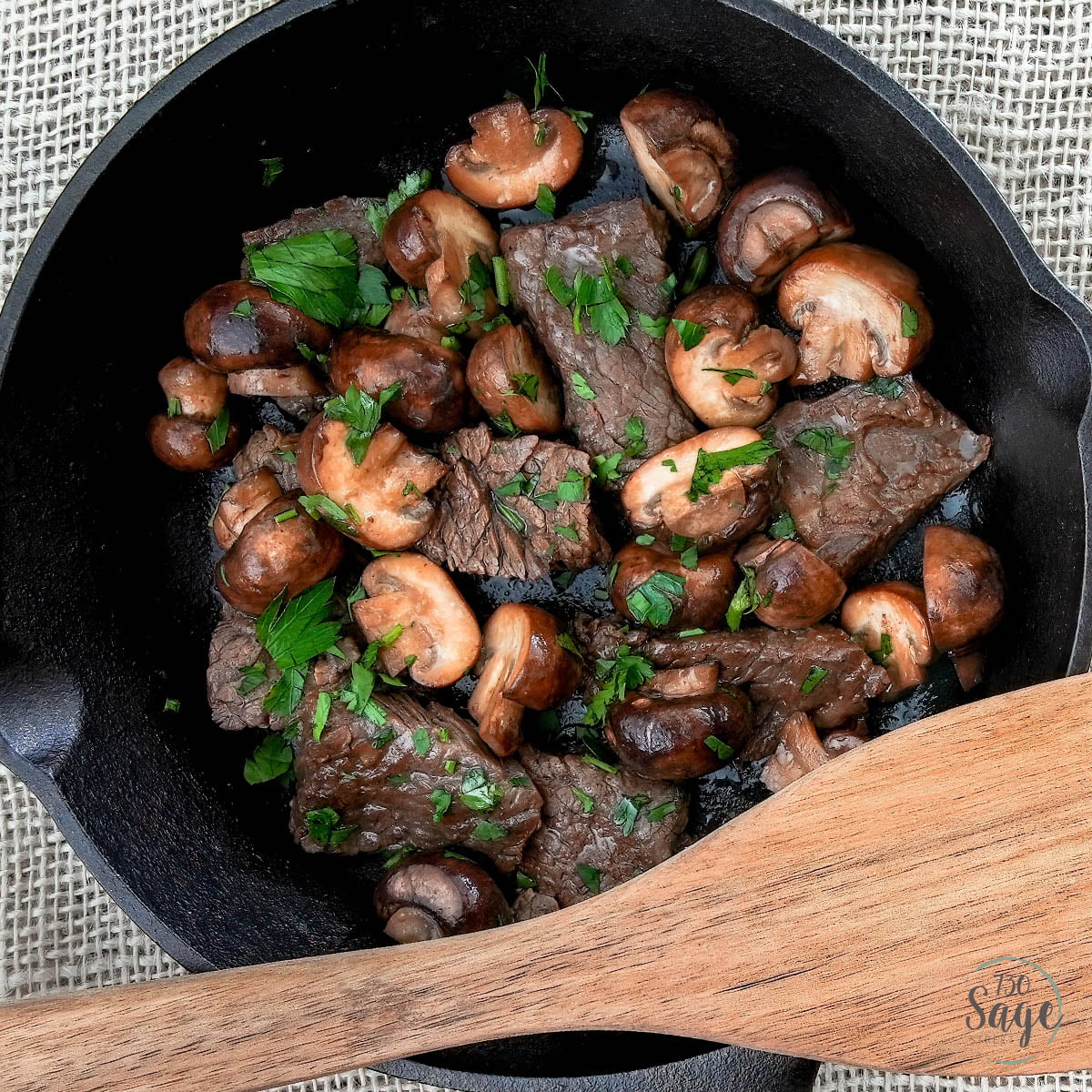 Can I Use Frozen Steak Tips For These Recipes?
Yes, frozen steak tips can be used for these recipes, but it's important to properly thaw them before cooking. Thaw the steak tips in the refrigerator overnight or use the defrost function on the microwave. Once thawed, pat them dry with paper towels and bring them to room temperature before cooking.
How Do I Prevent Steak Tips From Getting Tough?
One of the biggest challenges in cooking steak tips is preventing them from getting tough. Here are some tips to keep your steak tips juicy and tender:
Marinating: Marinating your steak tips before cooking can help break down the tough fibers and make them tender. A marinade with vinegar, wine, or citrus can also add flavor.
Resting: Let your steak tips rest for a few minutes before cutting into them. This allows the juices to redistribute and keep the meat moist.
Tenderizing: You can use a meat tenderizer to break down the muscle fibers and make the steak tips more tender.
Searing: Searing the steak tips in a hot pan can help to lock in the juices and keep them from drying out.
Slow-cooking: Slow-cooking steak tips in a crockpot or low-temperature oven can help break down the tough fibers and make them more tender.
Cutting against the grain: When slicing steak tips, be sure to cut against the grain. This will help to shorten the muscle fibers and make them more tender.
15 Recipes With Steak Tips
Whether you like traditional fare or want to try something new, you'll find a recipe to your liking among these 15 excellent recipes utilizing juicy and delicate steak tips:
If you're looking for a quick and easy steak recipe that's packed with flavor, then these garlic butter steak bites are perfect for you! Made with tender sirloin steak (or any other well-marbled cut you prefer) that's cut into bite-sized pieces and seasoned with salt and pepper, then seared in a skillet until it's cooked to a perfect medium temperature.
The real magic happens when you add the garlic butter sauce, made with minced garlic and plenty of butter, which adds a rich, savory flavor to the steak. Don't forget to top it all off with freshly chopped parsley for a pop of color and freshness. This recipe is sure to be a hit with steak lovers and is perfect for a quick weeknight dinner or a weekend get-together with friends and family.
Bourbon Marinated Steak Tips are a delicious and flavorful recipe that's perfect for any occasion. The marinade of bourbon, brown sugar, soy sauce, and red wine vinegar creates a sweet and tangy flavor that perfectly complements the tenderness of the sirloin steak.
The recipe is easy to prepare and requires only a few simple steps. Simply marinate the steak tips for 6-8 hours or overnight, then cook them in a large cast iron pan. Adding freshly chopped parsley on top of the steak tips can add an extra pop of color and freshness. This recipe is sure to impress anyone who loves a juicy and flavorful steak.
These grilled steak tips are sure to be a hit at your next cookout! The marinade is a perfect blend of soy sauce, rice vinegar, ginger, honey, and garlic powder, which gives the steak a wonderfully savory and slightly sweet flavor.
The recipe is also incredibly easy to prepare - simply whisk together the marinade ingredients, toss with the steak tips and green onions, and let it sit in the fridge for at least 30 minutes. When ready, grill the steak tips to your desired doneness and enjoy! These juicy and flavorful steak tips are a great source of protein and are perfect for a balanced meal.
Marinated Steak Tips with Beer Teriyaki Marinade are perfect for anyone who loves steak with a bold flavor. The marinade is made with a combination of beer, lemon juice, olive oil, soy sauce, Worcestershire sauce, brown sugar, garlic powder, dried parsley, paprika, and crushed red pepper flakes.
The steak is marinated for at least 8 hours, allowing the flavors to deeply penetrate the meat. After marinating, the steak tips are seared for 4-5 minutes per side on a medium-high grill until they are cooked to medium-rare perfection. Letting the steak rest for a few minutes before serving ensures that the juices are distributed evenly throughout the meat, resulting in a tender and juicy steak.
Beef tips with mushroom gravy recipe is a hearty and delicious meal that is perfect for dinner. The sirloin steak is cut into bite-sized pieces and cooked until browned, then removed from the pan and kept warm. The mushrooms and onions are cooked until tender and browned in butter, then garlic is added for extra flavor.
Flour is added to the pan to thicken the sauce, and beef broth is slowly added until the sauce is smooth. Worcestershire sauce and soy sauce are added for a rich, savory flavor. The steak is then added back to the pan and cooked until warmed through. Sprinkle with parsley before serving.
If you're looking for a simple yet flavorful steak recipe, look no further than these Cajun Butter Steak Bites. With a perfect blend of spices and a garlic butter sauce, these steak bites are sure to please any palate.
To start, combine the Cajun seasoning and toss with the steak bites. Then, sear the steak bites until crispy and browned. Next, sauté the garlic in butter and toss the steak bites in the garlic butter sauce. Serve warm and enjoy the delicious flavors of this Cajun-inspired dish.
This recipe for Steak Tips with Red Wine Sauce is a delicious and flavorful way to enjoy steak. The marinade is made with dry red wine, Worcestershire sauce, smashed garlic, and mustard seeds, which infuses the meat with a rich and complex flavor.
After marinating for at least overnight, the steak tips are grilled to perfection. The result is tender, juicy, and packed with flavor. Serve with your favorite sides and enjoy this dish whether it's for a big occasion or a weekday supper.
Have you ever wondered what it would be like to take a bite out of a cloud? Well, wonder no more! These steak bites are so tender and juicy, they'll melt in your mouth like a fluffy cumulus cloud on a warm summer day.
The marinade is like a secret recipe from the heavens, combining the tangy sweetness of balsamic vinegar with the subtle kick of garlic powder and the earthy richness of olive oil. And let's not forget about the chimichurri sauce - a verdant, herbaceous masterpiece that will transport your taste buds to a lush rainforest. It's like a party in your mouth, and everyone's invited!
Get ready to take your taste buds on a wild ride with this Korean Style Beef Tips recipe! The combination of flavors is so unique, it's like a fusion dance between a bustling Korean street market and a serene apple orchard.
The juicy and tender beef tips are bathed in a marinade made from a blend of brown sugar, soy sauce, and dark sesame oil, then topped off with a sprinkle of sesame seeds and green onion for an unmatched savory crunch. The thinly sliced onions add a bit of sweetness and a pop of color, like confetti raining down on your taste buds. So, grab your chopsticks and prepare to be transported to a world of bold and unexpected flavors!
Imagine a symphony of flavors dancing on your taste buds, each note perfectly timed and harmonized. The tender beef tips are like a chorus of angels, singing a heavenly tune as they melt in your mouth. The balsamic vinegar adds a tangy kick that elevates the dish to a whole new level.
The mushrooms are like little earthy dancers, twirling in a delicate ballet with the onions. And when you take a bite with a spoonful of creamy mashed potatoes, it's like the grand finale of a fireworks show, exploding with flavor and satisfaction. This dish is a masterpiece, a work of art that will leave you in awe with every bite.
Imagine a world where flavors are colors and ingredients are brushstrokes. In this world, the Steak Tips with Caramelized Onions is a masterpiece that Picasso would be proud of. The ketchup is a vibrant red, the Coca-Cola or water is a bubbling blue, and the Worcestershire sauce is a rich brown.
The beef tips are like chunks of marble waiting to be sculpted, and the onions are like delicate petals on a flower. As you take a bite, the flavors blend together like a symphony, creating a sensory experience that is both bold and elegant. It's a dish that will transport you to a magical world of taste and wonder.
Get ready to tantalize your taste buds with these succulent and buttery blackened steak bites! This dish is a perfect blend of bold flavors and vibrant colors that are sure to delight your senses.
The tender beef tenderloin is coated in a spicy blackening mix that gives it a crispy texture and a smoky aroma. The Gorgonzola sauce adds a creamy and tangy flavor that complements the blackened steak bites perfectly. The dish requires some effort, but the end result is so worth it! Serve it with a side of crispy fries and a glass of red wine for a complete indulgence.
These Soy Ginger Steak Bites are a burst of flavor in every bite! The succulent and juicy steak pieces coated in a sweet and salty marinade of soy sauce, brown sugar, and fresh ginger are sure to tantalize your taste buds. The sizzle on the skillet will make your mouth water and the aroma of garlic and chili flakes will make your heart skip a beat.
Effortlessly easy to make, these steak bites require only 30 minutes of marination time and a quick sear on the skillet. The result: a warm and comforting dish that will leave you craving for more. Serve these delicious steak bites with a side of steaming hot rice and stir-fried veggies to complete a wholesome meal.
These Pineapple Teriyaki Steak Tips are an exotic take on a traditional meal that everyone will love. The succulent sirloin tips are marinated in a sweet and salty sauce made with crushed pineapple, soy sauce, apple cider vinegar, and brown sugar.
The addition of garlic paste, grated ginger, and red pepper flakes gives it a spicy kick. The marinade only takes 30 minutes and then it's a quick sear on the skillet for a warm and comforting meal. The dish is best served over a bed of steaming hot rice, garnished with sesame seeds, and sliced green onions to complete a wholesome meal.
Braised Tenderloin Tips are the pinnacle of comfort food because of their luscious, savory flavor. The beef tenderloin pieces are seared to perfection, giving them a crispy exterior and a tender and juicy interior.
The sauce is a blend of beef broth, tomato paste, soy sauce, and onion soup mix, which adds a depth of umami flavors to the dish. The texture of the meat is soft and succulent, while the sauce is thick and luscious. This recipe requires a bit of effort, but it's totally worth it for the mouthwatering result. Serve it over a bed of rice or mashed potatoes for a hearty and satisfying meal.