Whether you know it as bok choy or Chinese cabbage, this leafy green vegetable is a powerhouse of nutrition. Soup is a great way to warm yourself on a cold day or to have a wholesome meal any time of the year.
In this article, we will examine 15 different soup recipes that utilize bok choy as a key ingredient. Let's dig in and find some fresh ways to use bok choy in your favorite soups!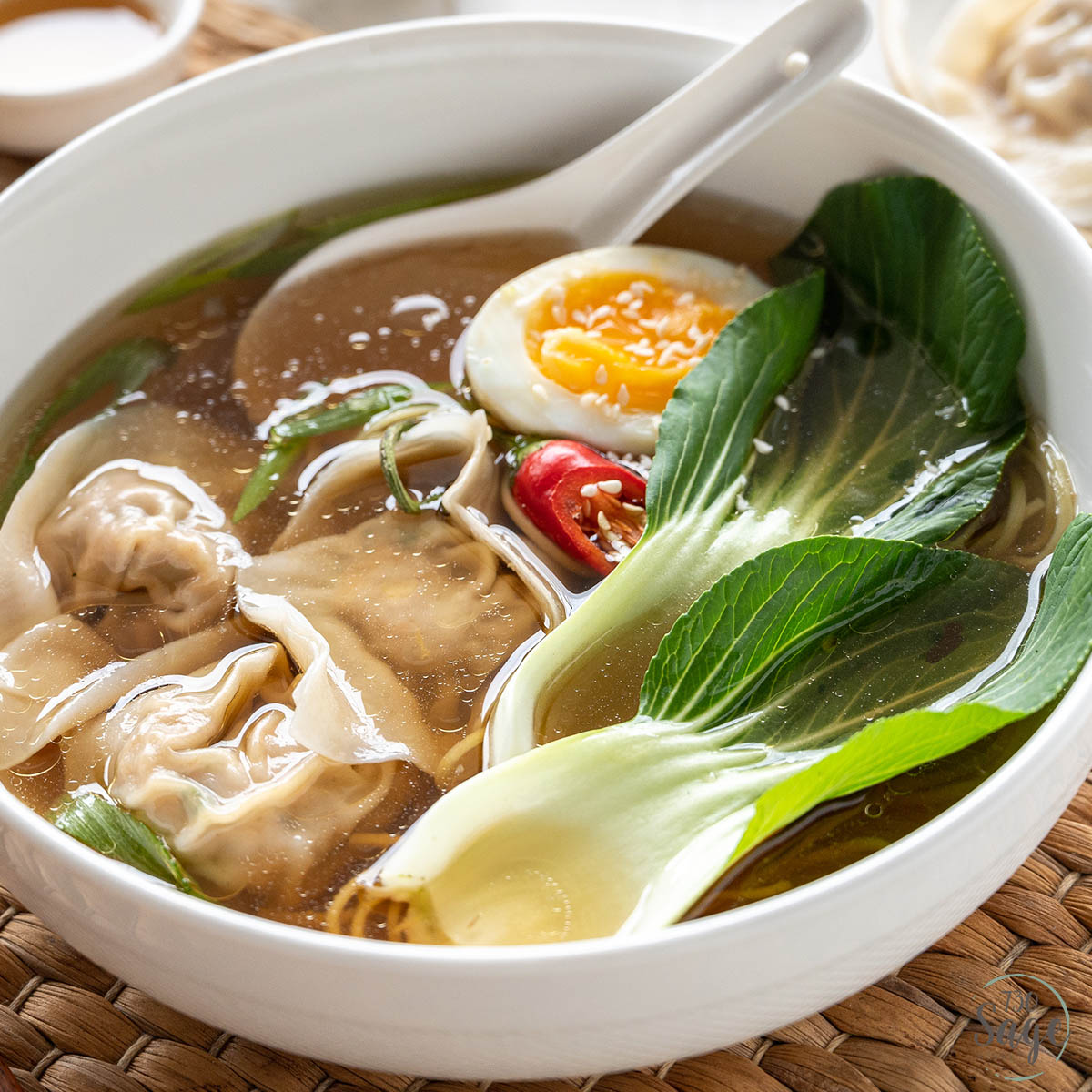 How Do I Clean And Prepare Bok Choy For Soup?
Cleaning and preparing bok choy for soup is easy! Start by trimming off the base of the bok choy and separate the stalks. Wash the stalks thoroughly under running water, making sure to remove any dirt or grit. For larger stalks, it's recommended to slice them into smaller pieces. Bok choy can be added to the soup at any stage of the cooking process, depending on the recipe.
Can I Use Canned Bok Choy In These Soup Recipes?
While fresh bok choy is recommended for the best flavor and texture, canned bok choy can be used in a pinch. However, keep in mind that canned vegetables often contain added sodium and may be less nutritious than fresh produce. When using canned bok choy, be sure to rinse it thoroughly before adding it to the soup to remove any excess salt or other additives.
15 Soup Recipes With Bok Choy
This roundup of 15 bok choy soup recipes has something for everyone, from traditional Asian soups to more adventurous tastes. Grab a bowl and prepare for healthy, soothing dinners:
This Mushroom Bok Choy Garlic Ginger Soup is a delicious way to indulge in the warming tastes of Asia. This soup has a powerful and deep taste thanks to the combination of shallots, garlic, and ginger.
Nutritionally dense sliced mushrooms and bok choy are added for crunch and health benefits. The sweetness from the star anise and soy sauce makes this soup irresistible. This dish is perfect for a fast weeknight dinner or a relaxing night in.
Beef Asian Noodle Soup will take you on a culinary adventure. This hearty soup is brimming with flavorful spices including ginger, fennel, and star anise. Tender pieces of chuck roast and al dente rice noodles make for a hearty soup. Baby bok choy that has been blanched adds a crisp texture, while chunks of tomato and cilantro, and green onions give it a zing.
To add depth of flavor, sprinkle over some toasted sesame oil, black Chinese vinegar, and crushed red pepper flakes for garnish. This hearty soup is ideal for a lazy Sunday supper or a fast midweek meal.
Garlic Ginger Bok Choy Soup is a fantastic way to enjoy the pungent tastes of garlic and ginger. Mushrooms provide a pleasant umami taste, while the mix of garlic, ginger, and scallions makes for a fragrant foundation. The tender beef flank steak and crisp baby bok cabbage make this soup a satisfying main course.
You'll be in soup bliss after you add a soft-boiled egg and some roasted garlic. This soup is not only tasty but also nutritious thanks to the use of gluten-free rice noodles and coconut aminos. This dish is great for a fast lunch or a relaxing evening.
Ginger miso soup with bok choy and tofu will warm your soul and your stomach. The soy sauce and bok choy stems provide a savory and fulfilling taste, while the freshly grated ginger lends a slight bite to the light-colored miso paste.
Each mouthful of this soup is a pleasure, thanks to the pleasing texture added by the chopped tofu and enoki mushrooms. Add a new dimension of taste and texture by topping it with chopped scallions, sriracha, sesame seeds, and chopped nori. If you're in a hurry yet want to feel satiated and fed, this soup is for you.
This Bok Choy Noodle Soup is a bowl of warmth and comfort, perfect for chilly days or when you're in need of some soul-soothing. The broth is infused with garlic, ginger, and star anise, creating a savory and aromatic base. The tender baby bok choy and gluten-free udon noodles add a satisfying texture, while the shredded chicken provides a good source of protein.
Top it off with sesame seeds for an added nutty crunch. This hearty soup is easy to make and will leave you feeling satisfied and nourished.
Spice up your weeknight dinner with this Coconut Red Curry Noodles with Bok Choy and Crispy Cauliflower recipe! The creamy and fragrant coconut milk combined with the bold Thai red curry paste creates a delicious base for the tender vermicelli noodles.
Top it off with juicy Shanghai baby bok choy that's been seared to perfection and crispy cauliflower cutlets for a satisfying crunch. Don't forget to squeeze in some fresh lime juice for an added zing and garnish with some fresh basil for a pop of color. This dish is perfect for vegans and meat-eaters alike, and will definitely become a new favorite!
This Instant Pot Shrimp and Bok Choy Soup is a delicious and nutritious soup that can be made in a flash. This recipe uses shrimp shells to make flavorful chicken stock, and the addition of ginger powder, garlic, and sesame oil elevates the dish to new heights of deliciousness.
Celery and carrots lend a delightful crunch, while tender young bok choy and properly cooked shrimp bring flavor and texture. This dish is perfect for when you want a fast and simple supper or a warm bowl of comfort.
This Ginger Pork Meatball Soup with Bok Choy is the perfect way to warm yourself on a cold day. Garlic, ginger, and soy sauce flavor these pork meatballs that are cooked in a flavorful broth with pieces of fresh ginger cut into matchsticks.
The soup is rounded off with tender young bok choy and luscious carrots, and it's given just the right amount of saltiness and sweetness with a combination of soy sauce, rice vinegar, sugar, and sesame oil. This hearty soup is packed with flavor and is likely to become a new family favorite.
Prepare to fall in love with this heartwarming Wonton Soup featuring Homemade Dumplings and a symphony of fresh veggies! The rich chicken stock, fragrant ginger, and zesty garlic create a soul-soothing broth that'll transport you straight to your favorite Asian restaurant.
Don't forget to add baby bok choy and Chinese broccoli for that extra crunch, while baby spinach leaves offer a delicate touch of green. The pièce de résistance, of course, is the homemade dumplings—tender, juicy, and oh-so-satisfying. Gather around the table and share this comforting meal with your loved ones—you won't regret it!
Get ready to be whisked away to a cozy noodle bar with this Bok Choy & Wild Mushroom Soba Noodle Soup! The delightful earthiness of shiitake and oyster mushrooms paired with tender baby bok choy creates a harmonious symphony of flavors, while the miso adds a savory depth that will make your heart sing.
Soba noodles offer a wholesome, toothsome base, and the optional tofu brings in that extra protein punch. Don't forget to sprinkle scallions, cilantro, and sesame seeds on top for a touch of color and freshness! This soup is perfect for sharing with a friend or enjoying solo on a rainy day.
Say hello to a warm and savory escape with this delightful Bok Choy Soup with Pork! Fresh baby bok choy meets tender, marinated pork tenderloin, creating a beautiful fusion of flavors that will make you feel right at home. Infused with ginger and garlic, this soup's aromatic broth will awaken your senses and have you coming back for more.
Prepare to be transported to a cozy little kitchen, where the warmth and love of home-cooked meals embrace you with every spoonful. Enjoy this soup as a standalone dish or pair it with your favorite side for a complete meal experience.
Welcome to the world of Chinese Five Spice Beef Soup with Bok Choy, a flavorful journey that will make your senses dance with joy! Tender beef slices, succulent baby bok choy, and a colorful medley of sweet potatoes, carrots, and red cabbage create a stunning visual and taste experience.
The secret to this dish's irresistible charm is the magical five-spice powder, which brings an exotic twist and warmth to the soup. With each spoonful, you'll feel a delightful tingle on your palate as the harmonious blend of flavors and spices takes you on a culinary adventure. Don't forget to garnish with green onions for a fresh, finishing touch!
Embrace the warmth and comfort of this delightful Gingery Poached Egg Soup, an invigorating blend of flavors and textures that will leave you feeling rejuvenated. The aromatic ginger and garlic create a rich and soothing broth, while the bok choy or Napa cabbage adds a layer of freshness and crunch.
The real star of the show is the perfectly poached egg, with its silky whites and velvety yolk, bringing a luxurious touch to this humble soup. Garnish with scallions, shichimi togarashi, or furikake for an extra pop of flavor and color. This soup is a perfect meal to enjoy on a chilly day or when you're in need of a little pick-me-up!
Experience the cozy comfort of Bok Choy Egg Drop Soup, a delightful fusion of flavors that will wrap you in a warm hug. The combination of tender carrots, celery, and onions, along with the fragrant ginger and garlic, sets the stage for this enticing soup. Spices like chili powder, cayenne pepper, and red pepper flakes add a gentle heat that warms you from the inside out.
The star ingredient, bok choy, brings a touch of freshness, while the egg whites create a delicate, silky texture. Garnish with green onions and cilantro for a burst of color and flavor. Savor this heartwarming soup on a cold day, and let it bring a smile to your face!
Cozy up with this delightful Chicken Bok Choy Soup, perfect for those days when you crave warmth and comfort. Let the fragrant blend of onion, jalapeno, ginger, and garlic transport you to a world of flavor, while tender, shredded chicken adds a satisfying, protein-packed element to the dish.
The star of the show, bok choy, offers a fresh and crunchy contrast that ties everything together beautifully. With just the right balance of heat and comfort, this soup is perfect for sharing with friends and family or enjoying it all by yourself. So, grab a spoon, dig in, and let this delightful dish work its magic!