The sweetness and mild onion taste of leeks make them a wonderful addition to soups. From the traditional potato and leek soup to more unique pairings like cauliflower and leek or butternut squash and leek, we've included 15 of our favorite soup recipes that utilize leeks as a major ingredient to help you stay warm and fulfill your need for cozy, tasty meals.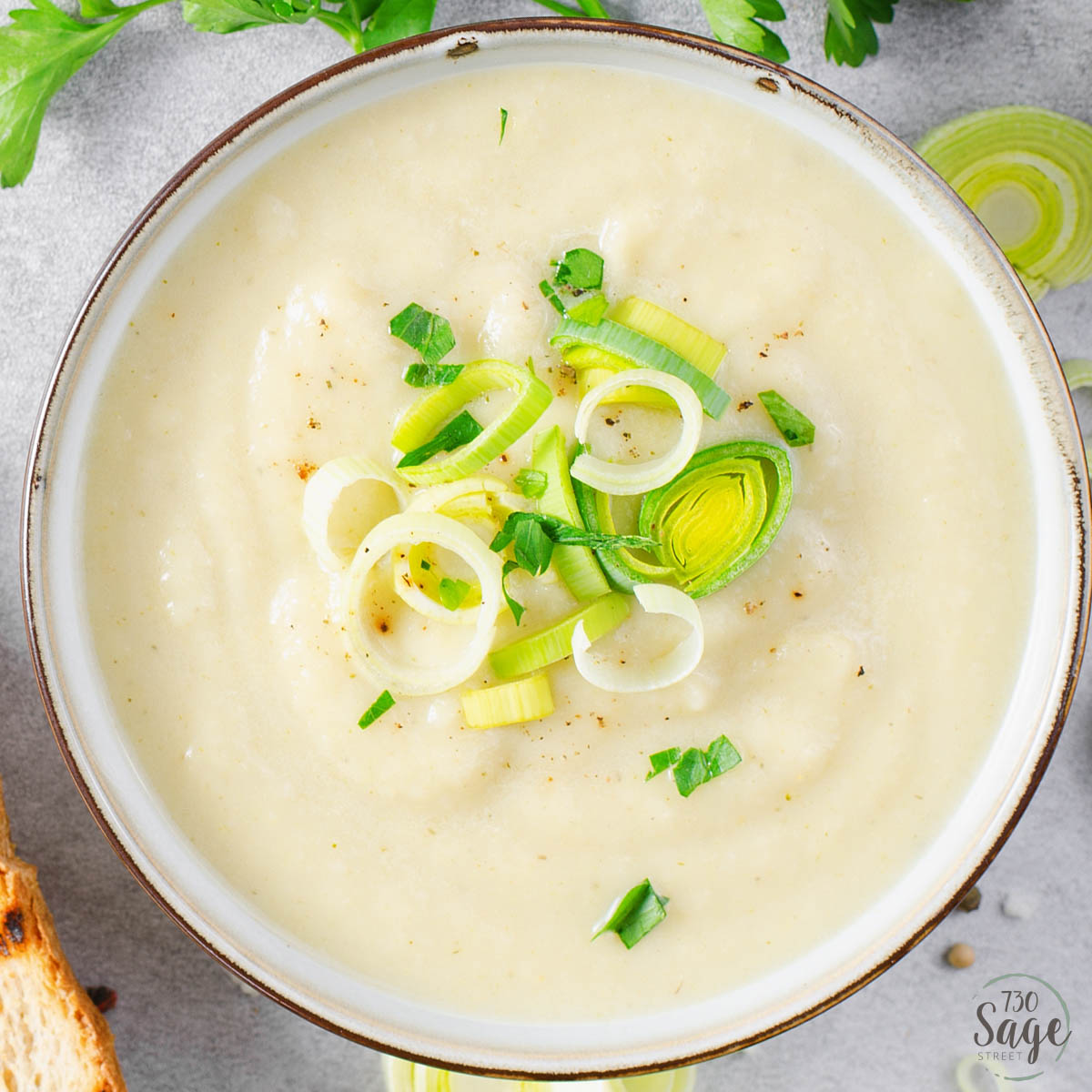 How Can I Thicken These Soups Without Using Cream?
If you're looking to thicken your leek soup without using cream, there are several methods to choose from. Here are five options to consider:
Add Potatoes: Dice a few potatoes and add them to your soup, simmering until they're tender. Then, blend the soup until it's smooth. Benefits: potatoes make the soup creamier without increasing the calorie or fat content. Drawbacks: they might give the soup a starchy flavor.
Make a Roux: Melt butter in a pan and whisk in flour to create a roux. Whisk in a few ladles of soup, then pour the mixture back into the pot. Simmer until thickened. This is a traditional way to thicken soups, but it also increases the amount of fat and calories in the dish.
Use Bread: Tear up a few pieces of bread and stir them into your soup. Once the bread has softened, blend the soup until smooth. This is a great way to boost taste and texture, yet it could make the soup too starchy or thick for your liking.
Use a Cornstarch Slurry: Mix cornstarch and cold water to create a slurry, then stir it into your soup. Simmer until thickened. Cornstarch is a gluten-free option that adds thickness without adding flavor, but it can create a slimy texture if overused.
Add Beans: Puree a can of white beans and stir it into your soup. Simmer until heated through. this adds protein and fiber without adding cream or extra fat, however, this can add a beany taste to the soup.
15 Soup Recipes With Leeks
From classic potato leek soup to more unusual combinations, there's something for everyone in these 15 soup ideas using this underrated ingredient:
Warm and comforting, this classic potato leek soup is perfect for any chilly day. The buttery garlic and onion mixture infuses the soup with a savory aroma that will tantalize your taste buds. The soft potatoes and tender leeks are blended together into a creamy and luscious puree, creating a delightful texture in every bite.
The addition of cayenne pepper adds a subtle, but satisfying kick to the soup, while the half-and-half give it a silky smoothness that is simply divine. Served hot and garnished with chives, this soup is the ultimate comfort food that will satisfy any craving.
Enjoy the deep, smoky taste of roasted tomatoes in this soft-leek soup. The roasted tomatoes provide a smoky flavor to the soup, and the leeks give a subtle sweetness that works well with the tomatoes' natural acidity.
The soup gets a little heat from the red pepper flakes and garlic, and a nice herbal flavor from the fresh basil. This silky, creamy soup will warm you up from the inside out thanks to its expert blending. The dish is wonderful for any occasion when served with crusty bread or croutons cooked from scratch.
This hearty and flavorful carrot leek soup is a perfect combination of wholesome vegetables and warming spices. The sautéed garlic, onions, and leeks create a robust and savory base that perfectly complements the sweetness of the carrots and the earthiness of the potatoes.
The blend of spices such as paprika and coriander gives the soup an exotic and aromatic taste, while the veggie broth creates a rich and creamy texture. Topped with fresh green onions, this soup is a feast for the senses that will leave you feeling warm and satisfied.
Whether you're lactose intolerant or just trying to cut down on dairy, this chicken and leek soup is the way to go. In addition to the richness and depth of flavor provided by the onion, leek, and bacon foundation, the wholegrain mustard and mixed herbs are a welcome addition.
The protein from the cooked chicken or the raw chicken that has been browned makes this soup a hearty main course. The soup's creamy and lavish texture comes from the coconut milk, while the soup's seductive umami taste comes from the fish sauce. This soup is a satisfying and soothing dish, especially when served hot and seasoned with salt and black pepper.
This corn and leek soup is the epitome of comfort food, with its velvety texture and rich flavor combination of buttery leeks, sweet corn, garlic, and bay leaf. The soup's spicy bite from the cayenne pepper complements the chicken stock's savory underpinnings.
This soup has been blended to a silky smooth consistency, and the addition of heavy cream gives it a luxuriously rich and creamy flavor. This bisque is a visual and gustatory delight when served hot and topped with micro-greens, avocado, cilantro, jalapenos, or tomatoes. It works as well as a warm starter for a group meal as it does on a quiet night in.
This curried lentil and leek soup is like a warm embrace in a bowl, with a velvety and decadent texture thanks to the mix of soft lentils and creamy coconut milk. Spices like paprika, cumin, turmeric, and curry powder give the dish an unusual, hearty taste that's hard to resist.
The mild spices provide a nice contrast to the hearty basis of delicate leeks, garlic, and chickpeas. Garnish with fresh coriander, chili flakes, pepper, and a slick of coconut cream for a bit of added decadence, and serve hot. It may serve either as a warm and satisfying midday snack or as the main course for a busy weekday dinner.
Cozy up with a cup of this 30-minute ready mushroom leek soup. When you need something warm and filling to eat on a cold night, but don't have much time, try this Instant Pot dish. Tender potatoes and fragrant herbs enhance a tasty and aromatic basis of savory mushrooms, and lean and sweet carrots.
This Instant Pot-cooked soup is simple to make and will fill you up and soothe your soul. For a hearty and satisfying lunch, serve it hot with fresh parsley and handmade bread. Mushroom leek soup has hearty tastes that are suitable for any day of the week.
Delicious and filling, this Chunky Pea and Leek Soup with Poached Eggs may be enjoyed for either lunch or supper. Cayenne pepper and lime juice provide a tangy bite to the soup's delectable combination of leeks, onions, peas, and chicken stock.
The fresh herbs and drizzle of olive oil provide a burst of flavor, while the poached eggs on top create a rich and creamy texture. This hearty soup is the epitome of comfort food, with just the right amount of spice to keep you warm and just the right amount of texture to keep you pleased.
This Spinach, Carrot & Leek Soup is the perfect way to get your daily dose of vegetables! Spinach, carrots, leeks, and onions come together in an easy but delicious soup.
Just add the sliced carrots and leeks to the pan after the onion and garlic have been sautéed, and stir until the vegetables begin to soften. Next, after letting it boil for 30 minutes, add the spinach and vegetable stock and mix until smooth. Delicious and filling, this soup is ideal for a cool winter evening.
Enjoy the healthy benefits of parsnips, carrots, and celery while enjoying the delicious tastes of broccoli and leeks in this hearty soup, ideal for those cold winter evenings.
The vegetables and liquid should be simmered for 15 minutes before the broccoli is added for another 5 minutes of cooking time. Next, add some extra virgin olive oil to the blender and puree the soup until it's smooth and creamy. Sprinkle some healthy nigella seeds on top and season with freshly ground black pepper. This soup is perfect as a first course or as a light supper on its own.
This Cauliflower and Leek Soup recipe is a comforting and hearty option for any day of the week. The combination of sautéed leeks, tender cauliflower florets, and flavorful spices like cumin and thyme makes for a warming and delicious soup.
Pureed to smooth perfection, this soup is perfect for a chilly evening or when you need some cozy comfort food. Plus, the added bonus of chopped bacon, fresh parsley, and chives on top makes it extra special. So get ready to snuggle up with a bowl of this creamy, dreamy soup that will warm both your stomach and your soul.
As soon as the leaves begin to turn orange, it's time for a warm and cozy bowl of butternut squash leek soup. The soup's silky smoothness and the symphony of aromas from the thyme and smoky paprika are a match made in heaven.
The coconut milk adds a creamy, nutty flavor that elevates the soup to another level. Whether you're looking for a healthy and satisfying meal or a comforting bowl of soup to warm up a chilly day, this recipe is perfect for you. Don't forget to sprinkle some red pepper flakes for a touch of heat!
This Cream of Leek and Sweet Potato Soup is the perfect dish for a cozy night in or a quick lunch. The sweet and savory flavors of the sweet potato and leek are perfectly balanced with fresh thyme and Himalayan salt.
The creamy texture of the soup is achieved by blending it until smooth and topped off with a dollop of tangy plain yogurt or sour cream for a burst of flavor. This dish is a healthy and satisfying option that will leave you feeling nourished and content.
As the weather gets colder, warm yourself up with a comforting bowl of leek and parsnip soup. This creamy soup is perfect for a cozy night in, with its delicate flavors and smooth texture.
The sweet parsnips complement the mild leeks, while the pinch of nutmeg adds a touch of warmth. Finish with a sprinkle of fresh parsley for an extra burst of flavor. Serve with a slice of crusty bread and you'll have a delicious and satisfying meal in no time.
There's something so comforting about a warm bowl of soup, especially when it's chilly outside. This spring-leek soup with gruyere toast is the perfect meal to cozy up with. As you sauté the leeks in butter, their sweet aroma fills the kitchen, making your mouth water in anticipation.
When the chicken stock and lemon juice come together with the leeks, it's like a symphony of flavors dancing on your tongue. And don't even get me started on those gruyere toasts. The crusty bread soaks up the soup, while the melted cheese adds a deliciously gooey texture.