In this round-up, we've gathered 15 of the best recipes with soft tofu that are sure to satisfy your taste buds. From savory stews to crispy pan-fried tofu, there's a recipe for everyone.
Some of the dishes you can look forward to include Sweet & Sour Tofu, Easy Soondubu Jjigae (Korean Soft Tofu Stew), and Perfect Pan Fried Tofu.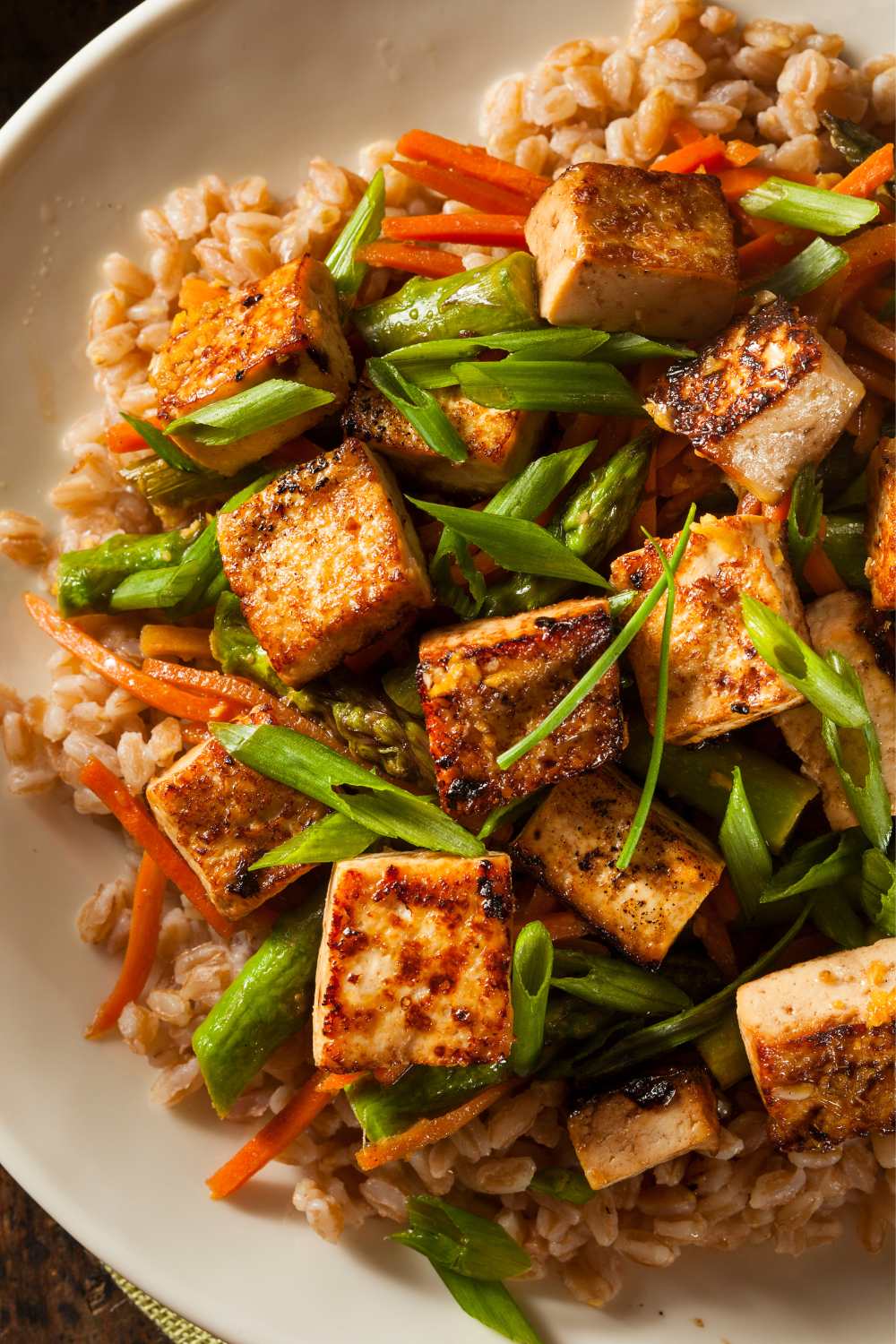 What Are The Best Brands For Soft Tofu?
Some popular brands include Mori-Nu, House Foods, and Hodo Soy. Mori-Nu is known for its shelf-stable aseptic packaging, which means the tofu doesn't need to be refrigerated until it's opened. House Foods is a popular brand that offers a variety of soft tofu textures, from extra soft to firm. Hodo Soy is a small-batch, artisanal brand that's known for its high-quality, organic tofu. Whichever brand you choose, be sure to check the expiration date and look for fresh, firm tofu with no signs of spoilage.
How To Properly Store Soft Tofu?
Soft tofu is highly perishable and should be stored properly to prevent spoilage. The best way to store soft tofu is to keep it in its original packaging and place it in the refrigerator. Be sure to use it within a week of the purchase date, or before the expiration date, whichever comes first. Once the tofu is opened, transfer it to an airtight container and cover it with water. Change the water daily to keep the tofu fresh and prevent bacteria growth.
15 Recipes With Soft Tofu
From classic tofu dishes to creative and inventive recipes, there's something here for everyone:
The crispy tofu is coated in a mouth-watering sauce made from agave or maple syrup, low-sodium soy sauce, rice vinegar, sesame oil, garlic, ginger, and chili garlic sauce (optional). The tofu is first fried until crispy, then coated with the sauce, and served over cooked rice. Top it off with sesame seeds and green onions for an extra pop of flavor. This recipe is sure to impress even the biggest tofu skeptics!
Loaded with velvety soft tofu, vegetables, and mushrooms in a rich and savory broth, this Korean-style soft tofu stew is perfect for a cozy night in. The recipe is quick and easy to make, taking less than 15 minutes.
Simply cook the green onions, onions, garlic, gochugaru, soy sauce, oyster sauce, and sugar together in a pot, then add the water or stock and the veggies. Finally, add the soft tofu, simmer, and season with salt to taste. Top it off with a cracked egg, green onions, and chili pepper for an extra kick. Serve with a side of rice for a complete and satisfying meal.
If you're looking for a quick and easy appetizer or side dish that's bursting with flavor, this 5-Minute Silken Tofu recipe is perfect for you. Made with just a handful of basic ingredients and a few simple steps, you can have the most flavorful and savory soft tofu ready to eat in just 5 minutes.
After preparing the tofu, simply mix together soy sauce, sugar or honey, sesame oil, toasted sesame seeds, garlic, green onion, and Korean chili flakes (optional) to make the sauce. Pour the sauce over the tofu and enjoy! This recipe is perfect for those who are short on time but still want a delicious and healthy meal.
Made with a block of soft tofu, this recipe is perfect for those who enjoy a subtle and comforting meal. Simply simmer the tofu in water until warmed through, and prepare the spicy garlic soy sesame sauce by mixing garlic, scallion, sesame seeds, low-sodium gluten-free soy sauce, sesame oil, Korean red pepper flakes, and organic sugar.
Finally, carefully lift the tofu from the pan, pat it dry with paper towels, and transfer it to a serving dish. Spoon the sauce on top, and enjoy! This recipe is perfect for leftovers too, as it can be served cold for a refreshing twist.
Get ready to experience the ultimate in tofu deliciousness with this Perfect Pan Fried Tofu recipe! The tofu is pressed and cut into bite-sized cubes, then fried until golden and crispy on the outside and tender on the inside.
The dish is complete with an optional creamy tahini sauce that perfectly complements the savory flavor of the tofu. Perfect as a main dish or as a flavorful addition to any meal, this recipe is sure to be a crowd-pleaser.
Made with creamy silken tofu, nutritious veggies, and flavorful spices, this dish is the perfect alternative to traditional mac and cheese. The silken tofu is blended with sautéed onions, bell pepper, garlic, nutritional yeast, and other seasonings to create a velvety sauce that perfectly coats the pasta. Easy to make and delicious to eat, this Tofu Mac & Cheese is sure to become a new household favorite.
Tofu Tikka Masala is the perfect vegan meal that doesn't compromise on flavor. Tender tofu cubes are cooked to perfection in a rich and creamy tikka masala sauce that is packed with aromatic spices.
The dish is not only satisfying, but it's also gluten-free and ready in just 15 minutes. Serve it hot with fluffy naan bread or over a bed of cooked rice to soak up all the delicious flavors. Don't forget to garnish with fresh cilantro for that final touch of freshness.
Spicy and crispy, General Tso's Tofu is a flavor-packed vegan take on the Chinese-American classic. The dish features crunchy cubes of tofu with tender broccoli florets, all smothered in a savory-sweet sauce that's spiked with garlic and chili flakes. Serve it over steaming hot rice, and you've got a delicious and satisfying meal that's sure to become a new favorite!
This Teriyaki Tofu recipe is a delicious and easy-to-make dish that's perfect for busy weeknights. Cubed tofu is coated in a mixture of soy sauce, garlic powder, sea salt, black pepper, and cornstarch before being fried until crispy.
The tofu is then combined with a sweet and savory teriyaki sauce made with soy sauce, brown sugar, ginger, rice wine vinegar, and more. The sauce is thickened with a cornstarch slurry and the dish is garnished with sesame seeds and chopped scallions.
This crispy baked tofu is the ultimate plant-based snack or addition to any meal. With a golden-brown crunch and savory flavors from soy sauce, black pepper, and ground ginger, it's easy to make and irresistible to eat.
To achieve the perfect crisp, extra firm tofu is pressed and coated in cornstarch before being baked to perfection. Serve it as a snack or add it to salads, rice bowls, or stir-fries for an extra protein boost. For an even crispier texture, broil the tofu for a couple of minutes before removing it from the oven.
Agedashi Tofu is a beloved Japanese appetizer that will leave your taste buds wanting more. Deep-fried tofu is coated in cornstarch and served with a savory sauce made from dashi, soy sauce, sake, mirin, and sugar.
The crispy exterior of the tofu contrasts perfectly with the silky interior, making it a texture lover's dream. Top it off with grated daikon, green onions, and dried bonito flakes for an added burst of flavor. This dish is quick and easy to make and is sure to become a family favorite in no time.
This vegan recipe is perfect for anyone missing the taste of scrambled eggs. With just 7 ingredients, it's simple to prepare and ready in just 10 minutes. The combination of mashed firm tofu, nutritional yeast, salt, turmeric, garlic powder, and non-dairy milk creates a delicious and creamy texture that's perfect for breakfast or brunch. Serve it up with sliced avocado, hot sauce, steamed kale, or toast, and you've got a satisfying meal that's sure to please!
This recipe is a fun and tasty way to enjoy soft tofu, with a unique combination of crispy and crunchy textures. The medallions of soft tofu are coated in a delicious mixture of tapioca starch and ground mixed nuts, which creates a delightful and satisfying crunch when fried to perfection.
When paired with the sweet hoisin sauce and picco de gallo, the flavors come together to create a mouth-watering taste sensation. The pico de gallo is made with fresh ingredients, including small diced Roma tomatoes, onions, and cilantro, with a squeeze of lime juice for a zesty kick.
Soft Tofu with Silky Egg Sauce is an Asian-inspired vegetarian dish that is easy to prepare and incredibly delicious. The star of the dish is the silky egg sauce, which is poured over the soft tofu cubes to create a mouth-watering taste experience.
The dish is made even more delightful with a mix of corn, peas, carrots, shimeji mushrooms, and green onions. It's a healthy and affordable dish that even meat lovers will appreciate. The recipe is easy to follow, and the result is a meal that is satisfying, flavorful, and nutritious.
The Teriyaki Tofu Katsu recipe is a personal favorite of mine. I absolutely love the way the crispy and crunchy breadcrumbs pair with the soft and tender tofu. It's like a burst of flavor in every bite! The homemade teriyaki sauce perfectly complements the dish and takes it to another level.
When I first tried this recipe, I was blown away by how easy it was to make and how delicious it tasted. The recipe calls for simple ingredients that you probably already have in your pantry, making it an affordable and tasty option for a quick dinner or lunch.