While there are many delicious ways to prepare salmon, the recipes that call for leaving the skin on add a distinctive flavor and crispy texture that takes the dish to the next level.
In this post, we have collected 15 simple salmon dishes that use the skin, and they are great for any day of the week. Get ready for a tasty adventure, full of fresh, wholesome ingredients and bold flavors.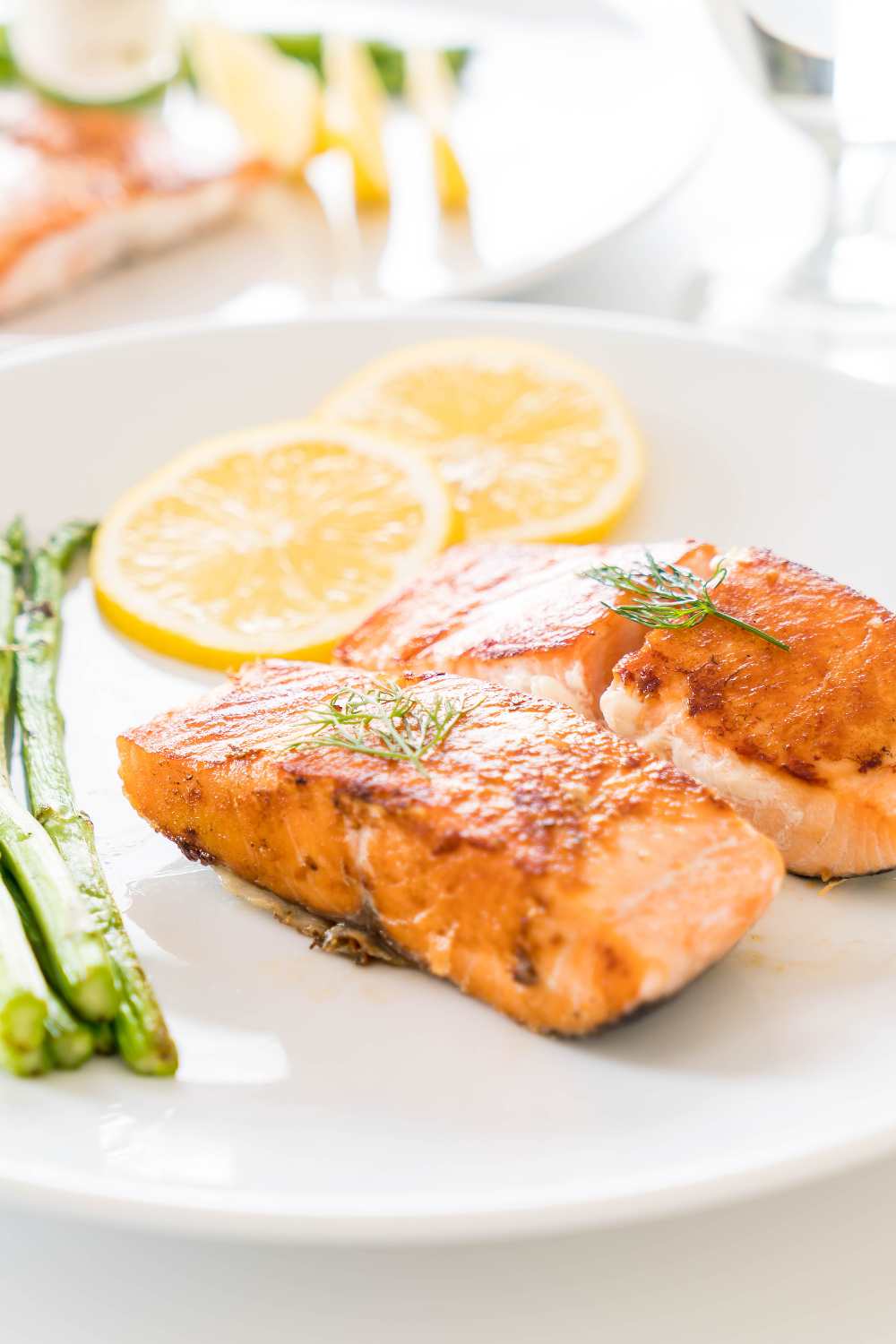 What Type Of Salmon Is Best For These Recipes?
When it comes to choosing the best salmon for these recipes, there are a variety of options to consider. Here are six varieties and their unique qualities:
King salmon: Known for its rich flavor and high fat content, it is perfect for grilling and smoking.
Sockeye salmon: With a deep red color and a firm texture, sockeye salmon is ideal for baking, broiling, and grilling.
Coho salmon: With a mild flavor and delicate texture, coho salmon is versatile and perfect for pan-searing and grilling.
Atlantic salmon: This mild-flavored fish is a popular choice for many recipes, and is best for baking, broiling, and grilling.
Pink salmon: Budget-friendly and versatile, pink salmon is perfect for poaching, baking, and grilling.
Chum salmon: Lean and mild-flavored, chum salmon is ideal for smoking, grilling, and roasting.
Can I Use Frozen Salmon For These Recipes?
Yes, you can use frozen salmon for these recipes. Just make sure to thaw it properly before cooking. Thaw frozen salmon in the refrigerator overnight or place the sealed package in a bowl of cold water for 30 minutes to an hour until thawed.
Avoid using hot water as it can cook the salmon partially and affect its texture. Using frozen salmon can be more convenient and cost-effective than fresh, and it can work just as well in these recipes.
15 Salmon Recipes With Skin On
If you're a fan of crispy, flavorful salmon, these 15 recipes with skin on are sure to satisfy, from Thai-style herb salad to Italian ratatouille, there's something for everyone:
Get ready to indulge in a crispy, flavorful salmon dish that will transport your taste buds to culinary heaven! This recipe will require some patience and effort, but trust us, it's worth it. The secret to achieving crispy skin is to start with a cold salmon fillet and avoid salting it until the last minute.
Once the salmon hits the pan, it will sizzle and sear to perfection, creating a delightful crunch that contrasts beautifully with the tender, juicy flesh inside. The dish comes together in under 10 minutes, making it perfect for a quick and easy weeknight dinner. Serve with a side of roasted veggies and a glass of white wine for a complete meal that will warm you up from the inside out.
Looking for a delicious and healthy grilled salmon recipe? Look no further than THE BEST Grilled Salmon! This recipe features 6-8 ounce skin-on salmon fillets that are generously coated with grape seed oil, kosher salt, and black pepper. Grilled over high heat until lightly colored and firm to the touch, this salmon is the perfect meal for any occasion.
Serve it up with some wedges of lemon and your favorite tartar or cucumber dill sauce for a refreshing and satisfying meal. This recipe is perfect for the summer months when fresh seafood is in season. Give it a try today and experience the flavors and warmth of this delicious dish!
Get ready for an explosion of flavors with this Baked Salmon in Foil with Garlic, Rosemary, and Thyme! This dish is perfect for those following Whole30 or keto diet plans. The salmon is coated with a mixture of ghee, garlic, rosemary, and thyme, and baked to perfection in the oven.
The skin crisps up beautifully, adding an extra layer of texture to the tender and juicy salmon. With just a touch of lemon juice and a sprinkle of parsley, this dish is a feast for the senses. Serve with your favorite sides for a satisfying meal that's both delicious and nutritious.
Enjoy a simple and elegant Oven Poached Salmon that is sure to impress your guests! This recipe features a 4-pound skin-on side of salmon, which is seasoned with salt, cider vinegar, and fresh dill. Thinly sliced lemons are then arranged on top of the salmon before it's wrapped in foil and baked in the oven.
The result is a perfectly poached salmon that's tender, juicy, and bursting with flavor. After cooling in the foil for 30 minutes, refrigerate for an hour before unwrapping, brushing off the herbs and lemons, and serving. Garnish with fresh chopped tarragon, dill, and lemon wedges for a touch of brightness.
Satisfy your seafood cravings with this quick and easy 10-Minute Blackened Salmon recipe. The fillets are coated in a flavorful blend of paprika, garlic powder, oregano, salt, and cayenne pepper for a spicy kick. Cooked to perfection in a skillet with olive oil, the salmon develops a beautiful blackened crust while remaining moist and tender on the inside.
Serve with a squeeze of fresh lemon juice for a burst of acidity that perfectly balances the spice. This dish is perfect for a quick and easy weeknight dinner or an impressive meal when entertaining guests.
Indulge in the smoky and savory flavor of Same Day Hot Smoked Salmon that's easy to make at home! This recipe features an Alaskan salmon fillet that's coated with a mixture of coarse kosher salt, coconut or maple sugar, lemon zest, black pepper, and gluten-free vodka.
After curing and rinsing, the salmon is hot smoked in a pellet grill with alder, hickory, or maple wood pellets until the internal temperature reaches 140°F. The result is tender and juicy salmon that flakes apart with a fork and is perfect for serving warm or chilled. Store any leftovers in the refrigerator for up to 3 days and savor the taste of homemade hot smoked salmon anytime you like!
Elevate your dinner game with this mouth-watering Pan Seared Salmon recipe that's loaded with flavor and nutrition! The salmon fillets are seasoned with garlic, oregano, paprika, black pepper, salt, and lemon juice, and then seared to perfection in a non-stick pan with olive oil.
The result is crispy skin on the outside and tender, flaky salmon on the inside. Sautéed onions, cherry tomatoes, and baby spinach make for the perfect side dish that's bursting with color and nutrients. The juicy tomatoes and tender spinach are perfectly seasoned with salt and pepper, adding a burst of freshness to each bite.
Let the flavors of honey, lemon, and garlic transport you to a sunny Mediterranean getaway with this Honey Lemon Garlic Salmon recipe. The marinade, made with Meyer Lemon and Garlic EVOO, coats the skin-on salmon fillets, giving them a perfect balance of sweet and savory flavors.
After marinating, the fillets are pan-seared to perfection, making for crispy skin and a tender, juicy interior. With the added freshness of green onions, this dish is perfect for a summer evening spent with loved ones.
If you're looking for something simple to make for supper, go no further than this soy-glazed fish. This meal is bursting with flavor because of its marinade of soy sauce, oyster sauce, brown sugar, and sesame oil.
Red pepper flakes give it a fiery bite that will make you want more. The salmon is delicate and flaky after being baked to perfection. To add a touch of class, sprinkle with white sesame seeds and garnish with parsley. You can make a whole dinner out of this recipe by serving it with rice and steamed veggies.
It's time to indulge in this irresistible buttered honey mustard oven-baked salmon. With a soft, flaky texture and a tangy honey mustard flavor, this dish is a crowd-pleaser. The salmon is seasoned to perfection and baked in a delicious buttered mixture.
Serve with a sprinkle of fresh parsley and a squeeze of lemon juice for an extra burst of flavor. Whether you're hosting a dinner party or enjoying a cozy night in, this dish is sure to impress. So get ready to embark on a journey of taste and flavor with this easy and mouth-watering recipe!
Air Fryer Teriyaki Salmon is a delicious and easy-to-make recipe that's perfect for a quick meal. The salmon filets are cooked to perfection in the air fryer and then glazed with a sweet and savory teriyaki sauce.
The mixture of soy sauce, brown sugar, ginger, sesame oil, and garlic creates a flavorful and rich glaze that perfectly complements the tender and juicy salmon. The crispy skin of the salmon adds a nice texture and contrast to the dish. This recipe is a great option for those who are looking for a healthier way to enjoy their favorite seafood.
Savor the sweet and savory taste of this maple-glazed salmon recipe! The combination of maple syrup and soy sauce creates a glaze that perfectly complements the salmon's natural flavor. Just wrap it up in foil, pop it in the oven, and wait for the magic to happen.
The result? A perfectly cooked, moist, and tender salmon that is melt-in-your-mouth delicious. This recipe is so easy to make, you can have a gourmet meal in no time! So sit back, relax, and let your taste buds take you on a journey of pure delight.
Let's spice up our dinner game with this Easy Pan Roasted Cajun Salmon! With a perfect blend of savory and smoky flavors, this dish is sure to impress. Simply rub the seasoning blend into the salmon's surface, top it with lemon juice and zest, and bake it in the oven for a crispy, mouth-watering result. Garnish with some Italian parsley and extra lemon zest for a pop of color and freshness.
Enjoy the exotic flavors of Thailand with this Salmon & Herb Salad made in the Thai way. Pan-seared salmon fillets with the skin on have a crisp outside and juicy, flaky interior.
The salad is tossed with a dressing comprised of garlic, red chile, fish sauce, lime juice, and chopped palm sugar and tossed with a mix of Asian shallots, scallions, mint leaves, and optional Thai basil. This recipe may be prepared quickly and serves as an excellent appetizer or side dish.
This meal of crispy skin salmon and ratatouille in the Italian manner will introduce you to a new world of tastes. The salmon is perfectly prepared, with a skin that is very crispy and delightfully seasoned, while the ratatouille adds a burst of Mediterranean flavors.
Capsicum, onion, zucchini, garlic, and eggplant come together in a rich and flavorful tomato sauce that you'll adore. For a fast and nutritious weeknight supper, this dish is ideal. Garnish with chopped parsley and a squeeze of lemon juice for a refreshing touch.