Cranberries are a staple in many kitchens due to their tart taste and vibrant appearance. Here are 15 different salad dishes that all use cranberries as the main attraction.
From filling grain salads to crisp and refreshing greens, there's something for everyone in this collection.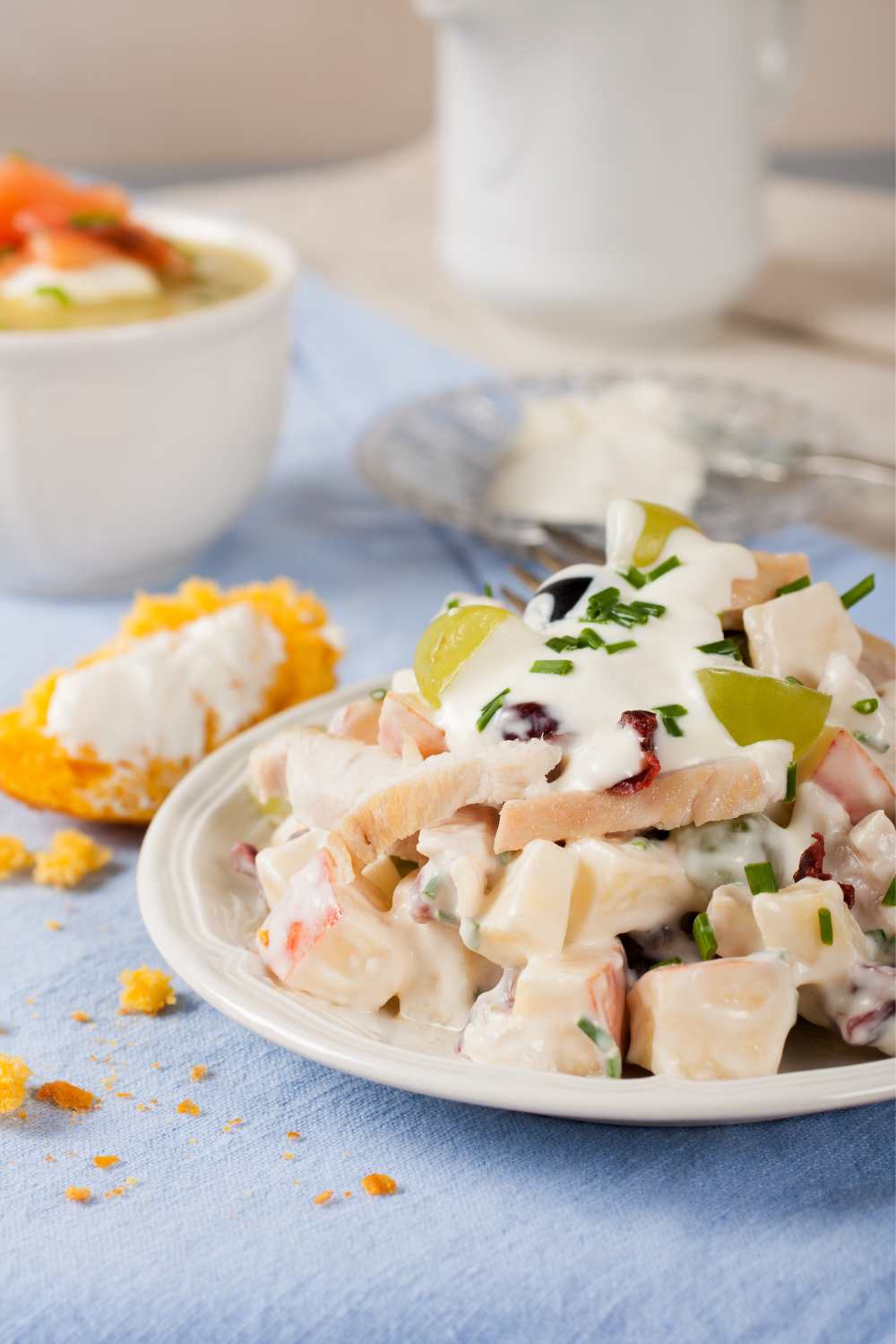 Can Dried Cranberries Be Used Instead Of Fresh Ones In These Recipes?
Yes, dried cranberries can be used instead of fresh ones in most of these salad recipes. Dried cranberries add a chewy texture and concentrated sweetness to the salad, making them a popular ingredient in many salad recipes.
However, they should be used in moderation as they are higher in sugar and calories than fresh cranberries. Additionally, some recipes may need adjustments in the dressing or other ingredients to balance the sweetness added by dried cranberries.
15 Salad Recipes With Cranberries
These 15 cranberry salad recipes will add a burst of color and flavor to your meals, ranging from tangy to sweet and savory:
Embark on a vibrant culinary adventure with this Spinach Salad, bursting with contrasting flavors and textures. Lush baby spinach leaves provide the backdrop for sweet, tangy orange segments and chewy dried cranberries, while creamy avocado and crumbled feta cheese add richness.
But wait, there's more! Candied pecans bring a delightful crunch and a hint of sweetness to the mix. Drizzle the lively combo with a simple lemony olive oil dressing, and you've got yourself a beautifully balanced and downright irresistible salad. Enjoy!
Dive into the world of wholesome goodness with this Cranberry Apple Quinoa Salad, a beautiful medley of delightful flavors and textures. Nutty quinoa pairs wonderfully with crisp apples, crunchy celery, toasted pecans, and chewy dried cranberries, while green onions add a touch of zest.
Drizzled with a sweet and tangy apple cider vinaigrette, this salad becomes a symphony of scrumptiousness! Ideal for a light lunch or a refreshing side dish, this quinoa salad will brighten up any mealtime.
Get whisked away to a world of fresh flavors with this vibrant Kale Salad! Thinly sliced kale lovingly massaged with olive oil, becomes the canvas for a colorful array of ingredients. Crunchy almonds, tangy red onion, sweet dried cranberries, and creamy goat cheese create a harmony of taste and texture.
Top it off with a zesty, homemade Dijon-lemon dressing, and your kale salad transforms into a true masterpiece. Whether you're enjoying it as a side or the main course, this salad is a celebration of nourishing deliciousness!
Savor the delightful medley of flavors in this Cranberry Walnut Chicken Salad, perfect for a refreshing lunch or a light dinner. Creamy mayonnaise and tangy sour cream or Greek yogurt unite with lemon juice, parsley, and dill to create a delectable dressing.
Toss in tender cooked chicken, crunchy celery or apple, chewy dried cranberries, and toasted walnuts, and you'll find yourself in salad heaven! Season to taste with salt and pepper, and serve it up on bread or crisp lettuce for a meal that's as satisfying as it is scrumptious.
Embrace the crunch and savor the delightful tang of this Broccoli Salad, a refreshing blend that's perfect for picnics, potlucks, or an invigorating lunch. Fresh broccoli florets, crispy bacon, red onion, dried cranberries, sliced almonds, sunflower seeds, and sharp cheddar cheese come together in a symphony of textures and flavors.
The star of the show, however, is the citrus poppyseed dressing, bursting with lemon and orange zest and a hint of apple cider vinegar. Just toss everything together, chill for a bit, and get ready to enjoy a truly uplifting salad experience!
Featuring soft, roasted Brussels sprouts, crisp almonds, and sweet, chewy cranberries, this Brussels Sprout Salad with Cranberries is a gateway to a world of powerful sensations. The goat cheese adds a luxurious creaminess, while the honey-apple cider vinegar vinaigrette brings balance with its tangy sweetness.
Whether you serve it warm, at room temperature, or chilled, this salad is a delightful journey for your senses, transforming the humble Brussels sprout into a show-stopping side dish that will have everyone asking for seconds.
Our next destination is a delightful Pear, Walnut & Gorgonzola Salad that effortlessly combines sweet, tangy, and crunchy elements. Savor the juicy chopped pears, earthy walnuts, and piquant Gorgonzola cheese, balanced by the tartness of dried cranberries and the bite of red onions.
The sunflower seeds add an extra layer of crunch, making every bite a symphony of textures. The zesty apple cider vinegar dressing, infused with honey, ginger, and poppy seeds, brings all the flavors together harmoniously. Dive into this refreshing salad and be transported to a world of exquisite taste!
Now, let's turn our attention to this vibrant Baby Lettuce Salad with Raspberries, Cranberries, and Feta. This colorful medley will delight you with its blend of fresh, juicy raspberries, tangy dried cranberries, and creamy feta cheese nestled atop tender baby lettuce.
Toasted walnut pieces add a delightful crunch that contrasts beautifully with the softness of the other ingredients. The red wine vinegar dressing, sweetened with maple syrup and zinged with Dijon mustard, complements each element of this dish perfectly.
This dish is a feast for the senses, with tender roasted butternut squash and red onion, fluffy quinoa, and vibrant baby spinach forming a delicious base. The salad is adorned with roughly chopped dried cranberries and walnuts, adding an extra layer of flavor and texture.
For those who want a burst of color and tang, pomegranate arils make a delightful optional addition. The star of the show is the balsamic vinaigrette, featuring a harmonious blend of Dijon mustard, maple syrup, and garlic that adds an irresistible depth to the salad.
Dive into the vibrant flavors of this Festive Fall Farro Salad, a delightful medley of textures and tastes that will brighten up your table. Tender, nutty farro mingles with crispy kale, juicy dried cranberries, and crunchy toasted pecans, creating a symphony of sensations in every bite.
The refreshing burst of lemon juice, rich olive oil, and tangy crumbled goat cheese elevates this dish to a whole new level. Perfect as a standalone meal or a stunning side, this mouthwatering salad is just what you need to celebrate the season in style.
Introducing the Cranberry Sweet Potato Spinach Salad, a symphony of flavors and textures that will delight your senses. This vibrant dish features a mix of Fresh Express® Spinach & Arugula, tender sweet potatoes with a hint of cinnamon and nutmeg, crisp green beans, and crunchy toasted walnuts.
Topped with a tantalizing Cranberry Orange Balsamic Dressing that balances sweetness, tanginess, and a touch of zest, this salad is a must-try for anyone seeking a refreshing and nourishing meal. Plus, you can prepare the dressing ahead of time for convenience!
Feast your eyes on the Apple Slaw, a crunchy and sweet sensation that will redefine your salad expectations. This colorful ensemble combines shredded cabbage, matchstick carrots, and crisp gala apples with a touch of green onions, sliced almonds, and dried cranberries.
Top it off with an irresistible dressing made from Greek yogurt, honey, and apple cider vinegar for a perfect blend of creaminess and tang. And don't forget the optional crumbled feta, blue cheese, or sharp cheddar for an extra layer of flavor. Enjoy this delightful slaw within a few hours of preparation for the ultimate freshness.
Enjoy the tasty blend of flavors in this Sweet Potato Lentil Salad, a nourishing and fulfilling dish that's great for health-conscious food lovers. This salad combines roasted sweet potatoes, hearty green lentils, and nutrient-packed kale with a sprinkle of red onion, feta cheese, dried cranberries, and fresh parsley.
Drizzle it with a scrumptious dressing featuring balsamic vinegar, Dijon mustard, maple syrup, and garlic for a medley of tastes that will leave you craving more. Serve immediately to enjoy the full freshness and fantastic flavors of this exceptional salad.
Introduce your palate to the festive and flavorful Christmas Salad, a delightful combination of tastes that will brighten up any meal. This vibrant mix features a base of mixed baby salad greens adorned with thin pear slices, crumbled gorgonzola cheese, roasted pistachios, dried cranberries, and sunflower seeds.
The real star of the show is the tantalizing dressing made with cranberry juice and pure maple syrup, adding a delightful sweetness to the mix. Finally, garnish with pomegranate arils for a pop of color and an extra burst of flavor. This eye-catching salad is truly a celebration on a plate!
This Pumpkin Couscous Salad evokes the spirit of fall while offering a unique touch with its delicious combination of tastes and textures. The salad features tender roasted pumpkin, caramelized red onion, and fluffy couscous seasoned with garlic and onion powder.
The addition of maple syrup and lemon juice creates a harmonious balance of sweetness and tanginess. Toss in dried cranberries, pepitas, and fresh cilantro leaves for a vibrant burst of colors and a delightful crunch. Enjoy this versatile salad warm, at room temperature, or chilled for a truly memorable culinary experience.