Ground beef and Rotel make for a winning combination in the kitchen. From casseroles and pasta dishes to easy one-pan dinners, these 15 Rotel recipes with ground beef are sure to satisfy any craving. Whether you're in the mood for a spicy Tex-Mex meal or a cheesy, comforting casserole, there's something here for everyone.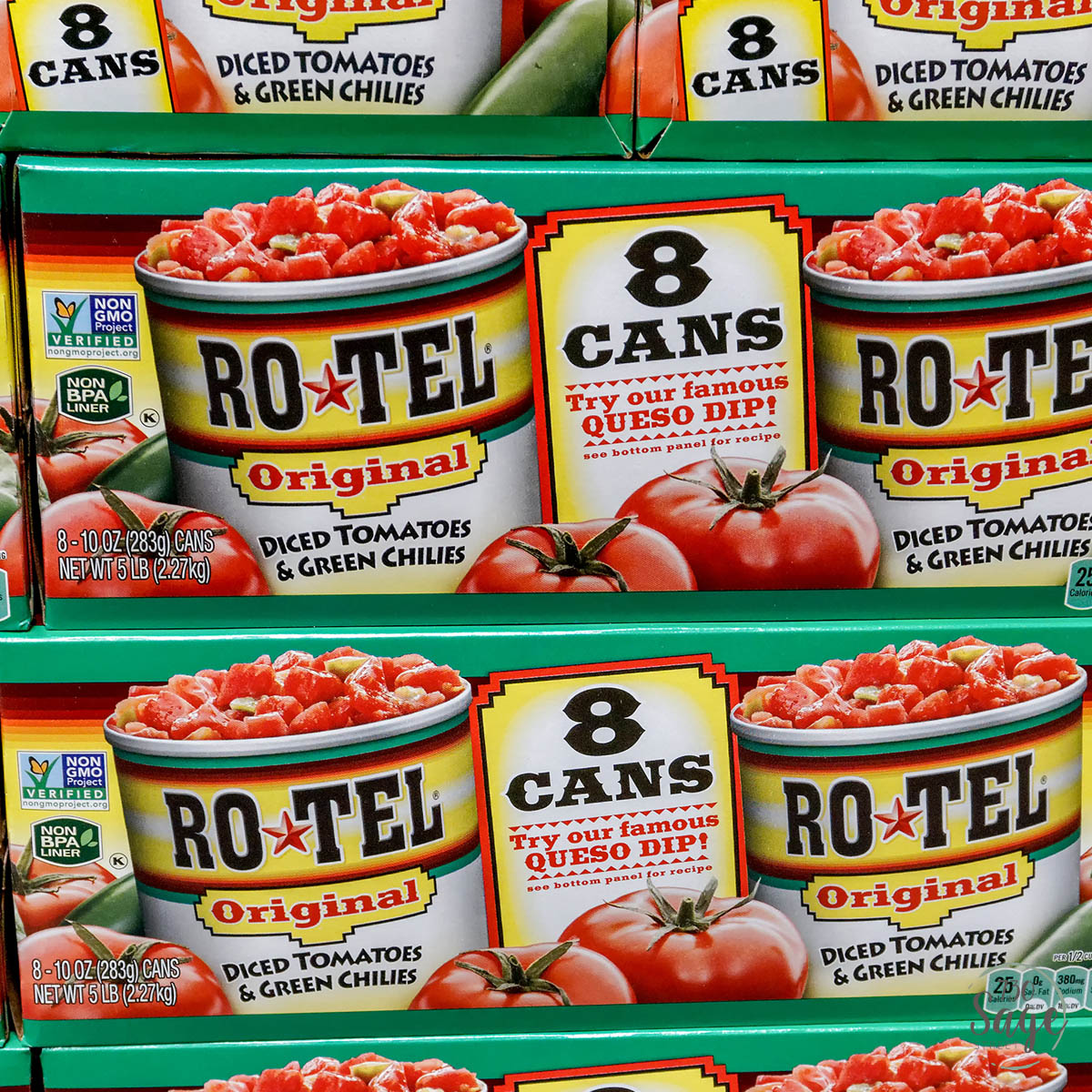 Can Fresh Tomatoes Be Substituted For Canned Rotel?
While fresh tomatoes can be substituted for canned Rotel in some recipes, the result may not be the same. Rotel is a combination of diced tomatoes and green chilies, which gives it a unique flavor and texture. Using fresh tomatoes may alter the taste and texture of the dish.
Where Can I Buy Rotel Tomato?
Rotel tomato and chili products are available in most grocery stores in the canned vegetable or Mexican food section. They can also be found online on websites like Amazon and Walmart. If you cannot find Rotel, you can substitute it with a can of diced tomatoes and a can of diced green chilies.
15 Rotel Recipes With Ground Beef
Spice up your dinner routine with these 15 mouthwatering Rotel recipes featuring ground beef:
Get ready for a fiesta in your mouth with this taco spaghetti recipe! Perfect for those days when you're craving both Mexican and Italian cuisine, this dish has got you covered.
Made with ground beef, taco seasoning, Rotel tomatoes, and spaghetti noodles, all cooked in one pan, this meal is easy to prepare and ready in under 30 minutes. The cheddar cheese and cilantro on top add a pop of color and flavor, making it an instant crowd-pleaser. Give it a try and see how quickly it becomes a new family favorite!
Do you love Tex-Mex cuisine but don't have much time to spend in the kitchen? Then this ground beef skillet is perfect for you! Made with brown or white rice, canned black beans, and Rotel tomatoes, this dish is flavorful and easy to prepare.
The homemade low-sodium taco seasoning adds a perfect balance of spices, while the sharp cheddar cheese and green onions on top give it an extra punch of flavor. Whether you're looking for a quick dinner for a busy weeknight or a hearty meal for the whole family, this Tex-Mex ground beef skillet is sure to please.
This baked Mexican goulash is a fusion of Italian and Mexican cuisine that will satisfy everyone's taste buds. The al dente pasta is coated in a savory ground beef and taco seasoning mixture that's full of bold and spicy flavors.
The Rotel tomatoes, chili beans, and salsa add a depth of flavor that's rich and complex. Topped off with sliced black olives and gooey melted cheddar cheese, this casserole is a crowd-pleaser. Serve it up with shredded lettuce, sour cream, guacamole, and taco sauce for a complete and delicious meal.
This Ground Beef Nacho Dip is creamy, spicy, and oh-so-cheesy. The browned and crumbled ground beef is mixed with two kinds of cheese, Rotel, black beans, sour cream, and seasonings that create a dip that's both hearty and flavorful.
The Velveeta cheese melts smoothly and creates a creamy texture that pairs perfectly with the spicy kick of the taco seasoning. The sliced green onions on top add a nice crunch and freshness to the dish. Serve it up with some crispy tortilla chips for a satisfying appetizer that's perfect for any gathering or Super Bowl party.
Loaded with flavorful ground beef, sweet corn, and zesty Rotel diced tomatoes and green chilies, this casserole is sure to be a hit with the whole family. The Jiffy cornbread topping is fluffy and golden brown, providing the perfect contrast to the savory beef mixture. Top it off with a generous amount of melted Mexican cheese blend, and you've got a comforting and flavorful meal that's sure to please everyone at the table!
Cheeseburger Gnocchi is a twist on a classic comfort food that's sure to please any meat and potato lover. Tender potato gnocchi is pan-seared until golden brown, then simmered with seasoned ground beef, onions, garlic, Rotel diced tomatoes, and green chiles for a zesty kick.
A generous amount of sharp cheddar cheese is melted over the top, creating a gooey and delicious finish. For added crunch and freshness, garnish with thinly sliced scallions. This one-skillet meal is easy to make and perfect for a quick and satisfying dinner any night of the week!
Taco Mac and Cheese is the perfect fusion of two favorite comfort foods! This hearty pasta dish is loaded with seasoned ground beef, zesty Rotel diced tomatoes and green chilies, and a creamy cheese sauce made with a shredded Mexican cheese blend and heavy cream.
The result is a satisfying and flavorful meal that's perfect for any occasion. Top it off with some crispy tortilla strips, sour cream, and chopped green onions for added texture and flavor. Easy to make and oh-so-delicious, this recipe is sure to become a family favorite in no time!
Cheesy Taco Spaghetti is the perfect dish to add a little spice to your weeknight dinner routine. This mouth-watering recipe features tender spaghetti noodles smothered in a savory tomato sauce infused with mild taco seasoning and flavorful Rotel diced tomatoes and chilies.
Ground beef and diced onions lend a rich, meaty taste to the sauce, while shredded Mexican cheese and chopped green onions add the perfect finishing touch. This dish is easy to make and perfect for busy weeknights when you need a satisfying meal that's quick and delicious.
Warm up on a chilly day with this Ground Beef Queso Chili recipe! The addition of pasta, pinto beans, and flavorful seasonings make it a fun twist on the classic dish. But the star of this chili is definitely the homemade queso sauce!
Rich and creamy, it adds the perfect touch of cheesy goodness to the beefy chili. Top it off with Fritos, sour cream, and shredded cheese for a deliciously satisfying meal. Plus, the leftovers are even better the next day!
Saddle up for a hearty and flavorful dish with John Wayne Casserole! This classic comfort food is loaded with ground beef, Mexi-corn, Rotel, and taco seasoning for a southwest-inspired taste.
The delicious biscuit layer provides a perfect base for the rich cream cheese topping, made with mayonnaise, garlic salt, and onion powder. Topped with a blend of mozzarella and sharp cheese, this casserole is a must-try for any night of the week. Bake until golden brown, slice, and serve for a filling and satisfying meal.
This Cheesy Mexican Rice Skillet is a dreamy one-pan meal that packs in bold Mexican flavors. The baked rice is cooked to perfection, while the ground beef and veggies add extra depth to the dish.
The Rotel and diced tomatoes create a delicious tomato base, and the chicken broth helps ensure the rice is perfectly cooked. This dish is finished off with a generous amount of shredded cheese that melts and oozes all over the top. Serve it with fresh chopped cilantro or parsley for an extra pop of color and flavor.
Mexican Lasagna is a great twist on traditional lasagna! Made with stacked tortillas, seasoned ground beef, beans, Rotel tomatoes, and cheese, this dish is perfect for those who love Mexican flavors.
The dish is freezer-friendly, making it ideal for a quick and easy weeknight dinner. The sour cream and condensed cream of the chicken soup mixture add a creamy texture to the dish, while the cheese adds a gooey, cheesy layer on top. Sprinkle some fresh cilantro on top for a finishing touch, and you'll have a crowd-pleasing meal that everyone will love!
Beef & Cheese Enchilada Casserole is a crowd-pleasing Mexican dish that will have your family and friends asking for seconds! The layers of cheesy quesadillas, seasoned beef, and Rotel tomatoes are smothered in enchilada sauce and topped with a blend of Mexican cheeses for a rich and comforting meal.
Top with your favorite taco toppings like avocado, jalapeños, or sour cream for an added burst of flavor.
Rotel pasta is a delicious one-pot meal that will quickly become a family favorite! This hearty and creamy dish is made with ground beef, onion, garlic, Rotel diced tomatoes, and penne pasta, all cooked together in one skillet. The addition of cream cheese makes the sauce rich and velvety, while the spices add depth and flavor.
This dish is perfect for busy weeknights, as it comes together quickly and only requires one pot to clean up. Top with fresh chopped parsley and serve hot for a comforting and satisfying meal. For a gluten-free version, use gluten-free pasta and all-purpose flour, and make sure the broth is gluten-free.
This Impossible Taco Pie is the ultimate comfort food, perfect for those cozy family dinners. Imagine biting into layers of savory ground beef seasoned with taco seasoning and juicy Rotel diced tomatoes and green chiles, all smothered in melted cheddar cheese.
But the real star of the show is the Bisquick topping that bakes to a golden brown and adds a perfect crunch to every bite. As you cut into the pie, the cheesy goodness oozes out, and you can't help but go back for seconds. This easy recipe is a guaranteed crowd-pleaser and is sure to become a staple in your family's meal rotation!