Red snapper is a type of saltwater fish that is commonly used in a variety of dishes due to its mild flavor and firm, flaky texture.
Whether you're looking to grill it to perfection, bake it with your favorite seasonings, or fry it up for a crispy treat, red snapper fillets are a versatile and delicious option for seafood lovers.
In this round-up, we've gathered 15 of the best red snapper recipes that are sure to satisfy your cravings for seafood.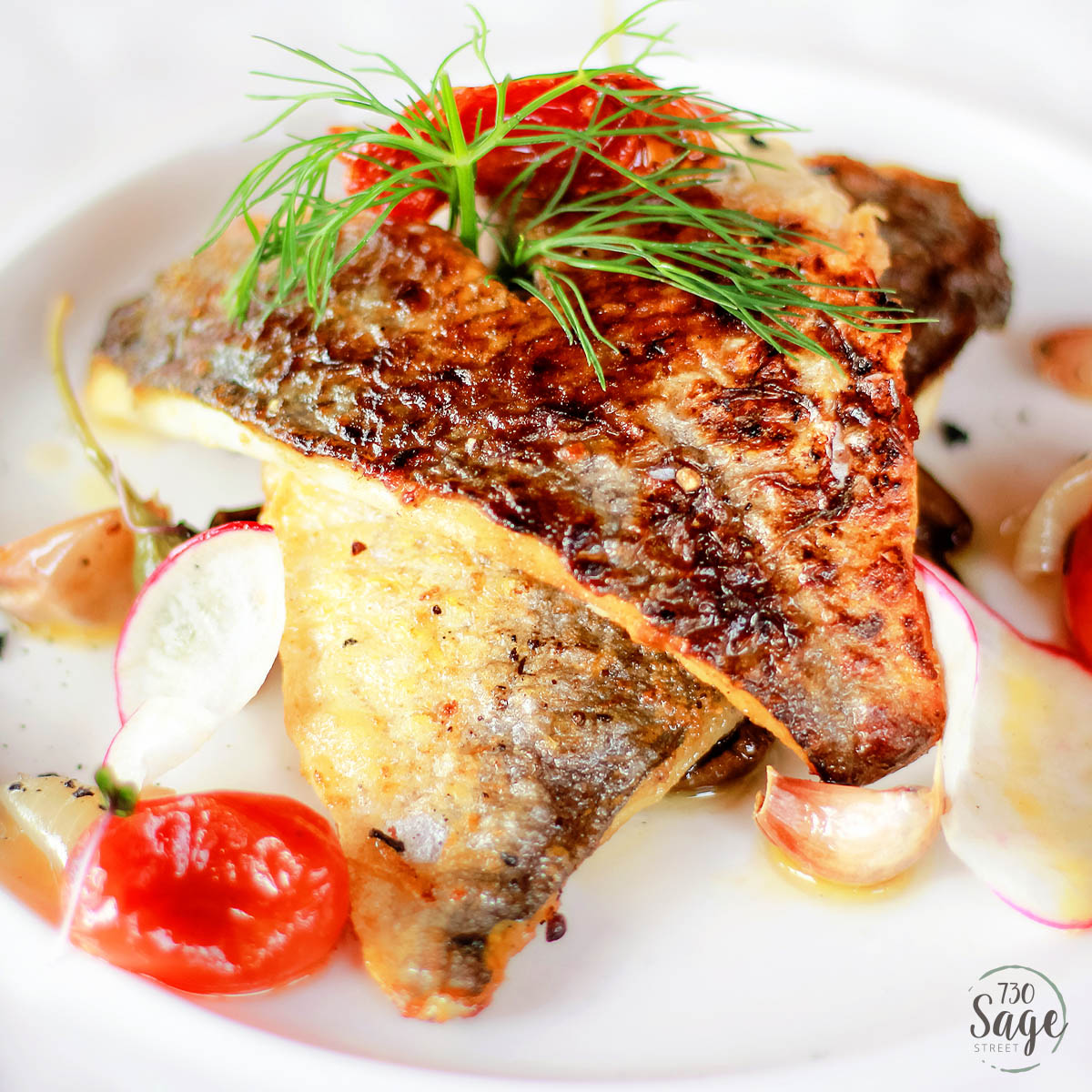 How Do I Properly Prepare Red Snapper Fillets?
To properly prepare red snapper fillets, you'll need to start by cleaning them and removing any scales or bones. Once you've cleaned the fillets, you can season them with your favorite herbs and spices before cooking them in your preferred method.
How Do I Know When Red Snapper Is Cooked Properly?
When cooking red snapper, it's important to ensure that it reaches an internal temperature of 145°F. The fish should be opaque and easily flaked with a fork. If you're grilling or pan-searing red snapper, you can also use visual cues to determine when it's done, such as a charred exterior or crispy skin.
Can I Substitute Red Snapper With Other Types Of Fish In These Recipes?
Yes, you can definitely substitute red snapper with other types of fish in these recipes. Other white, flaky fish like cod, tilapia, or sea bass can be used as substitutes. However, keep in mind that the cooking time may vary depending on the type of fish you use, so be sure to adjust accordingly.
15 Recipes With Red Snapper Fillets
With these 15 red snapper fillet recipes, you'll enjoy a variety of delicious dishes that highlight the versatility and flavor of this popular fish:
Let your senses dance with this delightful Red Snapper with Lemon Caper Butter Sauce recipe! Fresh red snapper fillets are perfectly pan-seared and then reunited with a mouthwatering sauce. The zesty lemon, tangy capers, and aromatic garlic blend harmoniously, creating a sauce that's truly irresistible.
Perfect for a weeknight dinner or a special meal, this dish is sure to impress. Don't forget to add a sprinkle of fresh parsley and a lemon wedge for a pop of color and extra zing!
Dive into a vibrant and refreshing world of flavors with this Red Snapper and Shrimp Ceviche recipe! With its zesty lime juice, crunchy cucumber, and succulent seafood, this dish is a perfect combination of textures and tastes.
Inspired by David Burtka's "Life Is a Party," it's a fabulous addition to any get-together or light and satisfying meal on its own. Grab your homemade tortilla chips and relish the burst of fresh flavors as you share this delightful ceviche with your loved ones.
Say hello to a tropical getaway on your plate with this Easy Pan-Seared Red Snapper recipe! Featuring a vibrant, tangy mango salsa, this dish is bursting with flavors from pineapple, peppers, and zesty lemon juice.
The red snapper fillets are seasoned with Old Bay, lemon pepper, and garlic before being pan-seared to perfection. As you take a bite, you'll be transported to a sunny beachside retreat, making this dish the perfect escape from your everyday routine. Enjoy the island vibes and savor every delightful mouthful!
Get ready to be transported to the vibrant shores of Mexico with this scrumptious Red Snapper Veracruz recipe! Tender red snapper fillets are marinated in tangy lime juice and then baked in a rich, savory sauce bursting with tomatoes, olives, capers, and jalapeños.
The fresh oregano and cilantro bring an irresistible aroma and flavor to this dish. Perfect for dinner parties or family nights, this recipe will have everyone raving about its bold flavors. Pair it with fluffy white rice and lime wedges to fully enjoy this delightful culinary experience.
These Red Snapper Fish Tacos with Cilantro Crema are a delicious and flavorful twist on traditional fish tacos. The tender red snapper is seasoned with a blend of spices and then pan-fried to perfection. The black bean purée adds a rich and savory base to the taco, while the tangy cilantro crema brings a refreshing and creamy element.
Finished with a garnish of fresh cilantro leaves and a squeeze of lime, these fish tacos are a delightful and satisfying meal that's perfect for weeknight dinners or entertaining guests. Enjoy the combination of flavors and textures in every bite, and don't forget to serve them with extra lime wedges for an added burst of citrus.
Transport your senses to a tropical paradise with this Red Snapper with Coconut Curry Broth recipe. Delicate red snapper fillets are gently simmered in a velvety, aromatic coconut curry, bursting with the flavors of shallots, curry paste, and lime.
Served atop a bed of tender baby spinach, this dish promises an exquisite balance of flavors and textures. It's easy to prepare and perfect for a cozy dinner at home, especially when paired with a side of jasmine rice or crusty bread to soak up that mouthwatering broth.
Revel in the delightful flavors of this Grilled Red Snapper with Smoked Almond-Herb-Garden Chimichurri. The red snapper, tender and succulent, is grilled to perfection and boasts a smoky aroma from the jalapeño-garlic rub. Infused with zesty lemon and shallot slices in the cavity, the fish is a true taste sensation.
The pièce de résistance, however, is the vibrant chimichurri sauce made with an enticing blend of herbs, smoked almonds, and lemon juice. This scrumptious, visually striking dish will make your backyard BBQ or alfresco dinner a memorable affair.
Embark on a culinary journey to Asia with this Steamed Fish with Ginger and Soy Sauce recipe. The delicate white fish fillet is infused with aromatic sesame oil, ginger, and soy sauce, creating a delectable symphony of flavors. The delightful medley of julienned vegetables, including onions and carrots, adds a colorful and nutritious touch.
This dish, perfectly balanced and full of mouthwatering aromas, is the ideal choice for a healthy yet satisfying meal. Savor it with steaming hot rice and an optional cilantro garnish for a truly Asian dining experience.
Take your taste buds on a tropical escape with this delightful Red Snapper with Pineapple Salsa recipe. The fresh, succulent red snapper fillets are grilled to perfection and basted with a zesty lime juice mixture, adding a citrusy twist to the dish.
The star of the show is the vibrant pineapple salsa, bursting with sweet and tangy flavors from the combination of pineapple, onion, bell peppers, and cilantro. This light and refreshing dish is perfect for warm summer nights or when you're craving something fresh and exciting. Enjoy this exotic treat with a side of rice or a crisp salad for a complete meal.
This Veracruz-Style Red Snapper Fillets recipe by Chef Wolfgang Puck is a sure way to impress dinner guests. The flavorful tomato-based sauce, made with garlic, green onions, jalapeno, olives, and capers, adds a tangy and savory touch to the delicate red snapper fillets.
The fillets are first seared in olive oil and then baked until cooked to perfection. The finishing touch is the thickened sauce, made by adding chicken or fish broth to the same skillet, giving the dish a hearty finish. This dish is perfect for those who love bold flavors and want to add a little zest to their meal.
Get ready to savor the flavors of this Whole30 and Paleo-friendly Blackened Snapper with Lemon, Garlic, and Herb Butter. The spicy blend of cayenne pepper, paprika, and thyme combined with the fresh and zesty lemon garlic herb butter creates a mouthwatering and aromatic taste.
The recipe requires minimal effort but offers maximum flavor, leaving you feeling warm and satisfied with every bite. Serve this dish with some roasted vegetables for a complete and nutritious meal.
This red snapper recipe is all about the bright and fresh citrus and fennel salad. The mixture of shaved fennel, thinly sliced radishes, diced bell pepper, and sliced jalapeño is tossed with cilantro, chives, and mint, then topped with juicy grapefruit and orange sections.
A simple dressing of olive oil and lemon juice ties it all together. For the fish, seasoned red snapper fillets are broiled until white throughout and served alongside the refreshing salad. This dish is light, healthy, and perfect for a quick and easy weeknight dinner.
Baked Red Snapper with Pesto Sauce is a simple and delicious recipe that's perfect for a weeknight dinner. Cut the red snapper into four pieces and brush with olive oil, then sprinkle smoked paprika, basil, garlic salt, and black pepper over them before baking them at 425°F.
Once cooked, spoon some homemade pesto sauce over each piece and enjoy the wonderful aroma and flavors. This dish is a perfect choice for a low-carb and high-protein meal that will leave you feeling satisfied and nourished.
Experience a fusion of Thai and Mexican flavors with this delicious Thai-mex snapper recipe. Red snapper fillets are seasoned with Knorr chicken flavor bouillon and cooked until golden.
In the same skillet, onion, red pepper, and mushrooms are sautéed with ginger, garlic, and chile de arbol, and then simmered with pasilla chili puree, coconut milk, and water. Hellmann's Real Mayonnaise is then whisked in for a creamy and tangy finish. Serve with chopped cilantro and lime wedges for added freshness.
Bring the flavors of Mexico to your dinner table with this Pescado Zarandeado, a grilled red snapper dish marinated in a spicy and tangy sauce. Soften dried chilies in boiling water, and blend them with mayo, mustard, Worcestershire sauce, soy sauce, tomato paste, lime zest and juice, garlic, salt, and pepper.
Coat the fillet with the marinade and grill until the fish is just cooked through. The marinade adds smoky and spicy flavors while keeping the fish moist and tender. Serve with lime wedges and cilantro for a fresh and zesty finish.