Pinwheels may be made with a variety of fillings, and a cream cheese basis is a great place to start.
If you're looking for an impressive appetizer or a quick snack, look no further than these 15 pinwheel recipes with cream cheese. They range from savory to sweet and are sure to please.
The following are some recipes for pinwheels that are both delicious and unique.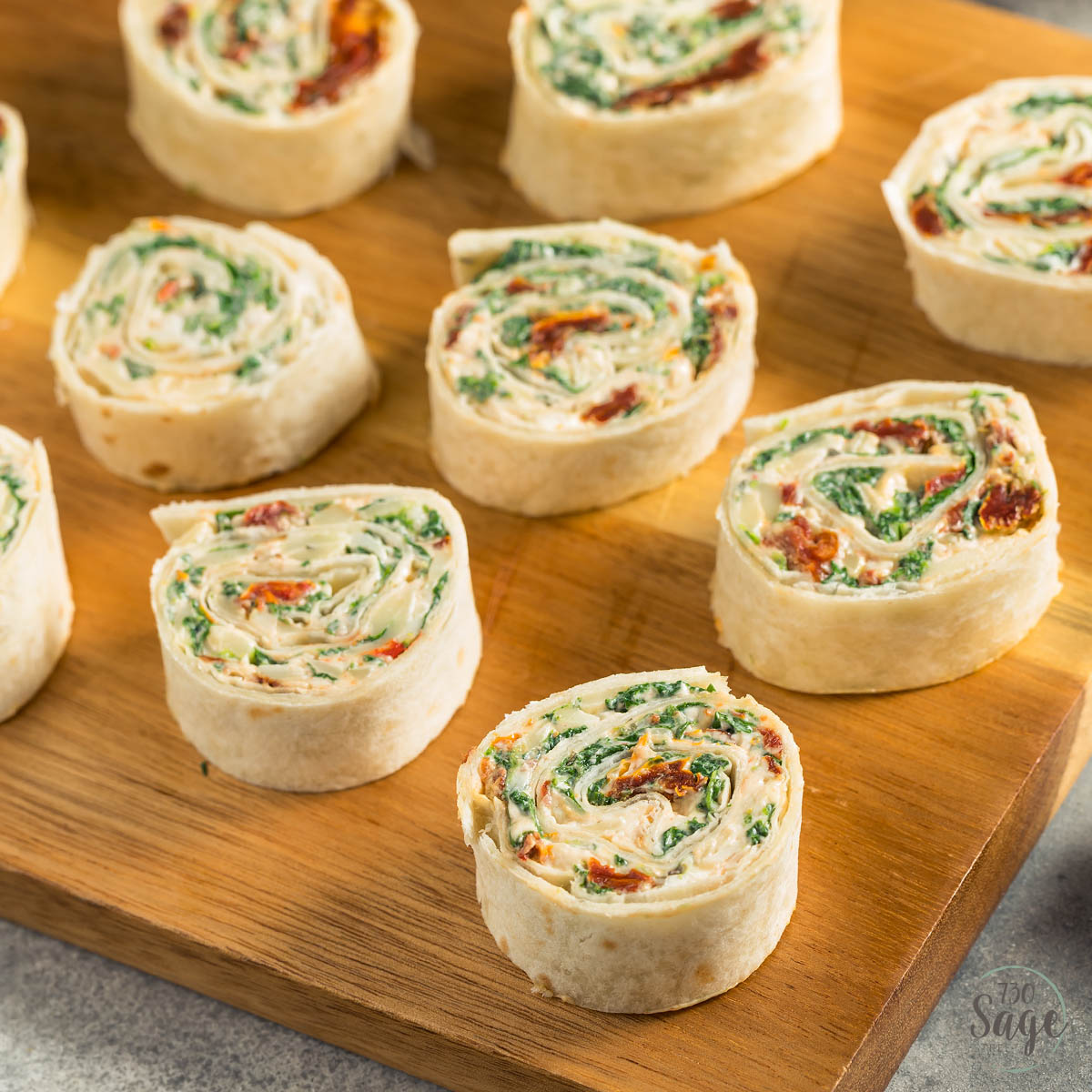 How Do I Get The Pinwheels To Hold Together?
To make sure your pinwheels hold together, make sure to spread the cream cheese mixture evenly and thinly over the tortilla, leaving a small border around the edges. Roll up the tortilla tightly, making sure to keep it as tight as possible. To keep the pinwheels from unrolling, wrap them tightly in plastic wrap and refrigerate for at least an hour before slicing.
How Do I Prevent The Pinwheels From Getting Soggy?
To prevent your pinwheels from getting soggy, it's important to remove as much moisture as possible from the ingredients before assembling. Pat dry any wet ingredients, like vegetables or herbs, with a paper towel.
You can also try using a stiffer filling, like a mixture of cream cheese and shredded cheese, to help hold the pinwheel's shape and prevent moisture from seeping in. Finally, refrigerate the pinwheels until ready to serve, and only slice them just before serving to prevent them from sitting in their own moisture.
15 Pinwheel Recipes With Cream Cheese
Here are 15 pinwheel recipes that are ready to roll, with fillings ranging from savory to sweet and showcasing the creamy texture of cream cheese:
Who can resist the incredible combination of bacon, ranch, and cream cheese? These Bacon Ranch Pinwheels are a delightful treat that'll have your friends and family raving. The creamy texture of the cream cheese, along with the crispy bacon and savory ranch seasoning, creates a harmony of flavors that's simply irresistible.
The addition of green onions adds a touch of freshness, while the garlic and onion powder elevate the taste even further. Preparing these pinwheels is a breeze, and they're perfect to serve with a crisp, green salad or as a scrumptious appetizer at your next gathering.
Say hello to your new favorite appetizer, Spinach Dip Pinwheels! These delightful bites are a perfect blend of warm, pillowy dough and a rich, creamy spinach dip filling. The combination of cream cheese, sour cream, and mayo creates an irresistibly smooth texture, while the addition of onion, parmesan, and mozzarella cheese adds a burst of savory flavor.
The spinach offers a pop of color and a touch of healthy goodness to this delicious treat. Whip up a batch of these pinwheels for your next gathering and watch them disappear in no time. Pair them with a fresh, crisp salad, or serve them as a standalone snack.
Experience the tantalizing flavors of Jalapeño Popper Pinwheels with Ritz Crisp & Thins! These little gems deliver a scrumptious combination of cream cheese, crispy bacon, spicy jalapeños, and sharp cheddar cheese all wrapped up in a soft flour tortilla.
The touch of salt and pepper enhances the blend of flavors, making each bite a flavor-packed delight. These pinwheels are perfect for sharing at a potluck, picnic, or any gathering with friends and family. Serve them alongside your favorite Ritz Crisp & Thins for added crunch and a complete snacking experience that everyone will love.
These tasty Tortilla Roll Ups with Ham and Cheese are waiting for you. Cream cheese, Hidden Valley® Original Ranch® Seasoning Mix, sharp cheddar cheese, savory ham, and a dash of green onion are folded in a soft flour tortilla to create these delicious rolls.
These roll-ups are not only quick and simple to prepare, but they also taste fantastic. After letting the flavors blend in the fridge for a couple of hours, slice and serve as a tasty snack or appetizer.
Elevate your appetizer game with these exquisite Smoked Salmon Pinwheels! Cream cheese, fresh lemon juice, and optional capers create a zesty blend, spread on a tortilla and topped with delicate smoked salmon.
Fresh chives add a touch of color and flavor, and when rolled up and chilled, these pinwheels transform into a sophisticated and tasty treat. Slice them diagonally for an elegant presentation, and garnish them with additional chives, capers, and lemon wedges.
Bring some spice to your next gathering with these scrumptious Buffalo Chicken Pinwheels! They feature tender shredded chicken, tangy buffalo sauce, creamy ranch dressing, and zesty green onions, all blended with cream cheese and cheddar cheese.
Rolled up in a soft flour tortilla, these pinwheels are an irresistible combination of flavors and textures. To enjoy them at their best, chill the rolled tortillas for a couple of hours, then slice them into bite-sized pinwheels. These flavorful and easy-to-make appetizers will have your friends and family reaching for more!
Get ready to experience a fantastic flavor fusion with these Roasted Red Pepper Tortilla Pinwheels. The whipped cream cheese melds perfectly with the smoky roasted red peppers, while the fresh basil adds an aromatic touch.
These pinwheels are not only scrumptious but also incredibly easy to prepare. Just spread the delightful mixture on the tortillas, roll them up, and chill for a couple of hours or up to a day. Then, slice them into bite-sized pieces with a serrated knife, and you'll have an irresistible appetizer that's perfect for any gathering.
These Tuscan Chicken Pinwheels are the perfect appetizer for any occasion. The creamy mixture of cream cheese, mayonnaise, Italian seasoning, and garlic powder creates a delicious base for the chicken, sun-dried tomatoes, and shredded cheese.
Adding a healthy dose of spinach to the mix brings color and nutrition to these savory pinwheels. Each tortilla is then rolled up tightly and refrigerated before being sliced into bite-size pieces. The result is a delicious and visually appealing appetizer that is sure to impress your guests.
Veggie cream cheese roll-ups are a quick and easy snack or lunch option that are bursting with flavor! Finely chopped broccoli and grated carrots add a satisfying crunch to each bite. The creamy mixture of cream cheese, sour cream, garlic powder, and chives perfectly balances the fresh vegetables.
Spread the mixture generously over burrito-style tortillas and then roll them tightly. Slice into 1-inch pieces and enjoy the colorful and flavorful snack. Perfect for parties, picnics or a quick and healthy lunch on the go!
Take your taste buds on a flavor journey with these Cranberry Cream Cheese Pinwheels. Softened cream cheese and crumbled feta cheese are blended together, creating a creamy and tangy base. Chopped pecans, dried cranberries, and green onions add texture and a delightful sweetness to the filling.
Once the tortillas are generously spread with the mixture, they are tightly rolled and chilled for an hour. When sliced, the pinwheels reveal a beautiful spiral of colors that are sure to impress your guests. Top with additional onions or pecans for added crunch and flavor.
These cinnamon roll-ups are a breeze to prepare and have a delicious filling made from cream cheese, sugar, and cinnamon. Warm a tortilla in the oven and spread it with cream cheese before sprinkling with a combination of cinnamon and coconut sugar.
Compactly roll up and cut into manageable pieces. Fry the rolled-up treats in butter until they are golden and crispy. Finally, dip each piece in maple syrup and roll it in the remaining cinnamon and coconut sugar mixture. These cinnamon sugar cream cheese roll-ups will quickly become a go-to for weekend brunches or sweet cravings in between meals.
These Blueberry Cinnamon Cream Cheese Pinwheels are out of this world and will send your taste senses into hyperspace. The sweet and creamy cream cheese filling with a dash of cinnamon is perfectly showcased by the light and airy crescent rolls.
However, that's not all! Plus, these pinwheels have a starry topping of juicy blueberries that burst with flavor as soon as you put them in your mouth. Put on your seatbelts, because you're about to go on a taste adventure of epic proportions!
Imagine a warm summer day, the sun shining bright and birds chirping in the trees. You're sitting outside on a cozy patio with a freshly brewed cup of coffee in hand, and you take a bite of a flaky, delicious raspberry Danish pinwheel.
The cream cheese filling is smooth and sweet, the raspberries burst with a tangy flavor, and the puff pastry is perfectly golden and crispy. It's the perfect treat to enjoy on a lazy weekend morning or as an afternoon snack with friends. Whether you're a fan of sweet pastries or just love raspberries, these pinwheels are sure to delight your taste buds.
Pinwheels made with chocolate chip cream cheese are a delectable treat that is very simple to make and is ideal for fulfilling a need for something sweet. The indulgent filling is prepared with vanilla extract, sugar, and cream cheese, and it is dotted all over with little chocolate chips for an extra dose of chocolatey goodness.
After the crescent sheet of dough has been rolled up with the filling and chilled, the pinwheels will be sliced into individual portions and baked until they reach a golden brown color. When served warm, this ooey-gooey chocolate delight is guaranteed to be a hit with everybody who tries it.
Our last stop is the Creamy Pesto Pinwheels, a mouthwatering appetizer that will leave you craving for more. The pinwheels are made with a slice of bread that is rolled into a thin cylinder filled with a creamy blend of cream cheese and butter seasoned with salt and pepper.
The star of the show is the pesto, which is spread over the cream cheese mixture to give it an aromatic herbaceous flavor. The pinwheels are chilled for at least 2 hours or overnight, then cut into bite-sized pieces and served at room temperature. Nutritional analysis is provided per piece, making it easy to keep track of your calorie intake.