Discover the enchanting power of heavy cream as it turns simple pasta into extraordinary delights.
This adaptable ingredient provides a velvety richness to a variety of pasta recipes, elevating them to new heights of creamy delight.
Prepare for a delightful voyage with these 15 quick and scrumptious pasta dishes that highlight the seductive allure of heavy cream.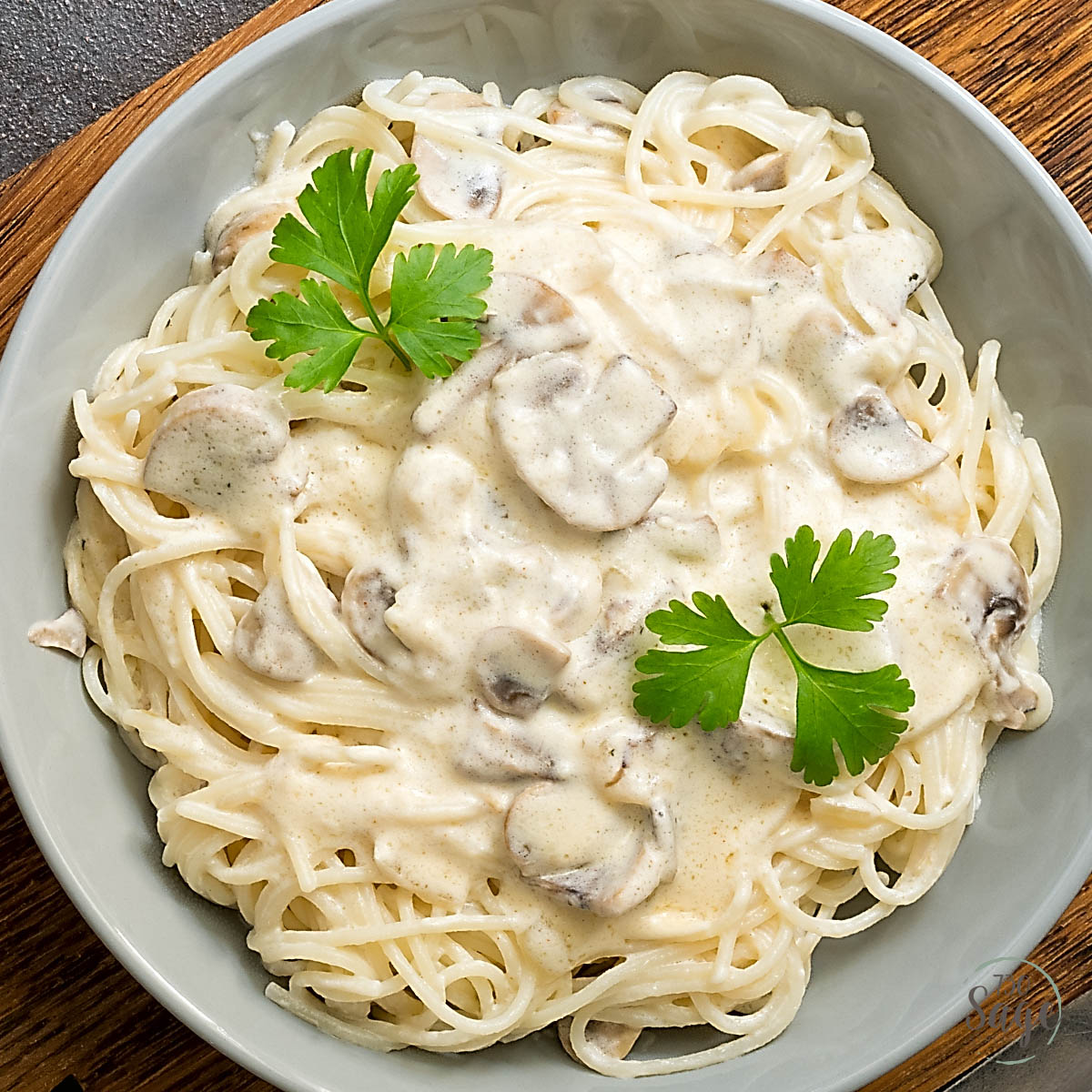 What Are The Best Heavy Creams To Use In These Recipes?
When it comes to selecting the perfect heavy cream for your pasta recipes, opt for high-quality brands that offer a rich and creamy texture. Look for heavy creams with a higher fat content (around 36-40%) as they will result in a luscious and velvety sauce. Additionally, choose creams that are fresh and free from any additives or preservatives for the best flavor and consistency.
Can I Use Dairy-free Substitutes For Heavy Cream In These Recipes?
Absolutely! If you prefer or require a dairy-free option, there are several substitutes available that can mimic the creamy texture of heavy cream. Coconut cream, made from the thickened liquid of coconut milk, is a popular choice due to its natural richness.
Other options include cashew cream, almond milk cream, or soy cream, which can be found in most grocery stores. These alternatives provide a smooth and decadent consistency, ensuring that everyone can enjoy the creamy goodness of these pasta recipes.
15 Pasta Recipes With Heavy Cream
Get ready to take your pasta game to the next level with these 15 delicious dishes that highlight the velvety charm of heavy cream, from smooth carbonara to creamy alfredo:
Get ready to experience the authentic flavors of Fettuccini Alfredo! As you cook the fettuccini, the aroma of garlic and black pepper will fill your kitchen. The creamy sauce, made with heavy whipping cream and a blend of Parmigiano-Reggiano and Pecorino-Romano cheeses, coats each noodle perfectly.
Sprinkle some grated cheese, black pepper, and minced parsley on top for an extra touch of deliciousness. This easy-to-make recipe guarantees a satisfying and comforting meal that will have you craving for seconds.
Prepare yourself for a delightful treat with Penne alla Vodka! This recipe brings together tender penne pasta and a creamy vodka-infused sauce. The sauce offers a blend of flavors, including a subtle hint of garlic and a touch of spiciness from red pepper flakes.
It wraps around the pasta, creating a warm and comforting experience. The preparation is effortless, making it a convenient choice. Pair it with garlic bread or a fresh salad to complete your meal.
Embark on a flavor-filled journey with Creamy Cajun Pasta! Let the taste of the bayou transport you to the heart of Louisiana. This dish combines perfectly cooked shrimp and sliced smoked sausage, seasoned with Cajun and Italian spices.
The creamy sauce, made with garlic, chicken broth, Worcestershire sauce, and heavy cream, coats every bite of penne pasta. Topped with a sprinkle of Parmesan, this pasta is a true Southern delight. Experience the vibrant flavors and warm comforts of the South with each mouthwatering forkful.
Experience pure culinary bliss with Creamy Spinach and Mushroom Tortellini featuring caramelized onions. Each mouthwatering bite combines tender tortellini, earthy mushrooms, and wilted spinach, all enveloped in a luscious cream sauce.
The caramelized onions add a touch of sweetness, elevating the flavors to new heights. Indulge in this creamy, savory delight that will leave you craving more. Treat yourself to a bowl of comfort and savor the irresistible combination of ingredients.
Warm your soul with a comforting bowl of Creamy Tomato Basil Pasta. This dish combines al dente pasta with a luscious sauce boasting rich flavors. The creamy texture embraces the palate, while the tangy tomatoes add a burst of freshness.
Fragrant basil leaves impart an aromatic touch, elevating the dish to new heights. Effortlessly prepared, this pasta promises a satisfying meal in no time. Serve it with a side of garlic bread or a crisp green salad for a complete and delightful dining experience.
Savor the vibrant flavors of Creamy Lemon Chicken Pasta. Tender chicken breasts are seasoned and cooked to perfection, while al dente spaghetti awaits to be tossed in a luscious sauce.
The combination of melted butter, garlic, and freshly squeezed lemon juice creates a tangy and creamy delight. A sprinkle of crushed red pepper flakes adds a subtle kick. Finish with Parmesan cheese and a sprinkle of parsley for a burst of flavor. This dish is a harmonious blend of zesty, creamy, and comforting notes.
Dive into Seafood Linguine and tantalize your taste buds. Perfectly cooked al dente linguine, jumbo shrimp, baby scallops, and lump crabmeat, all tossed in creamy white wine and garlic sauce, sprinkled with grated cheese, and garnished with fresh parsley.
One bite and you'll be in seafood heaven! Serve this warm, comforting dish right away and add an extra pop of flavor with a sprinkle of parsley or cheese. Seafood lovers, this one is for you!
Try this yummy Sun-Dried Tomato Pasta and you won't regret it! Simmer together penne pasta, butter, garlic, white wine or chicken broth, and heavy cream. Add sun-dried tomatoes, mozzarella cheese, and parmesan cheese for a special combo of flavors. Mix in a hint of oregano and red pepper flakes for a warm, deep taste.
Gently fold the pasta into the sauce until it's all coated. This super quick and easy meal will have you full and content. Add garlic bread or a salad for a delicious and cozy dinner.
Taste the delicious harmony of earthy and creamy flavors in this Asparagus Mushroom Fettuccine Alfredo. Soft asparagus and mushrooms give it a pleasant texture, while the creamy Alfredo sauce brings out a luscious richness.
Every bite is a heavenly experience, and you can whip it up in no time! To make the most out of this mouthwatering meal, serve it with a side of crunchy green salad or buttery garlic bread.
Delight in the warm and comforting embrace of Creamy Broccoli Pasta. The pasta is cooked to al dente perfection, allowing for a satisfying texture. The vibrant broccoli florets bring freshness and color to the dish.
The creamy sauce, infused with butter, garlic, and Parmesan, creates a velvety and indulgent experience. Effortlessly prepared, this pasta dish offers a balance of flavors and textures. Serve it alongside a side of crusty garlic bread or a crisp green salad to enhance the meal.
Treat yourself to a delicious pasta dish with a tantalizing Tomato Cream Sauce! Cook your favorite al dente pasta and prepare the velvety sauce with just a few ingredients, including butter, garlic, onion, tomato sauce, and heavy cream.
Top it with grated Parmesan and serve it alongside a fresh salad and crusty bread for a comforting meal that you'll enjoy in every bite.
Our next stop is this easy yet delicious Pasta Cream Sauce. By slowly heating up double cream and adding freshly grated Parmesan cheese, this luxurious sauce is made. The outcome is a full-bodied, smooth, and sumptuous texture that envelops your pasta.
With only a few steps, you can savor the toasty and comforting tastes of this sauce right away. Serve it up immediately, and couple it with your most liked pasta for a truly enjoyable dinner. Finish the meal with some steamed vegetables or a crisp green salad.
This easy-to-assemble Creamy Beef and Shells showcase al dente shells covered with a tasty marinara sauce, delicately spiced with Italian flavors, and elevated with lean ground beef. The inclusion of heavy cream and sour cream produces a velvety finish that perfectly envelops each shell.
With only a few steps to complete the dish, it makes a great meal when time is of the essence. Enjoy it hot and garnished with chopped parsley, if desired. Complement it with a side of garlic bread or a light green salad for a complete dining experience.
Embrace the luxurious flavors of Gorgonzola Pasta. This creamy dish features perfectly cooked pasta coated in a rich and velvety sauce. The combination of Gorgonzola cheese, double cream, and Parmesan creates a decadent and indulgent flavor profile.
The pasta is tender, and the sauce adds a luscious and creamy texture to every bite. Effortlessly prepared, this warm and comforting dish is ready in no time. Serve it with a side of mixed greens or a crisp Caesar salad to complement the richness of the pasta.
Let yourself take a tasty trip with Creamy Beef and Shells. Tender shells joined with a hearty marinara sauce crafted with beef, herbs, and a medley of spices creates a delightful texture. Heavy cream and sour cream then offer a smooth creaminess that completely envelops each shell.
Quick and simple to assemble, this scrumptious dish makes a great dinner idea. Top with freshly chopped parsley, serve hot, and partner with some garlic bread or a salad to experience a delectable dinner.