In this exciting roundup, we have gathered 15 amazing soup recipes that feature yummy sausage. The sausage adds a special flavor to each bowl, making it extra tasty and satisfying.
From tomato-based soups to creamy delights, these Italian-inspired recipes will take your taste buds on a mouthwatering adventure. Get your spoons ready and let's dive into the wonderful world of Italian soup recipes with sausage!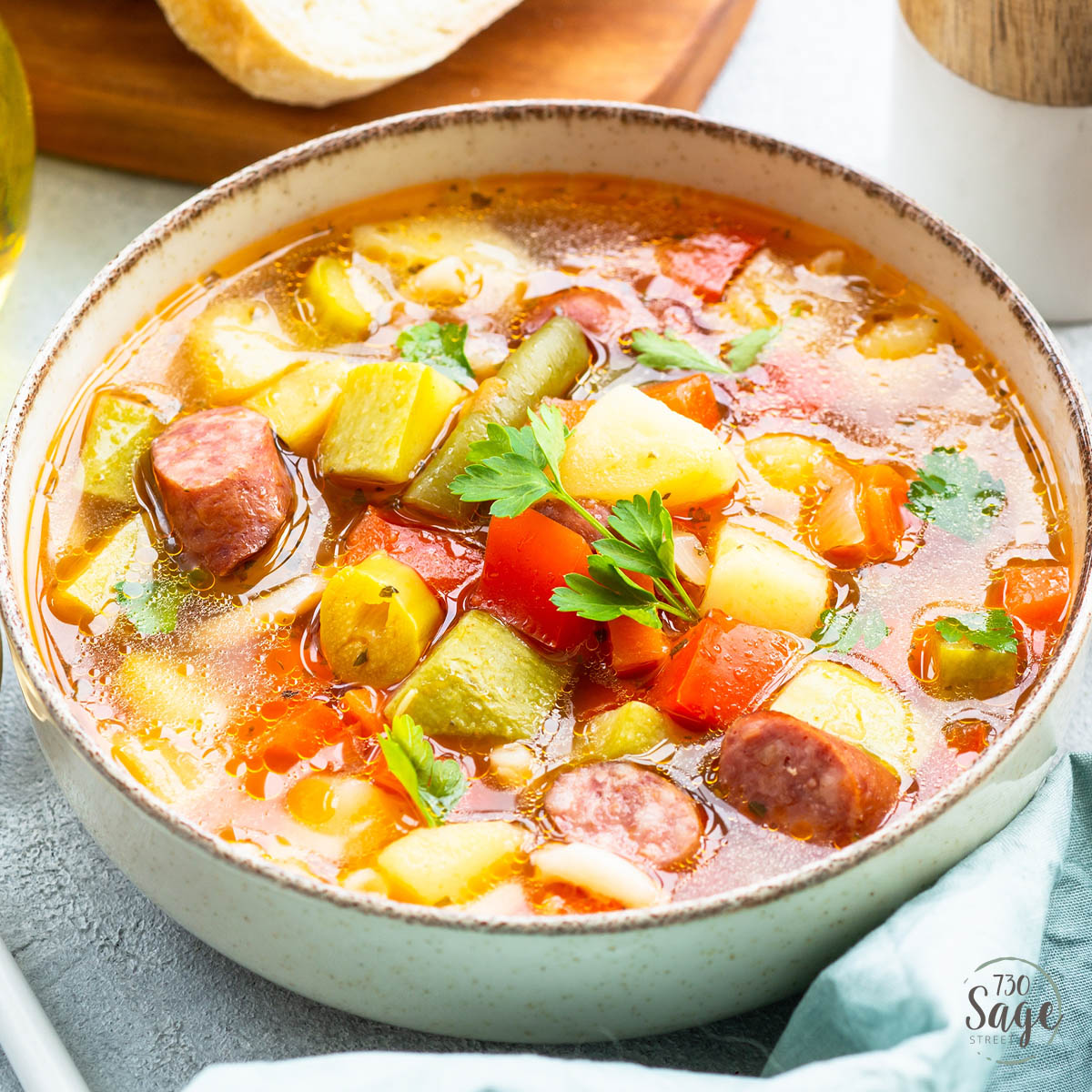 What Type Of Sausage Are Great For Soups?
When it comes to adding sausage to soups, various types bring their own distinct flavors and textures. Here are six popular varieties to consider:
Italian Sausage: Bursting with aromatic herbs and spices, Italian sausage lends a robust and savory taste to soups, adding depth and richness.
Chorizo: Known for its smoky and spicy profile, chorizo infuses soups with a bold kick, creating a fiery and flavorful experience.
Andouille: Hailing from Louisiana, Andouille sausage offers a smoky and tangy essence, enhancing soups with its distinctive Cajun flair.
Kielbasa: With a mild and slightly smoky flavor, Kielbasa brings a touch of Polish heritage to soups, complementing the other ingredients harmoniously.
Bratwurst: Originating from Germany, Bratwurst imparts a hearty and satisfying taste to soups, boasting a blend of savory herbs and spices.
Chicken Sausage: For a lighter option, chicken sausage adds a lean and flavorful twist to soups, providing a healthier alternative without compromising on taste.
Can I Use Canned Beans Or Lentils In Some Of These Recipes?
Absolutely! Canned beans or lentils are convenient additions to soup recipes. They provide a hearty and nutritious boost, adding a creamy texture and earthy flavors.
Whether you prefer kidney beans, black beans, or lentils, they effortlessly integrate into the soup, making it a wholesome and satisfying meal. Just rinse and drain the canned beans or lentils before adding them to your chosen recipe, and enjoy the added protein and fiber they bring to the table.
15 Italian Soup Recipes With Sausage
These 15 Italian soup recipes with sausage will transport you to the heart of Italian cuisine. Each bowl, from hearty minestrone to soothing zuppa, is a flavorful symphony of flavors guaranteed to satisfy your hunger:
Embark on a culinary journey with Healthy Zucchini Tomato Italian Sausage Soup. This nourishing recipe features a delightful blend of zucchini, tomatoes, and Italian sweet sausage.
A touch of red pepper flakes adds a subtle kick, while the savory chicken broth infuses each spoonful with comforting flavors. Topped with fresh basil and Parmesan cheese, this vibrant soup is a perfect balance of taste and texture.
Treat yourself to a comforting bowl of Sausage and Tortellini Soup! This recipe is a breeze to make and will fill your kitchen with delicious aromas. Simply brown the hot Italian sausage until crispy, then cook the carrots and onions until tender. Add chicken stock, diced tomatoes, and let the soup come to a boil.
Stir in the cheese tortellini and cooked sausage, allowing them to cook until tender. Finish off with a touch of heavy cream for a creamy texture. Serve with a sprinkle of Parmesan cheese, if you'd like. Enjoy this easy and satisfying soup!
Savor the comforting flavors of Lentil Sausage Soup. This easy-to-make dish combines savory ground sausage with tender lentils and aromatic herbs. With its rich and satisfying texture, it warms you up from the inside out.
In just a short amount of time, you'll have a delicious soup ready to enjoy. Serve it with crusty bread or a side salad for a satisfying meal. Embrace the simplicity and flavors of this comforting bowl of goodness.
Experience the comforting flavors and warm embrace of Sausage Soup. This delightful dish combines the savory goodness of browned sausages with tender carrots and a flavorful broth.
The soup's rich aroma and hearty texture make it a perfect choice for a cozy meal. With minimal effort, you can enjoy this flavorsome soup in no time. Pair it with crusty bread or a side salad to complement its deliciousness.
Chickpea soup with sausage tastes wonderful and will warm you immediately. This comforting dish combines the earthy goodness of chickpeas, the savory allure of sausage, and the vibrant touch of spinach. With its hearty texture and aromatic flavors, this soup is a perfect choice for a comforting meal.
Effortlessly prepared, it will warm you up in no time. Serve it alongside crusty bread or a fresh green salad for a complete and satisfying dining experience. Indulge in the comforting embrace of this flavorful soup and let it nourish your body and soul.
Prepare to delight in the comforting flavors of Navy Bean, Sausage, and Escarole Soup. This hearty dish features tender navy beans, flavorful hot Italian sausage, and vibrant escarole lettuce. The beans are soaked overnight and cooked to perfection, while the sausage, carrots, onions, and garlic create a savory base.
With the addition of fragrant thyme, the soup simmers to develop rich flavors. Just before serving, the escarole is added, lending a fresh and vibrant touch. Serve this satisfying soup with a sprinkle of Parmesan cheese for an extra burst of flavor.
Are you ready for a delicious bowl of Pumpkin Sausage Soup? This yummy recipe is full of tasty ingredients like Italian sausage, mushrooms, and onions. The pumpkin, cinnamon, and other spices make it extra flavorful and cozy.
Creamy and cheesy, it's the perfect soup to warm you up on chilly days. So grab your spoon and get ready to enjoy this scrumptious and comforting meal. It's a kid-friendly dish that will make your taste buds happy!
Treat yourself to a delightful bowl of 20 Minute Creamy Sausage and Mushroom Soup. This easy-to-make recipe brings together mild Italian sausage, savory mushrooms, and creamy goodness that will warm your heart.
With minimal effort required, you'll have a comforting and flavorful soup ready in just 20 minutes. Sprinkle some Parmesan cheese and fresh herbs on top to enhance the taste.
This mouthwatering Potato Leek Soup with Italian Sausage recipe brings together the hearty flavors of Italian sausage, tender leeks, carrots, and potatoes in a comforting soup. With the aromatic notes of thyme and bay leaf, each spoonful is a burst of deliciousness.
For a creamy touch, you can add a splash of milk or cream. Served with crusty bread, this soup becomes a satisfying and flavorful meal.
Indulge in a heat and hearty bowl of Sausage and Wild Rice Soup with Collard Greens, made with savory Italian sausage, flavorful diced tomatoes, and smooth Basmati and Wild Rice.
This dish is best for any occasion, whether or not you`re searching for a quick and smooth weeknight dinner or a comforting meal on a cold day. The recipe is straightforward to comply with and calls for minimum effort, but promises a wealthy and pleasurable taste in order to fulfill your cravings. Serve with a sprinkle of grated Parmesan cheese and enjoy!
Embrace the warmth and comfort of this Spicy Italian Sausage Soup with White Beans, Pasta, and Kale. A symphony of vibrant flavors - spicy sausage, hearty beans, and tender kale - meld together in a delightful dance.
The pasta adds a delightful chewiness, and the parmesan cheese topping is the final touch of richness. It's like a lovely, hearty hug in a bowl, perfect to warm you up on a chilly evening. With its wholesome ingredients, this soup is not only a flavorful feast but also a nutritious one!
Get cozy with a bowl of our Italian Chicken Sausage and Artichoke Soup. This delicious mix of Italian chicken sausage, halved artichoke hearts, and fresh chard is a culinary joy ride.
The sausage provides a hearty base, while the artichokes bring a delightful tartness that's beautifully balanced by the earthy chard. A sprinkle of parmesan and a side of warm ciabatta bread transform this soup into a comforting meal that will leave you feeling satisfied and nourished!
Take a soothing culinary journey with this Sausage and Cabbage Soup. A delightful blend of Kielbasa sausage and vibrant vegetables like onions, carrots, celery, and especially the humble cabbage, all simmered gently in a rich chicken broth.
The splash of red wine vinegar and Italian seasoning adds a robust flavor that will make your kitchen smell like heaven. Finally, a hint of avocado oil lends a subtle, healthful richness. This comforting, heartwarming soup is just what you need after a long day!
Let's go on a culinary adventure with this hearty Bean and Sausage Soup. It's a perfect blend of savory Italian sausages, nutritious escarole, and a medley of your favorite beans.
The tomatoes and chicken broth create a rich, comforting base, while the ditalini pasta brings a lovely texture to every spoonful. Top it off with Romano or Parmesan cheese and you have an Italian masterpiece in a bowl. This is more than just a meal, it's a warm embrace on a cold night!
Dive into a bowl of Slow Cooker Sausage, Spinach, and White Bean Soup. This hearty dish is a mix of smoked Andouille sausage, fresh vegetables, and Great Northern beans, all slowly cooked to perfection. The hint of oregano and bay leaves infuse the soup with aromatic depth.
As you lift a spoonful, the vibrant spinach and delicate shavings of Parmesan add a delightful finish. It's a slow-cooked wonder that fills your home with an irresistible aroma and your heart with joy.