Cool Whip is a versatile and creamy ingredient that can be used in various recipes.
In this roundup article, we explore 15 fruit salad recipes that incorporate Cool Whip for a delicious and refreshing twist on classic fruit salads.
From tropical fruit combinations to berry medleys, these recipes are perfect for summer picnics, potlucks, or a sweet treat any day of the week.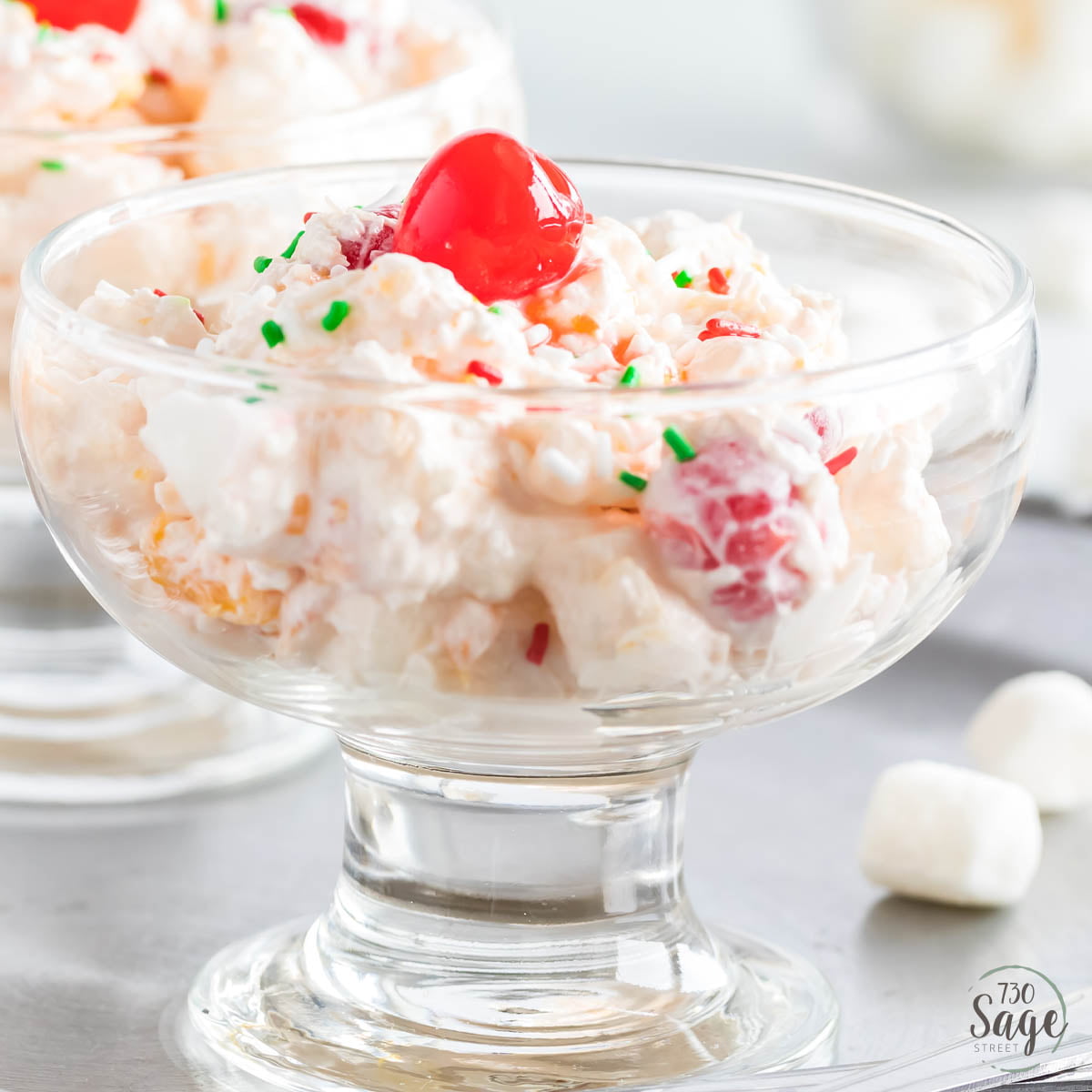 What Is The Difference Between Cool Whip And Whipped Cream?
Cool Whip is a popular brand of whipped topping, while whipped cream is a dairy product made by whipping cream. Here are six key differences between the two:
Ingredients: Cool Whip contains vegetable oil, high fructose corn syrup, and artificial flavors, while whipped cream is made solely from cream.
Texture: Cool Whip has a more stable and fluffy texture than whipped cream, which can sometimes become runny or separate.
Taste: Cool Whip has a sweeter and less rich flavor than whipped cream, which has a distinct creamy flavor.
Calories: Cool Whip is lower in calories and fat than whipped cream, making it a popular choice for those watching their intake.
Nutritional value: Whipped cream contains small amounts of vitamins and minerals, while Cool Whip has none.
Shelf life: Cool Whip has a longer shelf life and can be stored in the freezer, while whipped cream is best served fresh and doesn't freeze well.
15 Fruit Salad Recipes With Cool Whip
These 15 Fruit Salad Recipes with Cool Whip, from basic to innovative, are easy to create and will amaze your guests:
Take a journey to a tropical paradise with this Ambrosia Salad recipe, featuring the refreshing flavors of mandarin oranges, pineapple, and cherries. The addition of creamy vanilla Greek yogurt and fluffy Cool Whip creates a dreamy, cloud-like texture that's simply irresistible.
Plus, who could forget the delightful crunch of optional pecans and the sweetness of mini marshmallows and coconut? With this easy-to-make, crowd-pleasing dessert, you'll bring sunshine to any gathering. Just remember to chill for at least an hour before serving to let the flavors meld together!
Imagine the luscious blend of ripe strawberries and bananas, enveloped in a silky, creamy mixture of cream cheese, banana pudding, and whipped topping. This Strawberry Banana Fluff Salad is a delightful treat that's perfect for satisfying your sweet cravings.
The addition of mini marshmallows brings a fun, airy texture, while a touch of vanilla extract enhances the overall flavor. It's an effortlessly delicious dessert that's best enjoyed fresh, so grab your whisk and prepare to delight your senses with this scrumptious concoction!
Escape to a fruity oasis with this Tropical Cheesecake Fruit Salad that combines the vibrant flavors of pineapple, kiwi, bananas, cherries, and mango. The creamy mixture of softened cream cheese, sugar, vanilla, and Cool Whip creates a velvety base that hugs each piece of fruit, while the shredded and toasted coconut adds a delightful tropical twist.
This dessert is perfect for brightening up any gathering or simply treating yourself on a warm day. Enjoy it chilled and don't forget to sprinkle extra coconut on top for a lovely finishing touch!
Celebrate nature's bounty with this delightful Berry Yogurt Salad that beautifully showcases juicy strawberries, plump blueberries, and tangy raspberries. The vibrant colors and enticing flavors are perfectly complemented by the creamy mixture of strawberry Greek yogurt, instant vanilla pudding, and Cool Whip.
Whether you're serving it at a picnic, a potluck, or simply enjoying it at home, this refreshing and fruity dessert is sure to bring a smile to your face. Remember to store any leftovers in an airtight container and keep them refrigerated for maximum freshness.
Unleash your inner child with this delightful Orange Creamsicle Salad, a nostalgic treat that's perfect for brightening up any meal. The refreshing citrus flavors of orange gelatin and mandarin oranges blend harmoniously with the velvety creaminess of vanilla instant pudding and whipped topping.
The mini marshmallows add a playful touch, giving this dessert a whimsical, cloud-like texture. Make sure to chill it for at least two hours or overnight to let the flavors meld together, and don't forget the extra mandarin oranges and marshmallows for a charming garnish!
Let yourself be transported to a tropical beach with this delightful Pina Colada Fluff. This dessert captures the essence of the classic cocktail by blending crushed pineapple, rum extract, and shredded coconut with vanilla instant pudding and Cool Whip for a light, airy texture.
The miniature marshmallows and chopped nuts provide a delightful contrast, making each spoonful a delightful adventure. Simply mix, chill, and serve for a refreshing treat that will have you daydreaming of sunny skies and warm breezes.
Brighten up your day with this delightful Lemon Berry Fluff Salad. This simple yet captivating dessert combines the tangy goodness of lemon instant pudding with creamy Greek yogurt and whipped topping, creating a luscious base that's hard to resist.
The frozen mixed berries add a pop of color and burst of flavor that perfectly complements the lemony sweetness. Ideal for a quick treat or a gathering with friends, this dessert comes together effortlessly. Just mix, chill, and enjoy the taste of sunshine in every bite.
Whisk yourself away to a tropical daydream with this Pineapple Fluff, a dessert that strikes a delightful balance between sweet and tangy. The creamy combination of cream cheese, crushed pineapple, and Cool Whip creates a fluffy, irresistible base, while the pretzel brittle adds a scrumptious contrast with its buttery crunch and hint of brown sugar.
This dessert is perfect for those warm, sunny days, or whenever you're craving a bit of tropical bliss. Just remember to chill it for a few hours, and mix in the pretzel brittle just before serving for maximum crunchiness.
Discover the essence of summer with this delightful Peach Fluff Salad, a dessert that brings the sweet, sun-kissed flavors of peaches to the forefront. This easy-to-make treat combines instant vanilla pudding mix and juicy peach slices with fluffy Cool Whip, creating a cloud-like texture that's simply dreamy.
Mini marshmallows and chopped pecans add a lovely contrast, making each spoonful a delightful surprise. Whether you're enjoying a family meal or hosting a gathering, this peachy dessert is sure to impress. Simply refrigerate in an airtight container and savor the taste of sunshine!
Embrace the flavors of summer with this refreshing Watermelon Fruit Salad that's perfect for sunny days and warm evenings. A delightful mix of watermelon, strawberries, green grapes, pineapple, and blueberries brings a burst of color and sweetness to every bite.
The Cool Whip, sour cream, powdered sugar, and lime juice create a light, creamy dressing, while shredded coconut and chopped pecans add a touch of tropical flair and crunch. Don't forget the mini marshmallows for a fun, whimsical twist! Just mix, chill, and enjoy this vibrant, mouthwatering dessert.
Savor the taste of sun-ripened strawberries with this delightful Strawberry Jello Fluff Salad. This creamy dessert combines the comforting flavors of cook-and-serve vanilla pudding with the fruity burst of strawberry jello, creating a luscious base that's both indulgent and refreshing.
The addition of Cool Whip and mini marshmallows add a light, airy texture, while fresh strawberries contribute a touch of natural sweetness. After chilling and mixing, this dessert is perfect for enjoying warm afternoons or sharing with friends and family.
Indulge in a symphony of fruity flavors with this delightful Fruit Salad with Cool Whip. This colorful, enticing dessert combines mandarin oranges, green grapes, blueberries, strawberries, and pineapple tidbits, enveloped in a creamy vanilla pudding and Cool Whip base.
The toasted pecans and coconut flakes add a hint of crunch and nuttiness that perfectly complements the medley of fruits. After chilling for an hour, this vibrant fruit salad is perfect for enjoying on a sunny day, picnics, or potlucks. Serve with additional coconut, pecans, and fruit for an extra-special treat that's best enjoyed fresh.
Add a playful twist to your fruit salad experience with this Snicker Apple Salad Recipe. The tartness of Granny Smith apples pairs perfectly with the sweetness of Snickers bars, creating a delightful contrast in flavors and textures.
The creamy mixture of vanilla instant pudding, milk, and Cool Whip binds everything together, while a drizzle of caramel sauce adds the finishing touch to this unique and indulgent dessert. Whether you're hosting a party or simply craving a sweet treat, this Snicker Apple Salad is sure to be a hit. Remember to serve it cold for maximum enjoyment!
Brighten up your day with this refreshing Lemon Berry Fluff Salad Recipe, perfect for a light dessert or a tangy addition to your brunch menu. This delightful concoction brings together the creaminess of Greek yogurt and whipped topping with the zesty flavor of lemon instant pudding mix, creating a luscious, airy base.
Frozen mixed berries add a burst of color and fruity sweetness to this delightful treat. Simply chill the mixture until you're ready to serve, and enjoy the harmony of flavors that will leave you craving more. Don't forget to give it a quick mix before serving to ensure the perfect texture!
Add a burst of citrusy sunshine to your table with this delightful Mandarin Orange Fluff Salad. The vibrant flavors of orange gelatin powder and mandarin oranges come together to create a zesty and refreshing treat. Mini marshmallows, cottage cheese, and sweetened shredded coconut join the mix, adding a delightful combination of textures and flavors.
This easy-to-prepare salad can be served immediately or stored in the fridge until you're ready to enjoy. It's the perfect side dish for a warm day or a colorful addition to your next potluck, sure to leave your guests impressed and satisfied.