Chicken thighs are a pantry staple in many households due to their low price and their adaptability.
This collection of 15 dishes offers a broad range of tasty and easy-to-prepare items to spice up your normal evening dinners.
These chicken thigh and rice recipes are sure to tantalize your taste senses.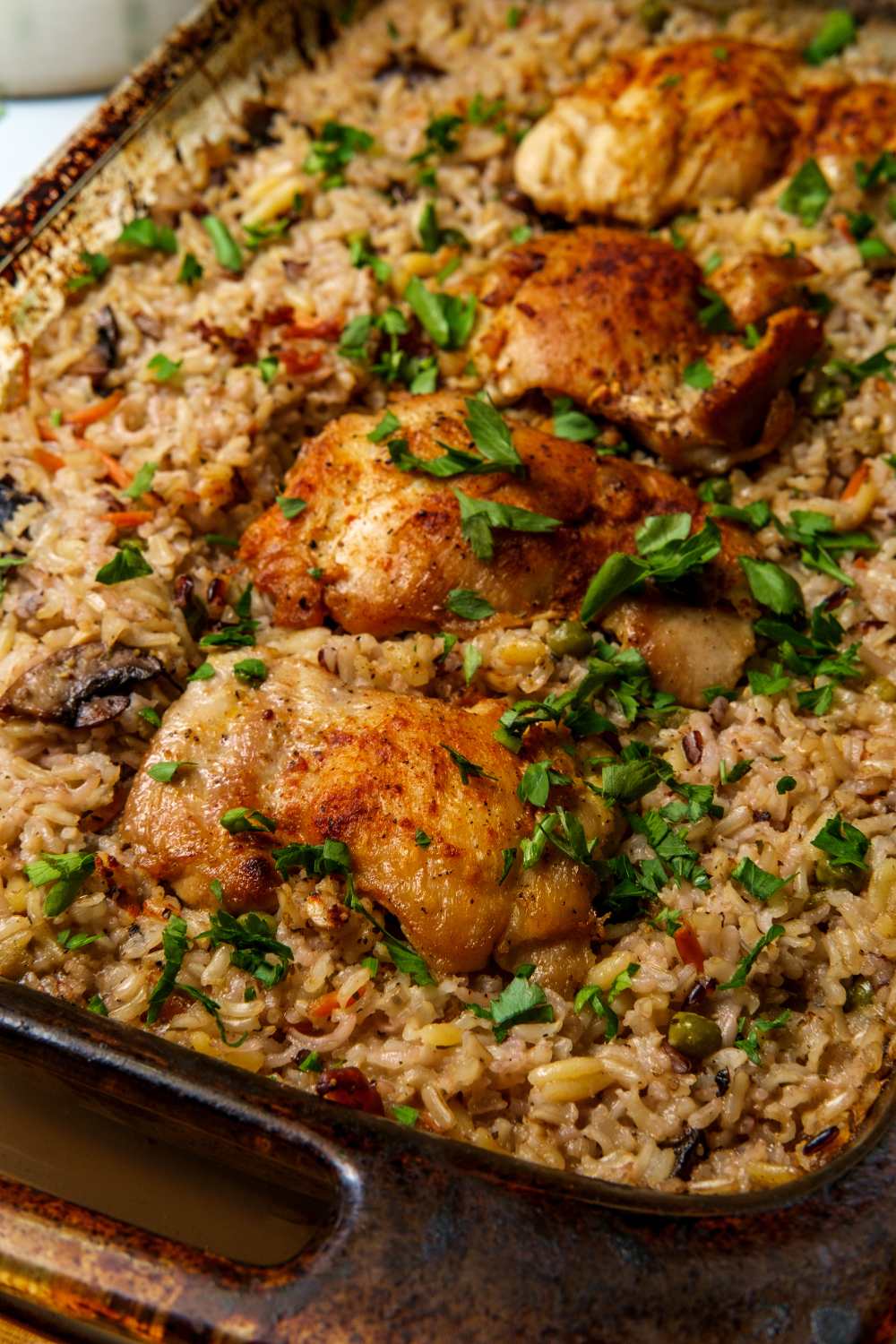 What Is The Best Type Of Rice To Pair With These Chicken Thighs?
Long-grain rice, such as jasmine or basmati, is a great option for chicken thigh recipes. These types of rice tend to be light and fluffy, offering a nice balance to the rich and savory flavors of the chicken.
Can I Use Any Other Cut Of Chicken With The Thighs?
While chicken thighs are the star of these recipes, other cuts of chicken, such as chicken breasts or drumsticks, can be substituted. Just be mindful of cooking time as different cuts may have different cooking times. To ensure your chicken is cooked through, use a meat thermometer to check for an internal temperature of 165°F.
15 Chicken Thigh Recipes With Rice
Savor 15 delectable chicken thigh and rice dishes, from classic to bold flavors, for a tasty meal any night of the week:
Looking for a cozy and comforting dinner idea? This Easy Chicken and Rice Casserole is sure to hit the spot! This recipe features tender bone-in chicken thighs nestled in a bed of fluffy white rice and a rich cream of mushroom sauce.
The addition of aromatic thyme and garlic adds a depth of flavor to the dish, while a sprinkle of freshly chopped parsley adds a touch of freshness and color. This casserole is perfect for a family dinner or meal prep for the week ahead. Serve it alongside a fresh salad or roasted veggies for a well-rounded and satisfying meal.
Take your taste buds on a trip to Japan with this delicious Chicken Teriyaki Rice Bowl! The savory and slightly sweet teriyaki sauce brings together the tender pieces of chicken and crisp, colorful veggies. The fluffy jasmine rice perfectly balances the flavors and textures in this dish.
The best part? This recipe is simple to make and ready in no time. You can customize it to your liking with your favorite veggies, such as broccoli, snow peas, and carrots. Serve it with some sesame seeds and scallions for added crunch and freshness.
If you're looking to add some heat to your cooking, this Chicken Tikka Masala dish is a great place to start. Tender pieces of chicken are marinated in a blend of yogurt and spices, then simmered in a creamy and rich tomato-based sauce. The combination of ginger, garlic, and spices create a complex and tantalizing flavor profile that is sure to please your taste buds.
This dish is perfect for a special occasion or just for a comforting and delicious dinner at home. Serve it over a bed of fluffy garlic butter rice or with fresh homemade Naan bread for a truly authentic experience. Garnish with fresh cilantro for an added pop of color and flavor.
Get transported to Spain with this Spanish Chicken and Rice recipe that's perfect for busy weeknights. Seasoned bone-in and skin-on chicken thighs are browned to crispy perfection, then sauteed with onions, garlic, and peppers before being mixed with long-grain rice, diced tomatoes, chicken broth, and dry white wine.
The whole dish is then baked until the rice is perfectly cooked and the chicken is tender. Top with halved green and black olives and fresh parsley, and you're ready to serve up a flavorful and comforting meal your whole family will love.
The combination of juicy chicken thighs and smoky Portuguese chorizo sausage in this jambalaya creates a rich and flavorful dish that is sure to impress. The ground cloves and fire-roasted diced tomatoes add a depth of flavor that complements the savory meats, making for a truly delicious meal.
The long-grain rice provides the perfect texture, soaking up the delicious sauce and bringing everything together. This dish is perfect for a hearty family dinner or entertaining guests and is sure to be a crowd-pleaser.
This Biryani is a masterpiece of Indian cuisine, showing the deft balance of spices and the rich tastes of chicken that has been cooked over low heat for a long time.
The soft chicken thighs are cooked with caramelized onions, dried fruit, and almonds while basmati rice that has been aged to perfection serves as the ideal background for the dish. The chicken thighs have been marinated in a mixture of fragrant spices. The result is a savory and aromatic one-pot supper that can be enjoyed on its own or as part of a more intimate evening spent at home.
This One Pot Mushroom Chicken and Rice recipe is a great example of how simple ingredients can come together to create a truly delicious meal. The bone-in chicken thighs are seasoned with salt and pepper and are paired with earthy mushrooms, diced onions, and minced garlic.
The rice is cooked in a creamy broth and is then baked in the oven until tender. The result is a comforting and satisfying dish that is perfect for a cozy night in.
Get ready to experience the bold and spicy flavors of Mexico with this delicious Chicken Adobo recipe! This one-pot meal is made with juicy chicken legs and thighs that are browned to perfection and simmered in a rich sauce made with a blend of dried chiles, onions, garlic, and spices.
Serve it over a bed of fluffy white rice or with warm tortillas for a complete and satisfying meal. The oven method allows for an even easier and hands-off cooking experience. Whether you're in the mood for a hearty weeknight dinner or a flavorful meal to feed a crowd, this Mexican Chicken Adobo is sure to impress!
Savor the bold and spicy flavors of the Caribbean with this delicious One-Pot Jerk Chicken and Rice dish! This recipe features juicy chicken thighs that are seasoned with a blend of spices and seared until golden brown. The chicken is then simmered in a flavorful sauce, along with coconut milk, red kidney beans, and a medley of spices.
The long-grain rice cooks to perfection in the same pot, making this a convenient and effortless meal that is sure to impress. The combination of bold and aromatic flavors, combined with the tender and juicy chicken, make this recipe a truly sensory experience that is not to be missed!
Take a journey to the Mediterranean with this mouth-watering One-Pot Chicken and Saffron Rice recipe! This dish features juicy chicken thighs that are cooked to golden perfection and simmered in a fragrant and flavorful sauce, along with aromatic basmati rice and a hint of saffron.
The yellow onion, garlic, fig jam, and spices add a unique and delicious twist to this classic dish. Serve it with crushed pistachios, torn mint leaves, minced parsley, and a squeeze of lemon for a complete and satisfying meal. Whether you're in the mood for a cozy weeknight dinner or a flavorful dish to feed a crowd, this One-Pot Chicken and Saffron Rice are sure to impress.
Embark on a culinary adventure with this delicious Moroccan Chicken & Rice recipe! This dish combines juicy chicken thighs marinated in a blend of lemon, spices, and garlic, and is simmered in a flavorful sauce of turmeric, cumin, coriander, and oregano.
The fluffy basmati rice is perfectly seasoned with garlic, onion, and turmeric, and is cooked to perfection in a rich chicken stock. Serve this dish with fresh lime wedges, Greek yogurt, and chopped coriander for a complete and satisfying meal.
Cajun Chicken with Red Beans and Rice is a flavorful, warm, and comforting dish that is easy to make. This recipe combines juicy chicken thighs with a spicy Cajun seasoning, tender red beans, and fluffy rice for a complete meal. The dish is cooked in a single skillet, making it a low-effort meal that is perfect for busy weeknights.
The cooking time is approximately 40 minutes, with 25 minutes covered in the oven and an additional 10-15 minutes uncovered. The dish is best served with a garnish of fresh parsley and sliced jalapeños and is sure to be a hit with your family and guests.
Let's travel to the tropical beaches of Thailand with this delicious Thai Coconut Curry Chicken Thigh recipe! This hearty dish features tender, juicy chicken thighs simmered in a rich and flavorful sauce made with red Thai curry paste, coconut milk, and a touch of fish sauce.
Served over a bed of fluffy jasmine or basmati rice, this comforting meal is sure to warm you up on chilly nights. Top it off with a squeeze of fresh lime, chopped cilantro, and green onions for a burst of freshness.
Prepare yourself for a taste of the tropics with this recipe for Coconut Lime Braised Chicken Thighs. Imagine succulent chicken thighs poached in a creamy, zesty sauce flavored with Sriracha, fresh lime, and coconut milk. Each mouthful is like an explosion of taste due to the combination of the ingredients.
Flavor-wise, this dish hits the sweet spot thanks to the coconut milk, the spicy Sriracha, and the sour lime. Fresh cilantro and green onions are added as a garnish, giving each mouthful a blast of flavor. Taste the tropics with every bite when you serve this recipe over white rice or rice noodles.
Prepare this Chicken with Brown Rice and Mushrooms dish for a hearty and fulfilling home-cooked supper. Perfectly browned chicken thighs are simmered in a flavorful and aromatic chicken stock along with tender mushrooms, onions, and celery.
This recipe is a full and healthy dinner thanks to the use of brown rice. Oven baking lets the flavors blend and provides the house with a cozy, inviting scent. For a balanced supper, pair this dish with a green salad or your preferred veggies. Put on your apron and get ready to enjoy this tasty dish that requires little effort to prepare.