Casseroles are a traditional method to cook chicken, and when you add stuffing to the mix, you get a warm and comfortable meal that everyone likes. These 15 chicken casserole recipes with stuffing include a wide range of flavors, from creamy and cheesy to savory and spicy, and are perfect for a family meal or a potluck.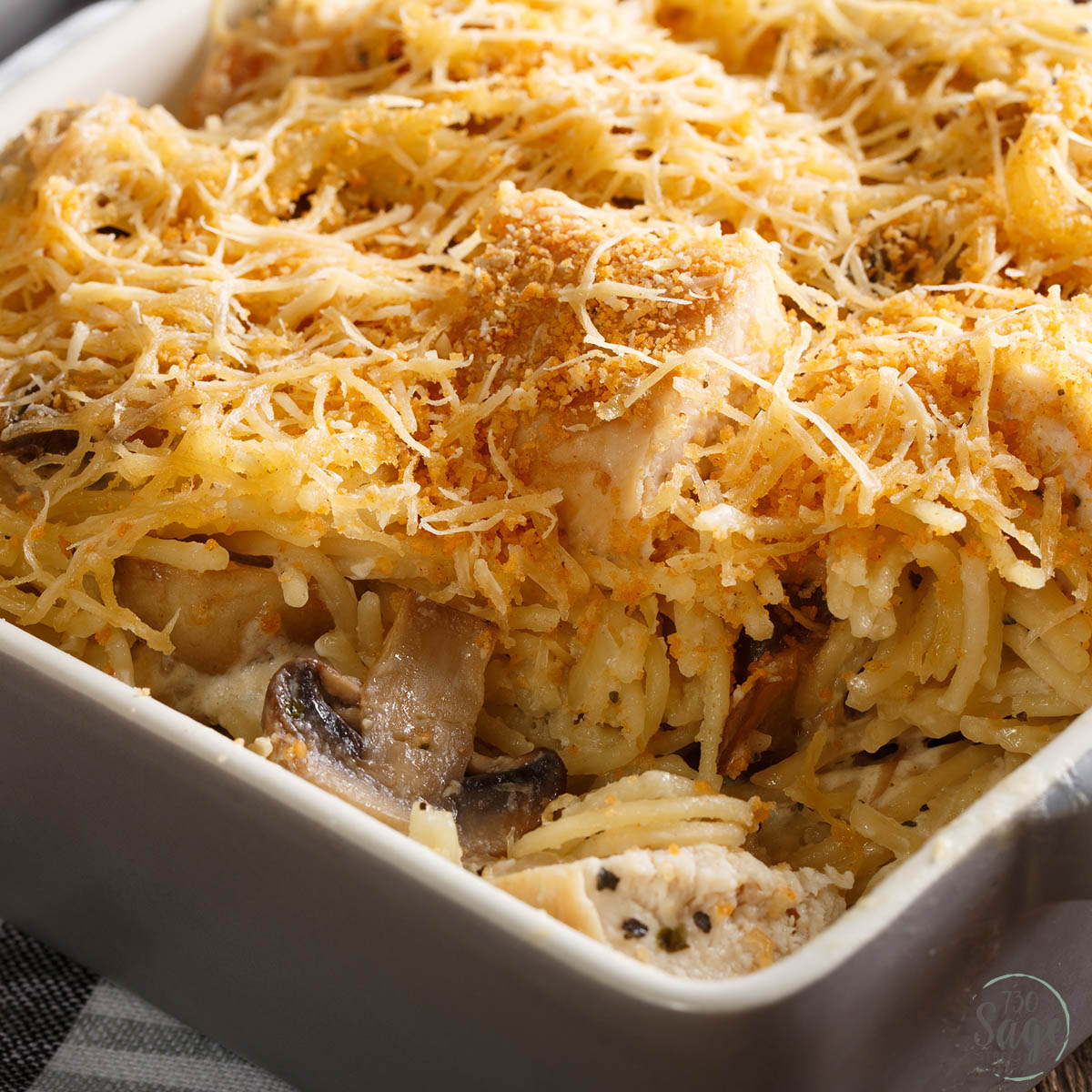 What Type Of Stuffing Mix Is Best For These Chicken Casserole Recipes?
When it comes to chicken casserole recipes with stuffing, choosing the right stuffing mix is crucial to achieving the perfect texture and flavor. Here are six stuffing mix varieties to consider:
Traditional herb stuffing mix: This classic mix is made with bread crumbs, herbs, and spices. It adds savory flavor and a familiar texture to chicken casseroles.
Cornbread stuffing mix: This mix is perfect for those who prefer a slightly sweeter flavor and a firmer texture in their stuffing.
Wild rice stuffing mix: This mix adds a nutty, earthy flavor and chewy texture to chicken casseroles, and is a great option for those who want to mix things up.
Sausage stuffing mix: For a heartier, more savory casserole, try using sausage stuffing mix, which contains bits of flavorful sausage in addition to traditional stuffing ingredients.
Cranberry stuffing mix: This mix adds a pop of sweetness to chicken casseroles and is especially delicious when paired with savory herbs and spices.
Gluten-free stuffing mix: Those with gluten sensitivities can still enjoy chicken casserole with stuffing by using a gluten-free stuffing mix. Look for one made with rice flour or cornmeal instead of wheat flour.
15 Chicken Casserole Recipes With Stuffing
These 15 Chicken Casserole Recipes with Stuffing are wonderful for a cold night in, and they range from the traditional to the inventive, so there's something for everyone:
This creamy chicken and wild rice casserole is a true comfort food classic. The tender, juicy chicken is mixed with a creamy blend of mushroom soup, sour cream, and milk, then combined with cooked wild rice and a generous helping of Colby and Monterey Jack cheese.
Topped with a crispy layer of Stove Top stuffing and a sprinkle of toasted almonds, this casserole is the perfect balance of creamy and crunchy textures. Warm, comforting, and oh-so-satisfying, this dish is sure to become a family favorite.
This chicken and stuffing casserole is a classic comfort food dish that is sure to please. The creamy mixture of chicken and mushroom soup, celery soup, and milk are combined with tender, diced chicken breast and seasoned with salt and pepper.
The stuffing is made with a delicious blend of onions, celery, garlic, and Stove Top stuffing mix, then baked to perfection with a drizzle of melted butter. The result is a warm and hearty casserole that is perfect for any occasion.
Get ready for a warm and comforting meal with this delicious Chicken Stuffing Bake recipe. This casserole is packed with flavor and texture, with tender shredded chicken, diced onions, grated carrots, steamed broccoli, and the creamy chicken soup poured over a bed of savory stuffing mix.
Baked to perfection and topped with melted cheese, this casserole is the perfect balance of crunchy and creamy, making it a crowd-pleaser for any occasion. Don't forget to broil for an extra crispy cheesy topping!
This Chicken Stuffing Casserole recipe is the perfect blend of savory flavors and hearty textures that will have your taste buds dancing with joy. Juicy chicken breasts seasoned with black pepper are pan-fried to perfection and then topped with a creamy sauce made of tender green beans, sliced mushrooms, and onions.
The sauce is thickened with flour and chicken broth and then mixed with cream cheese to make it extra luscious. A generous layer of buttery stuffing crowns the casserole, adding a satisfying crunch to every bite. Serve this warm and comforting dish to your family or friends for a memorable meal.
This Chicken & Broccoli Casserole recipe is a quick and easy way to enjoy a wholesome and satisfying meal. Using a deli rotisserie chicken saves you time, and the combination of creamy and crunchy textures will tantalize your taste buds.
The chicken is chopped and spread over the bottom of a baking dish, while a velvety mixture of sour cream, cream cheese, cream of chicken soup, and fresh broccoli is spread over the top. The dish is then topped with savory stuffing mix and baked to golden perfection. The result is a comforting and flavorful casserole that will make any day feel special.
Let's continue the fun with this unique and delicious recipe for Chicken Sausage Cornbread Stuffing. This savory casserole combines the sweet and crumbly texture of cornbread with the flavorful and juicy apple chicken sausage.
The leeks, celery, and thyme add depth and aroma to the dish, while the chicken broth and heavy cream bring a velvety and comforting taste. The casserole is perfect for a hearty family dinner or a potluck party and is guaranteed to be a hit. Without further ado, let's get started on this mouth-watering recipe!
The next stop on our culinary journey is Swiss Chicken Casserole, a dish ideal for those evenings when you need a hearty supper but don't have much time to go into its preparation. Tender chicken breasts are cut into bite-sized pieces, then covered with slices of Swiss cheese and a creamy mixture of condensed cream of chicken soup and whole milk.
The dish is then topped with a generous layer of stuffing mix that is evenly coated with melted butter. The casserole is baked to perfection and comes out with a crispy and golden topping. Let's continue the fun with this mouth-watering recipe!
Next up on our culinary journey is a Creamy Chicken & Asparagus Casserole, which can serve as either a simple weekday meal or an impressive dinner party centerpiece. Fresh asparagus is chopped into bite-size pieces and layered on the bottom of the casserole dish.
Tender, cooked chicken breast is then added on top of the asparagus, followed by a creamy mixture of homemade cream of chicken soup, mayonnaise, lemon juice, and Parmesan cheese. A crispy layer of herb stuffing mix and the remaining Parmesan cheese are sprinkled on top, then the casserole is baked to perfection. This dish can even be made ahead of time and refrigerated until ready to bake. Let's continue the fun with this delicious and convenient recipe!
This Chicken Zucchini Casserole Recipe is a delightful combination of tender chicken breast, crispy stuffing, and fresh veggies. With the added cream of chicken soup and sour cream, this casserole is creamy and satisfying. The zucchini, bell pepper, onion, and carrot add a burst of flavor and texture to the dish.
The stuffing mix on top adds a lovely crunch to each bite, making it a perfect balance of textures. This casserole is an easy one-pot meal that can be served for lunch or dinner. Simply bake it in the oven until it is hot and bubbly. Enjoy this savory casserole with your loved ones!
If you're looking for a dish to fulfill your comfort food desires, go no further than this Cheesy Chicken Stuffing Casserole. Tender chicken breasts are smothered in a creamy layer of chicken soup and topped with delicious mozzarella cheese slices. The stuffing mix is a great addition, providing a wonderful crunch and savory flavor to the casserole.
The melted butter on top adds a buttery richness that is simply irresistible. Once baked, the casserole comes out with a beautiful golden-brown crust that is crispy and cheesy. This easy-to-make casserole is perfect for a family dinner or a potluck gathering. Serve it hot and watch your loved ones devour it with delight.
This Chicken Stuffing Casserole is a warm and cozy dish that will transport you to a cabin in the woods with the first bite. The combination of tender rotisserie chicken, earthy wild rice, and nutritious kale is complemented by the burst of sweetness from the dried cranberries. The stuffing mix brings a lovely texture and richness to the casserole, while the shredded cheese and sliced almonds on top add a delightful crunch.
The fresh thyme gives a fragrant and savory aroma that will make your mouth water. Perfect for a comforting dinner on a chilly evening or as a potluck dish that will impress your friends and family. Get ready to savor the flavors and indulge in the warmth of this amazing casserole!
You're in for a treat with this Chicken and Butternut Squash Casserole; the roasted butternut squash cubes, which are soft and somewhat sweet, steal the stage and go well with the juicy cubes of cooked chicken breast.
The stuffing mix on top gives the casserole a satisfying crunch, and the cream of celery soup makes the dish luxuriously creamy. The melted cheese on top changes everything, making each mouthful ooey, gooey, and irresistibly cheesy. Whether you serve it for lunch or supper, this casserole is a fantastic way to satisfy your family's cravings for a hearty meal that is also good for them.
Pepper Jack Chicken and Stuffing Casserole is a delicious twist on the classic chicken and stuffing recipe. The juicy cubes of raw chicken breast are layered with creamy and slightly spicy slices of pepper jack cheese, making every bite a perfect balance of flavors.
The cream of chicken soup and milk mixture adds a velvety texture to the casserole, while the stuffing mix provides a crunchy and savory topping. The melted butter on top adds a delicious richness that will leave you craving for more. This easy-to-make casserole is perfect for a busy weeknight dinner or a weekend family gathering.
If you're looking for the ultimate takeout food, go no further than this Chicken Bruschetta Bake, which has a delectable foundation of chopped tomatoes, garlic, and dried basil. Pieces of chicken breast give the proper amount of protein for this satisfying lunch.
This dish is covered with a layer of stuffing mix and then a generous coating of shredded mozzarella cheese before being cooked to a beautiful brown. The resulting combination of tastes and textures is so satisfying that everyone will want the recipe.
This casserole with rotisserie chicken and stuffing is like a warm embrace encapsulated in a baking dish. The tender chicken, when combined with the rich and flavorful soup combination, is a marriage made in culinary heaven. It's like having a party on your tongue because of the stuffing's soft celery and onion, which pair well with the crispy, buttery filling.
This recipe is wonderful for either a quiet evening spent at home or a get-together with a group of friends. Don't leave out the salt and pepper if you want your dish to have a little more burst of flavor!