Whether the chicken is fried, roasted, or grilled, using buttermilk as an ingredient may enhance the taste and softness of the final product.
From traditional fried chicken to buttermilk ranch chicken, we've gathered 15 delectable chicken dishes that all utilize buttermilk as a main ingredient.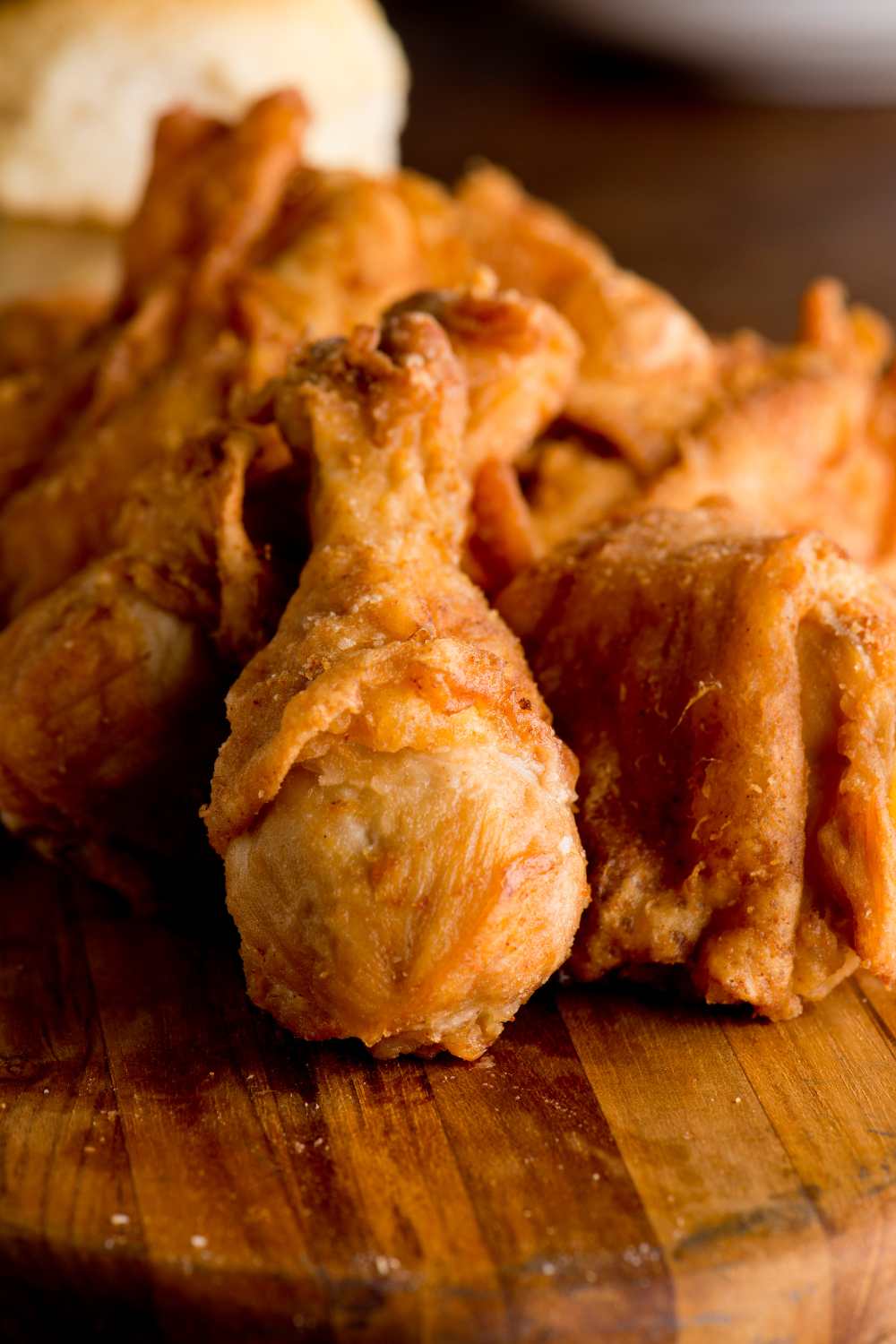 Can I Use Regular Milk Instead Of Buttermilk?
Yes, you can use regular milk in place of buttermilk in most recipes. Simply add a tablespoon of vinegar or lemon juice to a cup of milk and let it sit for a few minutes to allow it to curdle before using it in your recipe. However, using buttermilk provides a tangy flavor and tenderizes the chicken, which regular milk doesn't offer.
Can I Use Low-fat Buttermilk In These Recipes?
Yes, you can use low-fat buttermilk in these recipes. Buttermilk is lower in fat and calories than regular milk and can add a tangy flavor and tender texture to your chicken. However, it may affect the overall taste and texture of the dish, so you may need to adjust the seasoning or cooking time accordingly.
15 Chicken Recipes With Buttermilk
These 15 buttermilk chicken dishes, from crispy fried chicken to flavorful marinades, will wow your taste buds and fulfill your desire:
Get ready to experience a Southern classic with a twist! This Buttermilk Fried Chicken recipe brings the perfect combination of crispy golden crust and tender, juicy meat. Seasoned with a blend of spices like garlic, paprika, and dried sage, this chicken is marinated in buttermilk to ensure a mouthwatering tenderness.
The deliciously spiced flour coating, featuring basil, thyme, and a hint of cayenne, creates a crispy outer layer that's simply irresistible. Enjoy this fried delight with your favorite sides, like coleslaw or mashed potatoes, and create memories around the table.
Welcome the savory aroma of Buttermilk Marinated Roast Chicken into your home! This dish boasts the tenderness and juiciness of chicken soaked in a buttermilk bath, bursting with the earthy flavors of fresh rosemary.
The Penzeys BBQ 3000 dry rub adds a delightful twist to this roast, enhancing the dish with a smoky undertone. After marinating for hours, the chicken roasts to golden, succulent perfection. Enjoy this mouthwatering meal with roasted veggies or a fresh salad for a heartwarming family dinner that leaves everyone asking for seconds.
Say hello to the Best Damn Buttermilk Chicken Tenders, where the magic of buttermilk and spices unite for an unforgettable meal! These juicy, tender chicken strips, marinated in buttermilk, are enveloped in a seasoned flour mix with a touch of paprika and parsley flakes.
After a double-dip in the egg and flour mixture, they're fried to a beautiful golden brown, resulting in a crispy exterior that encases the succulent meat. Perfect for dipping in your favorite sauce, these chicken tenders are a surefire hit at any gathering or a cozy family dinner. Enjoy with a side of crispy fries or a refreshing salad!
Treat yourself to a true Southern comfort food classic: Chicken and Waffles! This delightful dish features crispy, juicy chicken thighs marinated in buttermilk and coated in a seasoned flour mix, then cooked to perfection using your preferred method: air fryer, oven, or stovetop.
Paired with homemade waffles that boast a hint of cinnamon, every bite combines the best of savory and sweet. Drizzle with maple syrup or top with your favorite hot sauce for a flavor experience you won't forget. Perfect for weekend brunch or a fun dinner, Chicken and Waffles will become a go-to favorite for your family.
Get ready to fire up the grill for this mouthwatering Buttermilk Rosemary Grilled Chicken recipe! Featuring a succulent marinade of buttermilk, fresh rosemary, and a sprinkle of Penzeys BBQ 3000 dry rub, this dish promises a flavorful, juicy, and tender grilled chicken experience.
The skin-on, bone-in chicken soaks in the marinade for hours, infusing it with a delightful herbaceous aroma. Grilled to perfection using indirect heat, this chicken delivers a smoky, charred finish that pairs wonderfully with your favorite summer sides.
Welcome the mouthwatering aroma of Buttermilk Roast Chicken with Garlic into your home! This easy, yet delectable recipe starts with chicken drumsticks marinated in a rich blend of buttermilk, olive oil, minced garlic, fresh parsley, salt, and pepper.
After 24 hours of marinating, the chicken absorbs all the flavorful goodness, making it juicy and tender. Roasting the chicken in the oven until it's beautifully browned and cooked to perfection, you'll end up with a scrumptious, garlicky delight. Don't forget to drizzle the remaining sauce from the pan over the chicken before serving – it's the perfect finishing touch to this unforgettable dish!
Indulge in the comfort of a homemade Chicken Pot Pie with a flaky Buttermilk Pie Crust. Made from scratch, this savory pot pie is loaded with tender chicken, vegetables, and a rich, creamy filling, all tucked inside a crisp, golden crust.
The unique buttermilk pie crust gives a delightful tangy flavor, taking this traditional dish to the next level. It's the perfect recipe for a cozy family dinner, leaving everyone satisfied and craving more. So gather around the table and serve up a slice of this mouthwatering, heartwarming classic – your taste buds will thank you!
Enjoy a delicious and aromatic Buttermilk Chicken Curry that's easy to prepare and full of flavor. This unique curry dish combines tender chicken breast with a creamy, tangy buttermilk sauce, infused with fragrant spices, making it a delightful meal for any occasion.
By marinating the chicken in buttermilk, yogurt, curry powder, and lime juice, the flavors are allowed to penetrate deep into the chicken, ensuring a tender, juicy result. Paired with fluffy rice, this Buttermilk Chicken Curry is a satisfying and flavorful dish that will have your taste buds dancing with delight.
This Basil Chicken with Cream Sauce is a delicious and comforting meal that's perfect for weeknight dinners or special occasions. Tender, juicy chicken breasts are coated in breadcrumbs and pan-fried in a combination of butter and canola oil, then smothered in a rich, creamy sauce made with heavy cream, Parmesan cheese, and garlic-herb cheese.
The addition of fresh basil, pimentos, and diced tomatoes adds a burst of flavor and color, making this dish both visually appealing and incredibly satisfying. Serve this mouthwatering chicken dish with a side of rice or pasta for a complete, well-rounded meal that your family and friends will love.
Dive into the world of crispy, juicy buttermilk fried chicken sandwiches paired with a refreshing slaw for that perfect balance of flavors. This recipe takes you on a delicious journey where golden brown, well-seasoned chicken meets a tangy, crunchy coleslaw, all nestled between soft Brioche buns.
With just the right amount of Louisiana-style hot sauce and bread and butter pickles, every bite will make your heart sing. It's a fantastic way to elevate your sandwich game and create a scrumptious meal that everyone will adore.
This recipe for Crispy Honey Chicken introduces a delicious combination of sweet and savory flavors. Imagine tender, juicy chicken pieces coated in a perfectly seasoned, crispy crust, and then drenched in a mouthwatering honey sauce with just the right hint of spice.
This dish is all about the perfect balance of flavors that will make your taste buds dance in harmony. Pair it with fluffy, steamed rice and a sprinkle of green onions to create a meal that's not only beautiful but also irresistibly satisfying. It's a crowd-pleaser that will keep everyone coming back for more.
Welcome to the world of Truly Crispy Buttermilk Oven Fried Chicken, where each bite of tender, juicy chicken is encased in a beautifully seasoned, golden crust. This recipe takes the classic comfort food to new heights, giving you all the deliciousness of fried chicken without the mess and calories of deep-frying.
The marinade infuses the chicken with wonderful flavors, and the combination of flour, bread crumbs, and spices creates a delightful crunch. The best part? It's all done in your oven, making it a perfect weeknight meal! Serve with your favorite sides and enjoy this guilt-free, crispy delight.
Buttermilk Ranch Oven-Fried Chicken adds the tangy, delicious taste of ranch dressing to the table, making for a finger-licking good time. The buttermilk and ranch marinade not only tenderizes the chicken but also adds a depth of flavor that'll have you craving more.
Coated in a seasoned corn muffin mix, each drumstick is transformed into a golden, crunchy delight when baked in the oven. A hint of cayenne adds a touch of heat, making this dish a perfect balance of flavors. Pair it with your favorite sides and enjoy this scrumptious twist on oven-fried chicken.
Take a trip down memory lane with this Cracker Barrel Chicken Fried Chicken recipe that captures the essence of true Southern comfort food. Tender boneless chicken breasts are seasoned, double-dredged in a flavorful flour mixture, and dipped in buttermilk before being fried to golden perfection.
The rich and creamy sawmill gravy, made with bacon grease and whole milk or heavy cream, adds a velvety touch that elevates this dish to a whole new level. With its delightful blend of textures and flavors, this chicken fried chicken is the ultimate comfort food to share with family and friends.
Here comes a chicken dish that's easy to make and bursting with flavor. The garlic powder, basil, oregano, thyme, onion powder, black pepper, and coarse sea salt in this Garlic and Herb Marinated Buttermilk Chicken really bring out the taste of the chicken.
Chicken thighs marinated in buttermilk become exceptionally soft and juicy, while the skin crisps up to a golden brown. To make a simple and delicious meal that will please everyone at the table, marinate the chicken overnight and bake it in the oven. You're minutes away from perfectly grilled chicken.