Breakfast casseroles with sausage are a tasty and filling alternative, whether you're hosting a brunch or planning meals for the week. Sausage is a breakfast classic that adds savory flavor to any dish, particularly in breakfast casseroles.
From cheesy to veggie-packed, there's a breakfast casserole recipe here for everyone to love. In this roundup, we've selected 15 different recipes for you to try, each with its own distinct touch on this traditional morning meal.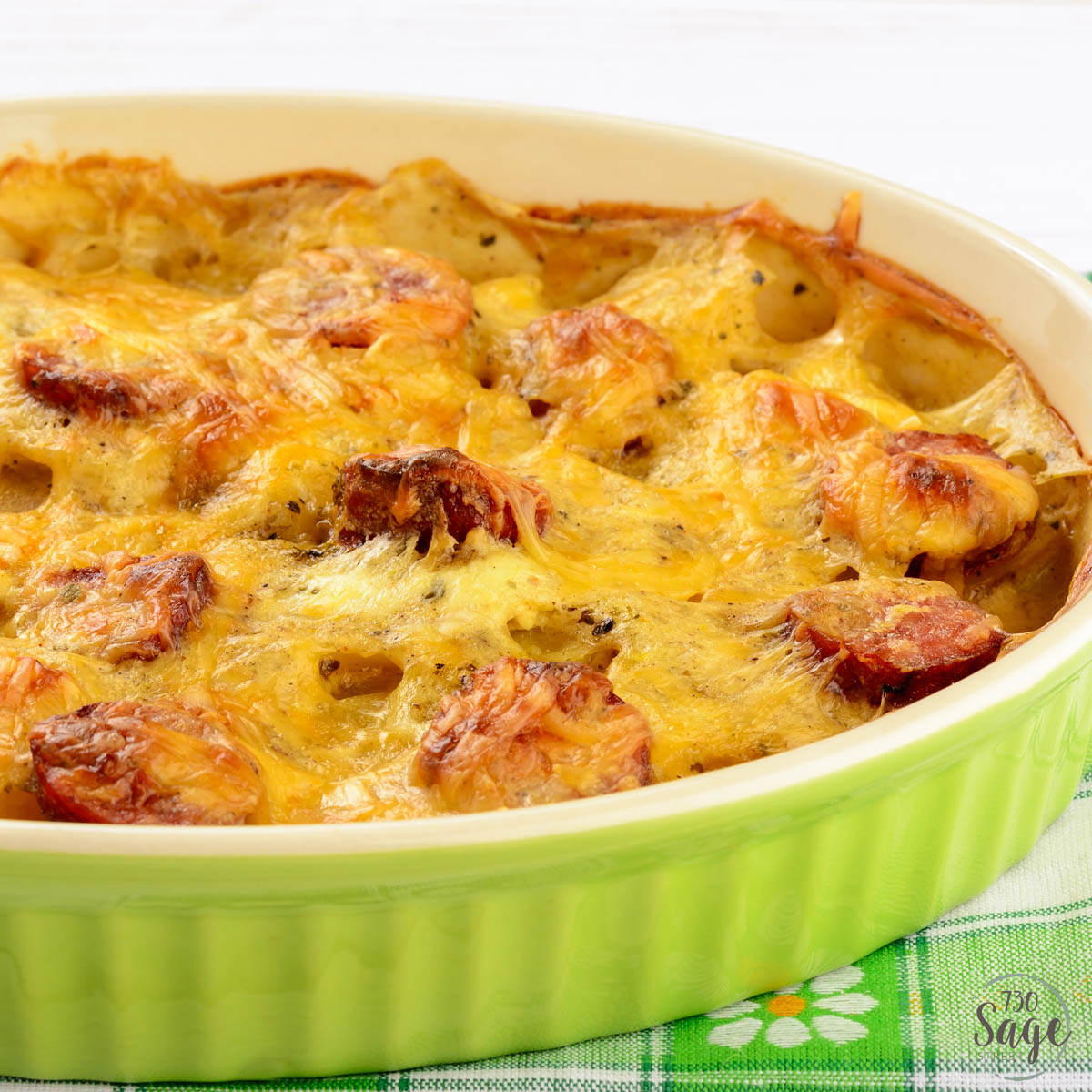 What Type Of Sausage Works Best For These Casseroles?
When it comes to breakfast casseroles with sausage, the type of sausage you use can make a big difference in the flavor and texture of the dish. Pork sausage is the most traditional option and adds a savory and slightly sweet flavor to the casserole.
For a healthier option, you can use turkey or chicken sausage instead, which is lower in fat and calories. A spicy sausage is also a great option for those who want to add a little extra kick to their breakfast casserole. Regardless of the type of sausage you choose, make sure to use high-quality meat for the best results.
What Can I Use Instead Of Eggs For These Breakfast Casseroles?
If you're looking to make a healthy breakfast casserole without eggs, there are plenty of options available. One option is to use tofu as a substitute for eggs. Tofu has a similar texture to scrambled eggs and can be seasoned with spices and herbs to add flavor.
Another option is to use a chia seed or flaxseed "egg" mixture. These seeds can be mixed with water to create a gel-like substance that can be used in place of eggs in many recipes. If you prefer a meat-based option, you can use crumbled tempeh or vegan sausage in place of eggs. These alternatives are all great options for those looking to reduce their egg intake or follow a vegan or vegetarian diet.
15 Breakfast Casserole Recipes With Sausage
If you're looking for a change from the usual breakfast fare, go no further than these 15 breakfast casserole ideas with sausage:
Dive into a cozy morning with this heartwarming Breakfast Casserole with Eggs, Potatoes, and Sausage! This mouthwatering masterpiece combines tender potatoes, savory Italian sausage, and vibrant veggies, all held together by a dreamy, cheesy egg mixture.
The aroma alone will make your family leap out of bed! While it bakes, take a moment to appreciate the symphony of flavors and textures that await. And don't forget to top it off with a sprinkle of green onions for a zesty finishing touch.
Welcome to a sunshiny morning with the irresistible Jimmy Dean Breakfast Casserole! This scrumptious dish boasts savory Jimmy Dean Pork Sausage, fluffy eggs, and cubed bread that soaks up all the goodness.
The sharp Cheddar cheese pairs beautifully with the medley of fresh tomato, mushrooms, and green onions, creating a burst of flavor in every bite. As you assemble the layers, imagine the smiles around the breakfast table when this delightful casserole graces their plates. A true crowd-pleaser to kick-start the day!
Continuing our delicious journey, we now encounter the Sausage and Egg Overnight Breakfast Casserole. This make-ahead wonder lets you prep the night before, so you can snooze a little longer the next morning.
With flavors reminiscent of our previous casseroles, this dish unites the delectable combination of pork sausage, sharp cheddar cheese, and fluffy eggs, all nestled among a bed of wholesome bread cubes.
Our adventure through scrumptious breakfast casseroles continues with the Sausage-Hash Brown Breakfast Casserole Recipe. This dish takes a delightful twist on the classic ingredients, adding the comforting goodness of hash browns and the creaminess of sour cream.
Just like the Sausage and Egg Overnight Breakfast Casserole, it's a morning treasure that will make your taste buds dance with joy. Once it emerges from the oven, golden and bubbling, you'll find it hard to resist the temptation of diving into this cheesy, sausage-filled delight. Another morning masterpiece!
Embrace the earthy flavors and gourmet touch of the Sausage and Mushroom Breakfast Casserole. This enticing dish combines the richness of breakfast sausage and eggs with the irresistible tang of feta cheese.
The avocado oil and baby spinach elevate the experience, while the mushroom's earthiness creates a symphony of flavors that your family will adore. As you savor each bite, you'll appreciate how this casserole harmonizes with the collection of morning delights you've come to know and love.
Savor the comforting flavors of the Cheesy Sausage & Egg Breakfast Casserole with Bread, a delightful addition to your breakfast repertoire. This tempting dish pairs savory pork sausage with fluffy eggs, gooey cheddar cheese, and tender toasted bread cubes.
It's a make-ahead marvel that fills your home with the aroma of a lovingly prepared morning feast. As you dig into this casserole, it'll feel like a warm embrace, joining the other mouthwatering creations in your collection of beloved breakfast dishes.
Get ready to welcome the Sausage and Cornbread Breakfast Casserole into your collection of cherished morning delights! This enticing dish features the irresistible pairing of savory breakfast sausage and the homestyle warmth of cornbread, all combined with a creamy egg mixture and a generous helping of cheddar cheese.
Feel free to personalize this casserole with your favorite veggies, such as sauteed onions or peppers. Each bite is a testament to the joy of gathering around the table, relishing yet another flavorful breakfast creation.
Say hello to your new favorite morning dish: the Italian Breakfast Casserole. This Paleo and Whole30-compliant recipe is brimming with flavor, featuring tender butternut squash, succulent pork sausage, and a medley of fresh veggies.
The sun-dried tomatoes and Italian seasoning blend lend an authentic touch, while the egg and coconut milk mixture brings everything together beautifully. Sprinkle some nutritional yeast for an extra kick, and garnish with parsley for a pop of color. Each slice of this casserole is a delightful reminder of the delicious and healthy dishes that can be part of your breakfast collection.
Introducing the Sausage and Egg Casserole, a savory and satisfying breakfast dish that will keep you energized for the day ahead. This casserole is packed with delicious ingredients like breakfast sausage, shallots, red pepper, and broccoli. The cheddar cheese adds a delightful creaminess, while the blend of dried parsley, basil, garlic powder, black pepper, and salt creates a flavorful symphony.
Whisked eggs and milk bind everything together, creating a hearty and comforting meal perfect for mornings or weekend brunches. In just a few simple steps, you'll have a scrumptious breakfast casserole that's sure to become a family favorite.
The Breakfast Sausage and Egg Casserole is a versatile and flavorful dish that is perfect for breakfast or brunch. This recipe combines ground sausage, diced potatoes, spinach, and green onions to create a delicious and filling base. The addition of cheddar cheese, fresh herbs, and a mixture of eggs and milk ensure a scrumptious and satisfying meal.
Baking the casserole for about 30-40 minutes will result in a firm center, and allowing it to cool for 5-10 minutes helps the flavors meld together. Serve this delightful casserole with your choice of side dishes and enjoy a wholesome meal that your family and friends will love.
The Sausage & Crouton Breakfast Casserole is a delightful dish that combines the flavors of sausage, cheese, and croutons to create a hearty meal perfect for breakfast or brunch. This recipe involves layering croutons in a baking dish, followed by cooked sausage and shredded cheddar cheese.
A mixture of eggs, milk, heavy cream, dry mustard, onion, salt, and pepper is poured over the sausage and cheese layers. After refrigerating for at least an hour or overnight, the casserole is baked at 350°F for 45-60 minutes until the center is set. Adding a garnish of dried parsley, if desired, will add an appealing touch to this delicious and satisfying casserole.
Say hello to the ultimate morning treat, The Best Zucchini Breakfast Casserole! This dish combines crispy bacon, tender zucchini, and mouthwatering sourdough bread cubes in a heavenly, cheesy blend. Embrace the tangy twist of Dijon mustard and the velvety richness of sour cream as they elevate this casserole to new heights.
Trust me, when you slice into this golden-brown masterpiece and savor the first bite, you'll be dreaming of weekend brunches and lazy Sunday mornings. So, why wait? Dive into this scrumptious adventure!
Sausage and Hatch Green Chile Breakfast Casserole is the perfect way to spice up your mornings! Imagine sinking your teeth into fluffy French bread and juicy breakfast sausage, surrounded by the irresistible aroma of Hatch Green Chile. This casserole is a harmonious symphony of flavors, with a touch of onion and garlic powder adding extra depth.
The blend of cheddar, Colby, or Jack cheese creates a gooey, savory delight that will make you fall in love at the first bite. Don't forget the green onions for a pop of color and freshness. Wake up to a fiesta of flavors with this southwestern-inspired dish!
Get ready to wrangle up some appetite with the Cowboy Brunch Casserole! This dish brings the Wild West right to your breakfast table with its hearty mix of breakfast sausage, crispy bacon, and chunky potatoes.
The blend of sweet onion, bell pepper, and a kick of red pepper flakes will have you feeling like you're sitting around a campfire, savoring a home-cooked meal. Melted cheddar cheese and French bread cubes create a comforting base for this savory delight.
Transport yourself to the rolling hills of Tuscany with Eggplant and Italian Sausage Gratin! This rustic, heartwarming dish features tender eggplant slices, savory Italian sausage, and a luscious, bubbling tomato sauce. The harmony of aromatic garlic, Italian seasoning, and fresh basil creates an irresistible symphony of flavors.
But wait, there's more! A rich, velvety Parmesan and mozzarella sauce blankets the gratin, making it an unforgettable masterpiece. Serve this beauty with crusty bread and imagine yourself dining alfresco under the Italian sun.