Seeds are the perfect way to add a crunchy texture and a blast of flavor to your bread.
These 15 seeded bread recipes from sesame to chia will fulfill your every need for handmade, nutritious bread.
You may find a recipe to attempt and master no matter what your level of baking experience is.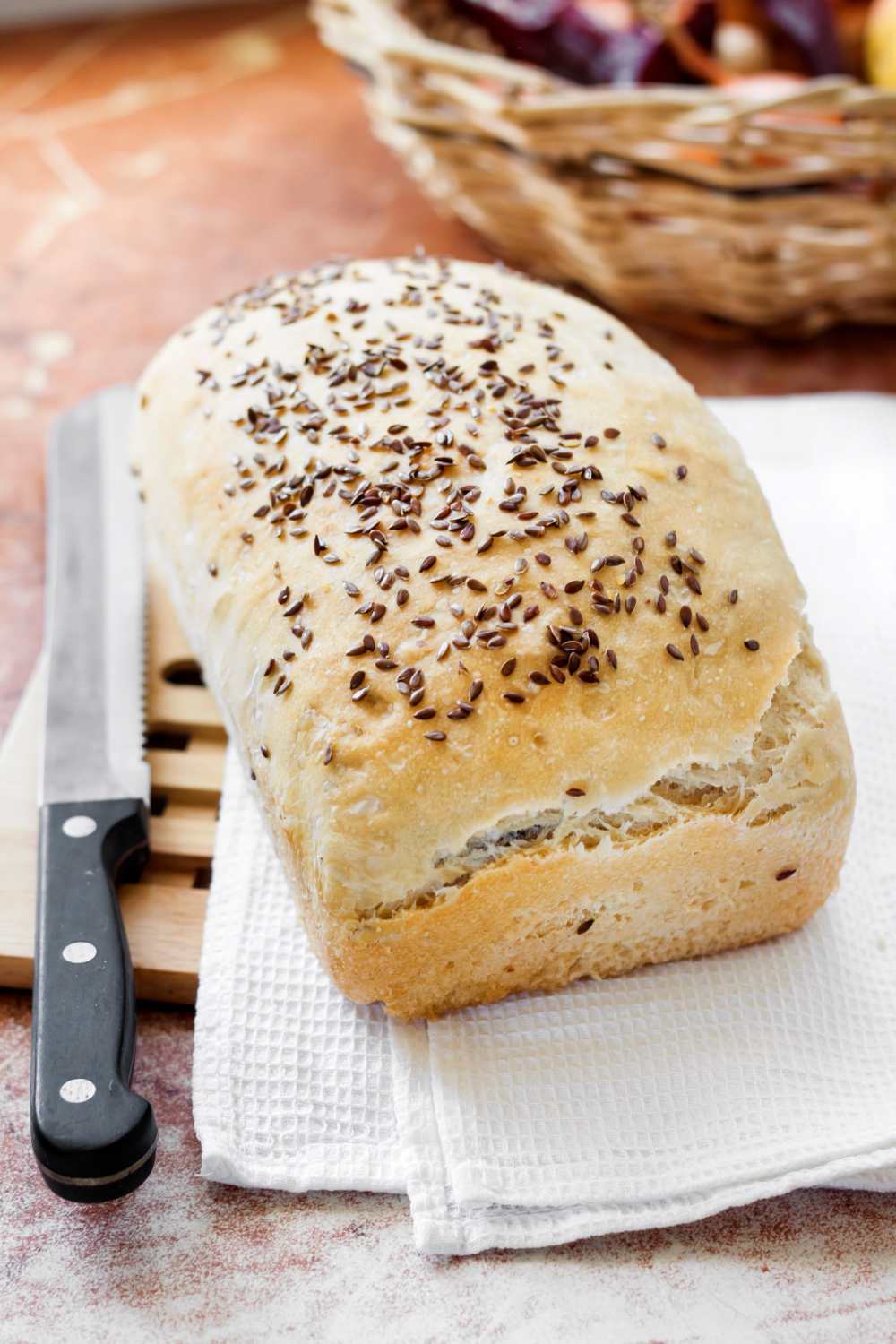 What Are The Most Common Seeds Used In Bread Recipes?
There are many different types of seeds that can be used in bread recipes, but some of the most common include sesame, poppy, sunflower, pumpkin, and flax seeds.
Sesame seeds are often used on top of buns or rolls for added texture, while poppy seeds can be used in sweet or savory bread. Sunflower and pumpkin seeds can add a nutty flavor to bread, while flax seeds are often used for their nutritional benefits.
Is It Needed To Pre-roast Seeds In Bread Recipes?
While it's not always necessary, pre-roasting seeds can enhance the flavor and texture of the bread. Toasting can bring out the oils in the seeds and give them a nuttier flavor. It can also help to reduce the moisture content in the seeds, which can prevent them from making the bread soggy.
15 Bread Recipes With Seeds
Add some extra texture and flavor to your baked goods with these 15 bread recipes with seeds. From sesame to chia, these recipes will elevate your bread game:
If you're in the mood for a sweet bread that's also nutty and wholesome, then you must try this sunflower seed bread with honey! The combination of sunflower seeds and honey creates a delectable balance of flavors. Each slice is tender and moist with a lovely golden crust that's dusted with sunflower seeds.
The subtle sweetness from the honey is perfect with a slather of butter or your favorite jam. Additionally, the use of whole wheat flour adds a nutritious element to this recipe. So, break out your stand mixer, and let's start baking this scrumptious bread together.
This pumpkin and sunflower seed bread is the perfect way to kick off the fall season. Pumpkin and sunflower seeds work well together because they both provide a satisfying crunch that goes well with the pumpkin's inherent sweetness.
This bread has a lovely golden exterior that's liberally sprinkled with seeds, and the inside is fluffy and moist. Bread made with both all-purpose flour and white whole wheat flour is both nutritious and decadent; it goes well with a bowl of soup or some melted butter on the side for breakfast.
This Italian sesame bread recipe is gonna take your taste buds on a trip to Italy. Yeehaw! You take that King Arthur artisan bread flour and mix it up with some olive oil, creating a chewy and flavorful base for your bread. Then, you sprinkle on some toasted sesame seeds, adding a lovely nutty crunch to every single bite.
Yum! You're gonna love how each slice of this bread is so soft and pillowy, just perfect for soaking up a hearty soup or dipping it into a flavorful sauce. You gotta admit, that braided bread is a real showstopper. It's not just a pretty face, though - it'll elevate any bread basket it's in.
You're in for a real treat with this here Lemon Poppy Seed Bread recipe! The bread is light, fluffy, and bursting with fresh lemon flavor, thanks to the addition of lemon zest and juice. You're gonna love the way them poppy seeds add a nice crunch to that soft bread and that glaze? It's gonna give you a sweet and tangy finish that'll have you comin' back for more.
This recipe is easy to follow and yields a beautiful loaf that's perfect for breakfast, brunch, or an afternoon snack. You're gonna love this bread, especially when you pair it with a steaming cup of coffee or tea. It's gonna be a staple in your home in no time.
Introducing a nutritious and delicious Grain-Free Flax Almond Bread recipe that will leave you craving for more! Almond meals, flaxseeds, and Greek yogurt combine to make a high-protein, low-carb loaf of gluten-free bread. The bread that you bake from this simple recipe is airy, tasty, and light.
If you enjoy savory foods like ham and cheese or scrambled eggs, this bread will be a great complement. So, indulge in this delicious and energizing bread that is also good for you. It's a great option for those who want to live a healthy lifestyle since excluding wheat from their diet has several advantages.
If you're looking for a recipe for a healthy and tasty loaf of bread, go no further than this Homemade Chia Oat Whole Wheat Bread. This bread is packed with protein and fiber from the bread flour, whole wheat flour, and chia seeds, and will keep you satisfied for hours.
The chia seeds have a pleasant crunch, and the rolled oats and honey give them a slightly sweet flavor and a moist texture. The bread is cooked to a flawless golden brown crust, creating an alluring scent and enticing look; the recipe is simple to follow. This bread is perfect for a light breakfast or a midday snack on its own or with your favorite spread.
Snack on some delicious gluten-free Quinoa Seed and Nut Bread, which is full of healthful seeds and nuts. The crunch of the sunflower seeds and almonds, along with the chewiness of the quinoa, creates a novel and delicious texture in this bread.
With the added chia seeds and psyllium husks, this bread is a great choice for individuals who are watching their carbohydrate intake. A slice, slathered with butter or jam, and a cup of soup make a hearty dinner.
Fermented Buckwheat Bread with Hemp Seed Spread is a perfect gluten-free bread recipe for those who are looking for an alternative to traditional wheat bread. This bread is not only gluten-free but also vegan, and full of healthy ingredients such as olives, oregano, and hemp seeds.
The fermented buckwheat batter gives the bread a light and fluffy texture, making it a great option for toast or sandwiches. The hemp seed spread is a delicious addition to this bread, packed with protein and healthy fats. This recipe is a must-try for those who love healthy, delicious, and unique bread options.
If you're looking for a nutritious bread alternative that doesn't include gluten, this Millet and Buckwheat Bread recipe is for you. After letting the buckwheat and millet soak overnight, combine them with the psyllium husks, oats, and baking powder.
You'll end up with a rich and moist loaf of bread that's ideal for slathering with any toppings you choose. When slicing, wait until it has cooled fully so that it doesn't crumble. You may enjoy this whole grain and fiber-rich bread for days after baking if you store it in an airtight container.
Freshly made Rye Bread with Caraway Seeds is bursting with the distinctive flavor profile of rye flour and caraway seeds. This bread recipe is fantastic, and it will help you feel amazing because of all the fiber and minerals it contains.
The dish's familiar, earthy flavor is enhanced by the inclusion of caraway seeds and all. You can make this dough in a flash with very little effort, and the resulting loaf is perfect for sandwiches or dunking in soup. A crisp, golden crust may be achieved by brushing the loaves with an egg wash before baking.
This Fennel Seed Bread will take your taste buds on a fantastic adventure. Toasted fennel seeds give this bread a distinctive taste that goes well with salty cheese or air-dried ham. The bread will end up with a nicer texture thanks to the sticky dough.
The final result is a beautiful brown, properly cooked loaf of bread that may be identified by its hollow bottom. To get the most out of this bread, cut it into slices and serve them with or alongside your favorite meal.
Anise and cumin seed bread is a unique and flavorful twist on classic bread recipes. The combination of spices, including ground anise, cumin seeds, and nutmeg, adds an earthy aroma and taste to the bread. This recipe uses fresh yeast to create a light and fluffy texture.
After kneading the dough, form it into four round loaves and roll them in a mixture of sesame seeds and different types of cumin seeds. Or, leave them plain and sprinkle some flour over top before baking. This bread is perfect for accompanying a spicy soup or curry dish, or simply enjoying as a snack on its own.
The ideal complement to any meal, these light and airy flatbreads are bursting with flavor. Cumin seeds give the dough a warm, earthy scent that pairs well with the tart Greek yogurt. You may use whatever herbs and spices you choose in this recipe, making it quite adaptable.
The dough can be thrown together in a flash, making it an ideal choice for a fast midweek meal. These flatbreads are ideal for dipping in soup, salad, or your favorite sauce, and they get their crispy texture from being cooked on a griddle pan with a little coating of olive oil.
Grandma's Old Fashioned Dill Bread is a classic recipe that has been passed down through generations. The bread is soft, fluffy, and infused with a rich dill flavor. The dough is easy to work with and bakes to a beautiful golden brown. The addition of cottage cheese gives it a unique texture that is moist and chewy.
This bread pairs well with a variety of dishes, from soups and salads to meats and cheeses. You can enjoy it fresh out of the oven or toasted with a slather of butter. This recipe is perfect for beginner bakers and seasoned pros alike.
With just a few simple ingredients, you can make a flavorful Mustard Seed Bread right at home. The recipe calls for dry yeast, strong white flour, olive oil, sugar, salt, mustard seed, and water. Simply add all the ingredients to the bread pan in the specified order and let the breadmaker do the work. Once finished, remove the bread and let it cool before slicing into it.
This bread is perfect for sandwiches or as a side to a hearty soup. The mustard seeds add a unique flavor and texture to the bread, making it stand out from traditional white bread.