Baking a chicken breast and serving it with a flavorful sauce is one of the greatest ways to enjoy this healthful and adaptable dish.
With flavors ranging from fiery BBQ to creamy alfredo, the 15 recipes for baked chicken breasts with sauce included in this article are guaranteed to delight even the pickiest of eaters.
The juicy and delicate chicken breast is about to become a new household favorite.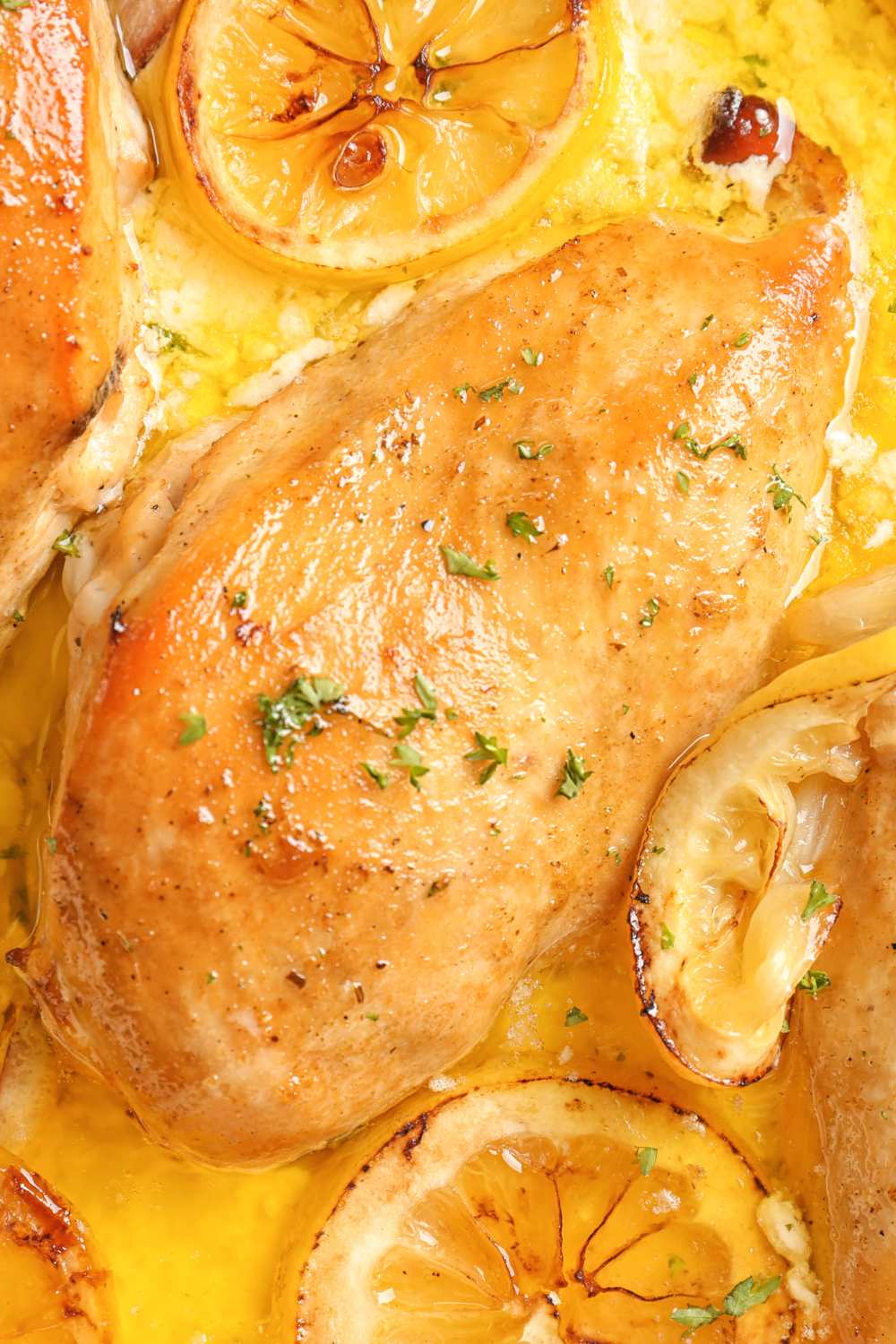 Can I Use Bone-in Chicken Breasts For These Recipes?
Yes, you can use bone-in chicken breasts for these recipes. Just make sure to adjust the cooking time accordingly since bone-in chicken takes longer to cook than boneless chicken. It's best to use a meat thermometer to check the internal temperature and ensure it's fully cooked.
How Do I Know When My Chicken Breasts Are Fully Cooked?
The best way to know if your chicken breasts are fully cooked is to use a meat thermometer. Insert the thermometer into the thickest part of the chicken breast, making sure not to touch the bone. The temperature should read 165°F (75°C) for fully cooked chicken. Alternatively, you can cut into the chicken and check if the juices run clear and there is no pink inside.
15 Baked Chicken Breast Recipes With Sauce
These 15 delicious baked chicken breast dishes with sauce range from acidic and sweet to savory and spicy, so there's something for everyone:
Get ready to indulge in the succulent and mouth-watering Chicken in White Wine Lemon Butter Sauce! This recipe is a symphony of flavors that will take your taste buds on a delicious adventure. Juicy and tender chicken breasts are lightly seasoned and cooked to perfection, then simmered in a rich and creamy sauce made with butter, garlic, chicken broth, dry white wine, and fresh lemon juice.
The result is a tangy and savory dish that pairs perfectly with your favorite pasta or side dish. Sprinkle some chopped parsley on top for a pop of color and an extra burst of flavor. This recipe is perfect for a romantic dinner or a special occasion with your loved ones!
This Honey Mustard Chicken Recipe is a must-try for chicken lovers! The boneless skinless chicken breasts are perfectly seasoned with a blend of garlic powder, onion powder, smoked paprika, and Italian seasoning. The dish is baked with a generous amount of honey mustard sauce that adds a sweet and tangy flavor to the chicken.
The optional crispy panko topping gives the dish a satisfying crunch. The dish can be served with a variety of sides, such as salad, coleslaw, rice or grains, potatoes, asparagus, or broccoli. This dish is perfect for a cozy night or a family dinner.
A delicious combination of sweet and tangy flavors in this balsamic glazed chicken with garden tomatoes will have you wanting more. Roasting the heirloom tomatoes with garlic and herbs creates a flavorful base for the chicken breasts, which are seasoned with a mix of fresh herbs and spices.
Topped with melted mozzarella cheese and a drizzle of balsamic glaze, this dish is perfect for any season. Serve it with your choice of sides, such as a salad or some roasted veggies, and enjoy the warm and comforting flavors.
The Chicken Marinara recipe is a classic Italian dish that is sure to impress. The tender and juicy chicken breasts are seasoned with TAK House Seasoning, seared to perfection, and then smothered in a rich tomato sauce.
Fresh mozzarella cheese is melted on top of the chicken, creating a gooey and delicious topping. This dish is perfect for any season and can be served with a side of pasta, roasted vegetables, or a crisp salad. The combination of flavors is truly divine and will transport you to the heart of Italy.
Say hello to the Mediterranean with this scrumptious Greek Oven Baked Chicken Breast recipe! This dish is a symphony of zesty lemon, aromatic oregano, and fresh basil, all blended together to create a mouthwatering flavor. As the chicken bakes to perfection, it soaks up the delightful dressing, ensuring a tender and juicy meal.
Once out of the oven, the dish is adorned with juicy tomatoes, tangy Kalamata olives, sharp red onions, and the crowning glory – crumbled feta cheese. This Mediterranean masterpiece will transport your senses straight to a sun-kissed Greek island!
Enjoy the comforts of home with this delicious dish for Bacon Wrapped Chicken Breasts. This recipe gets a little heat from chili spice and garlic powder, but not too much. Wrapping the chicken breast with bacon that has been thinly sliced brings out the best in both ingredients.
Not to mention the BBQ sauce, which gives the dish a smoky, tangy flavor. If you follow the video's instructions, you'll end up with a delicious dish that's great for a weeknight meal or a treat on the weekend. Enjoy!
Get ready to be swept away to Italy with this Parmesan Crusted Chicken with Lemon Cream Sauce recipe! This dish combines succulent chicken with the rich, cheesy goodness of Parmesan and the zing of lemon for a delightful flavor sensation.
As you coat each tender chicken breast in the egg wash and generously sprinkle with the Parmesan-Italian seasoning mix, you'll create a heavenly crust that's crisp and golden brown. The luscious lemon cream sauce adds an elegant touch, making this dish the perfect centerpiece for a cozy Italian-inspired dinner at home. Bellissimo!
Prepare to feel the heat with this Baked Buffalo Chicken for One recipe that's perfect for a solo night in. The star of this dish is a tender, juicy chicken breast smothered in a fiery blend of melted butter and hot sauce. It's then lovingly topped with gooey mozzarella cheese and baked to perfection, ensuring a burst of bold flavors with each bite.
Once it's out of the oven, let the chicken rest before adding a touch of blue cheese crumbles and vibrant green onions for a taste of true comfort food. This dish is sure to warm your heart and spice up your evening!
Feast your eyes on the Best Ever Baked Teriyaki Chicken, a dish that'll transport you straight to the heart of Japan. This recipe combines the savory goodness of low sodium soy sauce, the tang of rice vinegar, and the sweetness of sugar, creating a teriyaki sauce that's simply irresistible.
The chicken, tender and juicy, soak up all the flavors, while the sesame seeds add a delightful crunch. Garnish with chopped green onions for a pop of color and freshness. Serve over steamed rice, and you've got a meal that'll make your heart sing and your belly dance with joy!
Experience a delightful journey to the Mediterranean with this Healthy Greek Chicken with Tzatziki Sauce recipe. The tender chicken breast is marinated in a flavorful blend of spices and herbs, including oregano, paprika, rosemary, and dill, creating a captivating aroma as it grills to perfection.
The homemade Tzatziki sauce, made from cool cucumber, creamy Greek yogurt, and fresh dill, brings a refreshing contrast to the bold, well-seasoned chicken. As you take your first bite, the vibrant flavors will whisk you away to a seaside taverna, complete with the gentle sound of waves crashing on the shore.
Get ready to fall in love with this Creamy Baked Chicken Breasts recipe that promises to be your new go-to chicken dinner. The succulent chicken breasts are lovingly coated with a blend of Italian seasoning, paprika, and a touch of red chili pepper flakes for a hint of warmth.
Baked in a rich, velvety sauce of heavy cream, chicken broth, and Parmesan cheese, the chicken becomes incredibly tender and juicy. To bring it all together, sun-dried tomatoes and fresh spinach add a burst of color and flavor, making this dish a true showstopper. Your heart will skip a beat with every delicious bite!
Imagine the perfect harmony of flavors in this Chicken Cordon Bleu recipe that brings together tender chicken, savory ham, and gooey Swiss cheese, all beautifully wrapped and baked to perfection. The breadcrumb, Parmesan, and herb mixture creates a crispy golden exterior, while the luscious Dijon sauce adds a delightful tanginess to the dish.
As you slice through the chicken, the cheese will gently ooze out, creating a mouthwatering display that's impossible to resist. This Chicken Cordon Bleu is truly a feast for the eyes and the soul, making any dinner feel like a special occasion.
Salsa Verde Chicken Bake is a vibrant, flavorful dish that will transport your senses straight to a Mexican fiesta! Tender, juicy chicken breasts are smothered in tangy tomatillo salsa verde, providing a burst of zesty flavor with each bite. As the chicken bakes, the salsa works its magic, infusing the chicken with incredible taste.
Topped with gooey Monterey Jack and pepper jack cheese that melts into a heavenly blanket, this dish is a dream come true. Garnish with fresh cilantro for an added touch of freshness, and serve over rice or quinoa. It's a party in your mouth, and everyone's invited!
Cranberry Chicken is a delightful combination of sweet and tangy flavors that make for a delicious and satisfying meal. Succulent chicken breasts are smothered in a mouthwatering cranberry sauce, boasting a blend of whole-berry cranberry sauce, apple cider vinegar, garlic, and various seasonings.
This dish is as visually appealing as it is tasty, with the vibrant red cranberry sauce creating a beautiful contrast against the golden chicken. Baked to perfection, the tender chicken soaks up the rich, fruity flavors of the sauce, making each bite a truly delectable experience. Garnish with fresh parsley for a burst of color and serve over fluffy, cooked rice to complete this scrumptious meal.
Whisk your senses away to a cozy, intimate bistro with this Creamy Garlic Mushroom Chicken recipe. Let the aroma of sautéed cremini mushrooms and fragrant garlic envelop you as you prepare this scrumptious dish. The velvety, Parmesan-infused sauce is the perfect companion for tender, golden chicken breasts.
You'll love the satisfying contrast between the hearty mushrooms and the delicate fresh parsley garnish. The perfect meal to share with loved ones, serve this comforting dish alongside creamy mashed potatoes and crisp green beans for a truly memorable experience.