Bacon.
The single best word in the English language.
You can make just about anything taste better with bacon. I've seen it in ice cream. I've seen it covered in chocolate. There appears to be no limit to what you can do with bacon.
Bacon isn't just for breakfast anymore.
In my house we limit the sweeteners we use in everything. Gone is the processed sugar, replaced with natural sweeteners in their pure form. We don't completely restrict them, but if we are gonna do it, we do it right.
This is where maple syrup comes in.
Pure maple syrup is unprocessed, 100% natural and has nothing added to it. It is simply removed from the tree as sap and boiled down. Maple syrup also has nutritional benefits not found in processed sugars such as antioxidant properties minerals such as zinc and magnesium. You can learn more about the benefits of Maple Syrup here: Pure Canadian Maple Syrup.
And hello, it tastes amazing!
And much like bacon, it isn't just for breakfast anymore.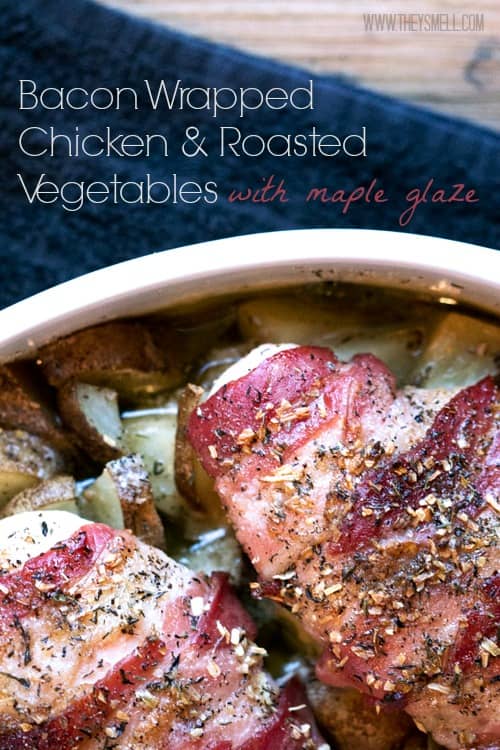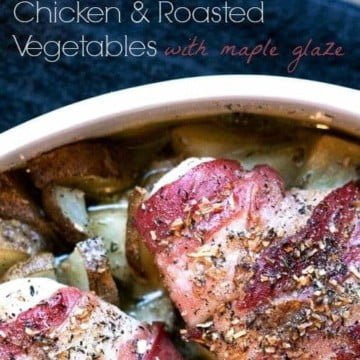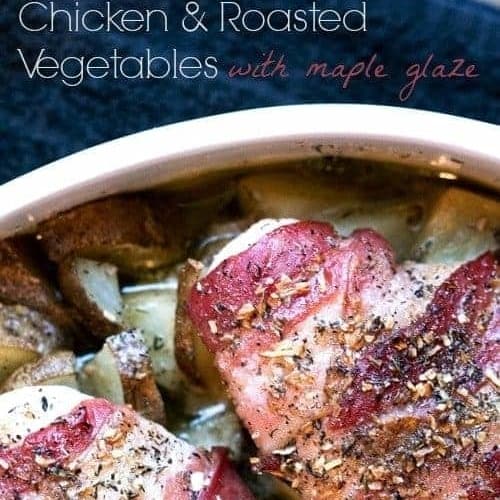 Ingredients 
2 ½

lb

of boneless

-

skinless chicken breasts

2

lb

potatoes

-

cut into 1 inch pieces

12

strips of bacon

3

cups

frozen or fresh green beans

4

tablespoon

melted butter

2

tablespoon

olive oil

½

cup

100% pure maple syrup

1

teaspoon

salt

½

teaspoon

black pepper

1

teaspoon

minced onions

½

teaspoon

thyme
Instructions
Heat oven to 400 degrees F.

Place greens beans in the bottom of a casserole dish.

Add potatoes on top of green beans.

Wrap bacon around chicken breasts - divide the 12 pieces evenly between the number of pieces of chicken.

Melt butter and mix with olive oil.

Drizzle over chicken and veggies evenly.

Season with salt, pepper, minced onions and thyme.

Slowly pour maple syrup over the entire dish.

Bake for about an hour or until potatoes are tender and chicken has reached the proper internal temperature.
I have to admit I was not sure this would turn out. Creating a recipe from scratch is not my forte, but after my son said "this is a keeper," I knew it turned out pretty good.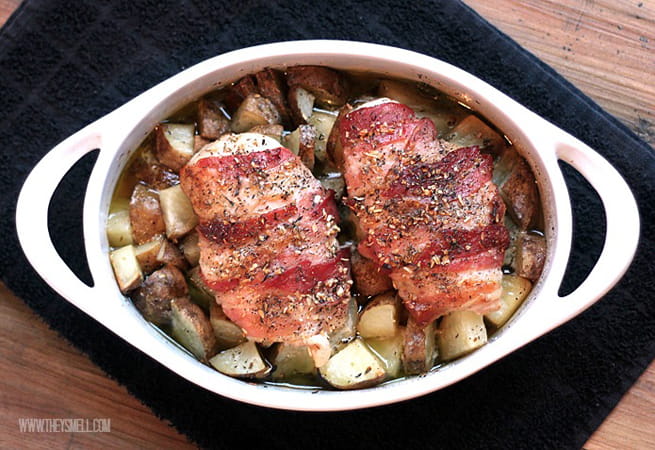 You really could do any number of different veggies with this dish. I used what I had on hand but I think it would be great with broccoli, carrots, butternut squash, zucchini, you name it!
Even though you can't really SEE the maple syrup, the flavor was very much present. You could even cut back a bit on the maple syrup if you want it a little less sweet.
And should there happen to be leftovers, you can store it in the dish and reheat it the next day. Or, when you prepare this the first time, you can divide it into two smaller pans, cook one right away and freeze the other for future use. Another great option would be dicing up the leftovers and using them in an omelet for breakfast the next day.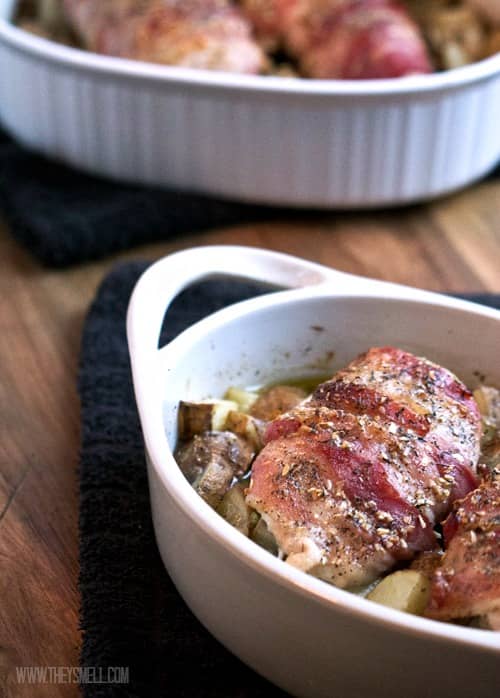 Have you ever used maple syrup for cooking non-breakfast foods?
What is your favorite use for maple syrup?
Note: This original recipe was created for the Think Outside the Griddle recipe contest.