Apples, from Granny Smith to Honeycrisp, are one of the most versatile fruits and a key ingredient for preparing delicious and comforting sweets.
Whether you're looking for a traditional double-crust pie or a unique spin on a classic recipe, these 15 apple pies are sure to please you at your next gathering or as a special treat for yourself.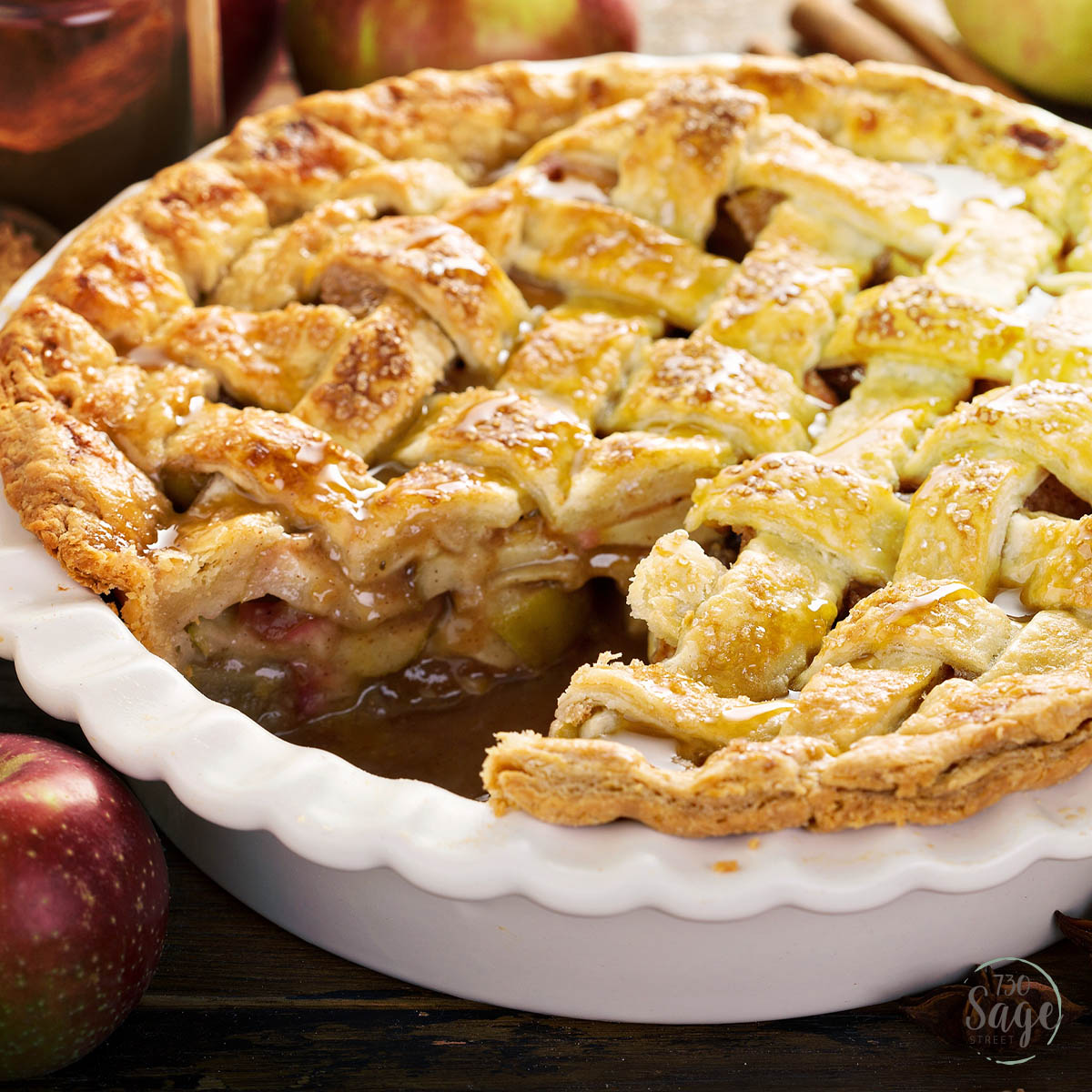 What Type Of Apples Are Best For Apple Pie?
The best apples for apple pie are firm, crisp, and tart apples that hold their shape and won't turn to mush when baked. Some of the most popular types of apples for pies include Granny Smith, Honeycrisp, Braeburn, Jonathan, and Rome. Granny Smith apples are a popular choice because they are tart and hold their shape well during baking.
How Do You Prevent A Soggy Bottom Crust In Apple Pie?
To prevent a soggy bottom crust in apple pie, there are a few steps you can take. First, use a metal or ceramic pie dish instead of a glass dish, as they conduct heat better and will help the crust cook more evenly.
Second, blind-bake the crust before adding the filling, which means baking the crust for a few minutes before adding the filling to help it set.
Third, sprinkle a layer of breadcrumbs or flour on the bottom crust before adding the filling to absorb any excess moisture.
Finally, avoid overfilling the pie with too much filling, as this can also lead to a soggy crust.
15 Apple Pie Recipes With Fresh Apples
The warm scent of apple pie baking will soon fill the air, and these 15 recipes will have your mouth watering for more:
You can't go wrong with this classic Apple Pie Recipe - it's the perfect treat for any day! Deliciously comforting, thanks to the addition of apples, cinnamon, nutmeg, and cardamom.
You'll love the mix of Granny Smith, Gala, and Golden Delicious apples in this recipe - it's bursting with flavor! To make the caramelized sauce that seeps out with each bite, the filling is heated on the burner. Your crust is flaky, buttery, and perfectly browned. Indulge in this pie solo or pair it with vanilla ice cream and caramel sauce for added luxury.
This recipe for Dutch Apple Pie has a perfect balance of sweet and tangy flavors that will leave you craving more. Buttery crust, shredded butter mixed with flour, perfectly flaky texture.
Apple filling combines Granny Smith and Pink Lady apples, coated with brown sugar, cinnamon, and nutmeg. Butter, flour, brown sugar, and cinnamon are mixed and chilled before being spooned over the apples for the crumb topping. Golden brown and bubbly, this pie is an irresistible dessert.
This Caramel Apple Pie with Streusel Topping is a sweet and gooey delight that you won't want to miss. This pie is a delightful autumn dessert, featuring succulent apples, decadent caramel, and a crumbly streusel topping.
Apples cooked with butter, brown sugar, flour, and pumpkin pie spice make a comforting and delicious filling. This pie, with its blend of flour, brown sugar, salt, butter, and walnuts, is a must-try dessert. Warm it up and add a scoop of vanilla ice cream for an irresistible delight.
This French Apple-Custard Pie is a delectable dish that will satisfy your cravings for classic French cuisine. This pie is a perfect blend of sweet and savory with juicy apples, creamy custard filling, and crunchy almond topping. Buttered and sugared apples make for a cozy base in the blind-baked crust, perfect for the custard filling.
Eggs, egg yolks, cream, sugar, vanilla extract, and nutmeg make a delightful filling that's rich and creamy. This pie is a must-try for those who love the combination of sweet and savory flavors. It's topped with a mixture of almonds, sugar, butter, and a pinch of salt.
This Cranberry Apple Pie is a delightful variation of a traditional dessert. Its harmonious blend of sweet and sour tastes is sure to make it a popular choice for holiday celebrations.
A delicious combination of tart Granny Smith apples and tangy cranberries coated in a cinnamon and flour mixture, creating an elevated flavor experience. The crumbly topping of flour, brown sugar, and butter adds a sweet crunch to every bite. This Cranberry Apple Pie is a real crowd-pleaser, perfect for any occasion.
This Maple Apple Pie is a delicious taste of autumn's classic flavors. This pie is a unique and irresistible twist on the classic apple pie, with sweet, juicy apples combined with warm cinnamon and nutmeg, elevated by the addition of Fuller's Sugarhouse pure maple syrup. Flaky golden crust, tender apple filling.
This pie is a delightful way to end any meal. It's also perfect for potlucks and holiday gatherings. Enjoy the warm and inviting scent of baked apples and spices that will fill your home.
This Brown Butter Crust recipe takes the traditional apple pie to the next level, with a rich and nutty taste that pairs well with the sweet and tangy apple filling. The lattice pattern and buttery, flaky crust make for a stunning display. This dish is wonderful for celebrations and everyday meals alike.
Prepare it in advance for a stress-free dessert choice, or treat yourself to the ultimate luxury by serving it warm with a dollop of vanilla ice cream. This Brown Butter Apple Pie will quickly become a household favorite because of its enticing flavor and scent.
If you're looking for a decadent dessert that's brimming with the taste of seasonal fruits, go no further than this magnificent Apple Blueberry Pie that you made yourself using only the best ingredients. Each mouthful is a delicious burst of sweet and tangy tastes thanks to the blueberries and apples that serve as the show stoppers.
The sweet fruit filling is offset by the pleasant crunch of the streusel topping, which is a mixture of brown sugar, flour, and chopped nuts. This pie is a work of art that will have your guests raving and your mouth watering. So what are you waiting for? Put your baking skills to the test and make a sweet treat that everyone will remember.
Taste the delicious combination of tart sour cream and sweet apples in a traditional Pennsylvania Dutch apple pie. The combination of all-purpose and rye flour creates a distinctively flaky crust. The filling is made of tart apple slices and a sour cream and cinnamon/nutmeg combination.
This pie has the ideal harmony of tastes and textures, thanks to the streusel topping made of walnuts, cinnamon, and butter. This pie is delicious whether served warm or chilled. Don't pass up the chance to eat this traditional American sweet!
Prepare to fall in love with the Brown Butter Apple and Pear Pie! This pie will have you pining for the tastes of autumn with its buttery, flaky crust and just the right amount of tartness and sweetness from the apples and pears.
The filling's nutty richness comes courtesy of the brown butter, which steals the stage. Spices like cinnamon, allspice, and cardamom go well with the nutty brown butter. The pie is not complete without the lattice top crust, which should be coated with an egg wash and sprinkled with raw sugar for optimum caramelization.
This apple pie with oatmeal cookie crust is a delightful dessert that offers a distinct and tasty spin on a traditional dish. The flaky and buttery crust perfectly complements the sweet and tart apple filling.
The spices of cinnamon, nutmeg, and ginger give the filling a warm and cozy flavor, perfect for the fall season. The addition of oatmeal cookie crumble provides a pleasing crunch and texture that is certain to leave a lasting impression. This pie is a breeze to whip up and is guaranteed to satisfy a hungry crowd, whether you're celebrating a special event or enjoying a quiet evening at home.
Toasted Pecan Crumble and Bourbon Caramel Apple Pie are like a crazy party in your mouth. A boozy caramel sauce is the star of this party, dancing with the buttery crust, the crisp apples, and the crunchy pecan topping.
The cinnamon and nutmeg provide a cozy, autumnal note to every mouthful, making you feel like you're warming up by to the fire on a crisp evening. A dollop of whipped cream, a drizzle of caramel sauce, or a scoop of vanilla or cinnamon ice cream will take this dish to the next level.
Try a slice of this Chai Spiced Apple Cranberry Pie and relax with its comforting aroma and spicy taste. This pie has a buttery, flaky crust and is filled with slices of apple, fresh cranberries, and a tasty combination of spices.
The deep, spicy aromas are wonderfully complemented by the vibrant zesty note provided by the orange zest and juice. This pie is the real deal thanks to its impressive lattice crust and a dash of demerara sugar. This Chai Spiced Apple Cranberry Pie is delicious and perfect for any celebration or as a special treat.
If you're craving apple pie but don't feel like turning on the oven, try this easy no-bake version with a graham cracker crust. Fresh apples, sugar, and cinnamon go into the apple pie filling, which is then thickened with cornstarch.
Before filling with apple pie filling, the crust is frozen to harden the graham cracker crumbs and butter. After assembling the pie, it's chilled for four hours before being topped with a delightful mascarpone cream and served with a dollop of vanilla ice cream.
Enjoy the rich flavors of this Salted Caramel Apple Pie made with a homemade pie crust and plenty of salted caramel sauce. In order to get the perfect combination of sweet and spicy, eight large apples are used in the filling along with sugar, lemon juice, all-purpose flour, allspice, nutmeg, and cinnamon.
The lattice crust is not only pretty to look at, but it also serves a practical purpose by releasing steam while the pie bakes. Before baking, brush the crust with an egg wash and sprinkle it with coarse sugar for a satisfying crunch.