I don't know about where you live but the last few weeks where I live in Northwest Indiana have been so hot and humid and while I do encourage my kids to play outside as much as possible, sometimes it's just safer for them to stay inside. My daughter and I both have a tendency to get sick from the heat so we have had to find some alternate indoor activities. One of our most favorite things to do is to turn on Netflix and cue up Fixer Upper or some of our other favorite home improvement or cooking shows. She loves anything that helps her learn new things, and Netflix has so many options for us to keep us busy when we are stuck indoors. Sometimes we play a board game while we watch, other times we just cuddle on the couch. It's a great way for me to connect with her.
Below are a list of 50 (in no particular order) PG and G rates shows on Netflix (as of July 31, 2016) that will definitely leave your kid filled with all kinds of useful trivia and information. This isn't a comprehensive list, there are plenty more similar shows available on Netflix, these are just some of our favorites.
America's Test Kitchen
Brain Games
Cosmos
Life
Planet Earth: The Complete Collection
The Blue Planet: A Natural History of the Oceans
PBS Nova series
Frozen Planet
72 Dangerous Places
Bob Ross: Beauty is Everywhere
Hacking the System
Mysteries at the Museum
Secrets of the Bible
Secrets of Great British Castles
Expedition Unknown
Smithsonian Channel's Mystery Files series
National Geographic Channel's The Truth Behind series
The Code
Human Planet
Africa
Street Genius
Life Story
Unlikely Animal Friends
Chasing Monsters
Rock the Park
Monumental Mysteries
Anthony Bourdain: Parts Unknown
Dolphins: Spy in the Pod
Born to Explore
The Bionic Vet
Tales of Irish Castles
Living on One Dollar
The Pyramid Code
Ocean Mysteries with Jeff Corwin
Mysteries of the Unseen World
Nature's Great Events
Road to Victory
Meet the Mormons
PBS Nature series
Hungry for Change
Departures
How We Got to Now With Steven Johnson
Antarctica: A Year on Ice
I Know That Voice
The Big Picture With Kal Penn
30 for 30 series (some are NR)
Cybercrimes With Ben Hammersley
PlantPure Nation
Deepsea Challenge
Salvage Dawgs
What are your favorite shows to watch with your kids?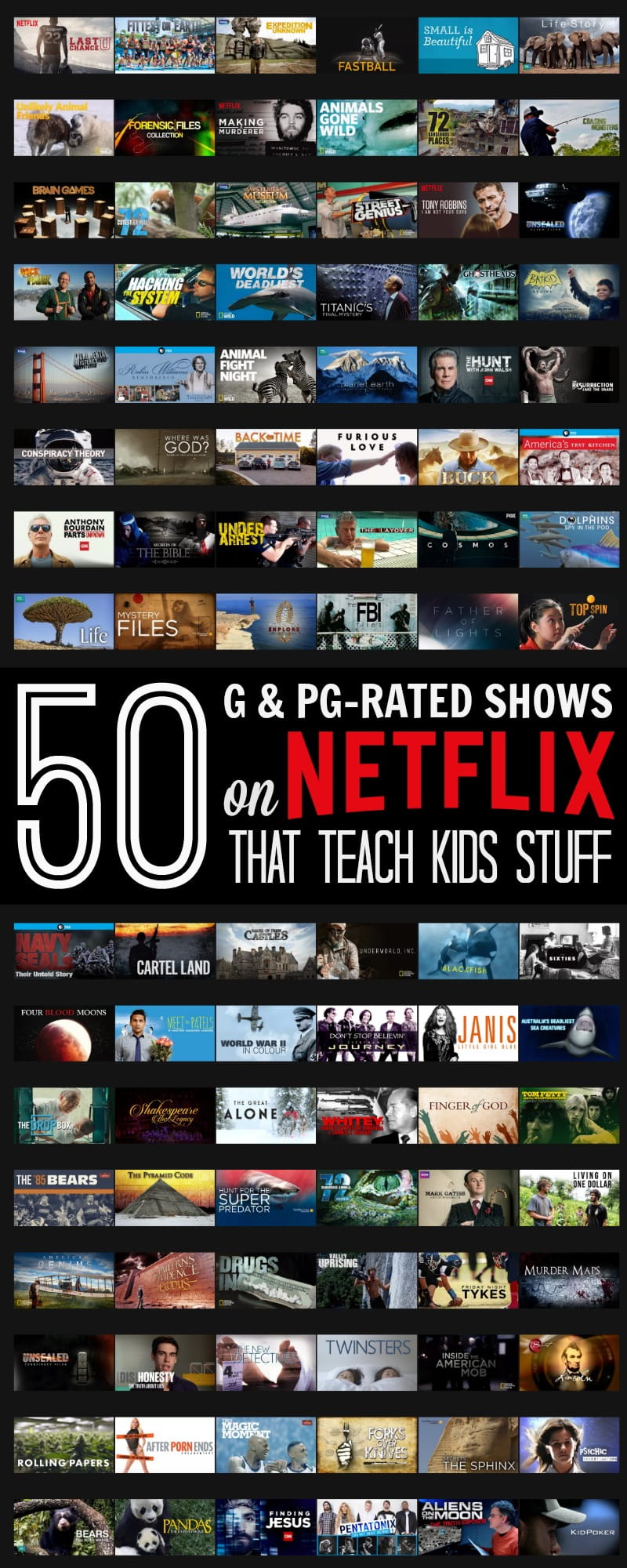 This post is part of my participation in the Netflix Stream Team #StreamTeam.