I get downright giddy when I discover a new small kitchen appliance that can revolutionize my time in the kitchen. Which is why I was super excited by the opportunity to try out the Philips Air Fryer to create my own air fryer recipe.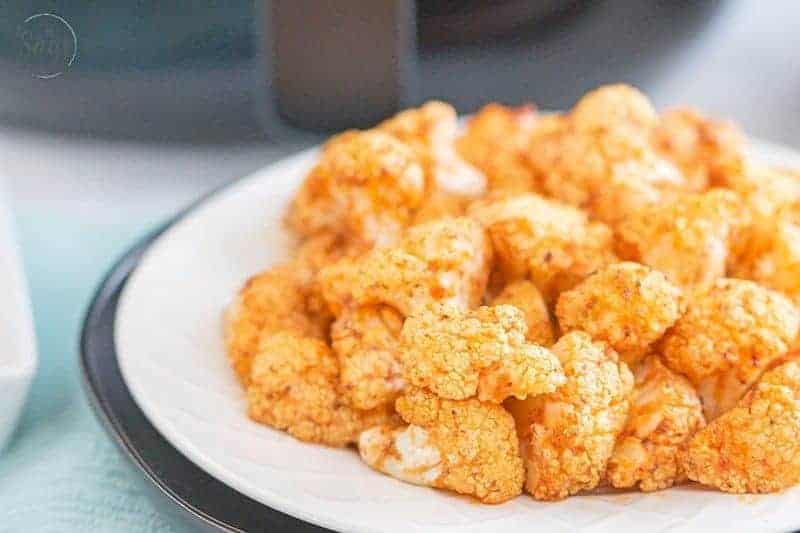 Jump to:
About the Philips Viva air fryer
My daughter said it best, when I asked what she thought an air fryer did. She said "well, I think it fries your food using air." Bingo.
The Philips Viva Air Fryer allows you to enjoy your favorite recipes, but healthier.
It uses TurboStar technology for air circulation to ensure fast and even cooking.
It is the worlds #1 Air Fryer having sold over 7 million units.
Reduces the fat from the food, up to 75%.
Food is crisp on the outside, tender on the inside.
Air frying benefits
Real Tasty: create delicious recipes that the whole family will enjoy. Who doesn't like "fried" foods?
Real Healthy: reduces the amount of fat in the food by 75% means healthier versions of otherwise unhealthy foods. Thinks french fries, sliders, wings and more!
Real Simple: easy to use, convenient, no smoke, less mess and easy cleanup.
Popular air fryers
Air fryers have exploded in popularity 2021. Everyone is looking for easy ways to recreate restaurant quality meals.
Cosori Air Fryer currently holds #1 and #2 on Amazon's best sellers list. And while I'm not trying to sell you an air fryer, this means something. This also happens to be the most wished for Air Fryer as of 2021.
If you are loyal to specific brands here are a few more top air fryer brands:
The Philips air fryer is pretty much ready to use right out of the box. You need to wash the cooking pan in warm soapy water first, but otherwise, it's ready to go. Simply set the mesh bottom into the basket, set the basket in the pan, add your food and fry!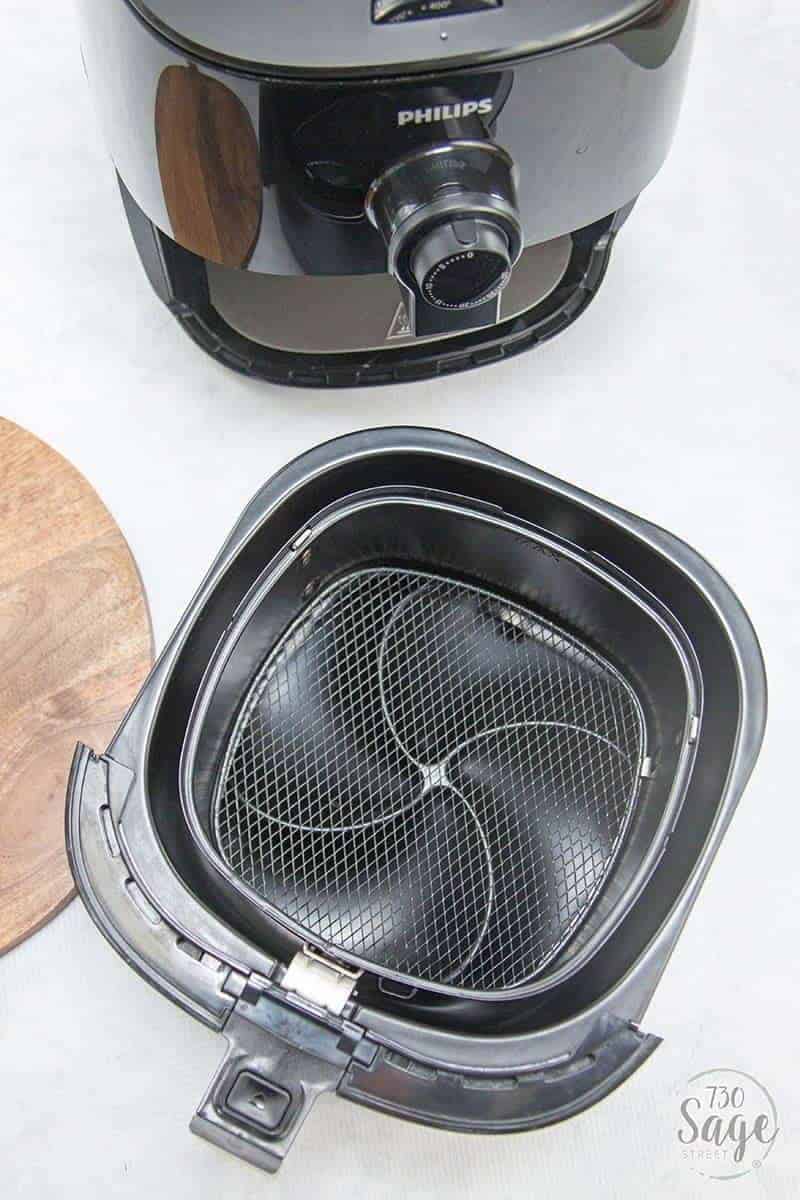 🔪 How to make
You only need three ingredients for this recipe. And, of course, a Philips Viva Air Fryer. It is perfect for game day because it has a spicy kick and while it reminds you of eating a buffalo wing, it's a much healthier version. If you want to make more than one batch of these, I recommend that you chop the cauliflower ahead of time and use a plastic zipper bag to coat the pieces.
Start with a small head of cauliflower.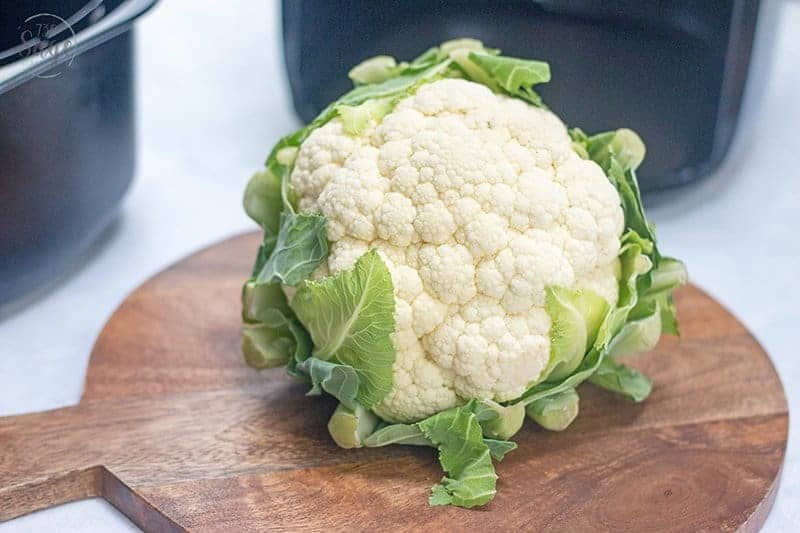 Remove the leaves and as much of the stalk as you can.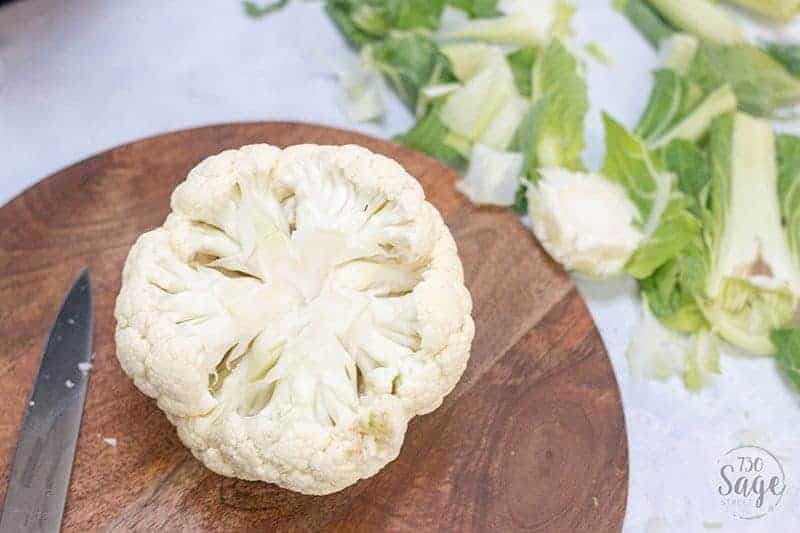 Then cut the florets off and cut each one into bit sized pieces.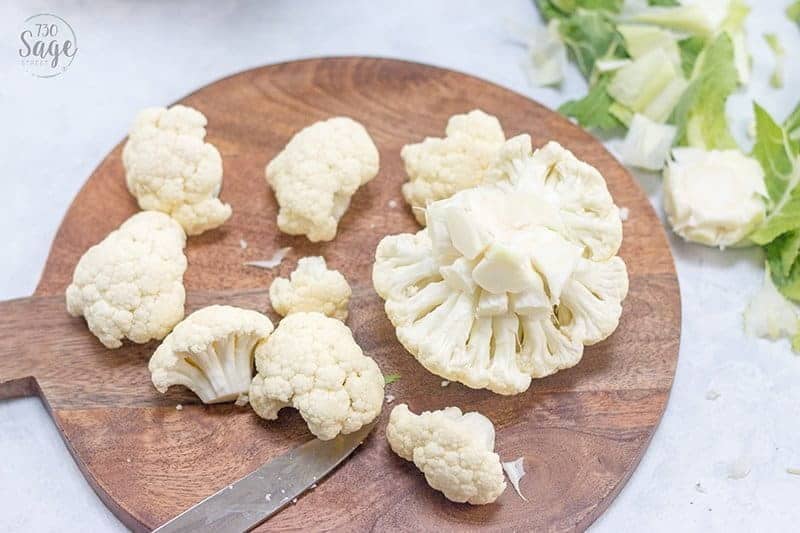 Prepare the mayonnaise and the the sriracha sauce, and combine in a small bowl. Depending upon the size of your cauliflower, you may need to double the sauce, but start with these amounts, and double as necessary.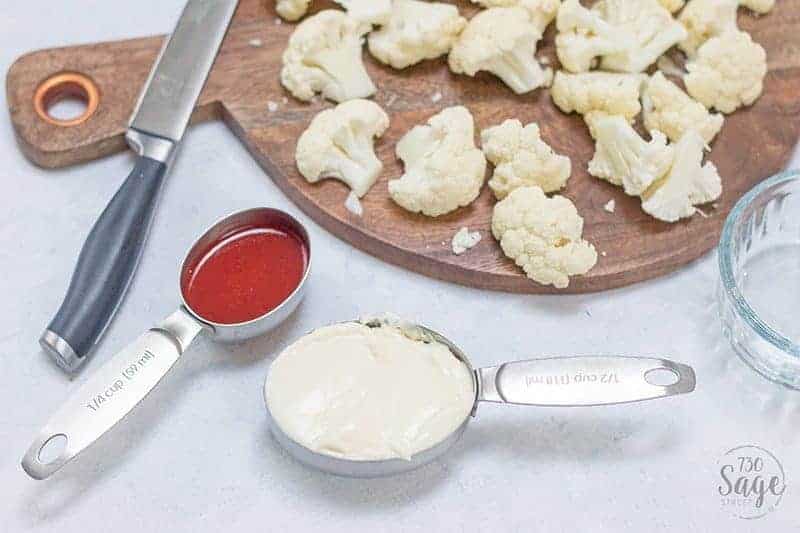 Pour the sriracha mayo mixture into a small bowl with high sides to make it easy to dunk the cauliflower into the sauce for full coverage.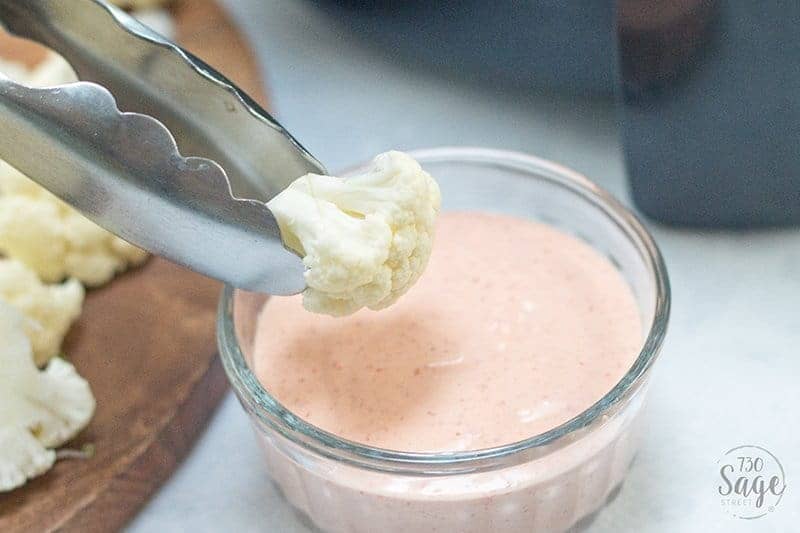 Shake as much of the excess sauce off and set each piece into the fryer basket. The pieces can touch, but you will have better results if they aren't stacked on top of each other.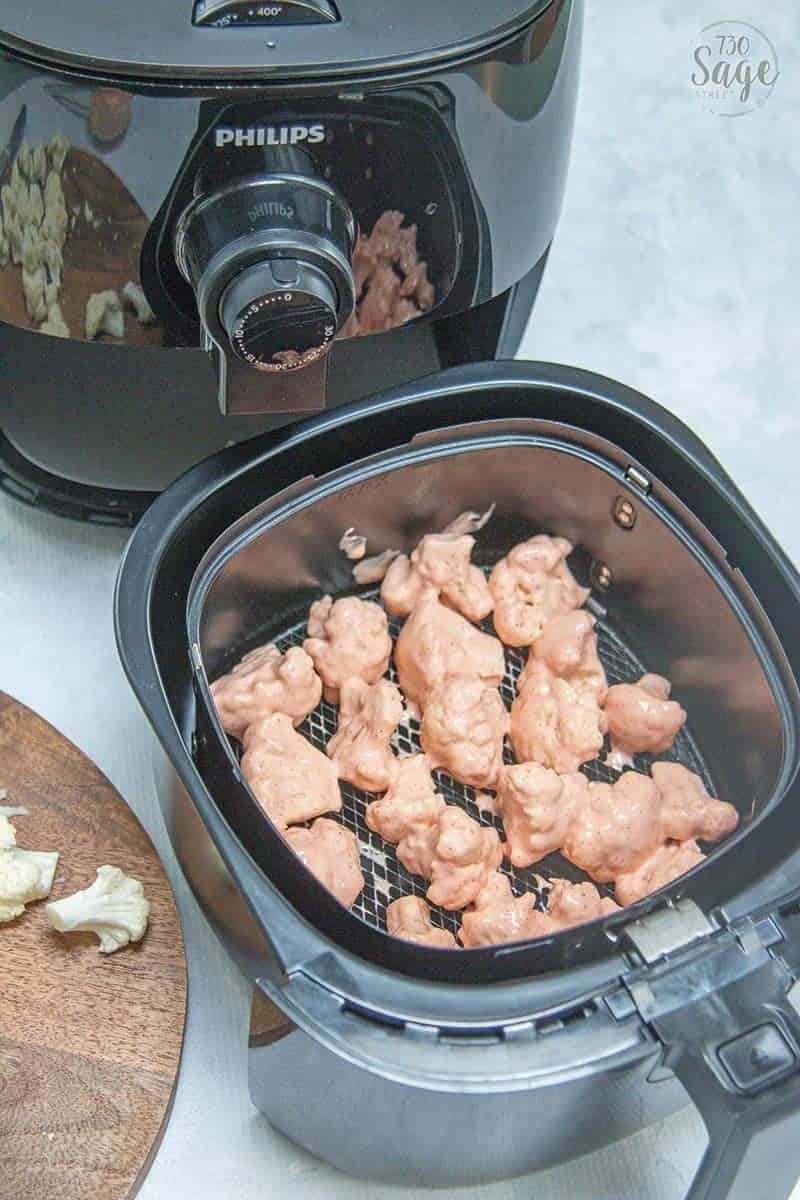 Set the temperature gauge to 350 degrees and fry for 15 minutes.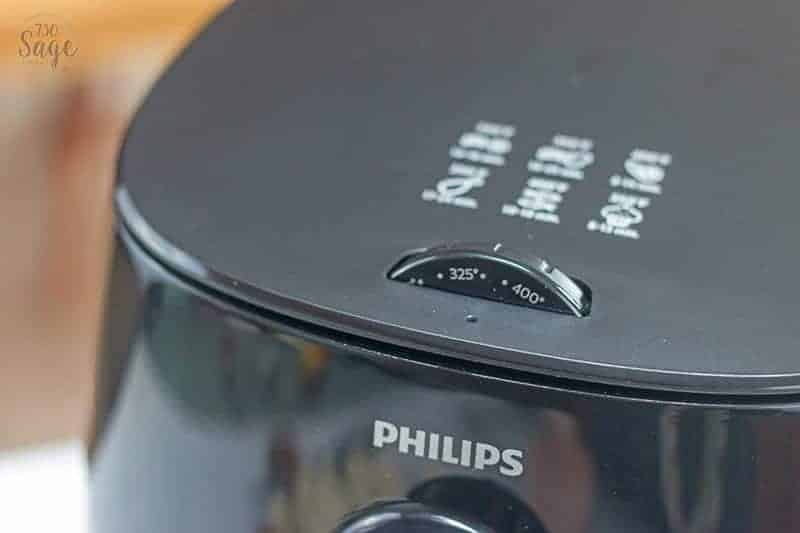 Make sure you remove the basket and shake it frequently to ensure full air coverage of the pieces.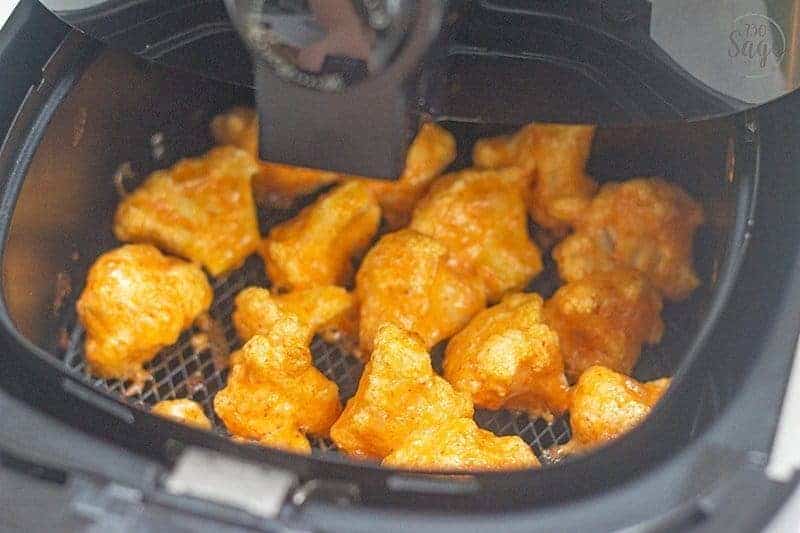 Remove the pieces and place on parchment paper to cool.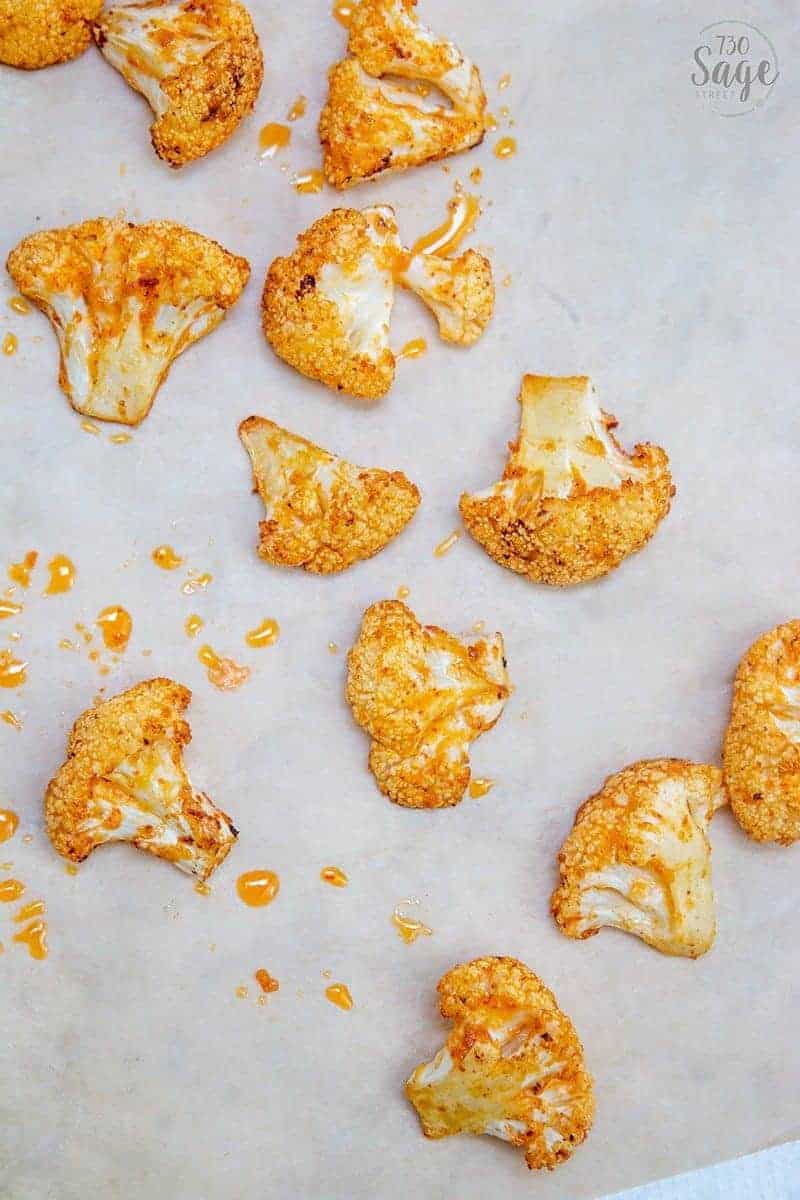 Repeat frying as necessary until you have used all of the pieces of the cauliflower.
Serve as-is or with some extra sriracha mayo on the side.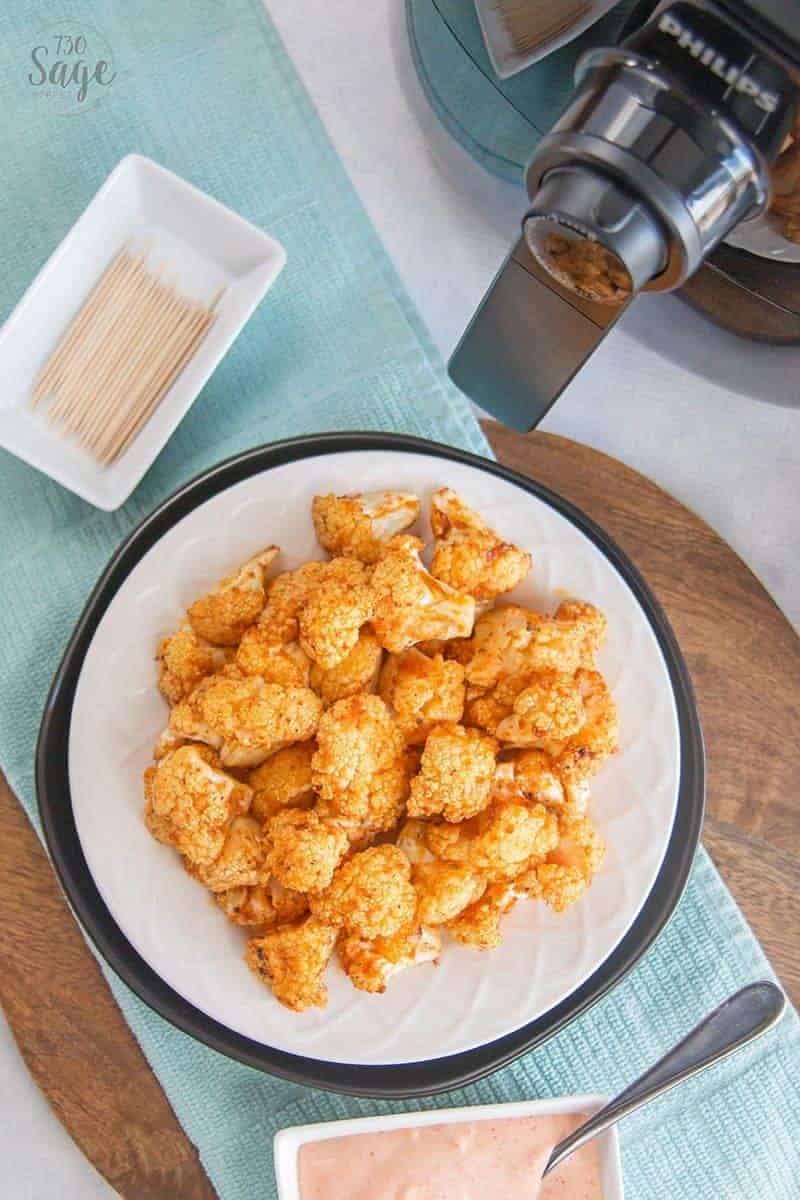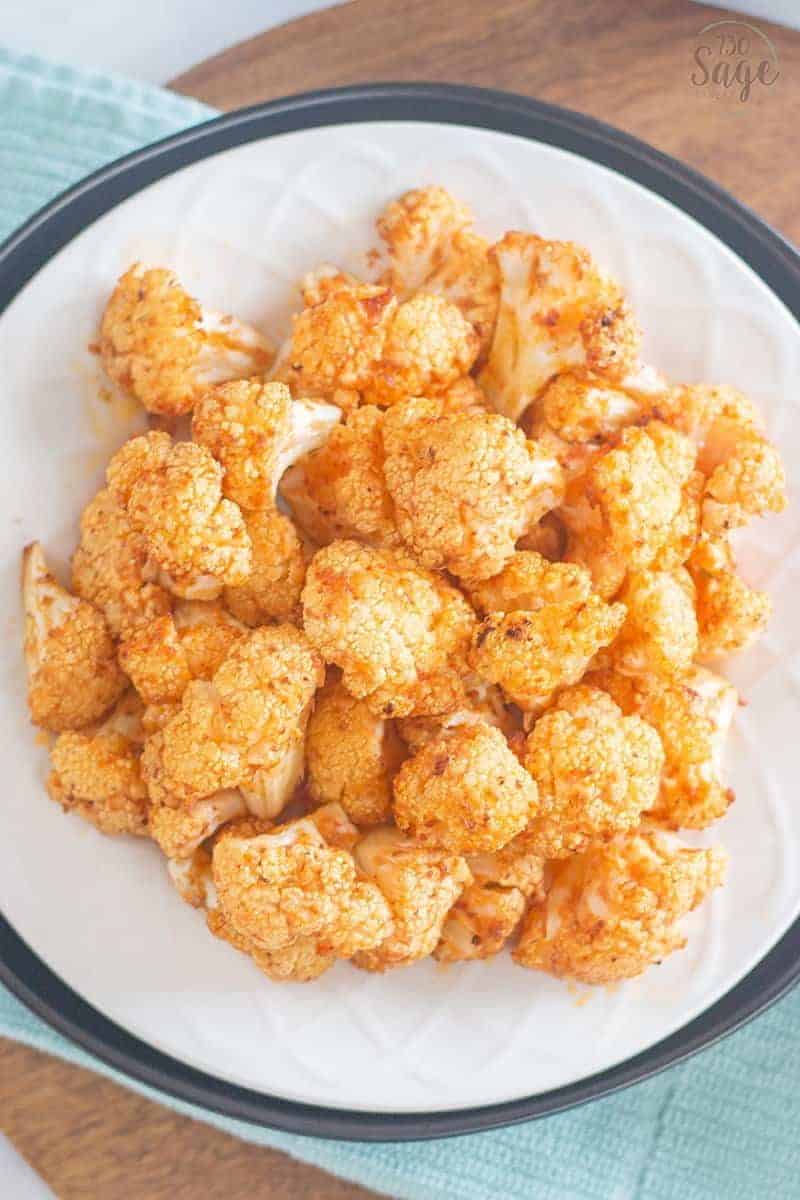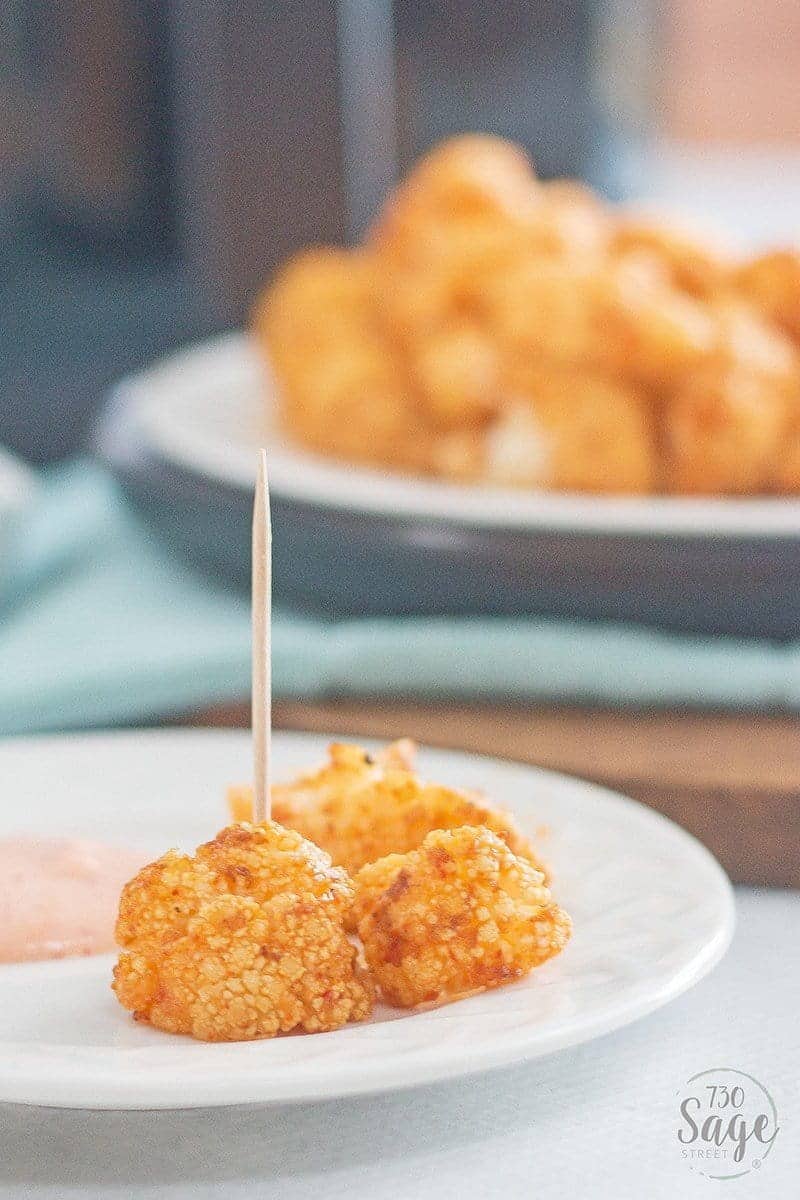 You can also check out another air fryer recipe using cauliflower here: whole roasted cauliflower.
📖 Recipe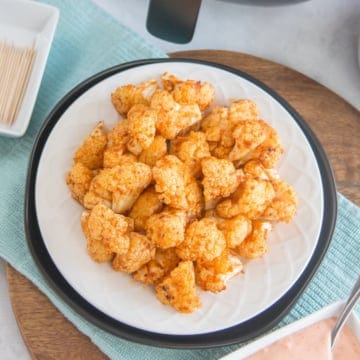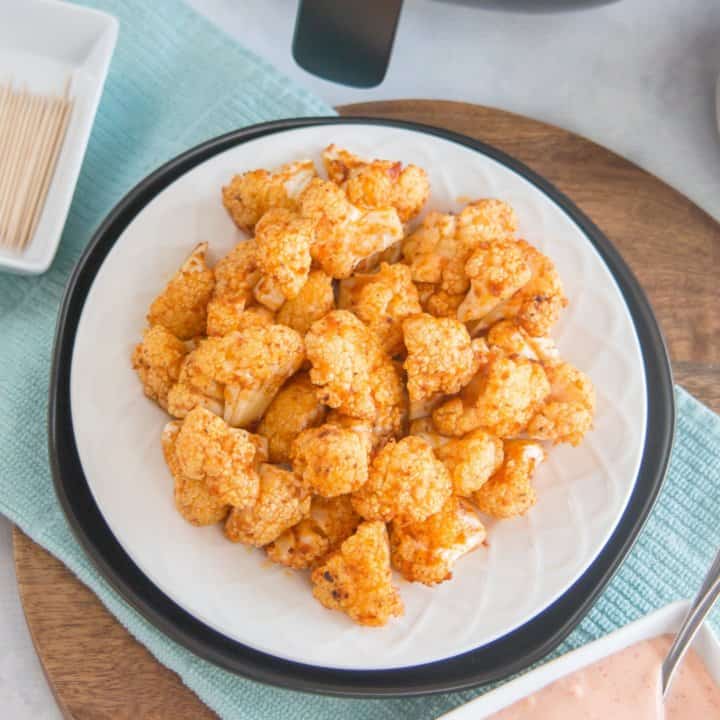 Spice up game day with this Sriracha cauliflower bites air fryer recipe. Healthy food can taste great and and air fryer fries up delicious game day appetizers without all of the fat.
Ingredients
1

small or medium head of cauliflower

½

cup

mayonnaise

⅛

cup

sriracha sauce
Instructions
Chop the cauliflower into bite-sized pieces. Not too small though.

Mix the mayo and the sriracha together and pour it into a small bowl with tall sides or even a glass.

Dunk each piece of cauliflower into the sauce, coating it fully.

Shake the excess sauce off each piece and place in the fryer basket. The pieces can touch each other but place them in a single layer.

When the basket is full, place it into the fryer.

Set the fryer temperature to 350 degrees F and set the timer for 15 minutes.

Every couple of minutes, pull the basket out and shake it so move the pieces around and ensure they cook on all sides.

While the first batch is cooking, continue to coat the remaining pieces in the sauce.

When the first batch is done, remove the pieces and place on parchment paper to cool.

Repeat with the remaining pieces of cauliflower. A small to medium head of cauliflower should take two batches.
Notes
Sprinkle salt and pepper after dipping the florets into the sauce for extra flavor.
I prefer using fresh cauliflower in all my recipes, but if you have frozen cauliflower on hand, just use it. Thawing isn't even necessary; just coat the florets with some olive oil spray or cooking spray. This helps the spices to stick. So if you're planning to spice up your cauliflower florets, don't skip this step.
You may need or want to double the mayo and sriracha sauce you use depending upon the size of the cauliflower or if you want to serve some on the side for dipping. Just maintain the ratio of ½ cup to ⅛ cup. If you want to make more than one batch of these, I recommend that you chop the head cauliflower ahead of time and use a plastic zipper bag to coat the pieces.
I didn't use oil in this recipe but go ahead and use some if desired. Olive oil works great for this cauliflower air fryer recipe. Its robust flavor infused with the spicy creamy sweet sauce will add a new dimension to your favorite appetizer. If you don't have it on hand, butter, avocado oil, canola oil or vegetable oil are great substitutes. However, you will not get the depth of flavor olive oil brings to the table.
If you don't have an air fryer, bake instead. Coat your cauliflower florets with sauce then set the oven to 400° F. Arrange the cauliflower pieces on a baking sheet lined with parchment paper. Cook for about 15 minutes, flip, then bake for another 5 or so minutes until crispy or golden brown. If you want ultra-crispy air fryer cauliflower, simply set the oven to high broil and cook for about 2 minutes or until nicely browned.


Calories:
197
kcal
|
Carbohydrates:
1
g
|
Fat:
21
g
|
Saturated Fat:
3
g
|
Cholesterol:
11
mg
|
Sodium:
384
mg
|
Potassium:
90
mg
|
Sugar:
1
g
|
Vitamin A:
20
IU
|
Vitamin C:
18.5
mg
|
Calcium:
6
mg
|
Iron:
0.2
mg
Information shown is an estimate and is for information only. 730 Sage Street is not responsible for the factual accuracy of any nutrition information, calculations or claims.
Tried this Recipe?
Save it to your board today!
Air Fryer - Sriracha Cauliflower Appetizer Bites recipe originally published February 1, 2018 and improved with updated images in May 2021.