This keto meatloaf is stuffed with delicious cheese for the perfect keto comfort food. Replace breadcrumbs with pork rinds for classic meatloaf flavor.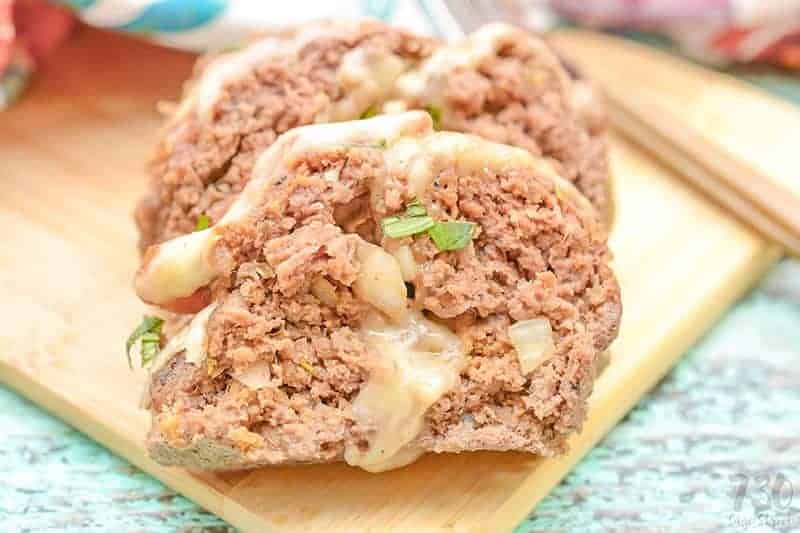 Jump to:
Tis the season for comfort food, and if you had a grandma, there is no doubt in my mind that you have eaten your fair share of meatloaf. It seems like there are 2 types of people in the world - those who love meatloaf and those who hate it. Well, if you love meatloaf but follow a low carb diet, it's generally off-limits because it's made with flour or breadcrumbs.
But I got you covered with this keto meatloaf recipe. All of the flavor, just a few of the carbs. You won't even be able to tell the difference. And the cheese stuffed in the middle is downright amazing.
This would go great with mashed cauliflower but also with a side of steamed veggies or my cauliflower stuffing.
This recipe is great to make ahead and freeze too. You could make a bunch of them at once and have this low carb meatloaf recipe every week with only a little bit of effort.
Please note that this low carb meatloaf recipe was provided by a a guest chef. The article was written by me, but this delicious recipe was created by a contributor.
The only real work for this recipe is making the meat mixture. Once you have that, it goes really quick. You don't have to brown the ground beef, you work with it raw just as you would any other meatloaf recipe.
🥘 Ingredients
2 lb Ground beef
1 Egg beaten
½ cup Low carb breadcrumbs
1 Small onion chopped
1 tsp Garlic powder
1 tsp Italian seasoning
¾ tsp Salt
¼ tsp Black pepper
3 tbsp Tomato paste
1-¼ cup Mozzarella cheese shredded, divided
½ cup Marinara sauce no sugar added
🔪 Instructions
Combine the ground beef with the chopped onion.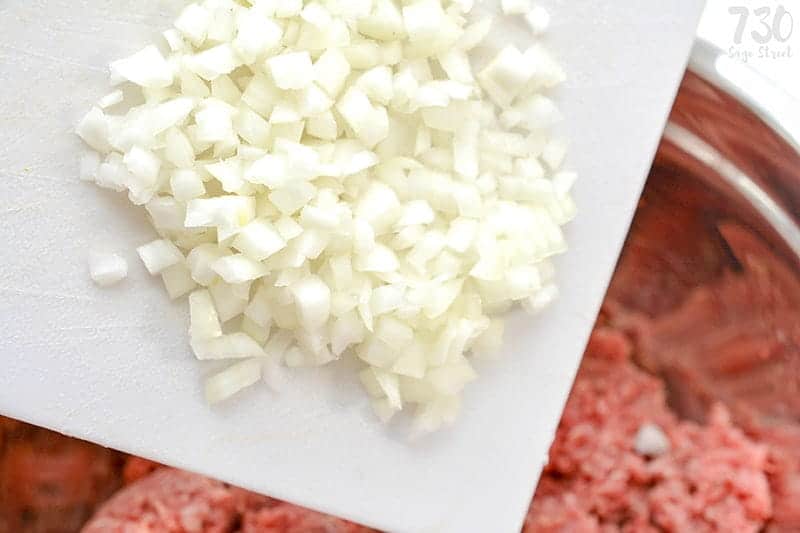 Pour in beaten egg.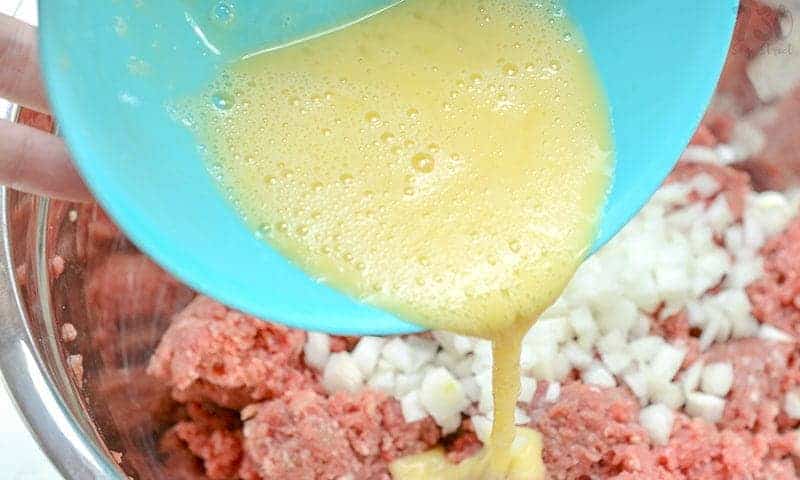 Add pork rind keto breadcrumbs. You can make your own, or buy them, but the ones you can buy often have extra ingredients like MSG in them. The one below is for reference. It has MSG so I don't actually recommend it, but it gives you an idea that companies are making more and more keto-friendly products.
I'm willing to bet that my recipe tastes better anyway.
I use this brand because it's just pork rinds and salt. Nothing else added. You can crush them easily in a plastic bag.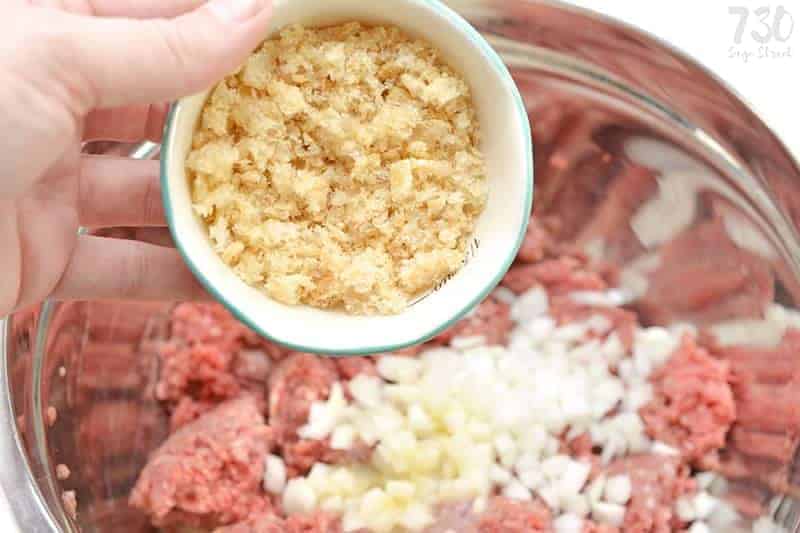 A bit of garlic powder.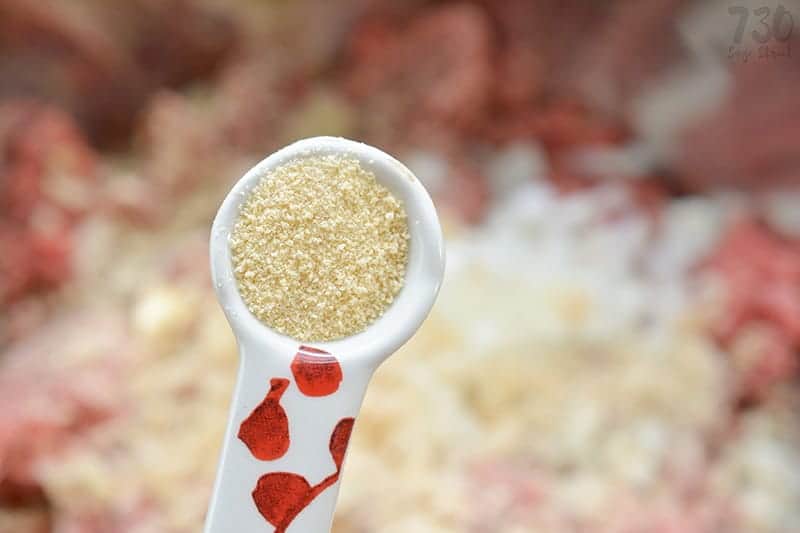 Some savory Italian seasoning.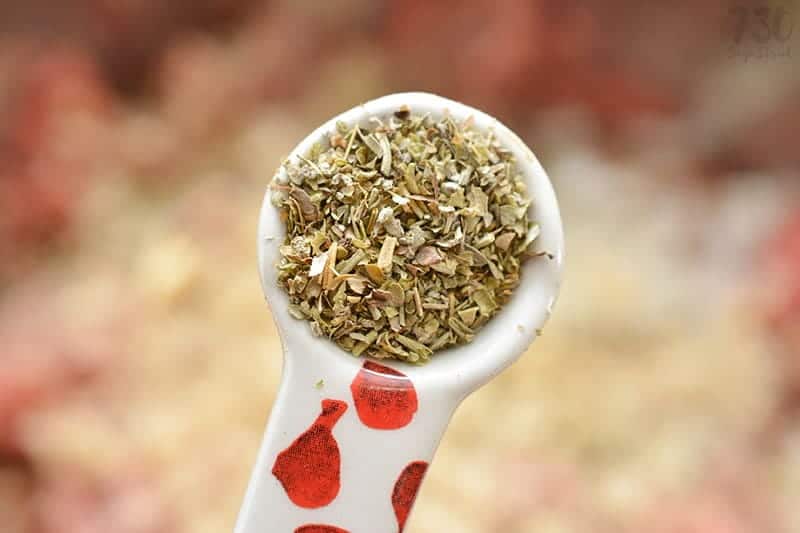 Tomato paste.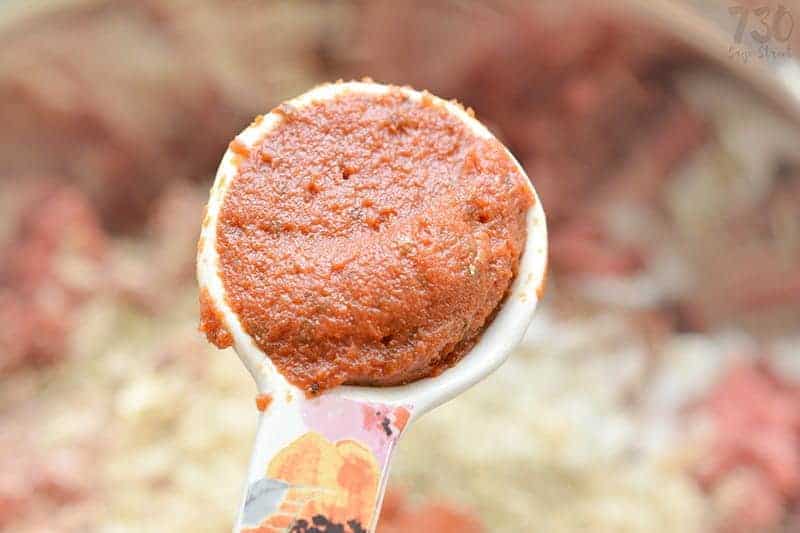 And salt.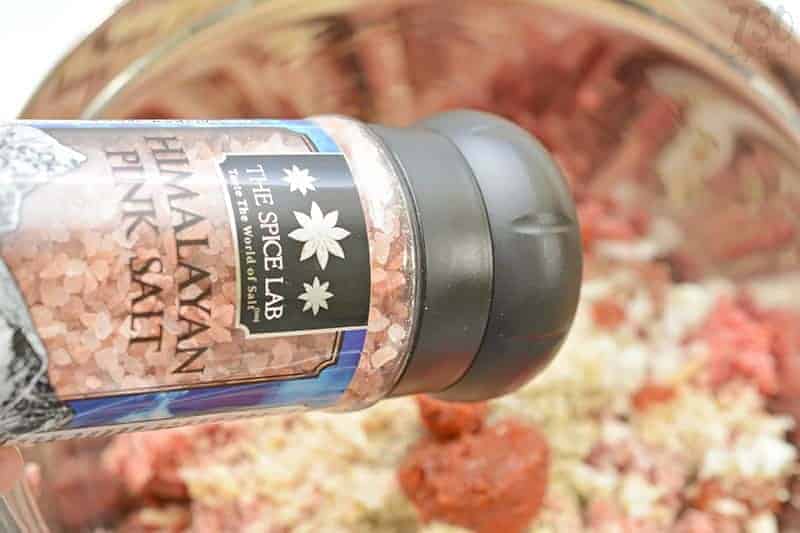 Mix well. I don't like to touch raw meat. If you don't either, you can use food safe gloves but you really do want to use your hands for the best possible results getting all of the ingredients completely combined.
Once the meat mixture is fully combined, you form it into a shallow loaf and make a "well" in the middle for the cheese.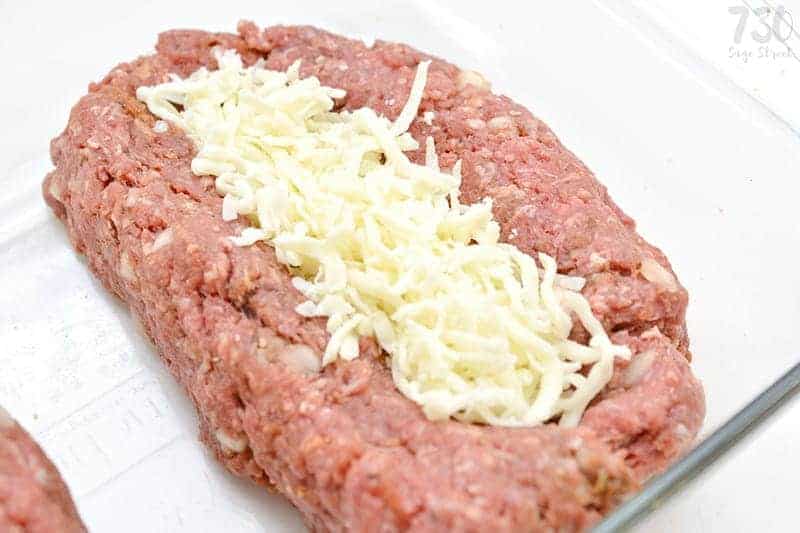 Mold the sides up over the cheese "well" so that the cheese is fully surrounded by the meat mixture. Top with marinara and bake.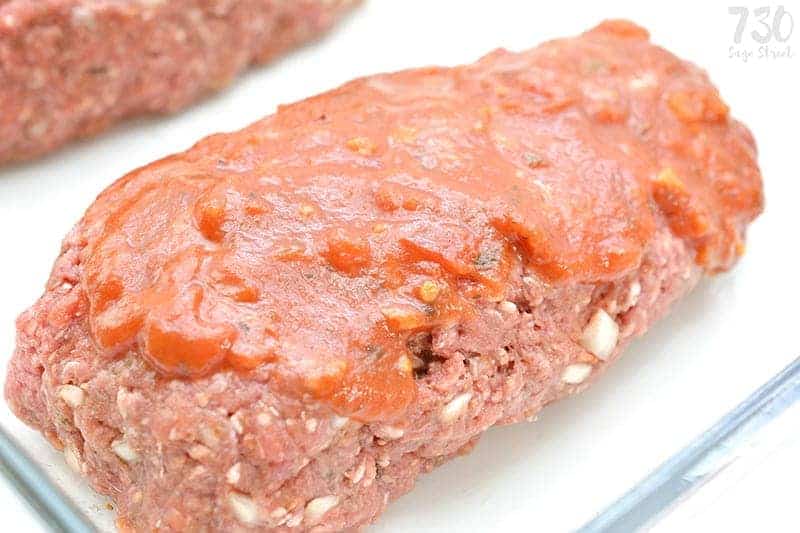 Add some mozzarella to the top a few minutes before it is done cooking and it turns out beautifully!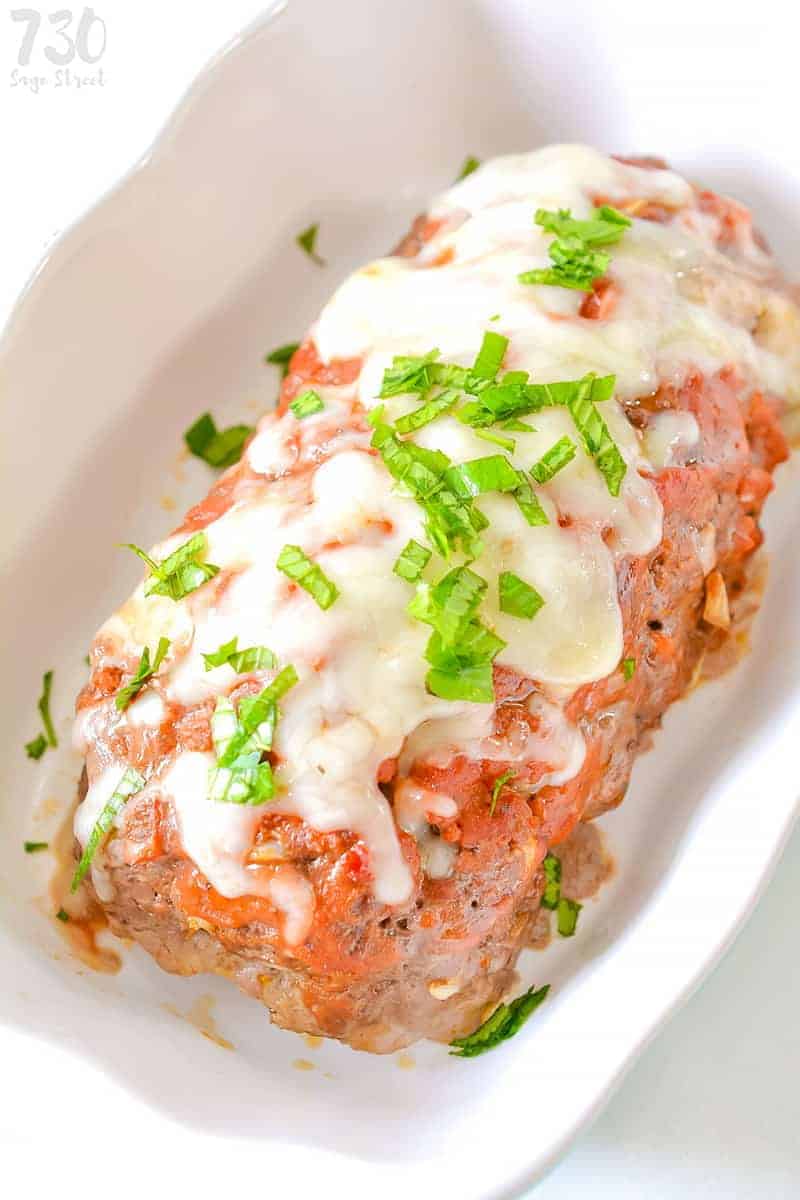 Slice and serve!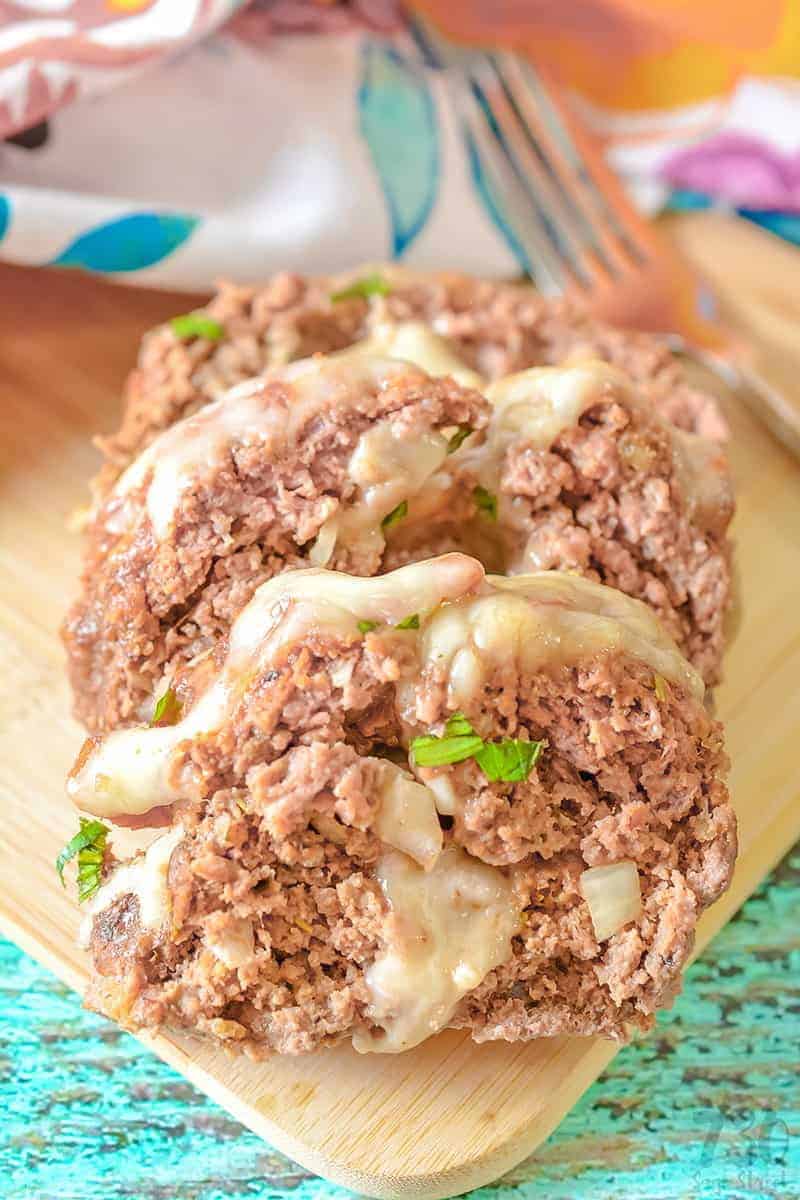 📖 Recipe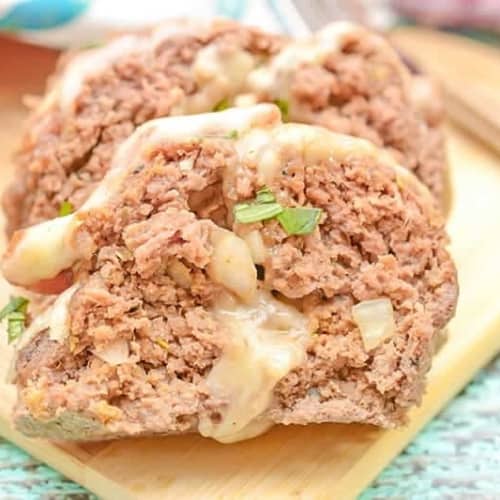 This keto meatloaf is stuffed with delicious cheese for the perfect keto comfort food. Replace breadcrumbs with pork rinds for classic meatloaf flavor.
Instructions
Preheat oven to 350 degrees F.

In a large mixing bowl, combine the ground beef with the chopped onion.

Add in beaten egg and the low carb breadcrumbs.

Add garlic powder, Italian seasoning, salt and pepper.

Using your hands (with or without gloves) Mix all of the ingredients together until fully combined.

Form the meat mixture into two smaller oval shaped loaves. This will help them cook more quickly and evenly.

Make a divet down the center of each oval loaf of meat. Place ½ cup of mozzarella cheese into the center of each meatloaf, and close the extra meat up over it, so that the cheese is stuffed into the center of the loaves.

Add each meatloaf to a loaf pan and spray with a non-stick spray. I like coconut oil spray.

Top each of the meatloaves with a ¼ cup of marinara sauce.

Bake for 30 minutes. Remove from oven, and top each one with half of the remaining mozzarella cheese. Return them to the oven and cook for an additional 5-10 minutes until the cheese is bubbly and the meat is cooked through (the USDA has the minimum safe internal temperature for ground beef at 160 degrees Fahrenheit).


Calories:
343
kcal
|
Carbohydrates:
4
g
|
Protein:
22
g
|
Fat:
25
g
|
Saturated Fat:
9
g
|
Polyunsaturated Fat:
0
g
|
Monounsaturated Fat:
0
g
|
Trans Fat:
0
g
|
Cholesterol:
103
mg
|
Sodium:
452
mg
|
Potassium:
449
mg
|
Fiber:
0
g
|
Sugar:
2
g
|
Vitamin A:
210
IU
|
Vitamin C:
3.4
mg
|
Calcium:
52
mg
|
Iron:
2.7
mg
Information shown is an estimate and is for information only. 730 Sage Street is not responsible for the factual accuracy of any nutrition information, calculations or claims.
Tried this Recipe?
Save it to your board today!