I have two favorite foods, pizza, and enchiladas. If they were the only food available, I could eat them both every day and be happy. But when you follow a low carb diet, those are two types of foods that are notoriously full of carbs. I've managed to find a delicious low carb pizza recipe, and now I've come up with a low carb chicken enchilada casserole that will satisfy my cravings for enchiladas.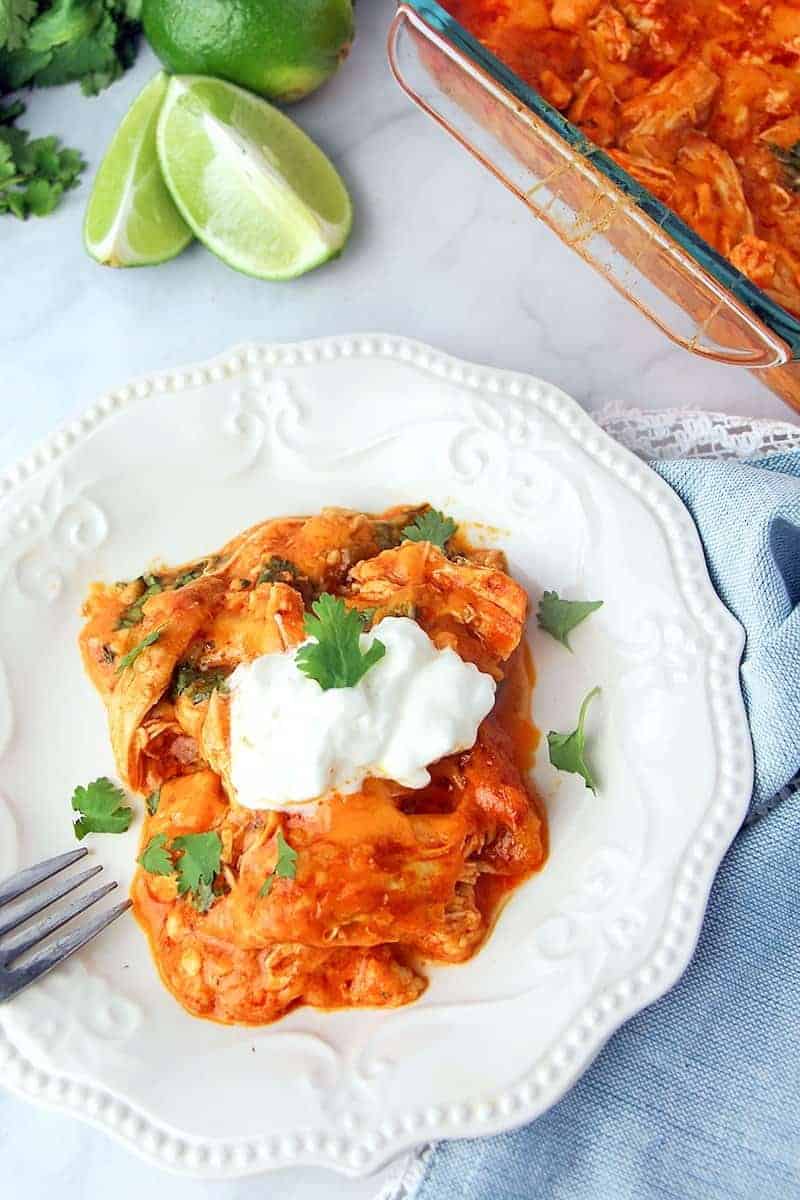 This recipe is based on the America's Test Kitchen Chicken Enchiladas recipe. They test their recipes 30-70 times and have at-home testers that make sure the recipes are easy to follow and understand. So you know their recipes are foolproof. For the low carb chicken enchilada casserole, I removed the tortillas and added some extra cheese. You can add additional ingredients depending on what you like in your enchiladas, like avocado, green onions, lettuce, tomato, whatever your little heart desires.
Kitchen Gizmo 2 Sided TPU Anti-Bacterial Cutting Board, Thick Yet Flexible, Knife Friendly, Scratch Resistant, Juice Groove, Dishwasher Safe, Antimicrobial and FDA Approved (Green/Brown)
PRO TIP: I hate dealing with raw meat. Whether I need to cut it or just set it somewhere so that I can then dip it in something to coat it like these pork chops I am coating in Parmesan cheese. Wood cutting boards can harbor bacteria and the plastic ones are bulky and don't always have a groove around them to catch the meat juice. Ewwww. I can never tell if I cleaned everything the meat juice may have touched. This Kitchen Gizmo cutting board is anti-bacterial, flexible and dishwasher safe. Perfect for dealing with raw meat of all kinds. If you have to cut veggies or other ingredients, it's flexible so instead of scraping the food into the dish, you simply bend the sides of the cutting board and pour it into your dish. Super versatile! It's knife-friendly and guaranteed for two years!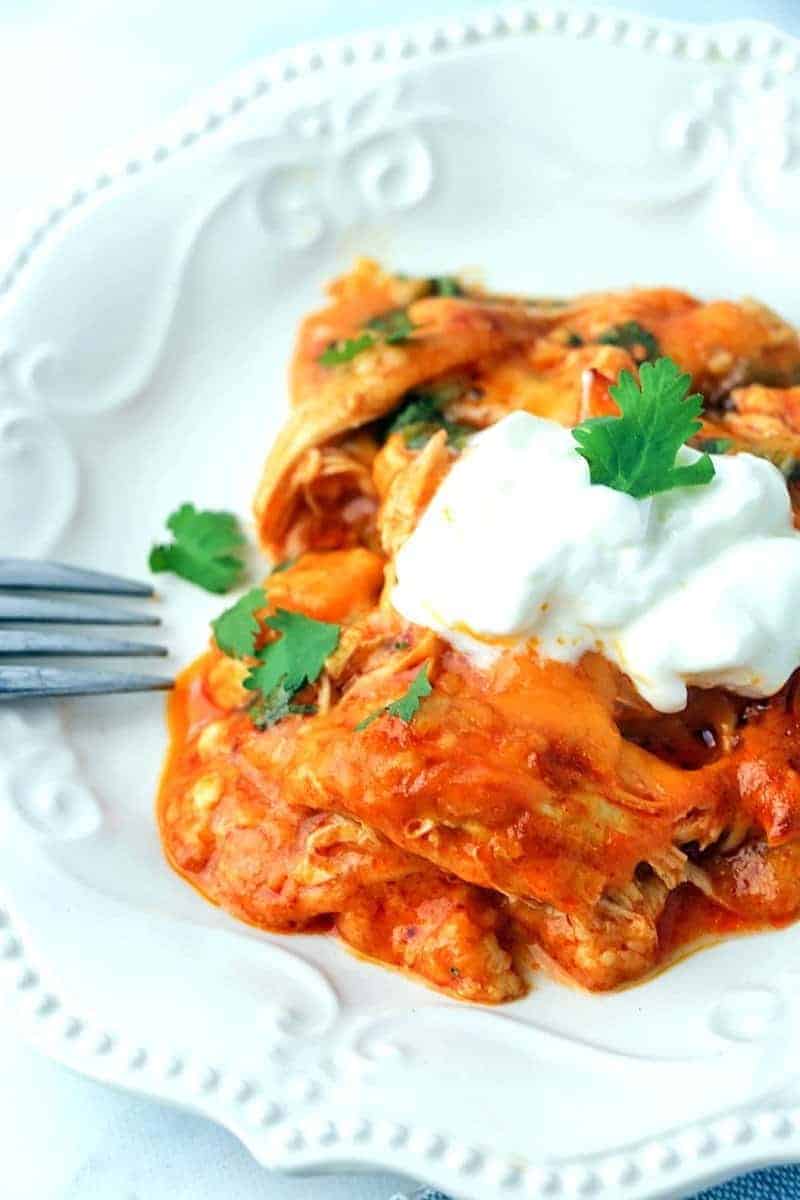 Low Carb Chicken Enchilada Casserole
You won't even miss the tortilla!

Low Carb Chicken Enchilada Casserole
Prep time:
Cook time:
Total time:
Serves: 4-6
Ingredients
1 lb. boneless, skinless chicken breasts trimmed & pounded if necessary
Salt & pepper
1½ cups of enchilada sauce (store bought or from scratch)
1 cup finely crumbled queso fresco or feta cheese
1 (4 oz.) can of green chiles
½ cup minced fresh cilantro
Olive oil spray (or you can use olive oil in a little bowl with a brush)
2 cups shredded cheddar cheese
Lime wedges (optional)
Sour cream (optional)
Instructions
Preheat oven to 450 degrees.
Pat chicken dry and season with salt and pepper.
Combine the chicken and enchilada sauce in a medium saucepan & simmer for 10-15 minutes over medium-low heat. Then flip the chicken over, cover and cook for an additional 10-15 minutes until chicken reaches 160-165 degrees with an instant-read thermometer.
Remove chicken from pan and shred into bite-sized pieces. Combine shredded chicken, the enchilada sauce, queso fresco, chiles and cilantro in a bowl. Add salt and pepper if desired.
Spray a square casserole dish with olive oil (or use a brush) and coat the entire bottom and sides.
Evenly spread 1 cup of shredded cheddar cheese on the bottom of the dish. Add the chicken mixture, then add the other cup of cheddar cheese on top. Cover with foil and bake for about 10 minutes. Remove foil and bake an additional 3 to 5 minutes to melt the cheese.
Serve with optional lime wedges and optional sour cream.
Maybe next time I'll try and make some low carb tortillas to achieve a more traditional dish.