This low carb cheesy chicken and cauliflower casserole recipe will make you forget that you are eating low carb. It's hearty and filling, and best of all, super yummy.
Instructions and photos are below, as well as a printable version of the recipe, estimated nutrition information and a pinnable image too! The printable recipe is at the bottom.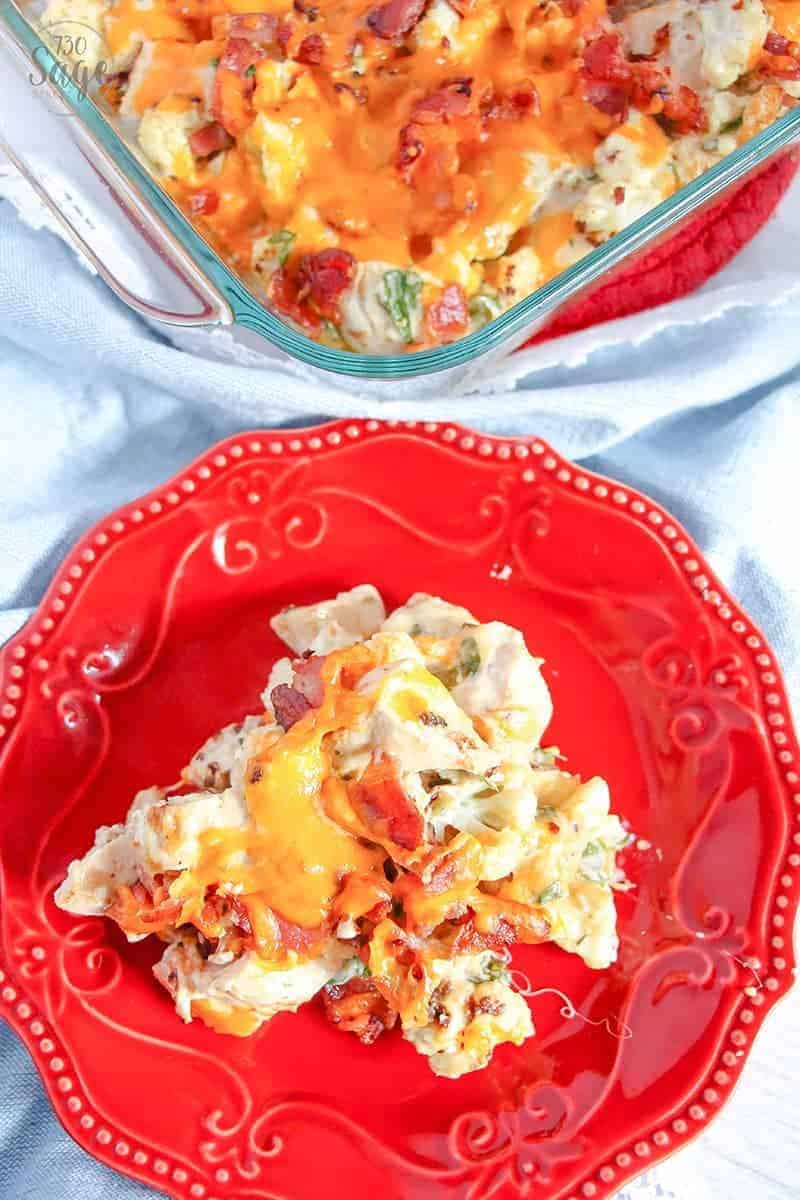 This recipe requires a little bit of prep work to get it ready.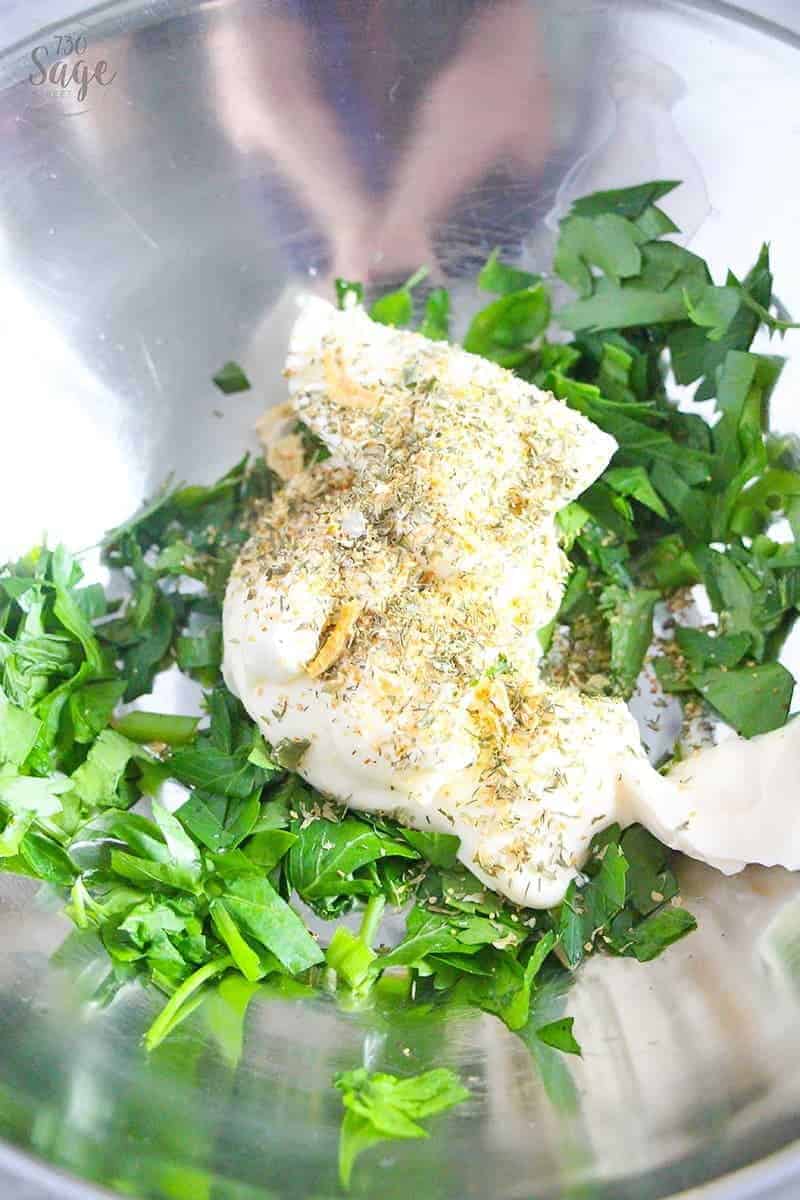 But then you add everything to the casserole dish and you can clean up while it bakes. I love recipes like this low carb cheesy chicken and cauliflower casserole.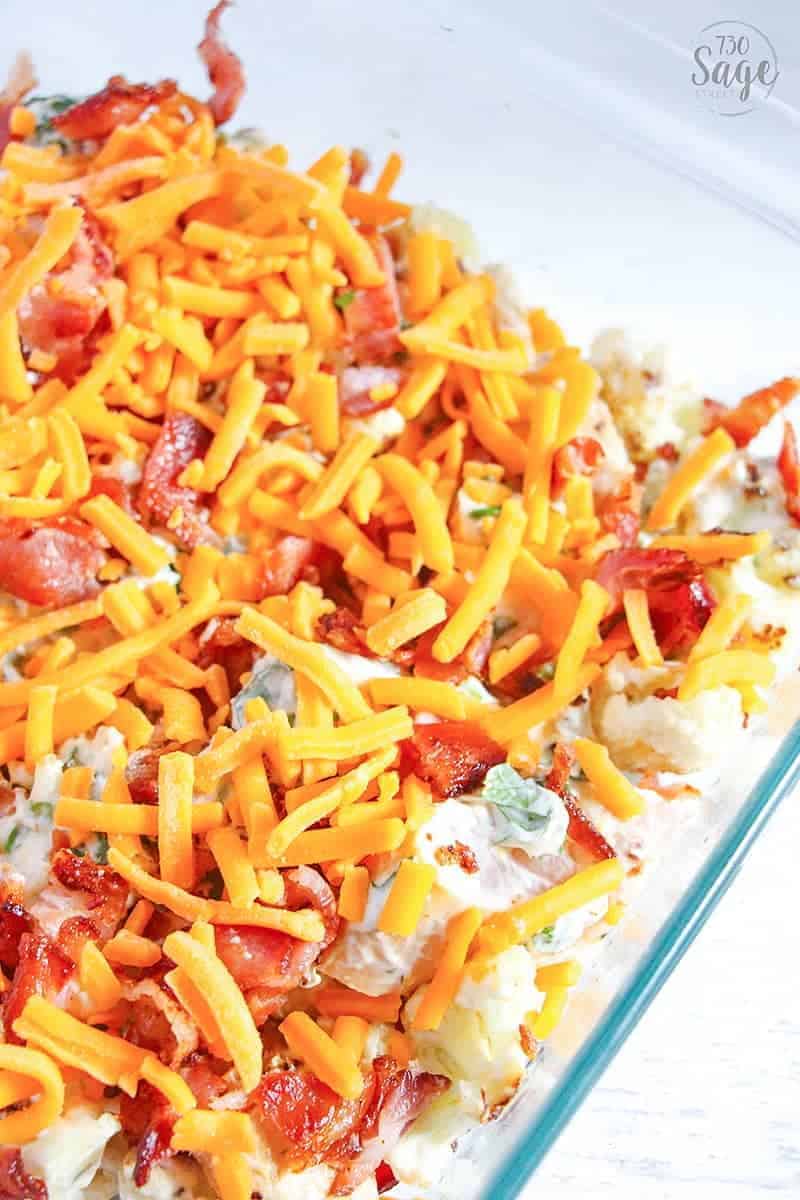 Some things you might need for this recipe:
Baker's Advantage Ceramic Square Baking Dish, 9-by 9-Inch, Red
Reynolds Kitchens Cookie Baking Sheets Parchment Paper (Non-Stick, 22 Sheets)
Lodge Cast Iron Skillet, 10.25-inch
Kitchen Gizmo 2 Sided TPU Anti-Bacterial Cutting Board, Thick Yet Flexible, Knife Friendly, Scratch Resistant, Non-Slip, Juice Groove, Dishwasher Safe, Antimicrobial and FDA Approved (Red/Black)
Low Carb Cheesy Chicken and Cauliflower Casserole
Scroll to the bottom for the printable recipe.
Ingredients:
3-4 chicken breasts, chopped in 2″ cubes
1 head of cauliflower, chopped
1 cup sour cream or greek yogurt
½ cup fresh flat leaf parsley, chopped
3 fresh chives, chopped
1 clove garlic, minced
1 teaspoon dried dill
1 teaspoon sea salt
1 teaspoon ground black pepper
½ teaspoon cayenne pepper
1 teaspoon paprika
¼ cup heavy cream
1½ cup cheddar cheese
4 strips bacon
Did you know that you can buy a bunch of pantry staples at Amazon.com? This helps make my shopping trips so much easier because I only need to shop for my produce, refrigerated and frozen foods. No need to go into the middle aisles of the grocery store at all! Some of their items have free Prime shipping, some you can get a flat rate if you use Prime Pantry. This saves me so much time.
Although you could use Peapod, and then you won't ever have to leave your house because they deliver your groceries right to your door. Even frozen foods.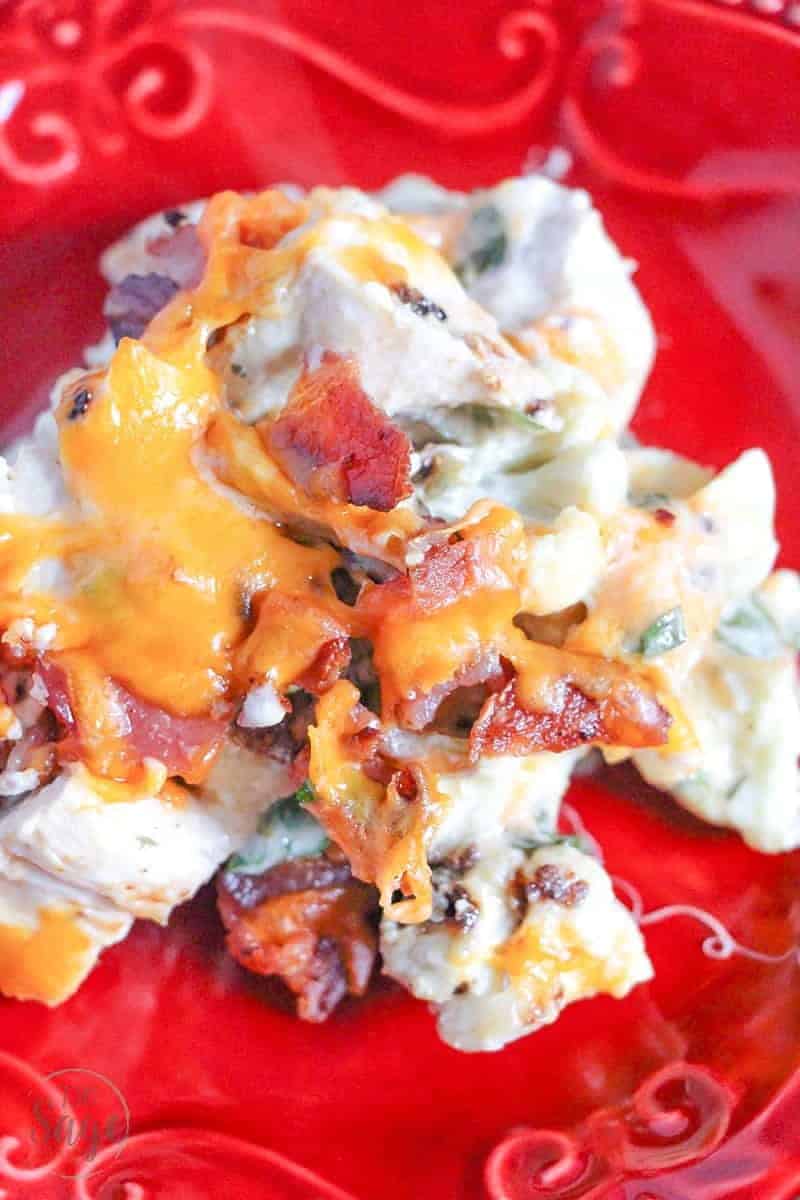 Directions:
Preheat oven to 350F and grease or line a 9×9 casserole dish. I like to use a spray coconut oil.
Cook the bacon in a skillet over medium high heat with coconut oil or butter. Alternatively, you can bake it in the oven at 350 for 20 minutes (use a cookie sheet lined with parchment paper).
If you cooked the bacon in a skillet (I love cast iron), add chicken to brown, about 3-4 minutes each side. (If you chop before cooking it will cook faster, but you can chop after it's seared.) If you baked the bacon, brown the chicken using the coconut oil or butter.
Remove the chicken from the skillet and add the cauliflower, stirring occasionally for 3-4 minutes.
Meanwhile, combine the sour cream, heavy cream and seasonings together.
Combine the chicken and cauliflower in the ranch mixture and then pour into the casserole dish.
Chop up the bacon into small pieces.
Sprinkle the cheese and bacon over the casserole.
Bake uncovered for 25-35 minutes, until the cheese is melted and the chicken reaches an internal temperature of 165F. (You can cover towards the end if the cheese is browning.)

Nutrition Info
Nutrition info is provided for reference and information only and may not be accurate. Please do your own calculations to ensure accuracy, especially when using packaged ingredients as the nutrition information may vary from brand to brand.

Get the printable recipe below
But first, don't forget to Pin this on Pinterest!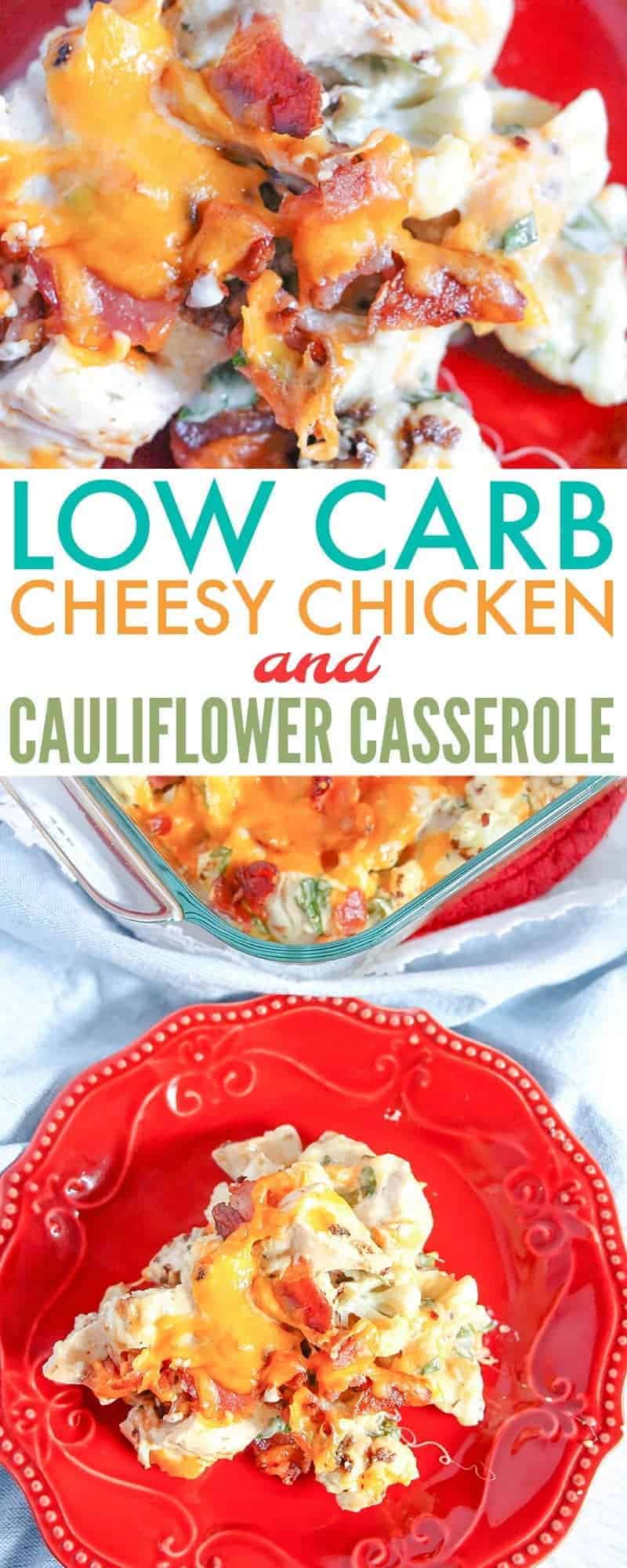 Check out some of our other low carb chicken recipes: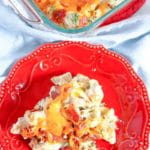 Low Carb Cheesy Chicken and Cauliflower Casserole
Print
Ingredients
2

Tablespoons

coconut oil or butter

3-4

chicken breasts

chopped in 2" cubes

1

head of cauliflower

chopped

1

cup

sour cream or greek yogurt

1/2

cup

fresh flat leaf parsley

chopped

3

fresh chives

chopped

1

clove

garlic

minced

1

teaspoon

dried dill

1

teaspoon

sea salt

1

teaspoon

ground black pepper

1/2

teaspoon

cayenne pepper

1

teaspoon

paprika

1/4

cup

heavy cream

1 1/2

cup

cheddar cheese

4

strips bacon
Instructions
Preheat oven to 350F and grease or line a 9x9 casserole dish. I like to use a spray coconut oil.

Cook the bacon in a skillet over medium high heat with coconut oil or butter. Alternatively, you can bake it in the oven at 350 for 20 minutes.

If you cooked the bacon in a skillet, add chicken to brown, about 3-4 minutes each side. (If you chop before cooking it will cook faster, but you can chop after it's seared.) If you baked the bacon, brown the chicken using the coconut oil or butter.

Remove the chicken from the skillet and add the cauliflower, stirring occasionally for 3-4 minutes.

Meanwhile, combine the sour cream, heavy cream and seasonings together.

Combine the chicken and cauliflower in the ranch mixture and then pour into the casserole dish.

Chop up the bacon into small pieces.

Sprinkle the cheese and bacon over the casserole.

Bake uncovered for 25-35 minutes, until the cheese is melted and the chicken reaches an internal temperature of 165F. (You can cover towards the end if the cheese is browning.)