Pork sirloin is a versatile and delicious cut of meat that can be cooked in many different ways. From simple roasts to marinated dishes and slow cooker recipes, there's a pork sirloin recipe for everyone!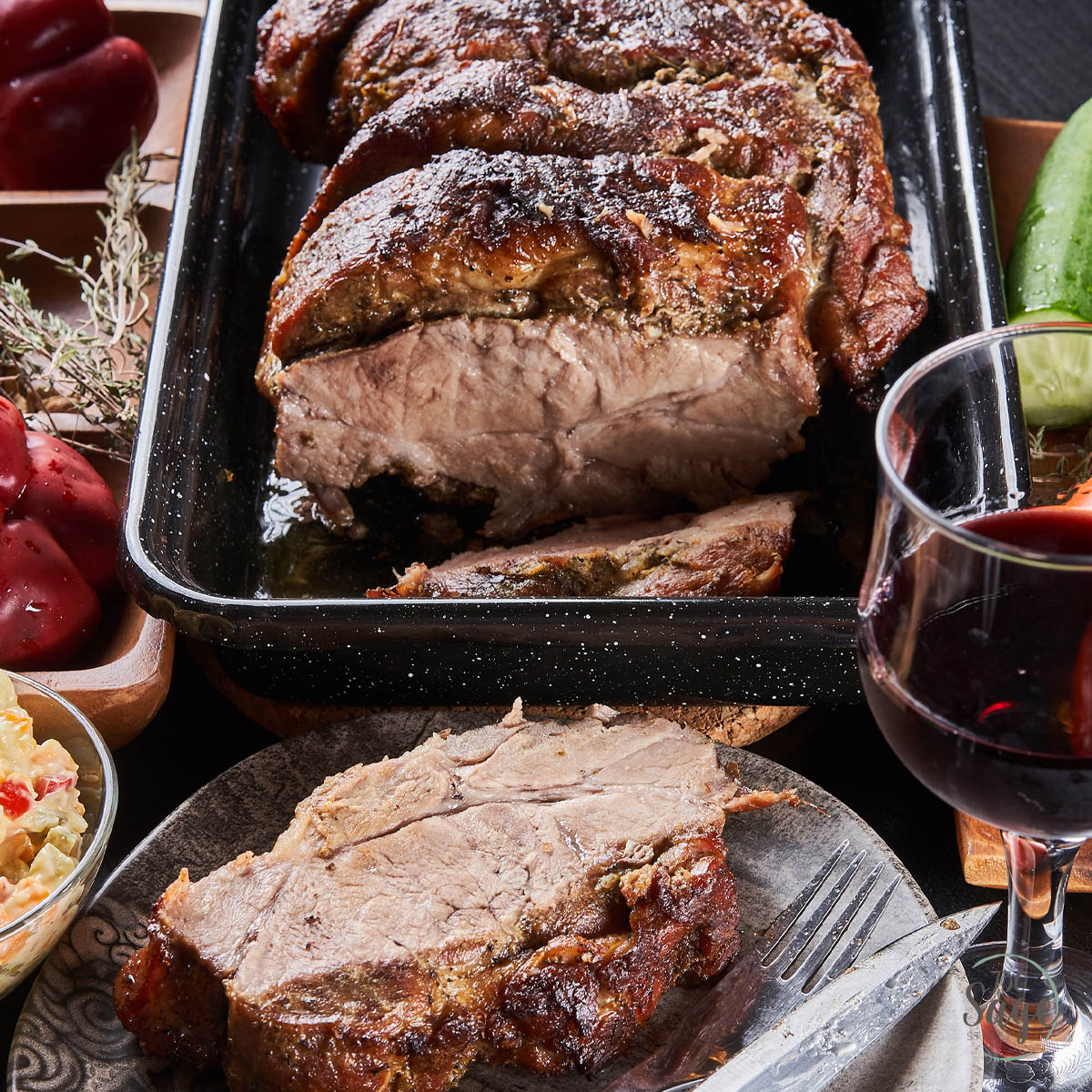 In this article, we've compiled 20 of the best pork sirloin recipes for you to try, including options for both boneless and bone-in cuts, quick and easy roasts, and flavorful marinades.
What Is Pork Sirloin?
Pork sirloin is a cut of meat from the sirloin of a pig, which is located near the back of the animal. It is a lean and versatile cut of meat that can be roasted, grilled, or used in a variety of dishes. Pork sirloin is prized for its mild flavor, tender texture, and relatively low-fat content, making it a popular choice for many home cooks and chefs alike.
What Is The Difference Between Pork Sirloin And Pork Tenderloin?
Pork sirloin and pork tenderloin are two different cuts of pork that come from different parts of the pig. Pork sirloin is a larger and more affordable cut, while pork tenderloin is smaller and more tender. The cooking method and cooking time may vary for each cut, so it's important to use the right cut for your desired recipe.
What Is Pork Sirloin Good For?
Pork sirloin is mild flavor and tender texture make it a good choice for roasting, grilling, stir-frying, or slow-cooking. It can also be sliced thinly for use in sandwiches or stir-fry dishes, or diced into cubes for use in soups or stews. This cut of pork is relatively low in cost, making it a budget-friendly option for those who want to enjoy the taste of pork without breaking the bank.
20 Pork Sirloin Recipes
Here is a list of 20 best pork sirloin recipes that you should try:
This succulent pork sirloin roast is the perfect dinner for any night of the week. With its simple and flavorful herb-rub, combined with a kick of peppers and salt, you won't be able to resist. I have made this recipe several times now, and each time it comes out incredibly tender and juicy - I wouldn't change a thing!
A delicious and flavorful dish made with boneless pork sirloin roast, extra virgin olive oil, garlic, kosher salt, black pepper, sage, rosemary, thyme, and orange zest. Preheat oven to 350°F, coat rack in roasting pan with nonstick spray/oil, rub mixture all over pork and place fat side up on rack. Cook for 35-45 min until 140°F. Let rest for 15 min, slice, and serve with rosemary and gravy.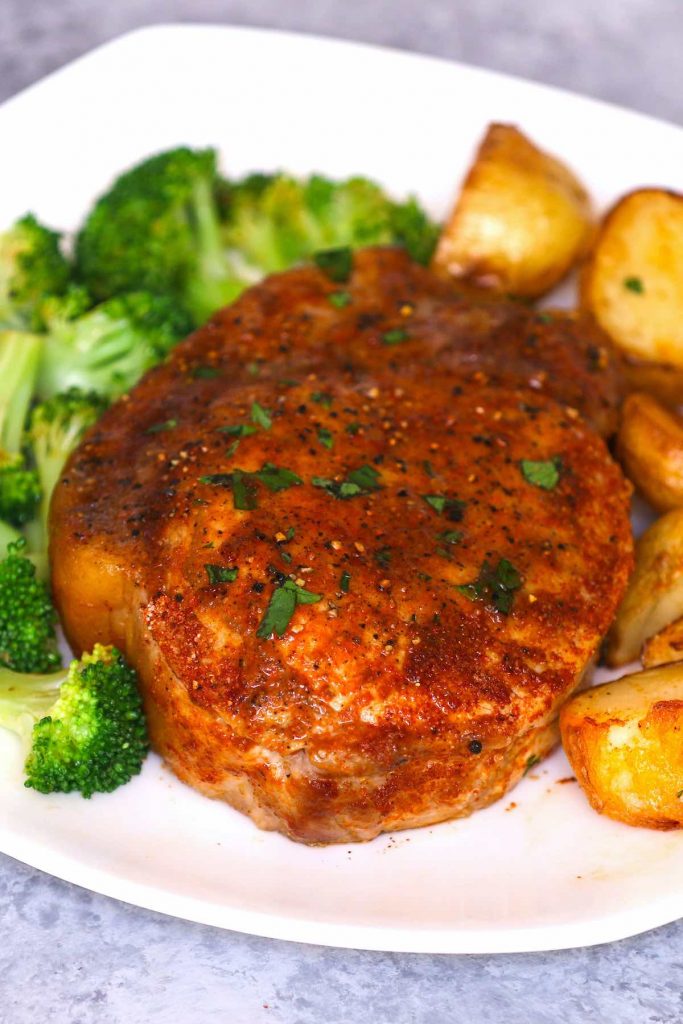 This Baked Pork Sirloin Chops Recipe is a quick and easy way to enjoy juicy and flavorful pork chops. All you need to prepare the pork chops is a few simple ingredients such as olive oil, paprika, garlic powder, salt and pepper. With these basic ingredients and a preheated oven, you can have succulent pork chops ready in just 15 minutes.
Simply season the pork chops with the ingredients, cover with foil and bake in the oven. When they reach a temperature of 145°F (63°C), your pork chops will be perfectly cooked.
This savory Garlic Herb Butter Baked Pork Loin and Potatoes is an easy, delicious weeknight dinner. The pork loin is marinated in Italian dressing and then seared in butter before being cooked in the oven with potatoes and herbs. The result is a juicy, flavorful pork loin with tender potatoes that are full of flavor. Serve this dish with a side of steamed vegetables or a salad for a complete meal.
This delicious and flavorful Balsamic Glazed Pork Tenderloin is the perfect meal for any occasion. The pork is rubbed with a mix of garlic, olive oil, sage, salt, and pepper, and then oven roasted until cooked through. It's then topped with a sweet and tangy balsamic glaze that makes it an irresistible dish. Serve this tender and juicy pork with your favorite sides and enjoy!
This Cajun Honey Pork Tenderloin recipe is a delicious and easy dinner that will tantalize your taste buds! The pork tenderloin is seasoned with cajun seasoning, seared in a skillet, and then roasted in a honey and chicken broth sauce. The result is a tender and juicy pork with a sticky-sweet sauce that will have you coming back for more.
This Apple Stuffed Sirloin Roast is a juicy and flavorful pork dish that is perfect for special occasions. The sirloin roast is stuffed with a mixture of sautéed garlic, onion, carrot, celery, apples, breadcrumbs, and thyme, seasoned with Worcestershire sauce, apple juice, salt, and pepper. The stuffed roast is then tied with kitchen twine and roasted until tender.
This delicious Pesto Garlic Rubbed Roasted Pork Sirloin is the perfect Sunday dinner. Start by rubbing the pork roast with a flavorful blend of garlic, thyme, and rosemary, then roast in the oven until it reaches 145-150 degrees. The pesto sauce adds a subtle, savory flavor to the pork, and the accompanying red potatoes are roasted until golden and crispy.
This mouthwatering pork sirloin recipe is sure to be a crowd-pleaser! It's easy to make and the results are incredibly tender and juicy. The pork is first rubbed with a flavorful blend of olive oil, rosemary, and garlic, then roasted in the oven until it reaches a perfect 145ºF.
The final step is to baste it in your favorite liquid like chicken stock, white wine, or apple cider and allow it to rest for a few minutes. The end result is a juicy, flavorful, and tender pork sirloin that is sure to be the star of any meal!
Enjoy the classic combination of crunchy fried pork sirloin and flavorful bacon country gravy with this easy-to-make Chicken Fried Pork Sirloin with Bacon Country Gravy Recipe! This dish is sure to satisfy, with its tender and juicy pork sirloin, lightly seasoned and fried to golden perfection, topped with a rich and savory bacon gravy. Serve it up with mashed potatoes or biscuits.
This Pan Fried Pork Sirloin Dinner is made with succulent pork sirloins, extra virgin olive oil, steak and chop seasoning, and orange marmalade. Serve it with our Sweet and Tangy Cilantro Lime Slaw for the perfect meal. To make it, simply brush one side of the pork with extra virgin olive oil, sprinkle it with steak and chop seasoning, and pat it in. Then, flip over and repeat.
Heat up a large frying pan over medium to medium-high heat, then add the sirloin and cook for several minutes. Check that it has reached an internal temperature of 145 before serving with the slaw and a dollop of orange marmalade.
This delicious slow-cooked bone-in pork sirloin roast is the perfect dish for a special occasion. Start by marinating the roast in a flavorful garlic, herb and oil paste. After the roast has been marinated, preheat the oven to 475 degrees and cook for 30 minutes. Then reduce the heat to 325 degrees and cook an additional hour to an hour and fifteen minutes until the internal temperature reaches 145 degrees. Allow the roast to rest for 20 minutes before serving for a juicy, flavor.
This delicious recipe for Braised Pork Sirloin with Tomatoes, White Beans & Sage is sure to become a favorite. It starts with pork sirloin steaks that are seared in a skillet, then cooked in a flavorful mixture of garlic, onions, tomatoes, white beans and sage. The pork is cooked until it is tender and juicy, and the tomato mixture is reduced to a savory sauce. Serve this over hot cooked rice for a delicious and satisfying meal.
This Grilled Pork Sirloin Tip Roast recipe is the perfect way to enjoy a delicious and flavorful meal. Start by injecting the meat with All Our Way Marinade, then rub it liberally with All Our Way Rub and Seasoning or whatever seasoning you prefer. Place in a Zip lock bag and keep in the fridge overnight.
The next day, massage yellow mustard all over the Pork Sirloin Tip Roast. Then, prepare the grill for indirect heat and grill at 250°F until the Pork reaches an internal temperature of 150°F. Place on a platter and tent with aluminum foil for 30 minutes, then slice and get ready for a little taste of heaven. Be sure to not overcook the meat, as it will dry out and get tough.
This Smoked Pork Sirloin Roast is a delectable main dish that's bursting with flavor. Start by preheating the smoker to 225 degrees and rubbing the roast with a zesty blend of olive oil, smoked paprika, garlic, rosemary, and other herbs. Next, slowly smoke the pork to perfection, until the internal temperature reaches 142 degrees. Then, we let it rest for 15 minutes before slicing and serving with a savory white wine pan sauce. It's a scrumptious meal that's sure to please!
This Asian-inspired pork sirloin tip roast is the perfect meal for an amazing flavor experience. Start by cutting the roast into two pieces and marinating it in a mixture of hoisin sauce, rice vinegar, sesame oil, hot chili garlic sauce, grated ginger root, soy sauce, ketchup, and curry powder. Let the pork marinate for 2.5 hours, then let it come to room temperature for 30 minutes. Finally, bake it in the preheated oven until a meat thermometer registers 160 degrees.
Whip up a delicious and juicy boneless pork loin roast with a sweet and tangy cranberry orange glaze. A perfect centerpiece for your next dinner party, this roast is seasoned with salt, pepper and olive oil, then roasted to perfection in the oven. The cranberry orange glaze is made by combining cranberry sauce, butter, brown sugar, apple cider vinegar, orange juice and zest, dry mustard, and rosemary. Baste the roast with the glaze while cooking and finish with a final brush before slicing.
Experience the taste of zesty orange and warm cinnamon in this delicious pork sirloin roast! Simply mix olive oil, orange zest, paprika, cinnamon, cumin, and pepper to form a paste, then apply to the roast before baking in the oven. Serve with a juicy and tender texture once the internal temperature reaches 145°F. Let it rest for 10 minutes before slicing for the perfect dinner.
Get ready for an explosion of flavors with this Pork Sirloin Roast with Chimichurri recipe. Start by making a tangy and spicy chimichurri sauce by blending cilantro, Anaheim chili pepper, green onions, garlic, cumin, cardamon, black pepper, salt, lime juice and zest, and ginger.
Spread this mixture over a butterfly pork sirloin roast and tie it back up. Marinate for 2-3 hours, then bake in the oven for about 45 minutes at 350°F. Serve with the reserved chimichurri sauce for a delicious and unique meal that everyone will love.
This is a delicious, easy-to-make stove top recipe for roasted pork loin with sweet peppers, onions, garlic, sage and tomato. Enjoy the flavors of this savory dish in just over an hour by browning the pork, cooking the sweet peppers and onion, and finishing it off with a flavorful tomato and chicken broth sauce. Serve over your favorite egg noodles for a comforting dinner dish.
FAQs
Can I Cook A Frozen Pork Sirloin Roast?
Yes, you can cook a frozen pork sirloin roast, but it is not recommended. Cooking a frozen pork sirloin roast takes longer and can result in an unevenly cooked roast with a dry exterior and undercooked interior. It is safer and better for the quality of the meat to thaw the roast completely before cooking.
How Do I Know When My Pork Sirloin Roast Is Cooked?
The USDA recommends cooking pork to an internal temperature of 145°F (63°C), followed by a 3-minute rest time. When inserted into the thickest part of the roast, the thermometer should read 145°F (63°C) or higher. This will ensure that the pork is fully cooked and safe to eat.
You May Also Love: