Have you ever had breaded pork chops? Amazing right? But not if you are on a low carb diet. If you are on a low carb diet, breading is a thing of the past. But that doesn't mean that you don't wish you could have breaded pork chops. Because, well…yum.
Believe it or not, you can do breading without actual bread. I will admit that it doesn't quite taste exactly the same, but it surely satisfies a craving because the texture is similar and it honestly tastes really good.
I baked these in the oven in a casserole dish on a flat rack but you could probably make them on the stove top in a cast iron skillet.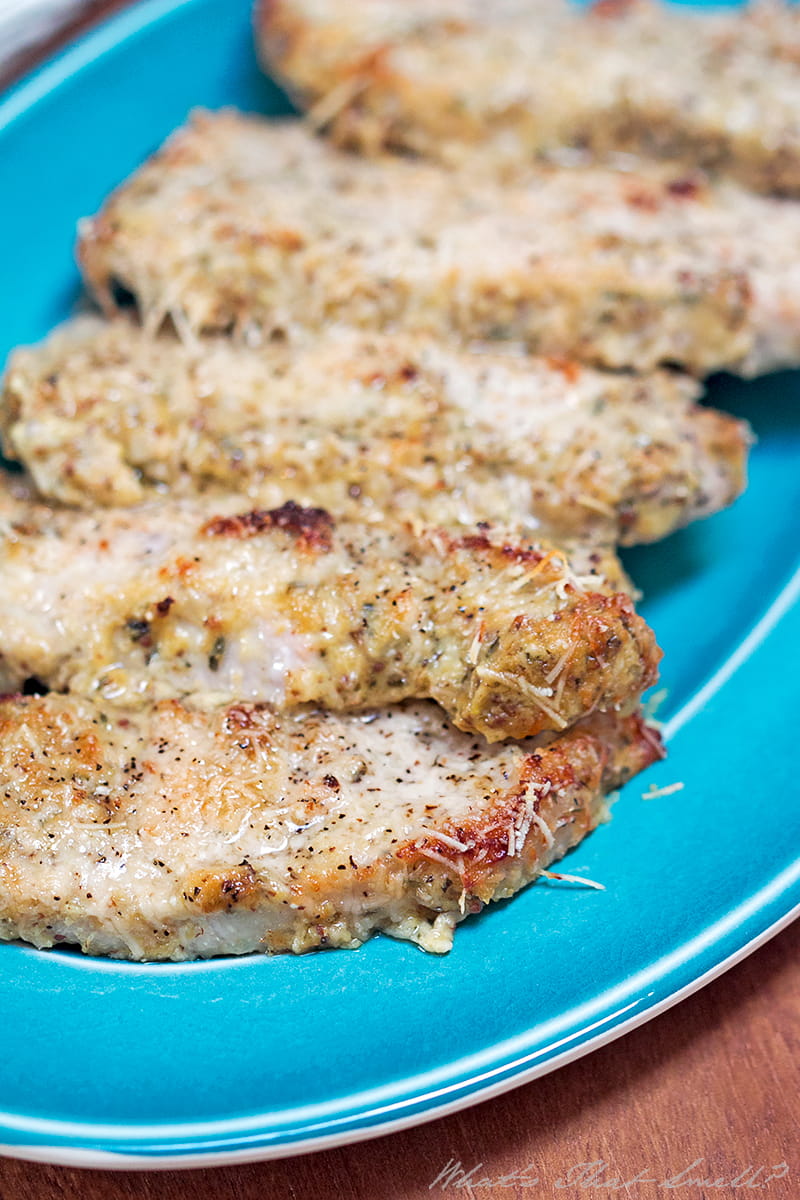 Kitchen Gizmo 2 Sided TPU Anti-Bacterial Cutting Board, Thick Yet Flexible, Knife Friendly, Scratch Resistant, Juice Groove, Dishwasher Safe, Antimicrobial and FDA Approved (Green/Brown)
PRO TIP: I hate dealing with raw meat. Whether I need to cut it or just set it somewhere so that I can then dip it in something to coat it like these pork chops I am coating in Parmesan cheese. Wood cutting boards can harbor bacteria and the plastic ones are bulky and don't always have a groove around them to catch the meat juice. Ewwww. I can never tell if I cleaned everything the meat juice may have touched. This Kitchen Gizmo cutting board is anti-bacterial, flexible and dishwasher safe. Perfect for dealing with raw meat of all kinds. If you have to cut veggies or other ingredients, it's flexible so instead of scraping the food into the dish, you simply bend the sides of the cutting board and pour it into your dish. Super versatile! It's knife-friendly and guaranteed for two years!

Low Carb Parmesan Dijon Pork Chops
Author: Kim
Prep time:
Cook time:
Total time:
Ingredients
6 thin boneless pork chops
⅓ cup dijon mustard
3 tbsp olive oil
½ tsp kosher salt
½ tsp black pepper
¾ tsp garlic powder
¾ tsp thyme
½ tsp onion powder
½ tsp dried oregano
½ tsp dried basil
1-1/2 cups grated Parmesan cheese
Instructions
Combine mustard, olive oil, garlic powder, thyme, onion powder, oregano, ¼ tsp kosher salt, ¼ tsp black pepper and basil in a small bowl to use as a marinade. Add pork chops to zipper bag and pour marinade over chops and refrigerate overnight.
Preheat oven to 400 degrees F
Spread Parmesan cheese in a shallow dish or pie pan and coat each pork chop on all sides.
Add a flat roasting rack to a shallow dish or cookie sheet and place chops on rack. Or you can use a roasting pan with flat rack.
Season with remaining ¼ tsp kosher salt and ¼ tsp black pepper.
Bake for 15-20 minutes (or until pork reaches the recommended internal temperature).
Optional - raise oven rack to top and broil on high until crispy.
These are quite mustard-ey so if you aren't a fan of mustard maybe you could try mayonnaise. Just make sure it's a
low carb mayo
.
I thought they were quite good, and since they were baked they were so easy to make. And there is something about serving pork chops on a blue plate. I can't resist. I swear they taste better!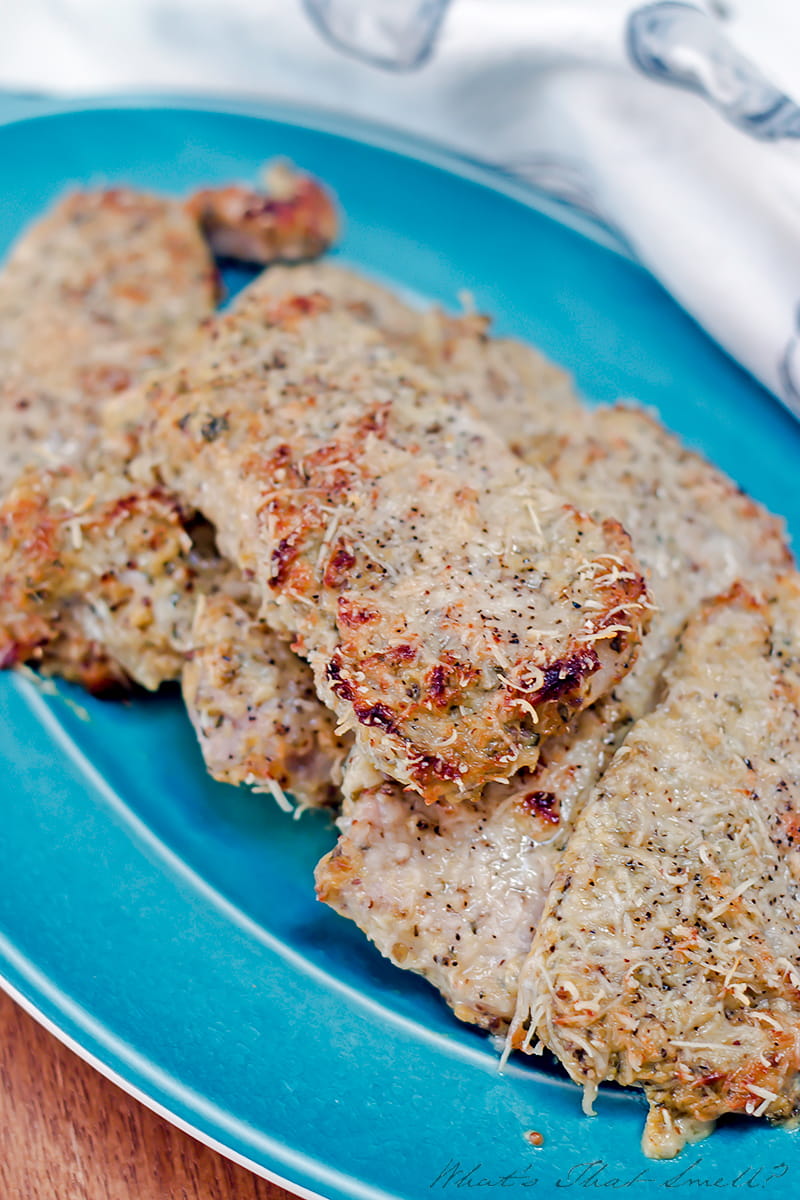 For more great low carb recipes, I recommend the following books:
Don't forget to repin this on Pinterest for later reference!