When it comes to comfort foods, this keto cheeseburger casserole holds a special place in my heart. This easy ground beef dish is just the perfect meal to end a busy week. It even tastes better when served for breakfast the next day. Made with common ingredients, this recipe is perfect when you have family and friends over. And the good news is that you can have it done in under an hour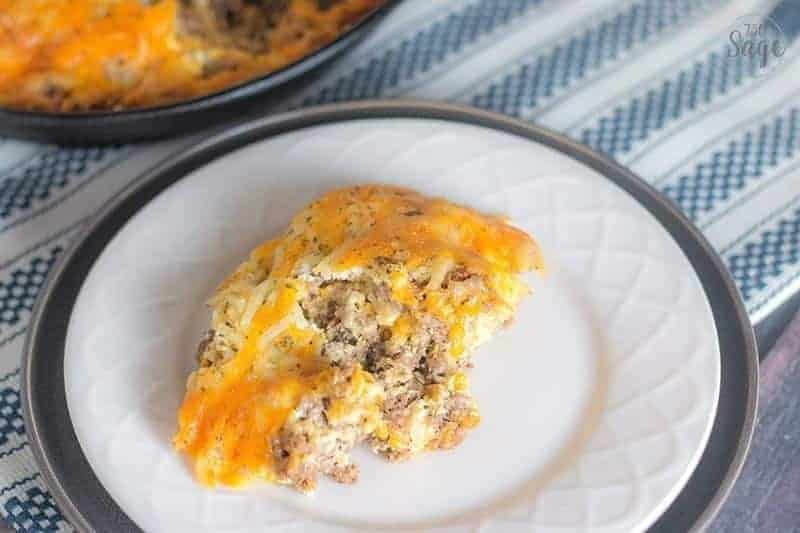 The ultimate cheeseburger casserole minus the carbs!
Another fantastic casserole option is my easy chicken and cauliflower recipe.
Contents
⭐ Fix your burger cravings minus the carbs
Cheeseburgers are the go-to comfort food for a majority of people. It's delicious and easy to get at any fast food restaurant. It's also an easy recipe that you can make in under an hour if you are feeling a little adventurous. If you are like me and prefer low-carb meals, you must have thought about keto-friendly alternatives.
Satisify your burger cravings with ground beef, cheddar cheese and cream cheese in one dish. I dare say that it's a meal that even picky eaters and non-keto lovers will be requesting at every gathering in the future.
🍽 What do you need
If you've decided to make keto cheeseburger casserole from scratch, then you need to consider things like getting the right ingredients and using the correct baking dish size.
Ingredients
Ingredients are the base of any recipe and they are what will make your cheeseburger casserole hearty and a delight.
For this keto cheeseburger casserole recipe, you will need 2lbs of ground beef, cream cheese, shredded cheddar cheese, 4 eggs, half a cup heavy cream, Worcestershire sauce, garlic powder, onion powder, salt, and pepper to taste. Having made it before, I can assure you that it's a meal that you will be dying to try out again very soon.
Cookware
The reason why I love making casseroles is that they are so versatile. You can manipulate the recipe to suit your cravings. Most of the time the baking dish is what will determine how your casserole turns out and it's no different when you make this cheeseburger casserole recipe.
9" x 9" baking dish
If you want a thick beef and the double cheeseburger effect, then you need a 9-inch x 9-inch dish.
9" x 13" baking dish
If you prefer a thinner beef layer this mimics the classic single cheeseburger.
Cast Iron Skillet
This works great and I use cast iron a lot lately.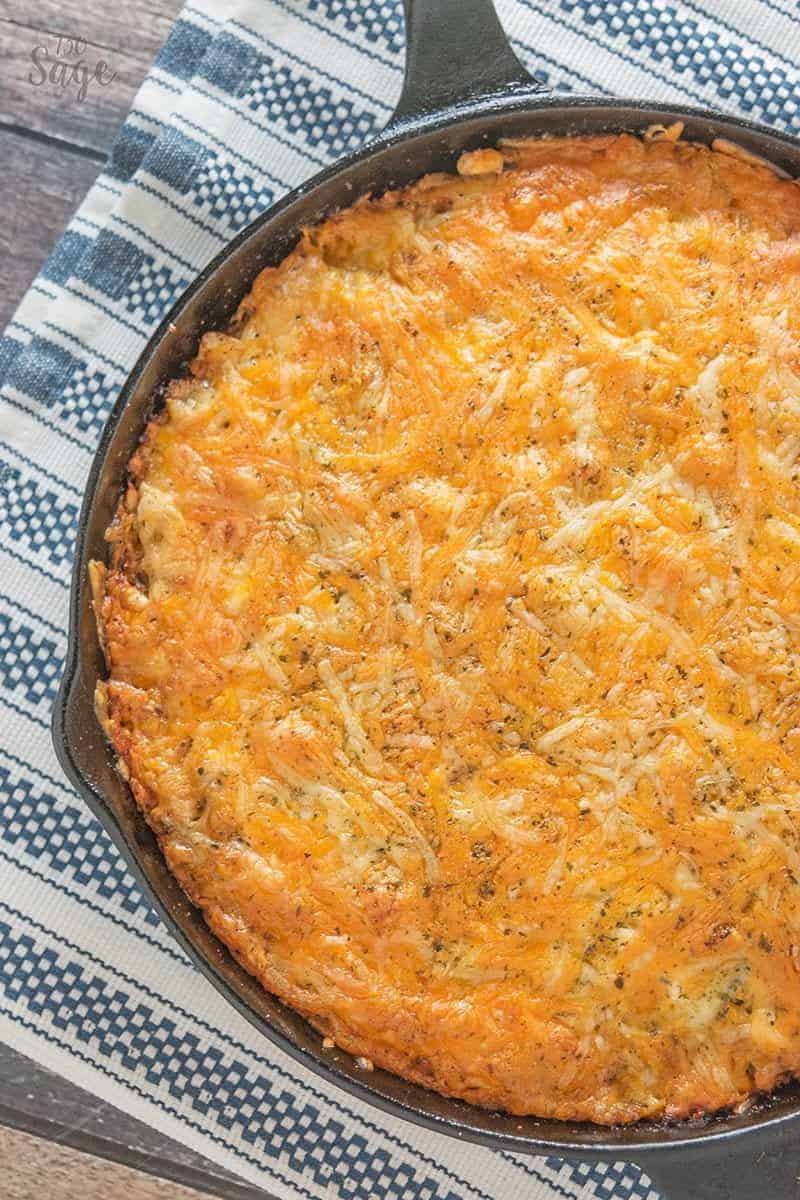 🔪 How to make
So, now that you have all the ingredients, how do you go about making your keto cheeseburger casserole? As far as keto recipes go, the low carb hamburger casserole recipe is one of the easiest to make. For a quick and delicious meal that your whole family will enjoy, bake the keto casserole in a skillet or a casserole dish.
Beef layer
Just like you do with other ground beef recipes, the secret to a tasty keto cheeseburger casserole is to make sure that you brown your ground beef well. Add your ground beef into a cast-iron skillet and cook until the meat is brown. Next, drain the liquid. This ensures that your cheeseburger casserole isn't runny.
Mix your garlic powder, onion powder, ½ teaspoon salt, ½ teaspoon pepper, as well as 8 oz cheddar cheese into your beef and spread the mixture evenly across the bottom of your skillet.
Cheeseburger sauce
When it comes to making a keto cheeseburger casserole recipe, the sauce is the glue that holds everything together. It adds to the rich flavor of the casserole and so you need to get it right. In a medium mixing bowl, beat your eggs, and then add heavy cream, cream cheese, and Worcestershire sauce and combine them using a hand blender. When done, pour the egg and cream mixture over your ground beef.
Topping
The last layer is the topping. For a nice crusty golden brown top layer, I just use cheddar cheese. Make a bacon cheeseburger casserole or add your favorite toppings like Jalapenos.
How to layer and bake
Start by preheating your oven to 350°F or 177°C. At this point, you should have layered all your ingredients. The beef mixture goes into the bottom of your casserole baking dish, then follow up with your already made cream and egg mixture and finally a generous topping of the remaining cheddar cheese. Bake your casserole for 30-35 minutes. And there you have it - an easy keto cheeseburger casserole that is enough meal for one person or a small crowd of people like during a family gathering.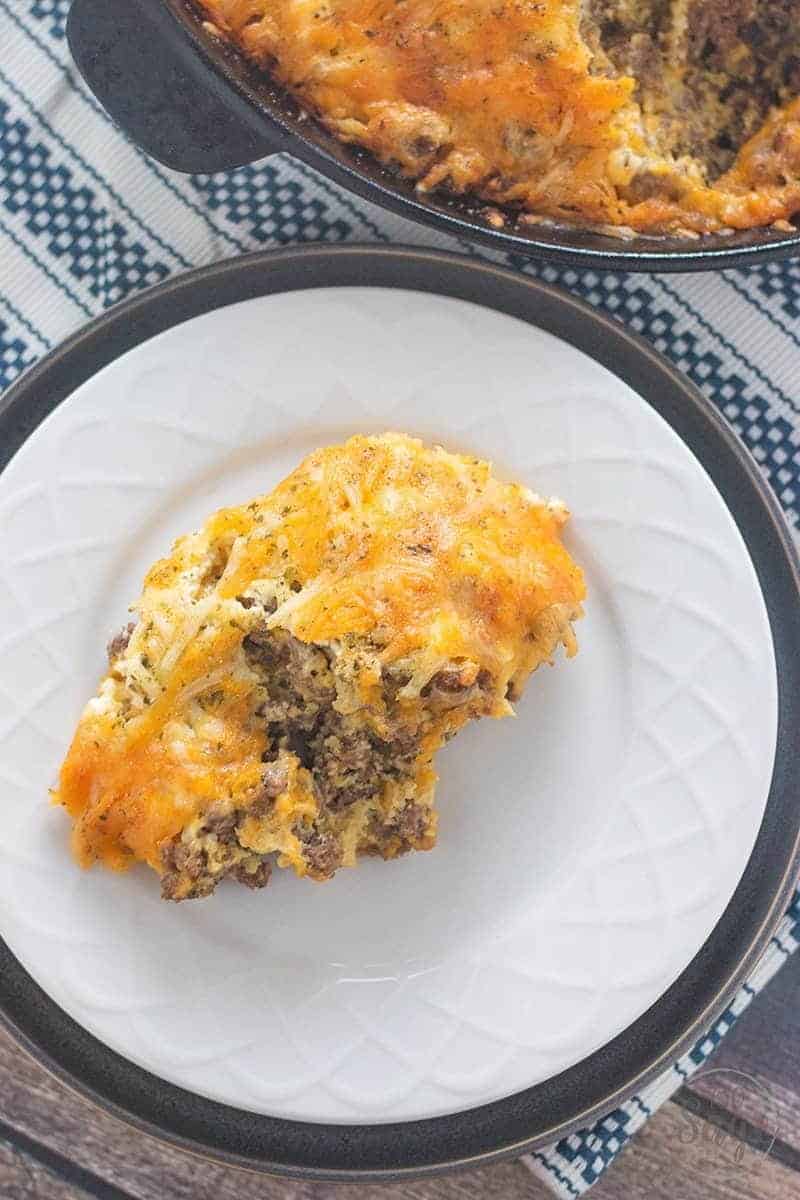 📋 Easy variations
This keto cheeseburger casserole recipe is one of those meals that should sit at the top of your recipe card. It is as easy to prepare as it is to bake. If you are want to unleash your culinary skills, here are other casserole recipes that you should try:
Keto Cheeseburger Cauliflower Casserole
When making the cauliflower casserole keto recipe rather than using ground beef, you replace that with cauliflower rice. The result is an easy low carb meal that is just as delicious.
Keto Bacon Cheeseburger Casserole
When I think about Cheeseburgers my first thought is bacon, specifically crispy bacon. I'll often cook bacon on the side and since we are already using the oven this is perfect for making crispy bacon. I usually crumble the bacon and serve in a bowl for my family to top their Cheese burger casserole.
When it comes to keto-friendly dishes, to make things interesting, you can use the flavors of your favorite carb meals to create low carb versions of the recipe. The bacon cheeseburger oven-baked chicken breast casserole is one such dish. The reason why I like using chicken for this recipe is that the meat is lean and very easy to prepare and cook. For a low-carb meal, go with chicken thighs since they have a higher percentage of fat, although chicken breasts will still do. You can serve this delicious keto casserole with your choice of vegetables or pickles
🥫 Storage
The cheesy keto casserole is usually enough meal to feed a small group of people. However, you are bound to have leftovers left. So how do you store leftover cheeseburger casserole? Store the leftovers in a baking dish and throw them in the refrigerator for up to three days. To ensure that the casserole doesn't dry out, make sure to cover the dish.
Freezer
Sometimes you may want to store your casserole dish for longer. Luckily, a cheeseburger casserole can be frozen for up to six months. Assemble your casserole in an airtight container and store it in a freezer.
🥗 What to serve with
While the low carb ground beef cheeseburger casserole is a meal by itself, you can always serve it with your choice of side dishes. One of the side dishes that you can try is cilantro lime cauliflower rice.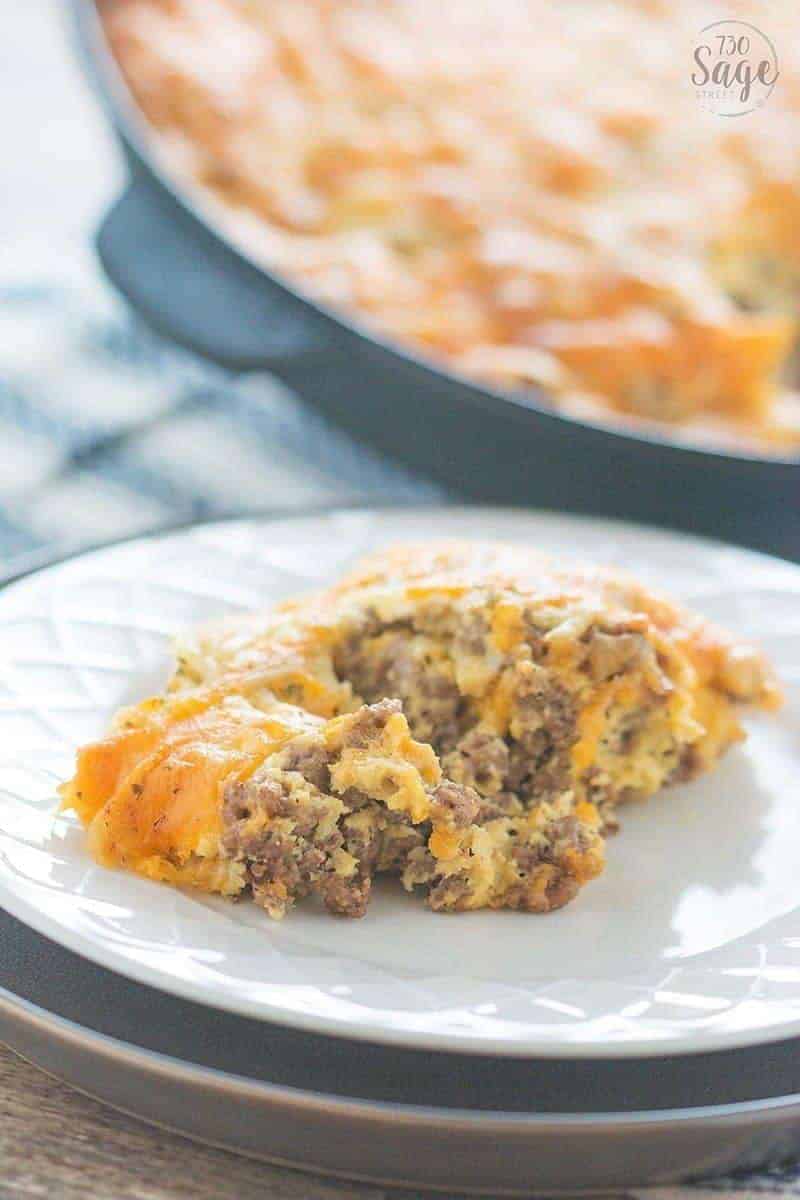 Love this dinner recipe? Please leave a 5-star 🌟rating in the recipe card below and/or a review in the comments section further down the page.

Try one of my quick, easy, and affordable dinner recipes for your next family meal! And if you have any questions, I'm here to help!
📋 Recipe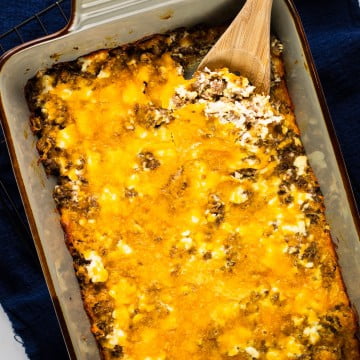 Cheeseburger Casserole
Cheeseburger casserole is a fantastic easy, weeknight meal that uses minimal ingredients, and it's sure to please the whole family. Plus, it's perfect for a crowd - double or triple the recipe as needed!
Print
Pin
Rate
Share
Ingredients 
2

lbs

ground beef

4

eggs

8

oz

cream cheese

16

oz

shredded cheddar

½

cup

heavy cream

1

tablespoon

Worcestershire sauce

1

tablespoon

onion powder

1

tablespoon

garlic powder

½

teaspoon

salt

½

teaspoon

pepper
Instructions
Preheat oven to 350°F or 177°C.

In a cast iron skillet, brown ground beef and drain.

Mix onion powder, garlic powder, ½ teaspoon salt, ½ teaspoon pepper, and 8 oz cheddar cheese into ground beef and spread beef mixture evenly across the bottom of the skillet.

In a medium bowl, combine cream cheese, heavy cream, eggs and Worcestershire sauce with a hand blender.

Pour cream and egg mixture over the top of the ground beef and top with remaining cheddar cheese.

Bake for 30-35 minutes.
Notes
Buy the block cheese.
For a creamier consistency that melts better, buy the block of cheddar cheese and grate it yourself using the large holes instead of buying the pre-shredded cheese in the packet.
Use fresh onion and minced garlic.
If you want your burger mixture to be extra fragrant, chop 1 tablespoon of onion and garlic, and mix it into the beef while cooking.
Nutrition
Calories:
705
kcal
|
Carbohydrates:
5
g
|
Protein:
39
g
|
Fat:
59
g
|
Saturated Fat:
30
g
|
Trans Fat:
1
g
|
Cholesterol:
273
mg
|
Sodium:
724
mg
|
Potassium:
484
mg
|
Fiber:
1
g
|
Sugar:
2
g
|
Vitamin A:
1289
IU
|
Vitamin C:
1
mg
|
Calcium:
486
mg
|
Iron:
3
mg