Learn the best way to cook top sirloin filet steaks! From oven to cast iron with reverse sear, sous vide, pan-fried, smoked, and grilled. I cover it all!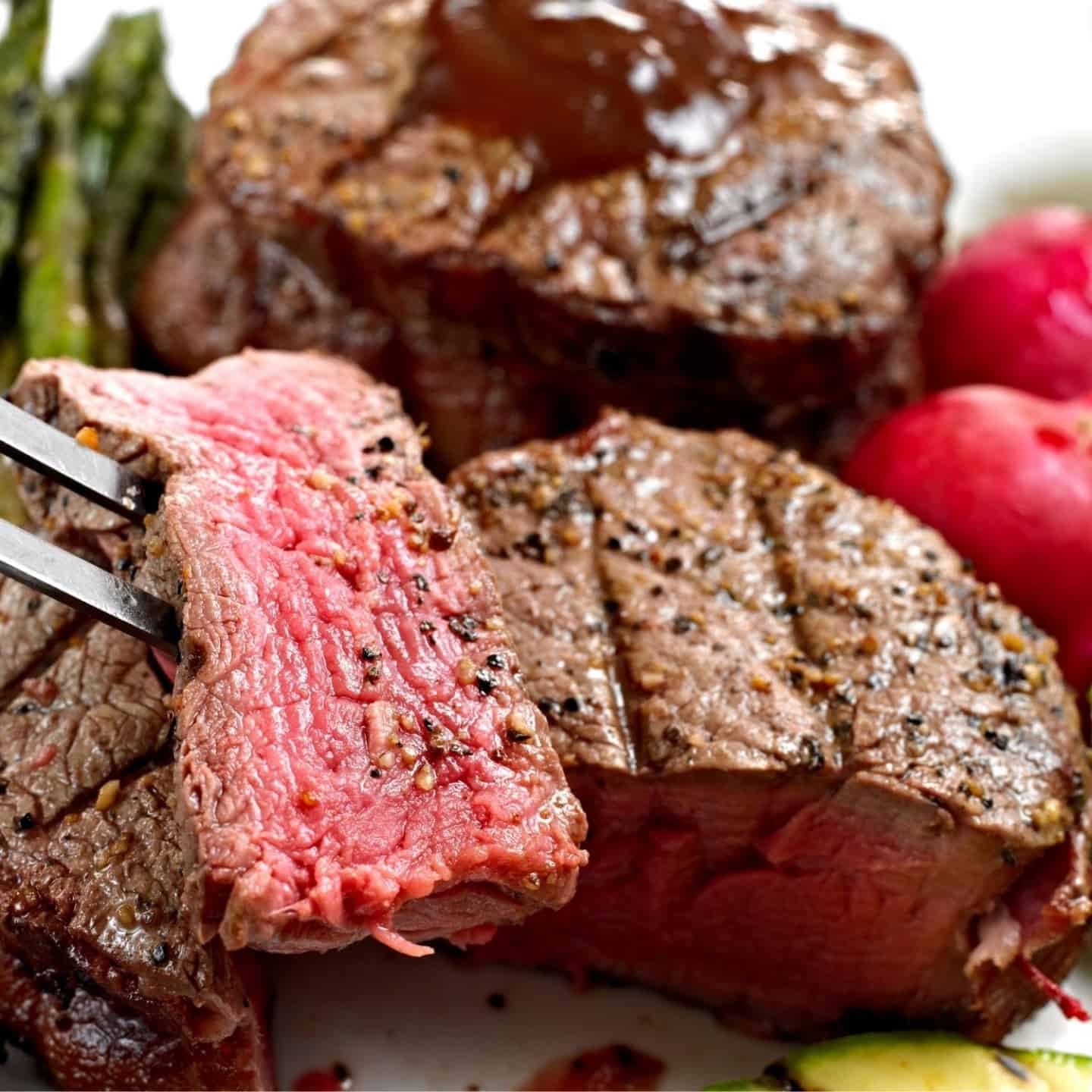 And while we're at it, let's talk about how sirloin filets differ from a top sirloin steak and how to pick the best sirloin steak available.
Before we dive into the main course, let me address some of the most common questions about how to cook sirloin steak:
Contents
FAQ
I answer the most common questions about cooking a top sirloin filet recipe. You'd be surprised how many things home cooks aren't aware of, so before you begin cooking, searing, grilling, or smoking your sirloin steak, I recommend starting here.
What is a Top Sirloin Filet?
A top sirloin filet is the upper portion of the sirloin steak. It is located directly underneath the tenderloin, the tenderest chunk of loin beef taken beneath the animal's short ribs.
While it may not be as tender as tenderloin, a top sirloin filet offers more value than steaks and filets made from ribeye or t-bone parts. In terms of flavor, chewiness, and the way top sirloin filets respond to seasoning, they are much better than cheaper options like a round roast.
Some of the nicknames for a top sirloin filet are the baseball cut and the center cut, even though top sirloin chunks are taken a few inches above the animal's center point (typically occupied by the upper portion of the bottom sirloin).
What is a Top Sirloin Steak?
The top sirloin steak is more flexible and equal, if not superior, to top sirloin filets in terms of flavor and juiciness.
Commonly referred to as the boneless TSS (top sirloin steak) or simply "boneless steak." However, many restaurants have flavored its name with fancy words, so don't be surprised to see "top sirloin boneless cap-off steak" on the menu in larger restaurants.
VS Filet Mignon
Similar in appearance and more affordable than filet mignon, yet still considered a tender cut. Sirloin filet steak is a top substitute for filet mignon thanks to its balanced flavor, marbling, and price point.
Pick a Good Steak
Picking the right chunk of sirloin steak from the butcher shop is half the job. The second half is spotting the details that set the best apart from mediocre-quality ones.
Choose steaks by visually looking at the cut, and you can clearly see how good the meat is. Look for fat content; the more fat a piece of sirloin steak has, the more flavoring you will be able to get from it.
Want more? Read my definitive guide on picking a good steak and getting the best one at the best price every time. If you want to save money on beef, check out cheapest cuts of beef, an in-depth guide to buy beef.
Expert Tips
If you're a beginner or cooking steak for the first time, this is worth your time.
Use a meat thermometer to check the steak temperature
Dry your meat with paper towel before you sear steaks
Bring to room temperature
Buy the highest quality meat you can afford
Thicker steak is more forgiving and easier to cook than thin filets
How to Cook Top Sirloin Filets
Let's start with the best way to cook a sirloin filet.
When cooking or preparing beef meat, especially top sirloin, the three key things to consider are selecting a quality steak, seasoning it properly, and using the best cooking method possible.
I always aim for medium rare when cooking a sirloin steak recipe.
Oven to Cast Iron (Reverse Sear)
The best method for a juicy steak is ¾ inch or thicker. A perfect steak for me is 1.5 inches plus!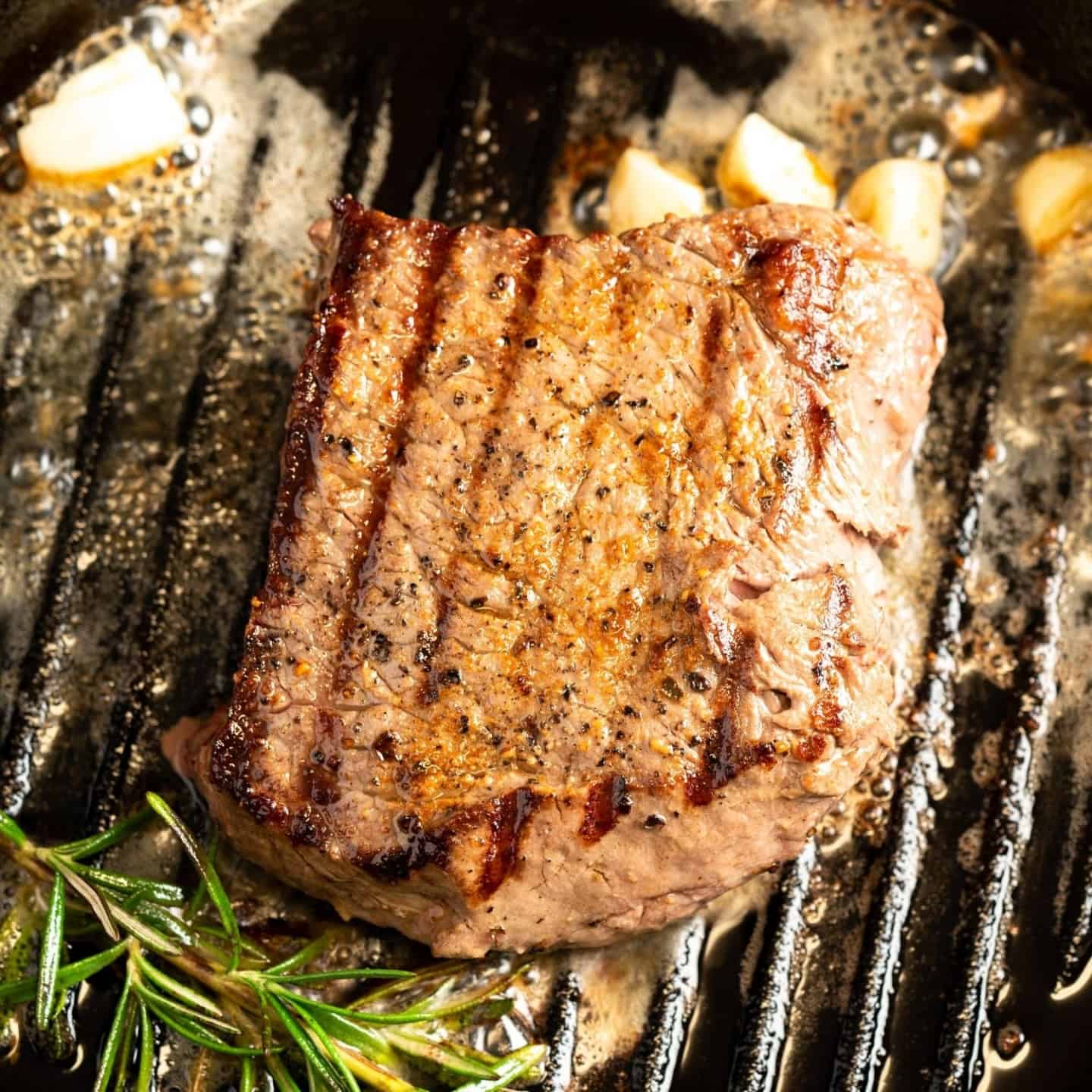 I love reverse searing sirloin filet steaks in cast iron, as well as any other types of fairly thick beef steaks, especially filet mignons.
pull your cooked steak from the oven at 130 degrees Fahrenheit
wrap in foil and allow the steak to rest for 10 minutes
remove the foil and sear the steak in a cast iron pan
carve and serve
There are numerous reasons this method stands out as the best:
consistently tender and juicy
easy to plan, no additional resting required
ready to eat, sear and serve
This is the best way to cook thicker cuts of meat. I use this exact method on thick steak and even my roasts. Try this out on my fantastic bottom round roast and eye of round roast. Both of these beef recipes are fantastic when reverse seared.
Sous Vide
A consistent method, provided you have the necessary equipment, don't mind cooking meat inside plastic pouches, and have extra time to burn.
Vacuum Sealer
Immersion Circulator
Ziplock bags
Sous Vide is a low-temp cooking technique that heats water to a precise temperature and circulates it around the meat.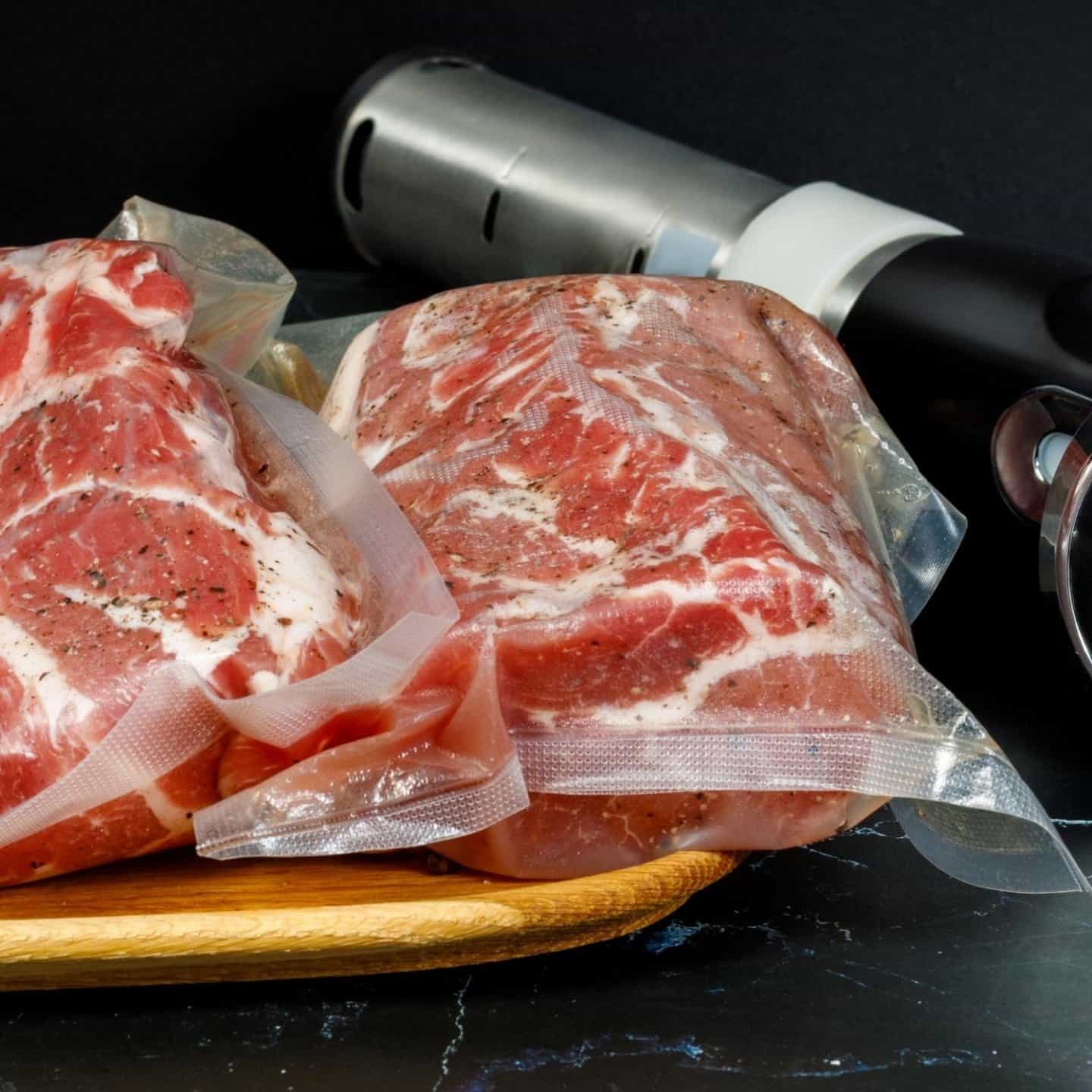 If you have the equipment on hand lets, make the best sous vide top sirloin filet steak.
Place the steaks in individual plastic bags along with crushed garlic, pepper, rosemary, and sea salt
Use vacuum sealers to seal each bag or water displacement completely
Fill a large-sized pot with water. Place plastic bags into the pot.
Heat the pot to 129 degrees F; set the timer for approximately 2 hours
After the timer rings, remove the steaks from the bags and dry them with paper towels
Meanwhile, heat a cast iron skillet until it is hot. Sear the steaks.
Pan Fry
The best method for thin steak (under ¾ inch) is pan-fried.
One of the most important things when pan-frying top sirloin steaks is to preheat the pan to medium-high heat. You'll need a smoking hot pan or as hot as your oil allows.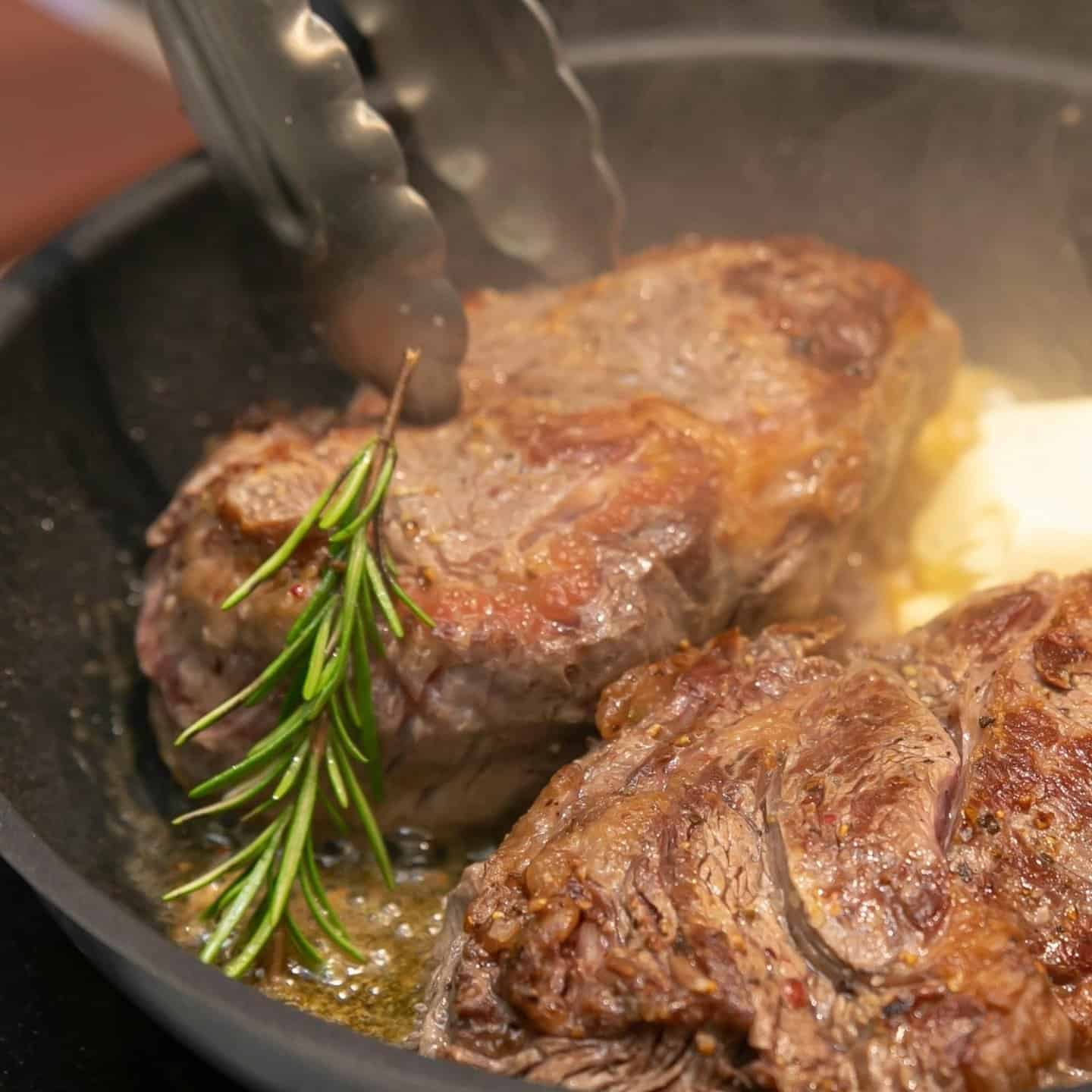 Once it's hot, pop the steaks in and listen for a nice sizzle. This will take anywhere from 30-120 seconds and depends on:
quality of your pan - a heavy pan will hold more heat longer
type of oil used - grapeseed oil or ghee have a high smoke point
After you've seared the filets and have a nice crust, slice a few blocks of butter, thyme, and garlic and add them to the pan. Bathe the steaks and remove them when you reach your desired temperature.
Smoked in Pellet Grill
When the weather permits, there is no better method than a perfectly smoked top sirloin filet steak.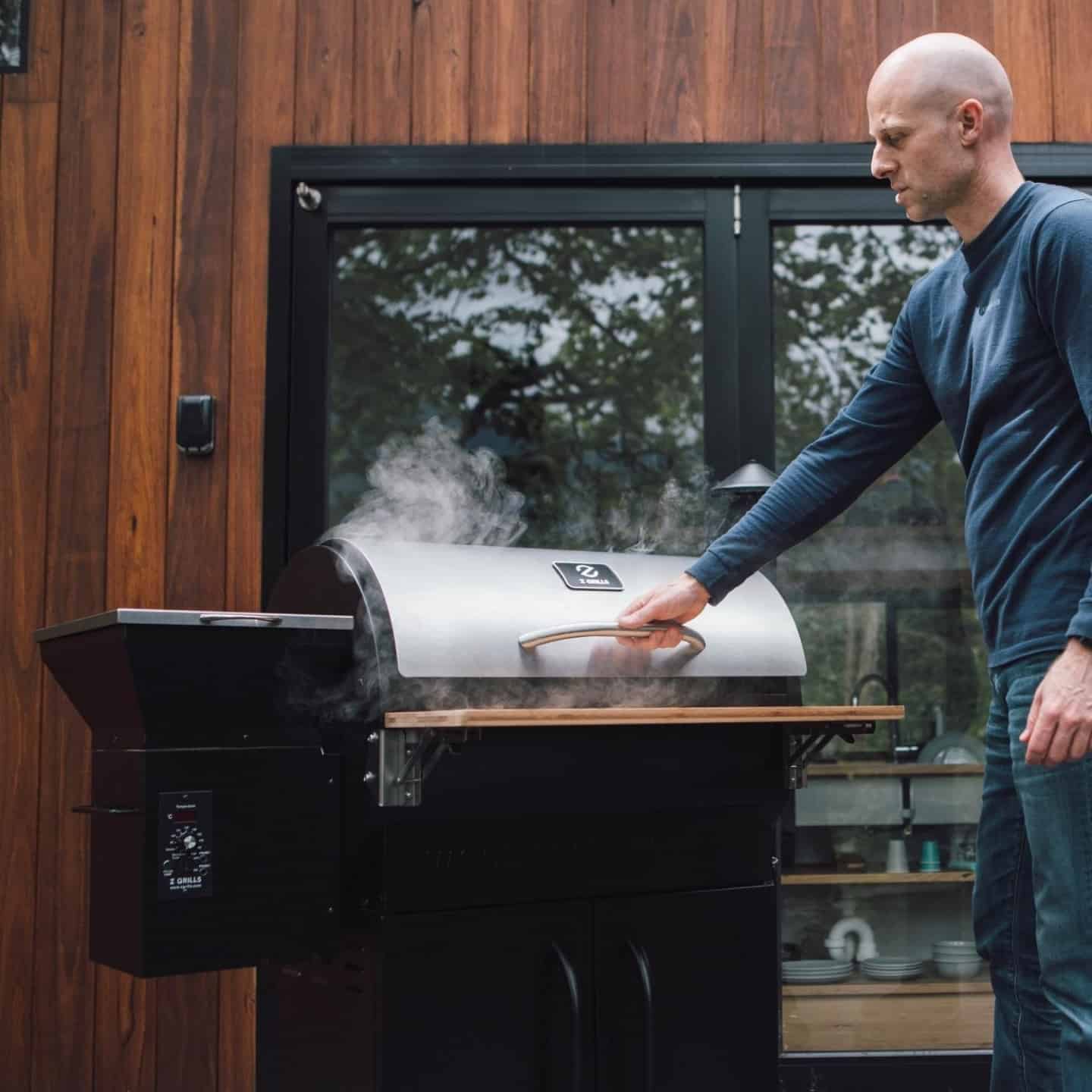 The smoking process is much different from barbecuing, grilling, searing, and roasting, although there are a few similarities. For the sake of simplicity, I will break down the key parts of the smoking process for your convenience, so follow these steps:
Place a nice hickory or oak wood in the smoker
Preheat your smoker to 225 degrees Fahrenheit
Rub oil thoroughly over the steak
Season steaks using your preferred spices or meat rubs
Leave the meat to smoke until you reach your desired doneness
Remove the filets and rest for at least 10 minutes
When you're ready to eat, sear the steak and serve
Perfectly Grilled
We can't ignore this cooking method with so many rocking gas grills!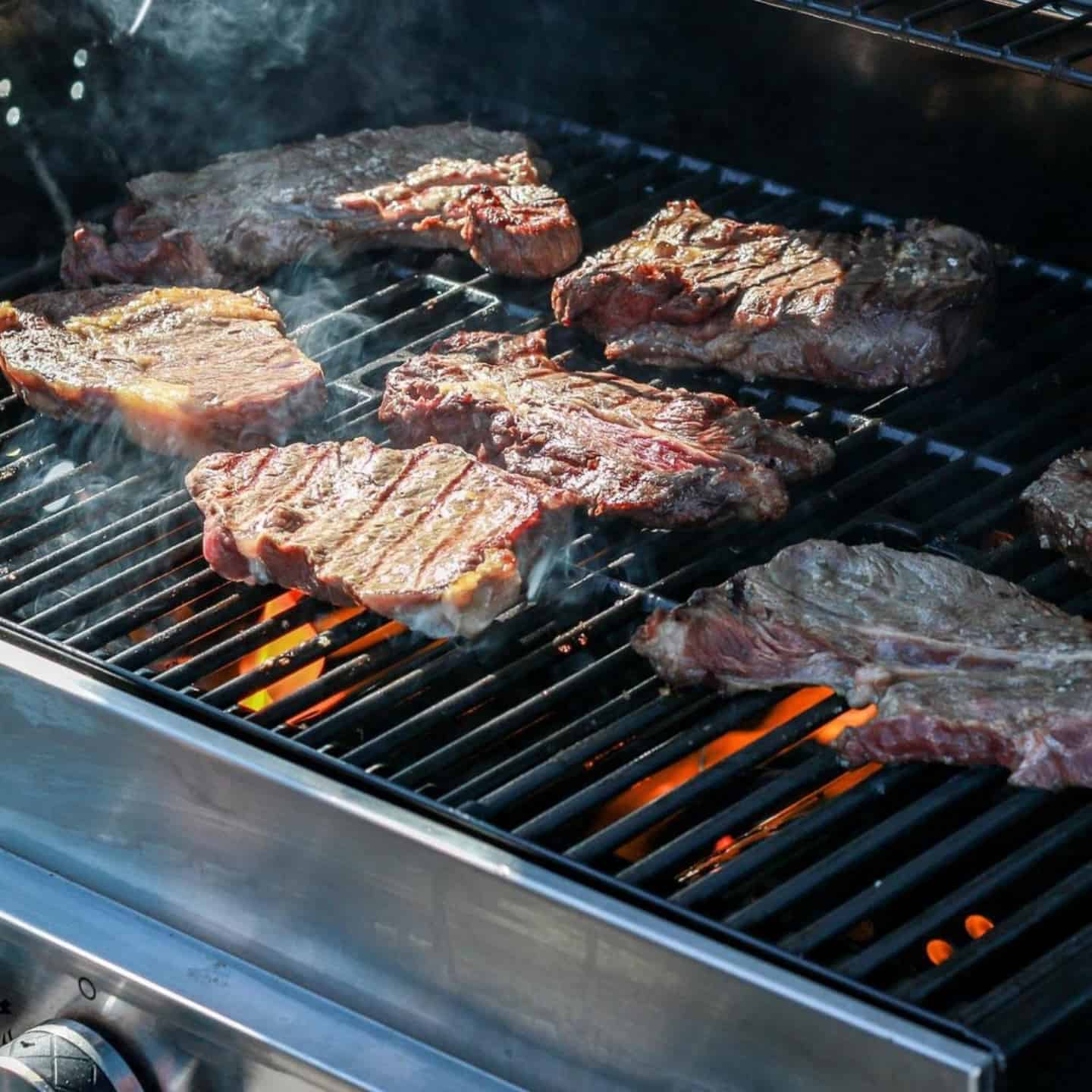 Regardless of which seasoning or marinade you choose, this is the right way to grill top sirloin filet steaks perfectly.
Preheat your grill on high heat, and you want it hot!
Dry the meat thoroughgoingly, rub with olive oil, and season
Place the meat on the hot grill and don't move it
Halfway through, rotate the steak 45 degrees for professional grill marks.
Flip the steak at the halfway mark and repeat step 4
Use an instant-read thermometer, aim for 130-135 degrees Fahrenheit
Remove the top sirloin filet steaks and let the steaks rest 10 minutes.
Slice the steak against the meat's grain and serve.
Pared With
My favorite pairing for top sirloin filet steak is my authentic chimichurri recipe and a nice bottle of red wine. I enjoy a medium-bodied cabernet sauvignon from Argentina.
More Beef Recipes to Try
Now that you know how to cook steaks perfectly why not try one of these fantastic recipes and invite the whole family for an unforgettable meal.
Looking for more steak recipes? I've got you covered with my collection of best bottom round steak recipes and best round steak recipes.