Have you ever looked at the label of a loaf of bread? It is filled with a huge list of ingredients most people don't even recognize.Yet they eat it. It's white, it's soft, it's tasty.
Contents
White bread is one of the worst food addictions we have in this country. White bread is actually made from whole wheat, but the "whole" part is removed. The darker parts that contain the bran and the germ (and the fiber) are stripped off to get to the white lower layer of the wheat grain. Then, they artificially put the fiber and other nutrients back in which is why you see it usually will say "enriched". In addition to that stripping of the natural, healthy parts of the wheat, white bread is loaded with preservatives.
Even most store bought whole wheat bread isn't a whole lot better than white bread. They trick a lot of people when they say "whole grain" and despite many of them being made from 100% whole wheat, preservatives are still a part of the recipe.
Take a look at a label from one of the better wheat breads you can buy at the grocery store:
There are at least 16 ingredients in that bread, some of them I have no idea what they are.
I challenged myself this year to never BUY a loaf of bread from the store again, and so far I have stuck with it 100%. We have bought some buns, but I am working on getting adept at making all of our bread products at home.
You can make bread without a bread maker, but it's significantly more work for me. With the bread maker I just toss everything in and let it do all the work. 5 minutes prep time!
My first attempt at making a loaf of whole wheat bread turned out really good but it was a bit heavy and small. It had a great flavor but it should have been almost twice as big as it ended up and I learned that I needed wheat gluten to make sure it would rise properly. I experimented one or two more times and came up with the following simple recipe. It is my go-to recipe for whole wheat bread and only has 6 ingredients.
📋 Recipe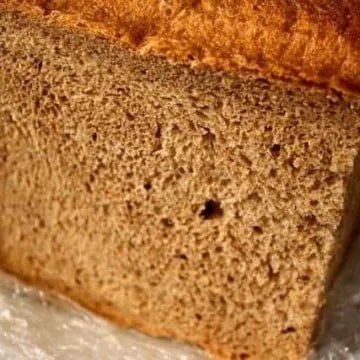 Simple Whole Wheat Bread Machine Recipe
Simple yet tasty whole wheat bread machine recipe.
Print
Pin
Rate
Share
Ingredients
1 ⅛ - 1 ½

cups

water

3

cups

whole wheat flour

3

teaspoon

Truvia

1 ½

teaspoons

salt

2

teaspoons

dry yeast

4

teaspoons

wheat gluten
Instructions
Follow bread machine directions for making whole wheat bread and set machine on the whole wheat cycle.

My machine calls for dry ingredients on the bottom, then wet ingredients. I have a dispenser for the yeast.

My machine also seems to need a bit more water than the 1 ⅛ cup so I usually go up to 1 ½ cups.

Complete cycle, remove bread from machine per instructions.

Cool & slice.
Nutrition
Serving:
1
slice
|
Calories:
133
kcal
|
Carbohydrates:
31
g
|
Protein:
6
g
|
Fat:
1
g
|
Fiber:
1.6
g
Note: nutrition information does not include yeast because I could not find any details about it.
This bread is really good and my kids especially love it. My son has turned down a store-bought roll for his sandwich and chose this bread instead.