Looking to switch up your dinner routine? These 20 delicious thin-sliced beef recipes are sure to impress your taste buds!
From classic dishes like Beef Stir Fry and Beef and Broccoli to more unique options like Balsamic Glazed Steak Rolls and Korean Beef Tacos, there's something here for every palate.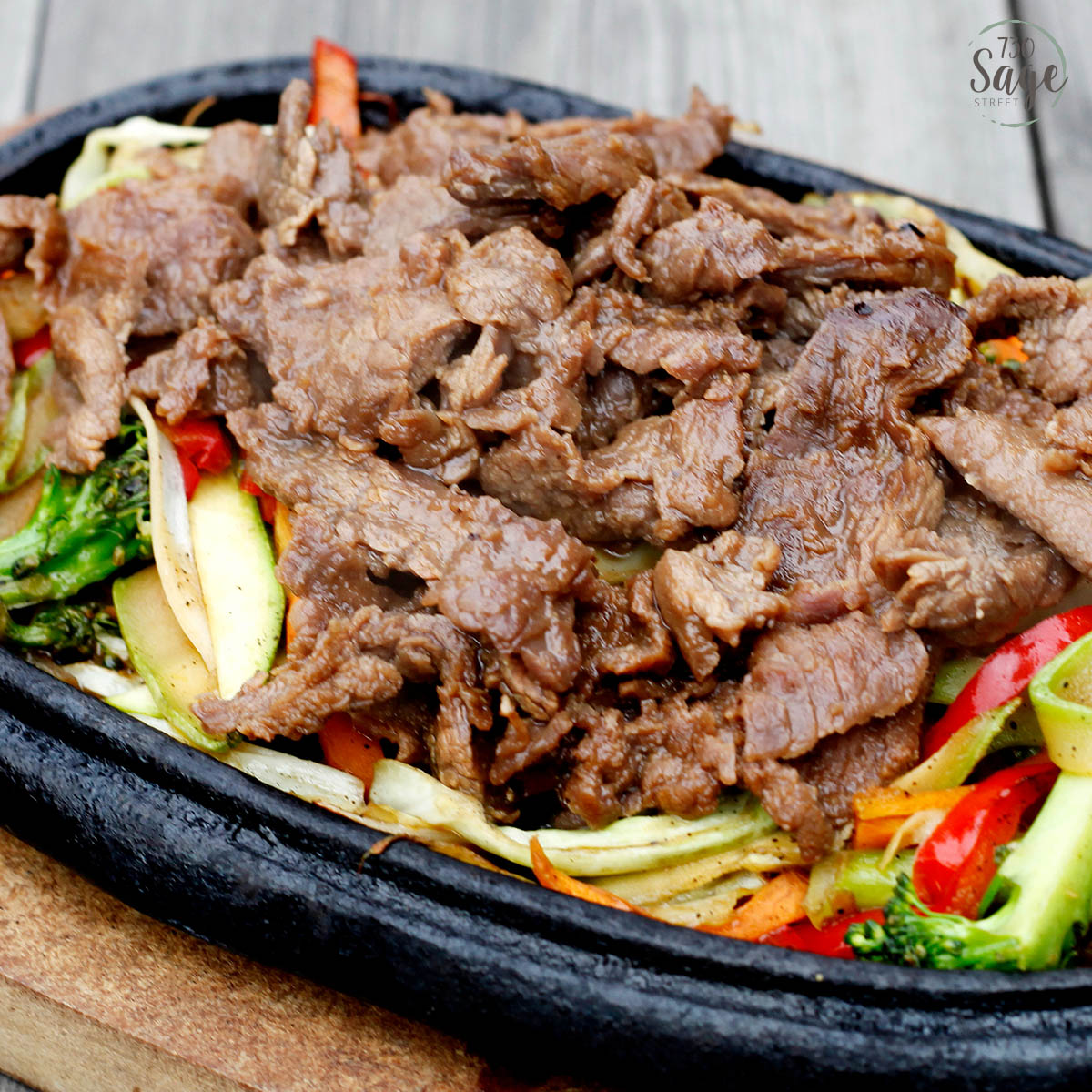 Each recipe features thinly sliced beef for quick and easy cooking, and are packed with a variety of mouthwatering flavors and nutritious ingredients. So grab your apron and get ready to whip up some culinary masterpieces with these amazing thin sliced beef recipes!
What Is Thinly Sliced Beef Called?
Thinly sliced beef can be called a few different things depending on the cut of meat and the intended use. Some common terms include carpaccio (very thinly sliced and often served raw), shabu-shabu (thinly sliced and meant for hot pot), or simply "thinly sliced beef" or "beef slices."
What Is the Best Thickness to Make Thin-sliced Beef?
The best thickness to make thin-sliced beef is between ⅛ to ¼ inch, depending on the recipe and cooking method. This thickness allows for even cooking and a tender texture.
Thinner slices can be used for dishes such as beef carpaccio, while thicker slices may be better suited for dishes like beef stir-fry or shabu-shabu. It's important to use a sharp knife and cut the meat against the grain to further improve tenderness.
How Do You Make Thin Beef Tender?
To make thin beef tender, you can use a few different techniques, such as marinating the meat in an acidic liquid like vinegar or citrus juice, pounding the meat with a meat tenderizer, or cooking the meat using a slow and low method like braising or using a sous vide machine. Additionally, it's important to cut the meat against the grain to prevent toughness.
20 Thin Sliced Beef Recipes
Explore a variety of recipes that feature thin sliced beef as the star ingredient:
This dish features tender, thinly sliced ribeye steak cooked to perfection in a hot cast-iron pan with a splash of Kikkoman Sesame Oil. The steak is then tossed with Kikkoman Sukiyaki Sauce and garnished with chopped green onions and toasted sesame seeds for a bold, savory flavor. Served over a bed of cooked jasmine rice, this meal is perfect for a quick and easy dinner for two. This recipe takes only 12 minutes to prepare and cook, making it a great option for busy weeknights.
For a delicious and tender thin-sliced beef dish, look no further than this Thin Sliced Beef Round Steak with Sauce recipe. The beef is cut to ¼-inch thickness, tenderized, and seasoned with salt and pepper before being coated in flour and pan-fried in butter and oil. Red wine is added to the skillet to create a rich and flavorful sauce along with diced shallots, garlic, and beef broth.
The meat is then added back to the skillet and cooked over low heat for 2 to 2 ½ hours until it is super tender. This is a perfect dinner meal to share with your loved ones, served with your favorite side dish.
This Beef with Broccoli recipe is a savory Chinese-inspired dish that features tender thin slices of beef, fresh broccoli florets, and a homemade stir-fry sauce. To make the dish, whisk soy sauce, sesame oil, cornstarch, and baking soda in a bowl, and marinate thinly sliced flank steak for 20 minutes. In another bowl, stir together chicken or beef stock, rice wine, oyster sauce, and cornstarch to create the sauce.
In a wok or large skillet, cook the marinated beef and garlic, then add the broccoli florets and stir fry for a few minutes before adding the sauce. Cook until the sauce thickens and turns into a glaze, garnish with sliced green onions, and serve with your favorite side dish. Ready in less than 20 minutes!
Ginger Beef is a delicious dinner idea that can be made in under 30 minutes. Tender and thinly sliced beef is coated in cornstarch and fried until crispy. Then, it is tossed in a garlic and ginger sauce with carrots and onions for added flavor and nutrition. The sauce is made with soy sauce, vinegar, sesame oil, and brown sugar, which give it a sweet and savory flavor. This dish is perfect for those busy weeknights when you want a quick and easy meal that the whole family will love.
Orange Beef is a popular Chinese takeout dish that can easily be made at home. This recipe uses thin slices of beef, cooked until crispy, and coated in a sweet and tangy orange sauce made with fresh-squeezed orange juice, low-sodium soy sauce, and orange marmalade. The beef is coated in a mixture of cornstarch and flour before being fried in a non-stick skillet until golden brown.
The orange sauce is then simmered with the beef until thickened and coated. Serve this dish hot and garnish with orange zest, sesame seeds, and sliced green onions to add extra flavor and texture.
Easy Mongolian Beef is a quick and delicious Chinese-style dish that you can easily make at home. The thinly sliced flank steak is coated in cornstarch and then cooked until crispy, creating a perfect texture to absorb the sweet and spicy sauce. The sauce is made with low sodium soy sauce, brown sugar, water, ginger, garlic, and red pepper flakes, which adds a great depth of flavor to the dish.
Once the steak is cooked, the sauce is heated until it thickens, and the beef is then tossed in to coat it completely. The dish is best served with a bowl of rice and topped with sesame seeds and chopped green onions.
This Japanese beef bowl, also known as Gyudon, is a savory and sweet classic that's sure to satisfy. Thinly sliced beef is cooked with onions in a delicious sauce made of soy sauce, mirin, sake, and brown sugar. Served over a bed of steamed rice and topped with a poached egg, this dish is hearty and comforting. It's also quick and easy to make, taking only 10 minutes of prep time and 10 minutes of cooking time. For an extra kick, add some Japanese red ginger pickle or kimchi.
This Beef Stroganoff recipe is a classic comfort food that's perfect for a quick and easy one-pan dinner. Thinly sliced beef sirloin is seared and cooked to juicy perfection, then smothered in a rich and flavorful mushroom gravy. The onions and mushrooms add extra depth of flavor and texture to the dish. The sauce is made with a simple combination of butter, flour, beef broth, sour cream, and dijon mustard. Serve it over egg noodles or mashed potatoes.
Beef Bulgogi is a must-try Korean BBQ dish made with thinly sliced beef marinated in a flavorful sweet and savory sauce. This easy bulgogi recipe is perfect for grilling on a cast-iron griddle and is packed with umami flavor. The secret to super tender bulgogi is in the marinade, made with ingredients like apple cider vinegar, soy sauce, garlic, and Korean BBQ sauce.
After marinating for 24 hours, the beef is quickly cooked in its own marinade until caramelized and delicious. Serve this delicious dish with a side of rice and banchan, traditional Korean sides.
This crispy chilli beef recipe by Nicky Corbishley is a takeout classic made better at home. Thin strips of sirloin steak are coated in an egg, cornflour, salt and pepper mixture, fried until dark brown and crispy, and then coated in a tangy, sweet and spicy sauce made with red chilli, garlic, soy sauce, tomato puree, sugar, tomato ketchup, sweet chilli sauce and rice vinegar.
Serve with your choice of rice or noodles. Note: Cooking the steak in two batches and avoiding moving it around too much is key to getting it nice and crispy.
Kung Pao Beef is a fiery and flavourful stir-fry dish that's quick and easy to make at home. Thinly sliced steak, bell peppers, onions, roasted peanuts and dried red chilies are tossed in a savory and spicy sauce that's even better than what you'd get at a restaurant. The steak is coated with cornstarch for extra crispiness and then cooked in a large pan until golden brown. The vegetables are added to the pan and cooked until softened, and then the beef is added back in with peanuts and chilies.
The sauce is made separately and added to the pan, bringing everything together into a deliciously satisfying meal that's perfect over a bed of steamed rice.
This Garlic Herb Steak and Potatoes Skillet is a quick and easy meal that is perfect for busy weeknights. Thinly sliced flank steak is combined with tender chunks of potato, sweet red onion, and fragrant garlic, all cooked together in a single pan. This dish is seasoned with dried oregano, thyme, salt, and pepper, giving it a savory and herbaceous flavor.
The entire meal can be cooked in just 25 minutes, making it perfect for those busy nights when you need to get dinner on the table fast. Garnish with fresh chopped parsley for a pop of color and flavor.
This Philly Cheesesteak Sandwich recipe features thinly sliced beef cooked with mushrooms, onions, and green peppers, topped with provolone cheese and served on toasted hoagie rolls. The beef is seasoned with a blend of salt, pepper, and paprika, and cooked until browned and slightly pink. Garlic is added for extra flavor, and the vegetables are cooked until tender.
The provolone cheese is melted on top of the meat and vegetables before being placed on the hoagie rolls. This recipe makes two servings and can be enjoyed with a spread of mayo.
This Beef Tapa recipe features thin slices of tender beef cured with soy sauce, lemon juice or calamansi juice, garlic, ground pepper, and a touch of sugar. After marinating overnight, the beef is fried in a pan until browned and the liquids are absorbed. This popular breakfast dish is typically served with a sunny-side-up egg and garlic fried rice.
This steak fajita recipe is a Tex-Mex classic that features thinly sliced steak, caramelized peppers and onions on warm tortillas. The marinade is a blend of lime juice, garlic, and spices that infuses the meat with bold and zesty flavors. Simply marinate the flank or skirt steak for at least 30 minutes before cooking it on high heat for 3-4 minutes per side.
Then, cook the onions and peppers until they are soft and caramelized. Finally, slice the steak against the grain, return it to the pan, and heat it through. Serve on warm tortillas with your favorite toppings.
This Black Grade NY Strip Slices sandwich is a perfect combination of American Wagyu beef and fresh veggies. Thaw the NY strip slices, cook the sliced peppers and onions, and prepare the mayo and horseradish mixture. Season the steak slices with salt and pepper, and sear them in olive oil until caramelized.
Then, spread the mayo/horseradish mixture on the bun, add cheese, and place hot steak slices on top. Finish the sandwich with a portion of the onion/pepper mixture, and serve immediately for a delicious, satisfying meal.
This Lemon Garlic Butter Steak and Broccoli Skillet recipe is a delicious and healthy dish that's perfect for any night of the week. Thin Sliced sirloin steak is marinated in a flavorful mixture of soy sauce, olive oil, and Sriracha sauce. After marinating, it's seared in a skillet until crispy and browned. Broccoli florets are then added to the pan and cooked until tender. A sauce made with garlic, lemon juice, beef broth, and the remaining marinade juices is poured over the steak and broccoli.
This recipe is full of flavor and is ready in under an hour. Enjoy with thyme, chili flakes, more parsley, and lemon slices for a beautiful and healthy meal.
This classic German Rouladen recipe is a comforting and hearty dish perfect for a cozy night in. To make 8 Rouladen, start by laying thin slices of beef on a piece of parchment or wax paper and spread a layer of mustard over each. Sprinkle with salt and pepper and top with quartered pickles, bacon, and onions. Roll up each slice and secure with toothpicks. Brown the Rouladen in a pot with oil before adding cut vegetables and enough water to cover everything.
Season to taste and let it simmer for at least 60 minutes. Once the Rouladen is soft, take it out and blend the remaining contents of the pot into a smooth sauce with some cream.
This 30 Minute Beef Lo Mein recipe is a delicious and quick dinner option bursting with flavor. Thinly sliced flank steak is cooked in a skillet with green beans, grated carrots, and garlic. The dish is completed with a flavorful sauce made from low-sodium soy sauce, brown sugar, grated ginger, red pepper flakes, black pepper, and sesame oil.
Cooked rice noodles are added to the skillet and everything is heated through. Serve with an extra drizzle of sesame oil for an added burst of flavor. This Chinese-inspired meal is perfect for a quick and easy weeknight dinner.
These steak rolls are an absolute must-try for meat lovers. Thin-sliced sirloin steak is filled with colorful veggies and drenched in a delicious balsamic glaze for an irresistible taste. The glaze, made with balsamic vinegar, red wine, brown sugar, garlic, and rosemary, adds a wonderful depth of flavor that will have your taste buds dancing.
It's also super easy to make. Just cook the steak rolls with the veggies, brush with olive oil, and sprinkle with salt, pepper, and chopped rosemary. Top it off with the delicious glaze, and you have yourself a mouthwatering meal that's perfect for any occasion.
Frequently Asked Questions About Thin Sliced Beef
What Are Some Common Cuts Of Beef Used For Thin Slicing?
Some common cuts of beef used for thin slicing include flank steak, sirloin steak, ribeye, top round, and bottom round. These cuts are often lean and have a uniform texture, making them ideal for slicing thinly.
What Is The Best Way To Cook Thin Sliced Beef?
Thin sliced beef is best cooked quickly over high heat to keep it tender and juicy. Some popular cooking methods include stir-frying, pan-frying, grilling, and broiling. When cooking thin sliced beef, it's important to monitor the temperature and not overcook it, as this can result in tough, chewy meat.
How Long Does Thin Sliced Beef Take To Cook?
Cooking thin sliced beef time varies by the cooking method and slice thickness. Pan-frying and stir-frying can take 2-4 minutes, while grilling or broiling may take 4-6 minutes per side.