This flavorful deli meat is the star of the show in these 20 incredible recipes. From a spicy and satisfying Pastrami Melt with Jalapeno Coleslaw to a comforting Reuben in a Bowl and a decadent Pastrami Irish Mac and Cheese, these dishes are sure to satisfy your cravings and impress you.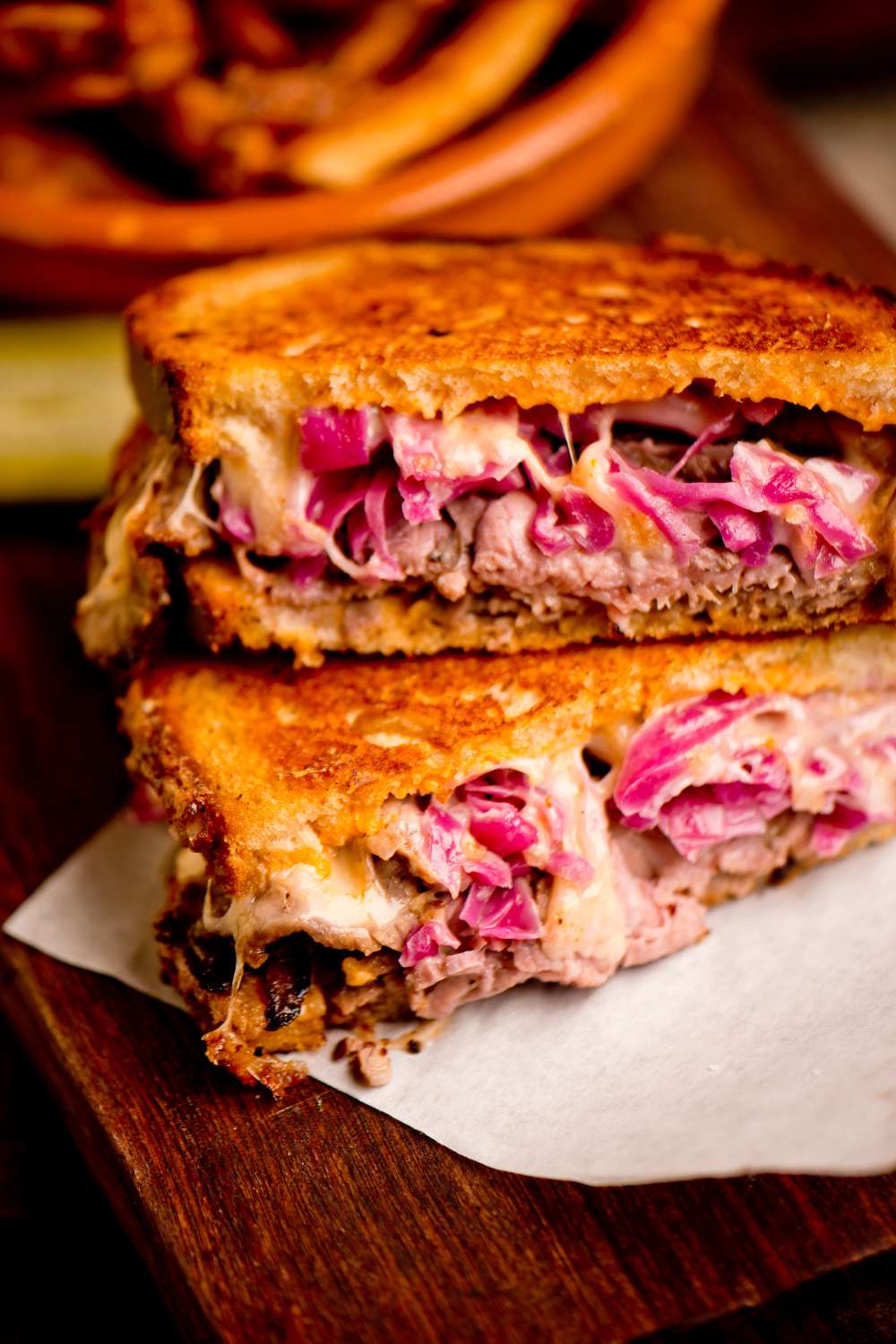 What Kind Of Meat Is Best To Use When Making Pastrami?
The best meat to use when making pastrami is beef brisket. The brisket is a tough cut of meat that requires a long cooking time, making it the perfect candidate for pastrami. The fat content in the meat adds flavor and helps keep the meat moist during cooking.
What Are Some Unique Ways To Use Pastrami In Recipes?
Pastrami is a versatile meat that can be used in a variety of recipes. It can be used as a topping for pizza, mixed into omelets or quiches, added to salads, or even used as a filling for savory pastries like turnovers or empanadas. It can also be used to add flavor to mashed potatoes, mac and cheese, and other comfort foods. Additionally, pastrami can be used as a substitute for bacon in many recipes, adding a unique twist to classic dishes.
20 Recipes With Pastrami
Elevate your sandwich game with these 20 mouth-watering recipes featuring pastrami, from classic Reubens to creative twists:
Satisfy your cravings with this Pastrami Melt with Jalapeno Coleslaw recipe, which takes your classic pastrami sandwich and gives it a spicy twist! This unique sandwich melt is sure to be a hit with its combination of juicy, thinly sliced pastrami, melted Swiss cheese, and a homemade jalapeno coleslaw that adds a tangy and spicy kick.
It's easy to make in less than 10 minutes and requires simple ingredients such as rye bread, butter, mustard, apple cider vinegar, mayo, and pre-shredded coleslaw mix. The perfect comfort food for any occasion!
This Reuben in a bowl is a quick and easy one-pot dinner that packs in all of the classic Reuben sandwich flavors without the bread! In just 15 minutes, you can have a delicious and satisfying meal full of pastrami, sauerkraut, Swiss cheese, and Russian dressing.
The sauteed onion and shredded lettuce add texture and flavor to the dish, while the melted cheese ties everything together. This dish is perfect for a busy weeknight or a cozy weekend meal, and it's sure to become a new family favorite!
Pastrami Irish Mac and Cheese is the perfect way to add some bold flavors to your classic mac and cheese recipe. Made with rich and creamy ingredients, like Guinness and shredded Dubliner cheese, it's sure to be a hit with your taste buds.
The pastrami and bacon add a delicious smoky flavor, while the cheddar and mozzarella provide a sharp, tangy taste. Don't forget to sprinkle some fresh chives on top to add a pop of color and freshness. Plus, with an easy preparation process and just a 40-minute cook time, it's perfect for a weeknight dinner or for feeding a crowd at a potluck or party.
If you're looking for a fun new take on pizza, this Pastrami Sandwich Pizza is for you. An unexpected taste explosion is produced by the combination of sliced pastrami, sour kosher pickles, and a blend of mild mozzarella and sharp provolone cheeses.
Pastrami is piled and folded to create a more interesting texture, and the pickles give it a tangy edge. A bubbling, golden crust forms from the melting cheese. If you're in the mood for a culinary adventure, this pizza is a must.
The grilled Hot Pastrami Sandwich is perfect for summer grilling! The combination of sliced pastrami, provolone and pepper jack cheese, dried onions, and purple onions make for a delicious and easy-to-make sandwich. Simply layer the pastrami and cheese on a roll, add the onions, and wrap in foil. Grill for 15 minutes at 350 degrees, turning once halfway through.
Once the cheese is melted and the meat is hot, remove it from the grill, carefully unwrap it, and enjoy! This sandwich is perfect for a summer barbecue or a quick and easy dinner.
This Pastrami Hash with Confit Potatoes, Parsley, and Shallots are the perfect hearty breakfast to start your day. The combination of potatoes and meat in this dish is undeniably satisfying, and the shallots add a hint of sweetness.
This recipe is perfect for using up leftover meats like pastrami, pork, or chicken. With a couple of poached or sunny-side-up eggs on top and hot sauce on the side, this hash becomes a complete meal. And the confit potatoes, cooked in canola oil until crispy and golden, will keep you coming back for more.
Hot Pastrami Flatbread is a circus of flavors that will leave you wanting more. It's loaded with thinly sliced pastrami, tangy chopped dill pickles, and thinly sliced red onions, all resting on top of a crispy flatbread.
To take it to the next level, a generous amount of Caesar dressing and shredded Swiss cheese are added to the mix, creating a harmonious blend of flavors. Bake it in the oven for 10 minutes, and the result is a bubbly and crispy masterpiece that will satisfy your taste buds. This dish is effortless to make and perfect for a quick and satisfying lunch or dinner.
These little sliders are oozing with cheesy goodness and are packed with flavor. The Russian dressing adds a tangy and creamy base, while the layers of Havarti, pastrami, Swiss cheese, and pickles create a harmony of flavors that will leave your taste buds wanting more.
The brushed-on poppy seed and onion butter on top give these sliders a crispy texture that adds another layer of yumminess. These sliders are easy to make and will disappear in no time!
Creamy and comforting Slow Cooker White Bean and Pastrami Soup is the perfect way to warm up on a chilly day. Soaking the beans overnight helps to ensure a smooth and tender texture.
The slow cooker makes this recipe a breeze and it allows all the flavors to meld together. Loaded with diced onions, carrots, celery, and seasonings, the soup is packed with goodness. The addition of salty pastrami or ham adds a depth of flavor that's perfect for a satisfying meal. Top with some fresh parsley for a pop of color and enjoy!
This mac 'n' cheese recipe puts a twist on the classic American comfort food. The addition of pastrami and spring onions baked with the macaroni brings an interesting depth of flavor.
The macaroni is cooked al dente, then smothered with a smooth, thick, creamy sauce made with milk, hard cheeses, English mustard, and seasoning. Topped with breadcrumbs and parmesan, it's baked in the oven until golden, crunchy, and piping hot. A perfect dish to share with friends and family on a chilly day.
This Loaded Pastrami Burger will blow your tastebuds off. Burgers made with a delicious beef patties cooked to your liking, coated with melted American or cheddar cheese, and topped with a generous helping of Carnegie Deli Pastrami on a toasted seeded bun.
Put on some mayo or mustard and top with caramelized onions, lettuce, and a crunch of your choosing. This burger has the right blend of traditional and contemporary ingredients.
This Sweet Potato Pastrami Hash is the perfect breakfast dish to start your day off right. This classic hash is updated with the addition of sweet potatoes and leeks, making it even more flavorful and hearty.
The golden and sweet potatoes are cooked until tender, then combined with the pastrami for a salty and savory flavor. The eggs are cooked to your liking and then placed on top of the hash, giving it the perfect finishing touch. You won't be able to resist this breakfast dish, especially when it's sprinkled with freshly diced chives.
Pastrami Roll Ups are the perfect snack or appetizer for any occasion. These roll-ups are made by layering pastrami, Swiss cheese, and dill pickles or sauerkraut and then rolling it up tightly. Air frying for just a few minutes results in a hot and crispy roll-up with melted cheese and a zesty filling.
Serve it with your favorite condiments such as spicy brown mustard or Russian dressing for an extra flavor boost. Enjoy this quick and easy recipe that is sure to be a crowd-pleaser!
Enjoy a hearty breakfast sandwich with this easy Pastrami, Egg & Cheese recipe. With a little kick from the sautéed onions and jalapeños, this sandwich is sure to wake up your taste buds.
The egg is cooked to perfection and topped with melted pepper jack cheese. The pastrami is gently heated and added to the sandwich, creating a perfect blend of savory flavors. Don't forget to toast your bagel before you assemble your sandwich to make it extra crispy. This sandwich is a great way to start your day, and it's ready in just 5 minutes!
Take your sandwich game to the next level with this Grilled Pastrami, Gouda, and Spicy Sauerkraut Sandwich. The aged nutty flavor of Sargento® Reserve Series™ Sliced Aged Gouda perfectly complements the deli pastrami or corned beef and spicy sauerkraut mixture.
Green onions, mayonnaise, and baby greens or arugula add a fresh, crisp touch. Each sandwich is grilled to perfection and oozes with melted cheese. Serve these sandwiches hot and enjoy the combination of flavors that will make your taste buds dance.
These crispy and delicious pastrami egg rolls are the perfect appetizer to serve up in less than 30 minutes! These rolls have a unique twist with kosher pastrami, which is combined with coleslaw mix and sauteed onions, then seasoned with soy sauce and apple cider vinegar.
The filling is then wrapped in egg roll wrappers, sealed with a flour paste, and fried until crispy and golden brown. These egg rolls go perfectly with a variety of dipping sauces, from soy sauce and Sriracha to duck sauce and hot mustard.
This recipe takes five days of brining, but the result is well worth the wait. The pork belly is infused with flavors from juniper berries, coriander, garlic, and celery seed in a salt and sugar solution. After five days, the pork belly is rubbed with a mixture of spices, including coriander seeds, paprika, garlic, and brown sugar, and smoked to perfection.
The result is mouth-watering bacon that's perfect for breakfast or added to sandwiches. Slice thinly and enjoy the unique blend of flavors in each bite.
This Pastrami Wrap recipe is a delightful and satisfying lunch option that's perfect for any occasion. The combination of pastrami, Havarti cheese, mixed greens, and tomatoes is elevated by the tangy and zesty Parmesan Peppercorn Ranch.
The flavors and textures in this wrap are perfectly balanced, making it a go-to meal that you'll want to make again and again. Plus, it's quick and easy to assemble, and you can make it ahead of time to take on the go. Don't miss out on the deliciousness of this Pastrami Wrap recipe!
Brown Sugar Baked Beans with Pastrami is a scrumptious, easy-to-make side dish that's perfect for any meal. The combination of sweet, savory, and smoky flavors creates a delicious, hearty dish that's perfect for the colder months. But don't let that stop you from enjoying it year-round!
This dish is a must-have at all barbecues and pairs perfectly with hot dogs, hamburgers, grilled chicken, and roast turkey. The addition of pastrami adds a unique twist to this classic dish, taking it to the next level.
This hearty Loaded Reuben Baked Potato, features a fluffy Idaho potato stuffed with savory sliced corned beef or pastrami, melted Swiss cheese, and tangy sauerkraut.
Drizzled with creamy Russian dressing and finished off with the zing of chopped dill pickle, this loaded potato is the ultimate comfort food, perfect for lunch or dinner. The soft, buttery texture of the potato is the perfect foil for the rich flavors of the corned beef and cheese, making it a filling and delicious meal on its own.