It seems like such a simple question, but when you are dealing with kitchen conversions, it's easy to get confused when you need to know how many ounces in a quart or how many cups in a quart.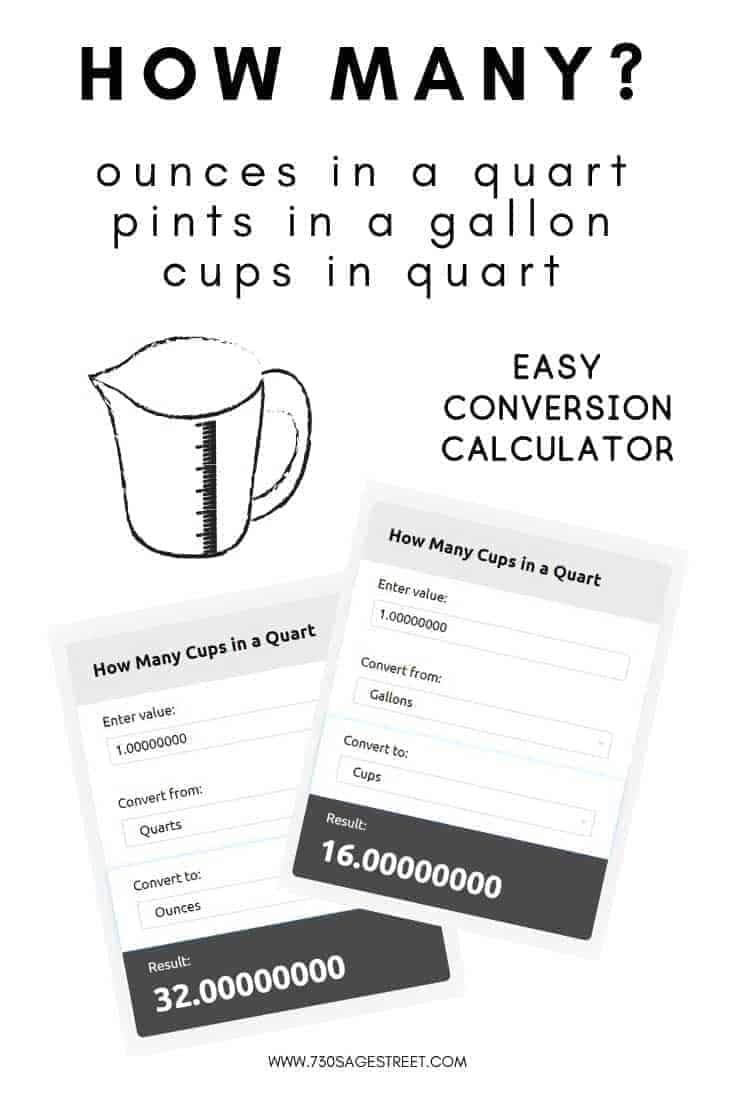 Or any other various conversions regarding liquid measurements. Ounces, pints and gallons oh my!
Awhile back I created a printable kitchen conversion chart that graphically illustrates how many cups or ounces are in a pint, quart or gallon, but sometimes you just want to plug in the numbers and have it calculated for you.
So I made the little calculator below. It will calculate any combination of ounces, cups, pints, quarts and gallons that you need.
These are US measurements. Simply input the quantity, select what measurement you want to convert from, and then select what measurement you want to convert to and the calculator will do the math for you.
How Many Ounces in a Quart Conversion Calculator
You can bookmark this page right on your phone so you can access it quickly and easily while you are cooking. No more guesswork.
Alternatively, or in addition to, you can grab my printable version I linked to above or pick up a kitchen conversion sheet from Amazon and hang it on your fridge.
Image
Title
Price
Prime
Buy
Magnetic Kitchen Conversion Charts by Talented Kitchen. Magnet Size 7" x 5" Includes Weight Conversion Chart, Liquid Conversion Chart and Temperature Conversion Chart. Premium Magnetic Vinyl on Fridge

Prime

eligible

1
Kitchen Conversion Chart - Magnetic

Prime

eligible

1
RoomMates Cooking Conversions Peel And Stick Wall Decals

Prime

eligible

1
RSVP International, Magnet Measurement

Prime

eligible

1
Must-Have Blue Kitchen Measurement Conversion Chart Magnet 50% More Data Big Text Cooking Measuring Baking Recipes Cookbook Food Scale Accessories Dad Son Husband Wife Mom Daughter Birthday Day Gift

Prime

eligible

1
Jot & Mark Chef's Conversion Chart Magnet | Handy Reference of Measurement, Volume, Weight, and Temperature for Baking and Cooking

Prime

eligible

1
Prices accurate as of:
Grab the printable too!