Looking for new and delicious ways to enjoy lump crab meat? Look no further than this collection of 20 Lump Crab Meat Recipes! From savory dips and sauces to indulgent pasta dishes and crab cakes, these recipes showcase the versatility and deliciousness of this delectable seafood.
Whether you're looking for a special occasion meal or a quick and easy weeknight dinner, these recipes are sure to please any seafood lover. So grab some fresh lump crab meat and get cooking!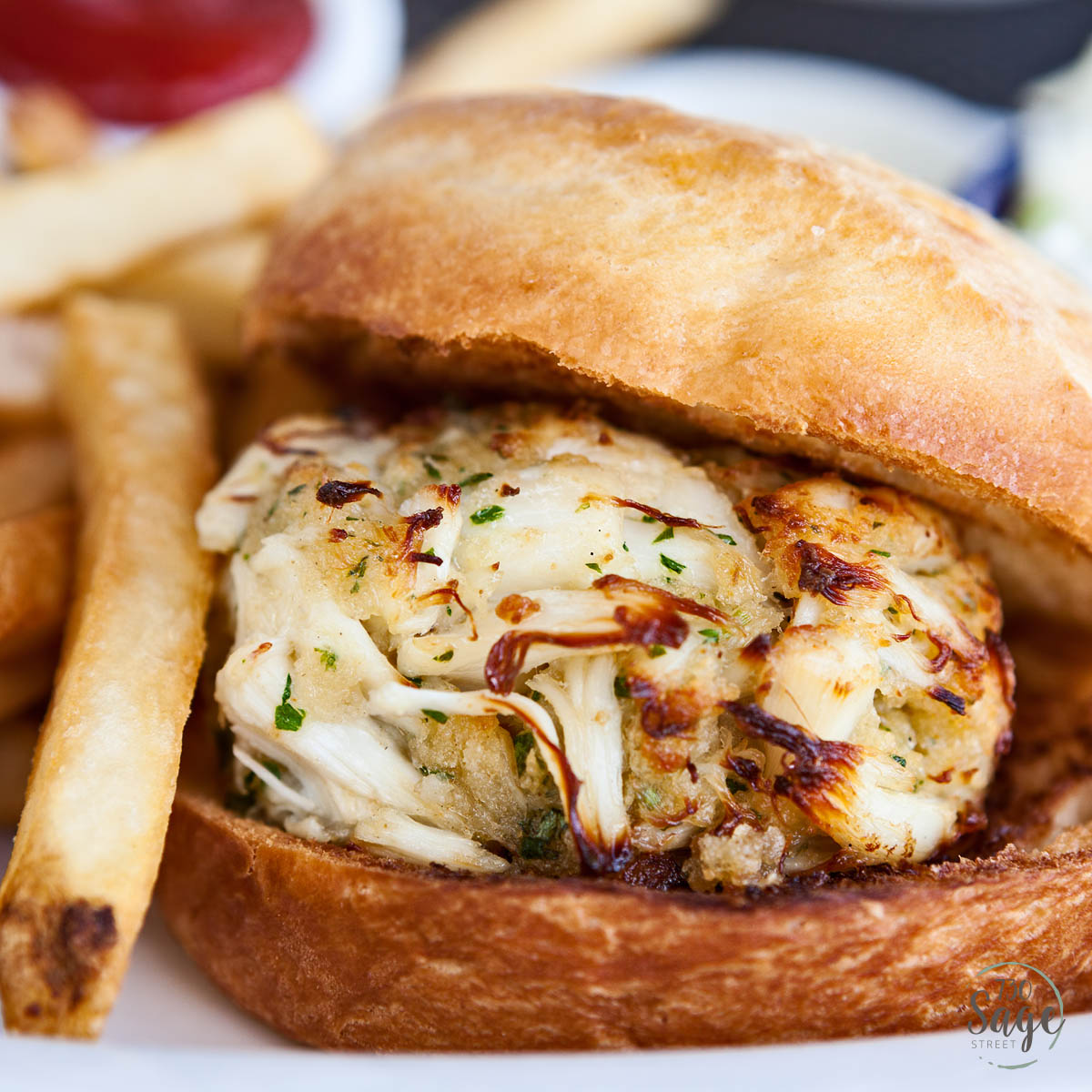 What Is The Difference Between Crab Meat And Lump Crab Meat?
Crab meat refers to meat from any species of crab, which can include smaller pieces and a mix of white and dark meat. Lump crab meat, on the other hand, is specifically made from the larger, whole pieces of white meat from the body of the crab, and is considered to be the highest quality and most flavorful type of crab meat. Lump crab meat is typically more expensive than regular crab meat and is often used in more upscale dishes.
Does Lump Crab Meat Need To Be Cooked?
Yes, lump crab meat needs to be cooked before consuming it. It is important to cook the crab meat to an internal temperature of 145°F to ensure that any harmful bacteria present in the meat are killed. You can cook the crab meat by boiling, baking, or pan-frying it.
What Is Lump Crab Meat Good For?
Lump crab meat is a versatile ingredient that can be used in a variety of dishes, such as crab cakes, salads, soups, dips, and pasta dishes. It is also commonly used as a topping for seafood or mixed with other types of seafood.
Lump crab meat is known for its sweet, delicate flavor and tender texture, which can add depth and complexity to many recipes. It is a good source of protein and low in fat, making it a healthier option for those who enjoy seafood.
The Most Recommended Ways To Cook Crab Lump Meat?
There are many ways to cook lump crab meat, and the best method will depend on personal preference and the desired end result. Some popular methods for cooking lump crab meat include:
Boiling: Add lump crab meat to boiling water and cook for 5-10 minutes. This is a quick and easy way to cook crab meat and is often used for crab boils or steamed crab legs.
Grilling: Brush lump crab meat with oil and seasonings and grill for a few minutes on each side until cooked through. This is a great method for adding a smoky flavor to the crab meat.
Baking: Mix lump crab meat with other ingredients and bake in the oven until hot and bubbly. This method is often used for dishes like crab cakes or crab dip.
Sautéing: Sauté lump crab meat in butter or oil with garlic and other seasonings for a few minutes until cooked through. This method is great for adding a rich flavor to the crab meat.
Frying: Dredge lump crab meat in flour, egg, and breadcrumbs and fry until golden brown. This method is often used for dishes like crab fritters or crab-stuffed mushrooms.
20 Lump Crab Meat Recipes
Discover 20 delicious recipes featuring succulent lump crab meat that you simply have to try:
Treat yourself to a delicious and sophisticated meal with this Lump Crab Meat Toast with Fennel recipe. This dish is the perfect combination of fresh, herbaceous flavors and the bright acidity of lemon juice. The juicy, shelled lump crab meat is paired with thinly shaved fennel, chopped scallions, chives, and parsley, then mixed with a touch of mayo for a creamy finish.
Grilled slices of sourdough bread provide the perfect crunch, while a sprinkle of chili de arbol and a drizzle of extra virgin olive oil add an extra kick of flavor. Whether you're looking for a special weekend brunch or a tasty dinner, this recipe is sure to impress.
Indulge in the flavor of fresh, juicy crab with this delicious Air Fryer Crab Cake recipe. With just a few simple ingredients and your trusty air fryer, you can create perfectly crispy crab cakes in no time.
The secret to these Maryland-style crab cakes is in the combination of lump crab meat and crushed saltine crackers that create the perfect texture, while the egg, mayonnaise, Dijon mustard, Worcestershire sauce, Louisiana hot sauce, and Old Bay seasoning add just the right amount of flavor. Simply refrigerate the mixture for at least 30 minutes, then air fry for 8-10 minutes until golden and crispy.
This classic dish, Maryland Style Crab Imperial, is made with fresh lump crab meat and is perfect for a special occasion. With a simple blend of Hellman's mayonnaise, sugar, Old Bay, Italian parsley, a lightly beaten egg, and lemon juice, you'll love how easy it is to create this flavorful dish. Gently fold the crab meat into the imperial sauce, being careful not to break it up. Place portions in a baking dish of your choice and sprinkle with Old Bay or paprika.
Bake in a 350-degree oven for 20-25 minutes until golden brown and a thermometer reads 165 degrees. Serve after allowing it to cool slightly for the best flavor. With a yield of 3 portions, you can stretch this dish by using the filling to make stuffed shrimp that can easily serve 4 people.
Another lump crab meat recipe, jumbo lump crab with this delicious au gratin. The star of the dish, jumbo lump crab meat, is paired with Gruyere and Fontina cheeses and seasoned with a blend of hot sauce, lemon juice, cayenne, and black pepper. The mixture is baked to bubbly perfection, then broiled until the cheese is golden brown. Serve as an appetizer with toasted baguette slices for a rich and satisfying dish. This recipe serves 8 and takes only 35 minutes to prepare.
This is a simple, but elegant recipe that is perfect for intimate nights at home. Made with lump crab meat, this dish is a decadent and delicious appetizer or first course, perfect for special occasions. The lump crab meat is tossed with lemon juice to bring out its natural flavor, while the quick cocktail sauce adds a tangy kick.
The sauce is made with ketchup, hot sauce, horseradish, Worcestershire sauce, lemon zest, and lemon juice for a well-rounded flavor. Serve the crab in glasses with optional lettuce leaves and a lemon wedge for garnish. Enjoy this fancy, yet easy dish with a glass of bubbly or as a prelude to a steak dinner.
This quick and easy crab cake recipe uses lump, claw, canned, or fresh crab meat for a simple, yet delicious seafood dish that's perfect for any occasion. Whether you prefer to make them mini as an appetizer or larger as a main course, these crab cakes are a crowd-pleaser that come together in just 15 minutes.
They're finished with a squeeze of fresh lemon juice, a sprinkle of fresh parsley, and served with a dipping sauce like tartar sauce or remoulade sauce. Enjoy this budget-friendly seafood recipe that can be made with your preferred type of crab meat.
This recipe is a creation of Fishing Guide Captain Ryan Lambert, made with the day's catch from Louisiana Fishing Adventures. The fillet of redfish is cut into portions and lightly seasoned with creole seasoning before being stuffed with a savory mixture of sauteed onions, bell peppers, garlic, lump blue crab meat, and 51-70 count shrimp, along with bread and Italian breadcrumbs.
It is then baked with thick-cut tomato slices and served with a delicious sauce made from butter, green onions, shallots, lemon juice, lump blue crab meat, and shrimp, thickened with half n half. This dish is a must-try for seafood lovers looking for a fresh and flavorful meal.
This recipe for Crab Cakes with Roasted Tomato Remoulade Sauce features jumbo lump crabmeat mixed with mayonnaise, egg, dijon mustard, hot pepper sauce, green onions, dill, parsley, breadcrumbs, red pepper, lemon zest, and juice. After gently folding in the crabmeat, the mixture is formed into patties and sautéed until golden brown.
The crab cakes are topped with crispy pancetta and served on a focaccia roll with a flavorful roasted tomato remoulade sauce made with mayonnaise, dijon mustard, Worcestershire sauce, sweet pickle relish, capers, hot chili sauce, chives, and Italian parsley. The recipe also includes instructions for roasting fresh Roma tomatoes to use in the sauce.
This recipe features jumbo lump crab meat in savory pot pies with a crispy puff pastry crust. The filling is made by first gently sorting through the crab meat to remove any shells. The crab meat is then mixed with corn kernels, chopped parsley, and a sauce made from butter, onions, celery, garlic, flour, brandy, seafood stock, Old Bay seasoning, and heavy cream.
The mixture is divided into four ramekins and topped with a round of rolled-out puff pastry, which is brushed with egg wash and baked until golden brown. These delectable pot pies are perfect for a cozy night in and are sure to impress any seafood lover.
This recipe is for a refreshing and light crab salad served on cucumber slices. The salad is made with jumbo lump crab meat mixed with a flavorful dressing made from shallot, lemon zest, lemon juice, Dijon mustard, mayonnaise, honey, fresh dill, salt, and pepper. The dressing is gently folded into the crab meat to prevent it from breaking up.
The cucumber is sliced into ovals and used as the base for the salad, allowing for a crisp and refreshing crunch. Each cucumber slice is topped with a scoop of the crab salad and garnished with a small sprig of dill. This dish is perfect for a light appetizer or a refreshing snack on a warm day.
This comforting casserole features cooked long-grain wild rice mixed with a savory and creamy white sauce made from butter, flour, milk, garlic salt, celery salt, paprika, cayenne pepper, sharp Cheddar cheese, cooking sherry, fresh parsley, and lump crab meat. The casserole is also layered with sautéed mushrooms for extra flavor and baked until bubbly and golden brown.
This recipe is for a creamy and delicious Crab Alfredo pasta. The video takes you through the steps of making the dish, which features a rich and creamy sauce made from butter, heavy cream, Parmesan cheese, and lump crab meat. The pasta is cooked to perfection and added to the sauce, along with some chopped parsley for added flavor and freshness. The dish is then topped with more Parmesan cheese and black pepper before serving. The video provides a detailed and easy-to-follow recipe for this decadent pasta dish, which is sure to impress any seafood lover.
This authentic Cajun dish is a seafood lover's dream come true. Made with fresh and succulent lump crab meat, plump shrimp, and tender crawfish tails, this rich and creamy Étouffée is smothered in a delicious blend of onions, celery, and spices, and served over a bed of fluffy white rice.
The seafood is cooked to perfection, retaining its freshness and quality, and is seasoned with zesty flavors like cayenne pepper, Tabasco sauce, and lemon juice. Perfect for a special occasion or a cozy night in, this dish is sure to satisfy and impress.
This dish boasts fresh spinach, lump crab meat, cream cheese, and a blend of monterey jack and cheddar cheeses. The addition of seasonings like garlic, cayenne pepper, and white pepper gives this dish a bold flavor. The dish is baked until bubbly and topped with a sprinkle of cheese. Savor the dish with slices of Ciabatta bread, brushed with butter and garlic salt, and topped with cheddar cheese. Enjoy the fresh and savory taste of this appetizer with quality lump crab meat.
This easy-to-make crab dip recipe is perfect for entertaining or as an indulgent snack. Featuring fresh lump crab meat, this dip is a flavorful combination of creamy and crunchy textures. Mixed with mayonnaise, egg, lemon juice, Worcestershire sauce, and a blend of spices, the crab is baked with a buttery Ritz cracker topping to create a delicious, golden-brown crust.
The dip is finished with a sprinkle of paprika and can be served hot with crackers or a sliced baguette. Be sure to handle the crab gently to avoid breaking it up too much.
These stuffed mushrooms are loaded with delicious and savory flavors. The portobello mushrooms are filled with a decadent mix of cream cheese, crab meat, bread crumbs, and Parmesan cheese, along with diced onion and sautéed mushroom stems. Topped with more Parmesan cheese, these mushrooms are baked to perfection and ready to enjoy in just 20 minutes.
This dish is perfect as an appetizer or a side dish for any occasion. Don't forget to sift through the crab meat to ensure that there are no shell pieces left behind.
Enjoy in a luxurious steak dinner with this rich and buttery lump crab sauce that is sure to impress your significant other. It's so delicious that you'll never want to have plain steak again. The sauce is easy to prepare with jumbo lump crab meat, flat-leaf parsley, garlic, shallots, heavy cream, butter, and Lane's Original Smoked Salt.
Just saute the garlic and shallots in melted butter, add heavy cream, and stir in Lane's Original Smoked Salt and parsley. Then gently fold in the crab meat, making sure not to break it up. Add this delectable sauce to your steak and enjoy a meal fit for a king or queen.
Get ready to experience the ultimate taste of jumbo lump crab meat with these oven-baked crab bombs. With the perfect blend of mayo, Dijon mustard, Old Bay, Worcestershire sauce, and fresh lemon juice, this recipe is sure to please your taste buds.
The succulent crab meat is hand-pattied into round bomb shapes and baked to perfection. These bombs are then smothered in melted butter and baked to a golden brown, resulting in an irresistibly buttery flavor. Sprinkle some fresh parsley on top and serve with a side of your choice for an unforgettable dining experience.
This Buttery Old Bay Crab Mac and Cheese recipe is the last recipe in our roundup article. It yields 6 to 8 servings and takes about 45 minutes to prepare and 35 minutes to cook. This dish is creamy, cheesy, savory, and loaded with jumbo lump crab meat. Topped with buttery Old Bay Ritz crackers, it's super indulgent and special to share with friends and family!
FAQs
Should You Rinse Lump Crab Meat?
Yes, it is recommended to rinse lump crab meat under cold water to remove any excess salt or debris before using it in a recipe.
How Do You Eat Canned Lump Crab Meat?
Canned lump crab meat can be eaten directly out of the can, but it's recommended to rinse it with cold water before consuming to remove any excess salt or fishy odor. Lump crab meat is versatile and can be used in many recipes such as crab cakes, crab dip, crab salads, and pastas.